Close wins Targa High Country 2015 Showroom class
---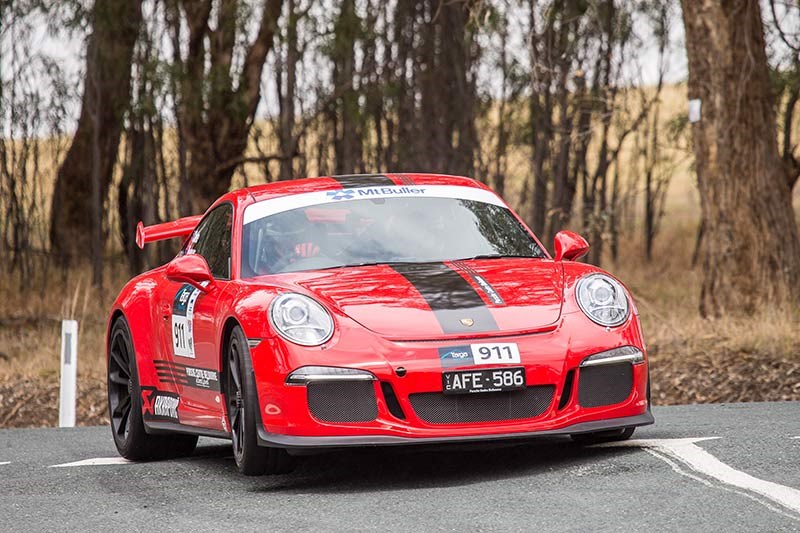 Matt Close in his Porsche GT3 at Targa High Country. Image: Angryman Photography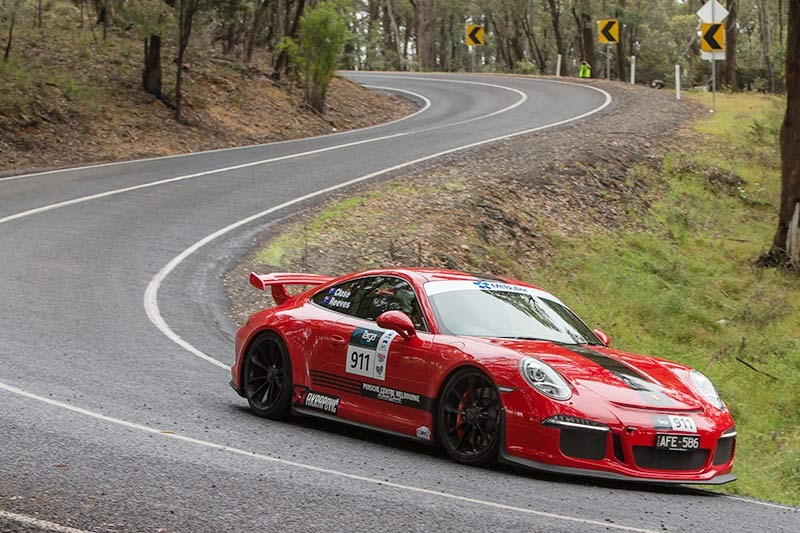 Matt Close in his Porsche GT3 at Targa High Country. Image: Angryman Photography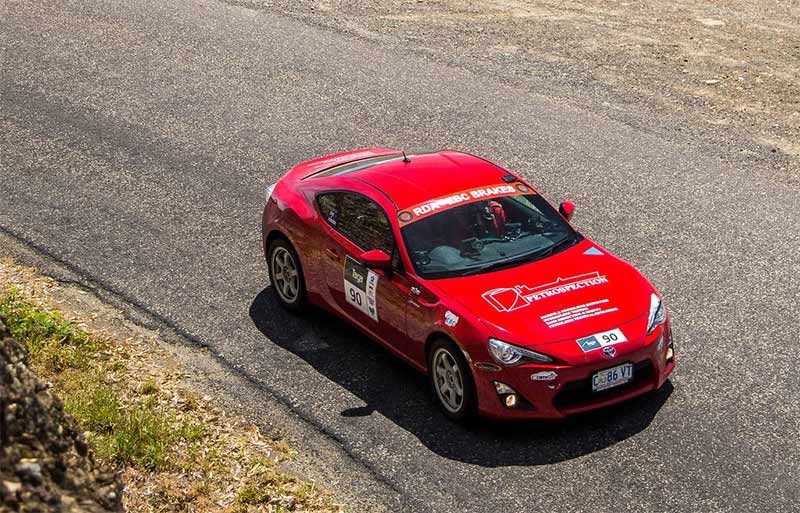 Alan and Heather Gluyas in the Toyota 86 won the TSD Trophy. Image: Angryman Photography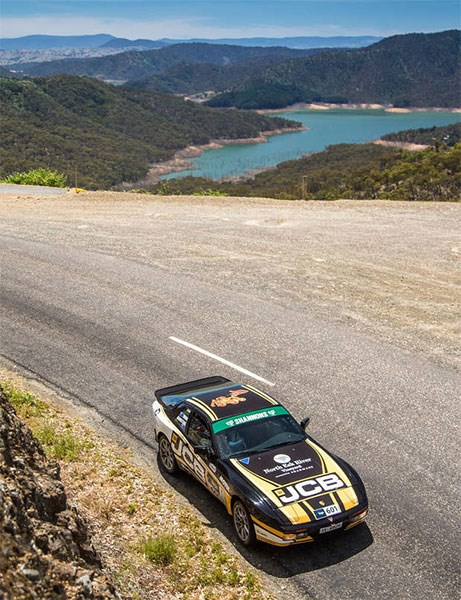 Pete Nunn & Keith Johnstone in the 1985 Porsche 944 Turbo won the Shannons Classic Outright. Image: Angryman Photography

Matt Close has taken out the coveted Showroom class title at this year's Targa High County held at Victoria's Mt Buller on 6-8 November
Targa High Country 2015
Based around Victoria's popular Mt Buller Ski Resort, this year's Targa High County event was held over three days in early November and consisted of a total of 22 stages. Classes included three speed-limited categories plus seven full competition categories, as well as a tour. (See course map below.)
After finishing second at four previous Targa rallies, Victorian Matt Close scored his first win by taking out the prized Showroom class in his 2015 Porsche GT3. Close and co-driver Cameron Reeves took the lead on the second day, extending their advantage over Tony Quinn and Kate Catford in the 2014 McLaren 650S on day three, to win the class by two minutes and 32 seconds.
"It's awesome," Close said. "We came to tick a few boxes and we did that."
"Coming up Mt Buller the final time was probably the best drive I've ever had," he added.
Third place in the Showroom class was Craig Dean in his 2015 Ford Mustang followed by motor racing legend, Jim Richards, in a brand new Porsche GT4.
After setting up a win with a 59 second lap on the first day, West Australian Stewart Liddle took out the 4WD Showroom competition driving a Mitsubishi Lancer Evo X RS. 
"It's my first ever win and the first win for the car, so we are absolutely rapt like you would never believe," Liddle said.
Also competing in an Evo X RS was Toby Gill who won the Modern Category with just a 3 second lead over Nathan Reeves in a Subaru WRX STi.
Alan Roe took the Early Modern honours in his Lancer Evo 6.5, while Tasmanian Pete Nunn was the winner of the Classic Outright competition in his 1985 Porsche 944 Turbo, his second win in a row at Targa High Country.
"We won last year, but it feels better to win this year, particularly given today we had hard, long stages that were a real challenge for both the crew and the car," Nunn said.
The handicap classes were won by Roger Lomman in his 1971 Datsun 240Z (Early Classic) and Matthew Cardinaels in his 1972 Datsun 240Z (Late Classic).
In other classes, Daniel Trevarthen (Holden Commodore SS) won Sports Trophy, Keith Brooke (1980 Porsche 911) Thoroughbred Trophy, and the experienced combination of Alan and Heather Gluyas (Toyota 86) won the TSD Trophy.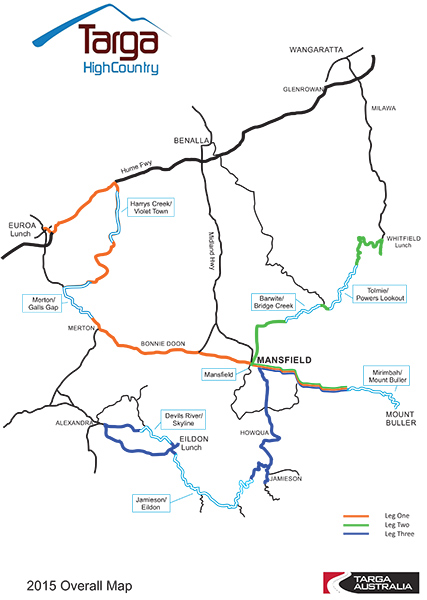 Targa High Country, provisional final results
MT BULLER SHOWROOM
1. Matt Close / Cameron Reeves, 2015 Porsche GT3
2. Tony Quinn / Kate Catford, 2014 McLaren 650S, +2m32s
3. Craig Dean / Emma Quigley, 2015 Ford Mustang Shelby GT, +3m08s
4. Jim Richards / Barry Oliver, 2015 Porsche GT4, +3m36s
5. Ben Newman / Tim Kulhanek, 2012 Renault Megane, +8m53s
MANSFIELD SHIRE 4WD SHOWROOM
1. Stewart Liddle / Michael Lloyd, 2009 Mitsubishi Lancer Evo X RS
2. Angus Kennard / Ian Wheeler, Nissan GTR 35, +45s
3. Trevor Macleod / Scott Hunter, 2010 Subaru WRX STI, +1m56s
4. Ralph Norton / Malcolm Norton, 2010 Subaru WRX STI, +2m17s
5. Crichton Lewis / Adam Kudra, 2010 Subaru WRX STI, +4m18s
RDA BRAKES MODERN
1. Toby Gill / Mathew Smith, 2008 Mitsubishi Lancer Evo X RS
2. Nathan Reeves / Reubecca Sheldrick, 2011 Subaru WRX STI, +3s
3. Max Williams / Bruce Bush, 2008 Mitsubishi Lancer Evo X, +2m36s
4. Adam Spence / Erin Kelly, 2011 Nissan GTR, +3m33s
5. Joshua Hilton / Rodney Vanderpoel, 2008 Nissan GTR 35, +3m42s
SHANNONS CLASSIC OUTRIGHT
1. Pete Nunn / Keith Johnstone, 1985 Porsche 944 Turbo
2. Adam Kaplan / David Kaplan, 1985 Mazda RX7, +1m06s
3. Matthew Cardinaels / Jason Page, 1972 Datsun 240Z, +1m37s
4. Craig Haysman / Dennis Sims, 1981 Triumph TR7 V8, +4m27s
5. Lindsay Stone / Simon Martin, 1985 Mazda RX7, +10m51s
DUTTONS GARAGE EARLY MODERN
1. Alan Roe / Steve Glenney, 2000 Mitsubishi Lancer Evo 6.5
2. Mark Balcombe / Brian Foster 1995 Mazda RX7 SP, +2m22s
3. Liam Howarth / Larry Howarth, 1995 Nissan Skyline GTR, +2m57s
SHANNONS EARLY CLASSIC HANDICAP
1. Roger Lomman / Annie Bainbridge, 1970 Datsun 240Z
2. Colin Byrne / Michael Partridge, 1971 Alfa Romeo GTV 2000, +30s
3. Brian Dermott / Linda Dermott, 1971 Holden Torana XU-1, +5m10s
SHANNONS LATE CLASSIC HANDICAP
1. Matthew Cardinaels / Jason Page, 1972 Datsun 240Z
2. Pete Nunn / Keith Johnstone, 1985 Porsche 944 Turbo, +4s
3. Adam Kaplan / David Kaplan, 1985 Mazda RX7, +53s
SPORTS TROPHY
1. Daniel Trevarthen / Chris Ward, 2006 Holden Commodore SS
2. Martin Duursma / Nick Cox, 2013 Lotus Exige S V6, +1m37s
3. Julian Page / Diane Ridway, 2013 Audi TT RS Plus, +4m32s
SHANNONS THOROUGHBRED TROPHY
1. Keith Brooke / Karl Brooke, 1980 Porsche 911
2. Brett Dillon / Geoffrey Corah, 1968 Porsche 911, +22m41s
TSD TROPHY
1. Alan Gluyas / Heather Gluyas, 2012 Toyota 86 GTS, 23 points
2. Jordan Bridge / Debbie Bridge, 2004 Subaru WRX STI, 31 points
3. Gerard Knapp / Roger Campbell, 2005 Alfa Romeo GT, 38 points
4. Gerry Bashford / Bob Watson, 2004 Mazda MX5, 60 points
5. Darryl Marshall / Peter Marshall, 2002 Ford Falcon Ute, 74 points
Unique Cars magazine Value Guides
Sell your car for free right here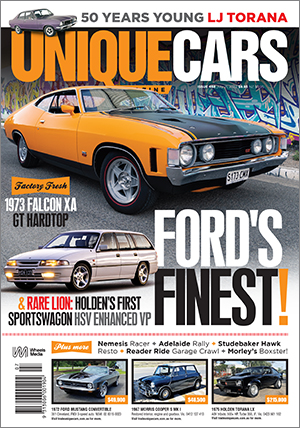 SUBSCRIBE TO UNIQUE CARS MAGAZINE
Get your monthly fix of news, reviews and stories on the greatest cars and minds in the automotive world.
Subscribe