Mercedes-Benz SLS AMG vs 190SL vs 300SL
---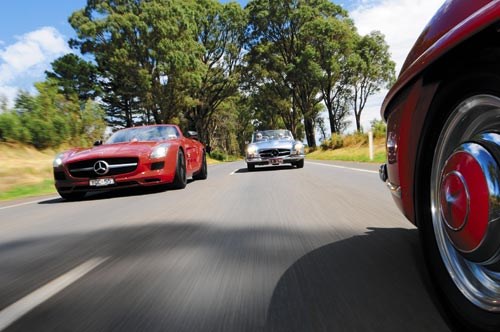 Mercedes-Benz SLS AMG vs 190SL vs 300SL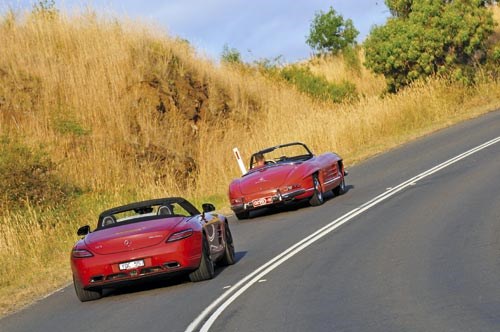 Mercedes-Benz SLS AMG vs 190SL vs 300SL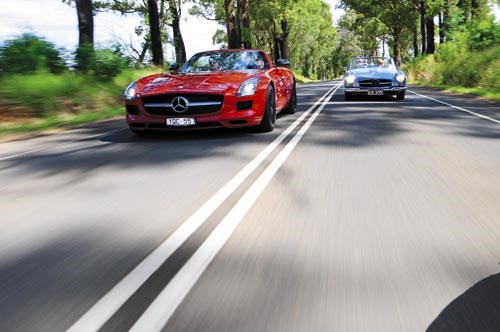 Mercedes-Benz SLS AMG vs 190SL vs 300SL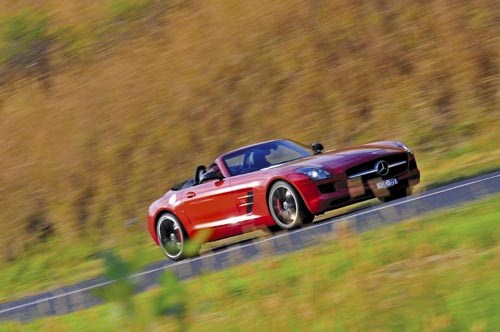 Mercedes-Benz SLS AMG vs 190SL vs 300SL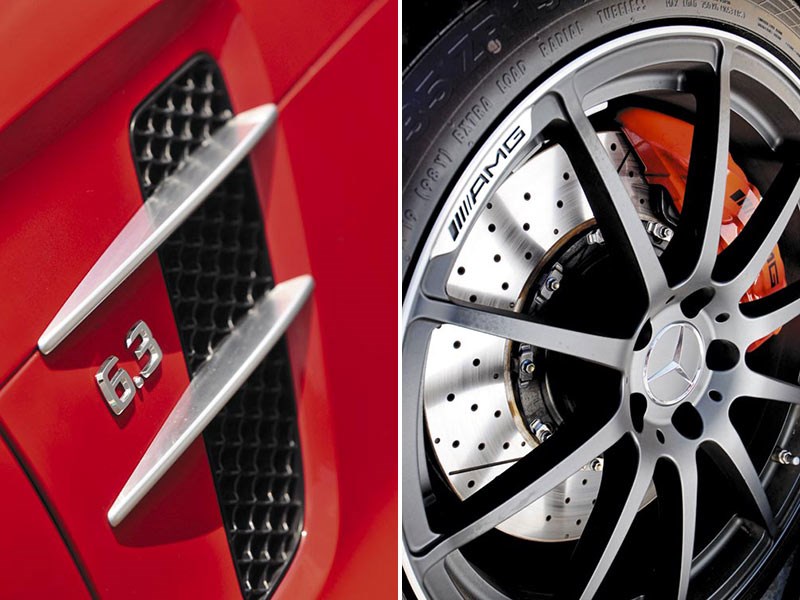 Mercedes-Benz SLS AMG vs 190SL vs 300SL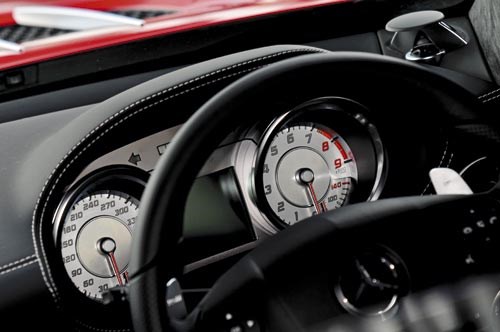 Mercedes-Benz SLS AMG vs 190SL vs 300SL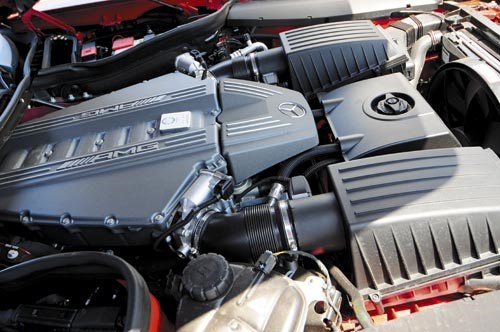 Mercedes-Benz SLS AMG vs 190SL vs 300SL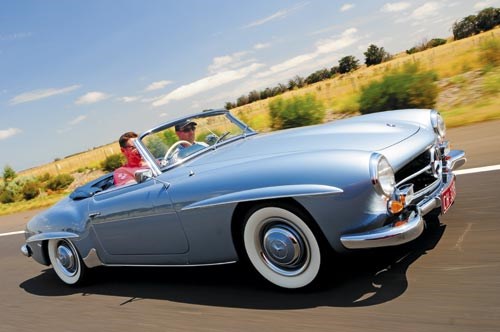 Mercedes-Benz SLS AMG vs 190SL vs 300SL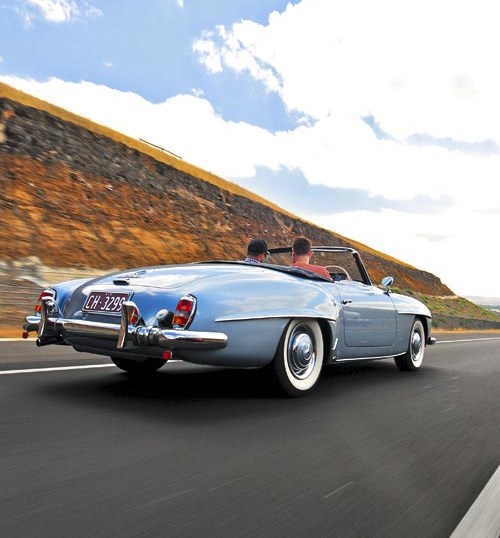 Mercedes-Benz SLS AMG vs 190SL vs 300SL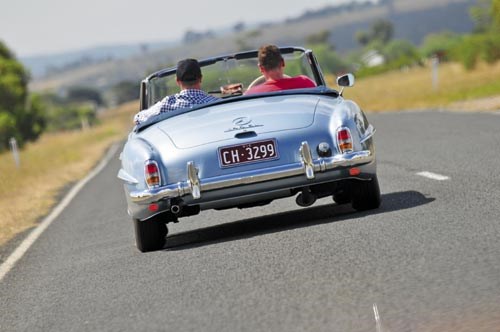 Mercedes-Benz SLS AMG vs 190SL vs 300SL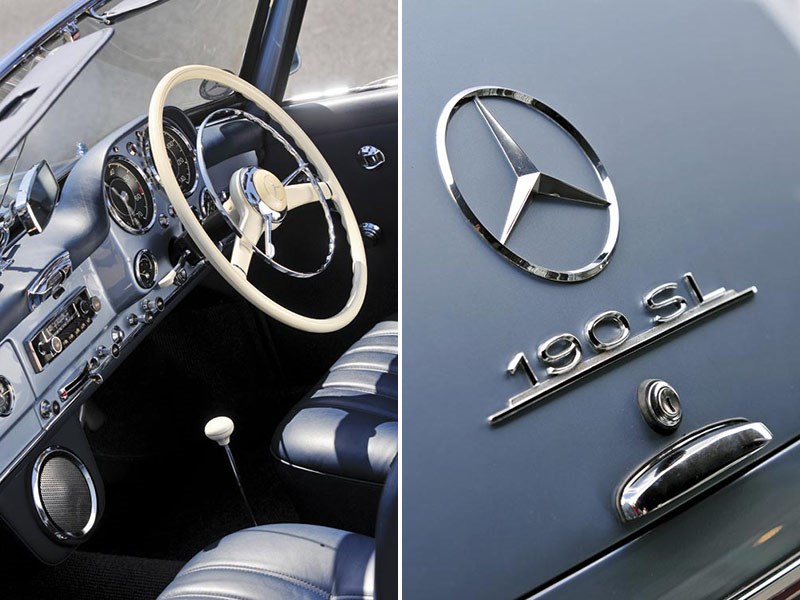 Mercedes-Benz SLS AMG vs 190SL vs 300SL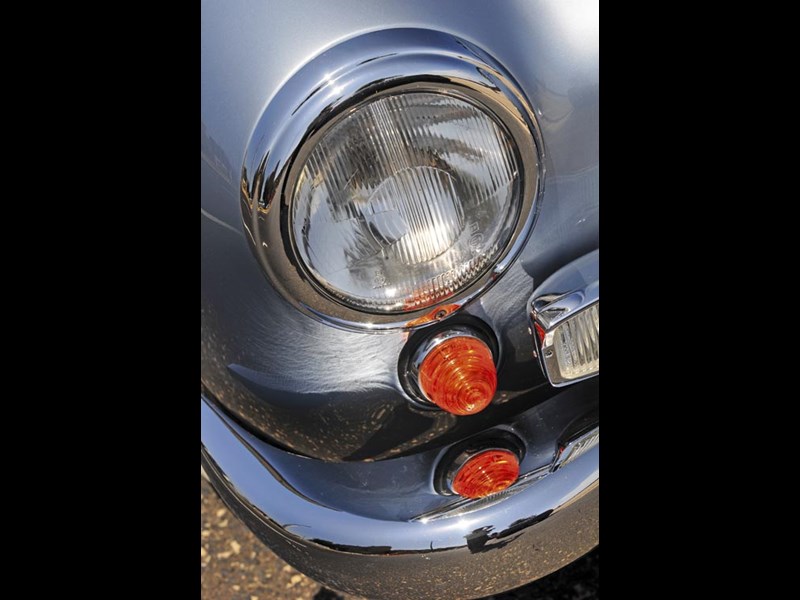 Mercedes-Benz SLS AMG vs 190SL vs 300SL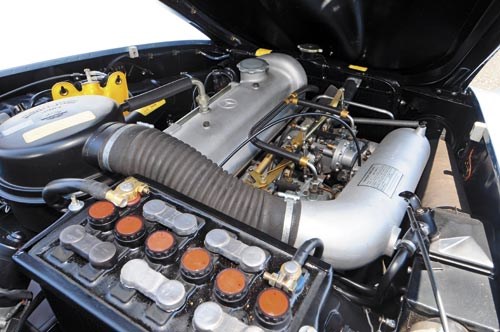 Mercedes-Benz SLS AMG vs 190SL vs 300SL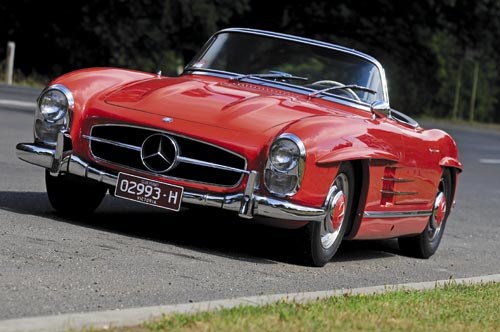 Mercedes-Benz SLS AMG vs 190SL vs 300SL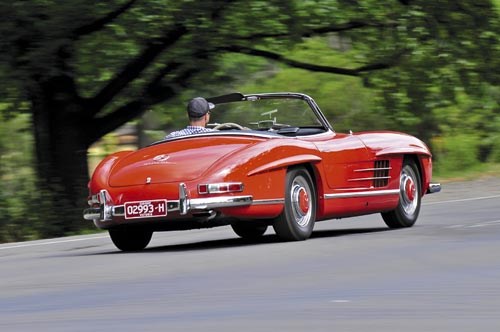 Mercedes-Benz SLS AMG vs 190SL vs 300SL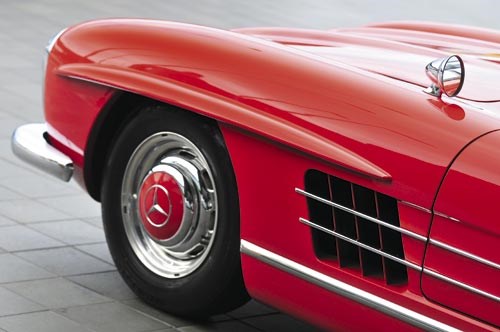 Mercedes-Benz SLS AMG vs 190SL vs 300SL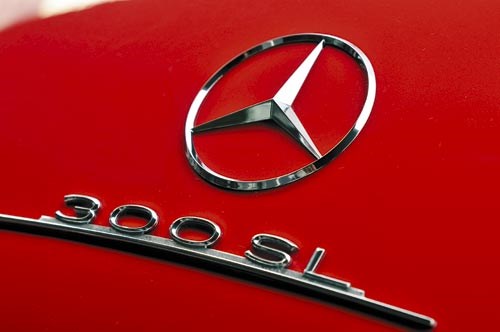 Mercedes-Benz SLS AMG vs 190SL vs 300SL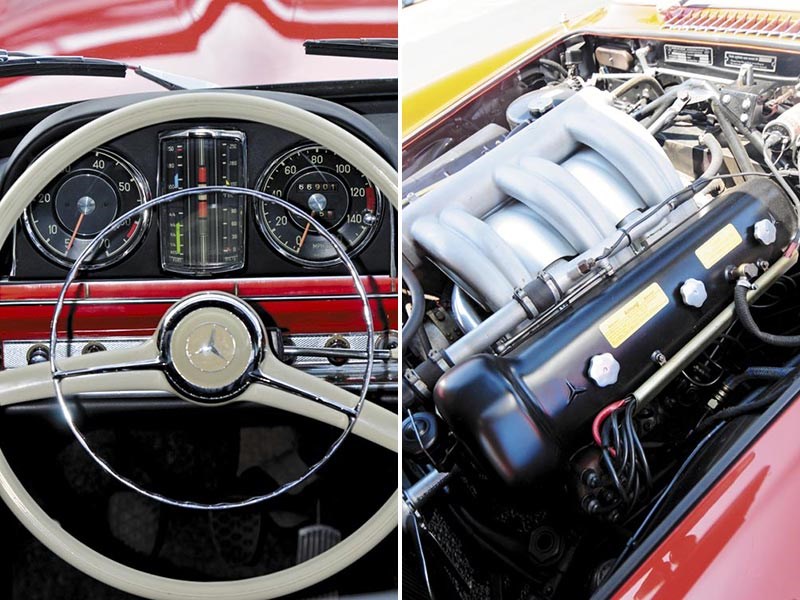 Mercedes-Benz SLS AMG vs 190SL vs 300SL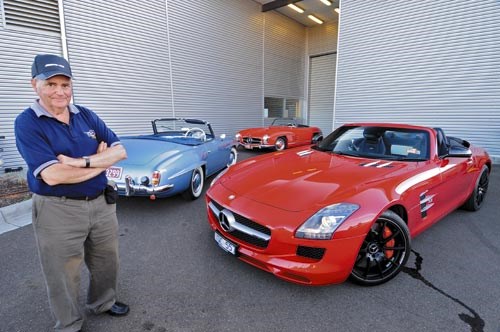 Mercedes-Benz SLS AMG vs 190SL vs 300SL

Then versus now: Three of Mercedes-Benz's best roadsters together...
From Unique Cars magazine issue 343, November 2012
2012 Mercedes-Benz SLS AMGvs1960 Mercedes-Benz 190SLvs1957 Mercedes-Benz 300SL
A pair of classic '50s rag-tops meet their mad-bastard grandchild...
MERCEDES ROADSTERS
Transcending time isn't easy. But there's something about a classic, post-war Mercedes-Benz convertible that does just that. Whether it's Cary Grant fleeing the bad guys in a stolen 220SE rag-top in Hitchcock's North By Northwest or some envied individual commuting to work in a 1960s W113 SL, old roofless Benzes ooze class.
Back before Hitler made a complete arse of himself, roofless Benzes were also known for their speed. The supercharged Mercedes SSK (1928-32) was not only an exquisite-looking piece of sculpture, but it could reach 120mph (192km/h) in the hands of the very brave. The later, larger 500K and 540K were also quick (and mega expensive), but by 1940, production had just about ceased. German car factories had more pressing needs…
It wasn't until the 1954 300SL 'gullwing' coupe – derived from the 1952 race car of the same name – that the three-pointed star re-discovered performance. And then in May '55, the gorgeous little 190SL roadster followed – sporting many of the 300SL's design cues in a compact, open-topped monocoque body. It wasn't long before the 300SL morphed into a roadster too (launched early '57), and for the next six years, the 190SL and 300SL roadsters neatly complemented each other in Mercedes-Benz showrooms.
The beautiful 'Pagoda' 230SL replaced the pair of them in 1963, but it was really a more powerful, new-generation 190SL rather than a successful substitute for the legendary 300 'sport leicht'.
Mercedes-Benz's first attempt at reviving the 300SL's spirit came decades later, with the fast but fatally flawed Mercedes-McLaren SLR (2003). But it wasn't until that car's replacement – the SLS AMG 'gullwing', launched in 2010 – that Mercedes could finally offer a competitive, relatively accessible supercar worthy of the 300SL legend.
Anyone who's driven an SLS, however, will tell you that, bar the theatre of opening a pair of gullwing doors, the SLS roadster is the one to go for. It's better-looking, is much easier to get in and out of, and without a steel roof getting in the way, there's no stopping the howl of AMG's thunderous V8. It's nearly $500K of visceral supercar.
But the SLS roadster potentially wouldn't be here in 2012 if it weren't for its great-great grandparents, both of which have joined an SLS for a 'Then versus Now' time test – a 1957 300SL roadster and a 1960 190SL roadster. To be honest, about all they share with each other is the three-pointed-star badge in the front grille, but there's more to it than that. It's something to do with the sense-of-occasion that a truly great classic (or modern classic) convertible Benz exudes.
Performance enthusiasts will quickly dismiss the 190SL as a sluggish poseur's or ladies' car. And they'd be wrong. Fast it isn't, but tractable, amenable and cheerful? You bet. Powering the relatively solid (1160kg) 190SL is an 1897cc SOHC four, fed by a pair of two-barrel Solex carburettors to produce 77kW at 5700rpm and 142Nm at a very useable 3200rpm.
It was a brand-new engine design in 1955, though it shared elements with the 300SL's six-cylinder – namely its 85mm bore, though not its all-alloy construction (the four had a cast-iron block). Still, compared to Benz's then-current four – an ancient, underpowered 1.8-litre side-valver chugging away in the 180 sedan – the 190SL's twin-carb, overhead-cam unit must have been a revelation.
Contemporary road tests clocked the 190SL from 0-60mph in 13.0 seconds – enthusiastic for the mid-'50s – and Mercedes claimed a top speed of 171km/h (106mph), which was genuinely impressive. Even today, the 190SL doesn't feel slow. Admittedly, this beautiful 1960 example, owned and restored meticulously by Murray Allen, may as well be a brand new car, it feels so tight and fresh. And the drivetrain is a major part of that.
The all-synchro four-speed manual is delightfully precise, snicking from gear to gear, stirring a torquey engine that's a little grumbly at lower revs, but also quite happy to head towards 6000rpm. The 190SL will comfortably sit on an indicated 75, even 80mph (128km/h), roof down, without raising a sweat, though on long hills, the speedo needle starts to gradually fall – exposing the 190's ultimate lack of poke. But it's such a charming tourer, you instantly forgive the lack of neck-snapping pace. Or a sports-car soundtrack.
Jumping into the 300SL feels vaguely familiar after the 190SL (despite this one being left-hook), but it's a totally different experience. If the 190SL is a little sweetie, then the 300SL has an undercurrent of bad-boy about it. There's the same expensive metallic 'thunk' when you close the door, but in the 300SL, you have to navigate yourself over a very wide sill (thanks to its tubular chassis) before slotting behind a big, flat steering wheel that unclips and flips up to ease access. Even so, the wheel sits very low – forcing a 'shuffle' steering technique. Ironically, larger folk are much better off in the 190!
Like the 190SL's four, the 300SL's 2996cc SOHC six is very flexible, no doubt helped by its direct mechanical fuel injection, but once you hit 4000rpm, the delicious old six takes on a hard, raspy edge that makes you want to delve deep into its thrust reserves – a process heightened by the absence of a roof.
Power peaks at 158kW at 5800rpm – double the 190SL's mumbo, though partly offset by the 300SL roadster's 170kg weight penalty – while torque is 274Nm at 4600rpm. And it's quick, covering the standing quarter mile in the low-16s as opposed to the 190SL's 19-dead, and capable of somewhere between 235km/h and 260km/h, depending on which one of three final-drive ratios it's running.
Swap into the SLS and you may as well be in Starship Enterprise. Sure, the interior is pretty high tech, but it isn't all nerdy-digital. There's retro-style 'eyeball' air vents, a leather-stitched dash, very clear silver/grey analogue instruments, real carbonfibre console trim and lots of brushed aluminium. But what makes the SLS feel space-age is its grunt.
After the long, progressive cable-operated throttle pedals of the 190 and 300SLs, the SLS's electronic throttle feels hyper-sensitive. Acceleration in this car is like turning on a switch, it's so instantaneous, yet there's plenty of old-school flavour to its dry-sumped 6208cc DOHC 32-valve V8. It woofles and farts around at low-rpm, as if it's trying to clear its throat the morning after one too many smokes in the gentleman's den.
But it's all an illusion. The AMG V8 has the lungs of an EPO-enhanced Tour-de-France winner, as one very brisk excursion to its 7400rpm rev limit will attest. Indeed, the difference between the SLS's mid-11 quarter-mile prowess and the 300SL's 16-something is vastly greater than the gap that exists between the four-pot and the six. And same goes for its serious braking response, its super-sharp turn-in, and its tenacious cornering ability. You can cruise in the SLS, no question, savouring its gorgeous exhaust rumble, but it requires skill and bravery (or, on the road, possibly stupidity) to exercise everything it has to offer.
Climbing back into the 190SL is like putting comfy slippers back on. But don't read that as a negative because this little four-cylinder roadster is fabulous to potter about in. Unlike the many English rag-tops of the era, the 190SL is drum-tight and very solid, yet its low waistline and tapering bodywork still make it feel light and delicate. You can sense its supple suspension working independently away beneath you and its beautiful, comfortable interior manages to capture much of the character of the larger 300SL's – especially twisting the horn left or right to activate the indicators. It's arguably my favourite car of the group. Who knew a 190SL would be fun to drive? Not me.
Having driven a 300SL gullwing before, you can feel the dynamic improvement in the roadster. Trailing brakes into tight corners, there's less rear-wheel pivot and pushing it through a series of left-right twisties reveals a flatter, more planted stance from the back end. It seems more forgiving than the coupe, though guided well, any swing-axle Benz can be driven quickly. The big change for the roadster was the addition of a transverse compensating spring in the rear suspension to prevent too much wheel droop, which, in a swing-axle car means reducing the potential for positive rear-wheel camber.
The 300SL roadster also scored four-wheel discs in 1961, though the 260mm power-assisted drums fitted to this '57 model are still easily capable of dealing with the car's performance. The 190SL also has boosted drums (230mm), which possess equally adequate braking ability – certainly compared to the drums of a contemporary VW Beetle or, ahem, an American car.
Obviously, rarity plays a big part in a car's value, and with only 1858 300SL roadsters built, it's this car that's worth sizeable bucks – $700,000, give or take condition, trim, or wheel type. A sound 190SL (of which 25,881 were built in eight years) will currently set you back between $90,000 and $120,000, though Murray Allen's "better than new" example is insured for $180K. And if you want a perfect W113 280SL (1968-71), you're also looking at $120,000.
Given that only 14 SLS AMGs have been sold in Australia so far this year, you'd imagine this $487,500 Stuttgart supercar will be a valued proposition for some time to come. But I'm not sure the SLS has the class of the 190SL or 300SL roadsters.
What it does have is presence – loads of it – and an exhaust note that could probably be heard from the moon. But regardless of its excellence, it will never be as prized as the 300SL original.

I OWN ONE: 190SL
Murray Allen
Long-time benz tragics will probably recognise Murray Allen – 72 years young and still a sucker for a ground-up Mercedes-Benz resto.
"I'd always wanted a 190SL but finances were a bit tight during [my] business-building stage. This one came up in an auction and it had a lot of rust but figured that I could fix it.
"Mechanically it wasn't too bad, but we pulled it completely apart, and the further we pulled it apart, the more rust we found. We virtually ended up building a complete new body. [And] we've built probably the most accurate 190SL body ever built. This is plus or minus less than half a millimetre all over.
"While that was going on, we rebuilt the engine, gearbox, diff, suspension. We put it all together eventually, which took about seven years."
I OWN ONE: 300SL
Ray & Sue Lodder
Regular readers might remember the red 300SL roadster that tussled with our Galaxie in the Targa Tour back in Issue 337. And it's this car.
Owned by Ray and Sue Lodder, this beautiful '57 300SL roadster is no trailer queen!
"I bought the car in 2005 and it underwent a three-year restoration, and since then, we've been using it often. We've done the Classic Adelaide [and have covered] 8000 miles in the last four years," said Ray.
"My sister's boyfriend briefly drove [a '50s SL] and I wanted to buy it, but couldn't afford it. When I finally could afford to buy it, he'd sold it!
"In almost a knee-jerk reaction, I saw one come up for auction in Sydney and I bought it. I paid market value at the time, but then had to spend [a lot] to get it up to scratch." And it was certainly worth it.
SPECIFICATIONS
1957 Mercedes-Benz 300SL
Engine: 2996cc 6cyl, SOHC, 12v, direct mechanical fuel injection
Power: 158kW @ 5800rpm
Torque: 274Nm @ 4600rpm
Weight: 1330kg
Gearbox: 4-speed manual
0-97km/h: 8.5sec
Top Speed: 235km/h-plus
Value: $800,000
1960 Mercedes-Benz 190SL
Engine: 1897cc 4cyl, SOHC, 8v, twin Solex carburettors
Power: 77kW @ 5700rpm
Torque: 142Nm @ 3200rpm
Weight: 1160kg
Gearbox: 4-speed manual
0-97km/h: 13.0sec
Top Speed: 171km/h
Value: $90-120,000*
2012 Mercedes-Benz SLS AMG
Engine: 6208cc V8, DOHC, 32v, sequential fuel injection
Power: 420kW @ 6800rpm
Torque: 650Nm @ 4750rpm
Weight: 1660kg
Gearbox: 7-speed automatic
0-100km/h: 3.8sec
Top Speed: 317km/h (limited)
Price: $487,500
*****
More reviews:
> Driven: Mercedes-Benz SLS Black
> Driven: Mercedes SLS Roadster
> Buyer's guide: Mercedes-Benz 190SL (1954-62)
Search used:
>> Search Mercedes-Benz cars for sale
Unique Cars magazine Value Guides
Sell your car for free right here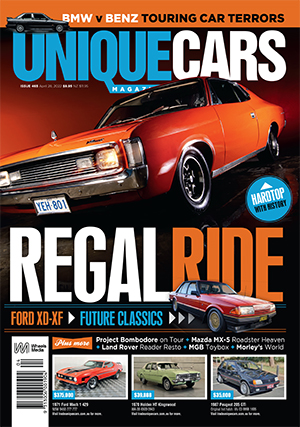 SUBSCRIBE TO UNIQUE CARS MAGAZINE
Get your monthly fix of news, reviews and stories on the greatest cars and minds in the automotive world.
Subscribe