Holden Brougham v Caprice: Then & now
---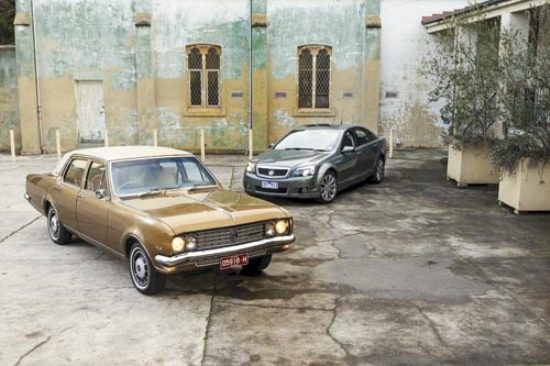 Holden Brougham v Caprice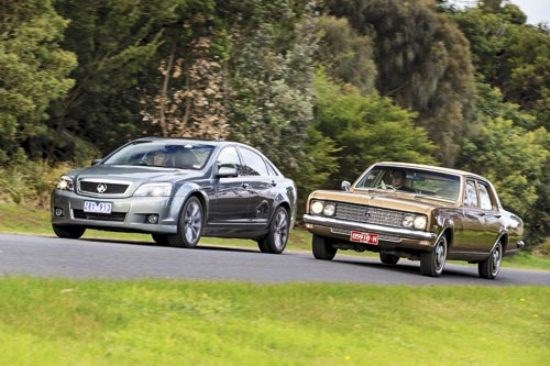 Holden Brougham v Caprice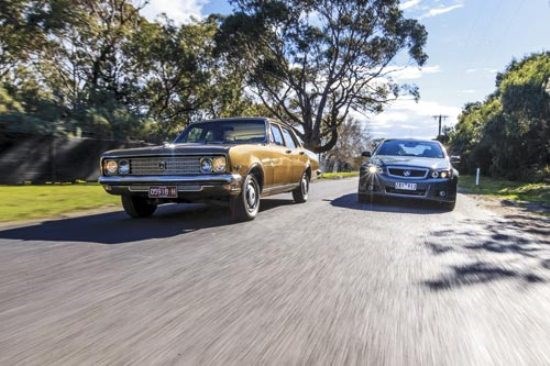 Holden Brougham v Caprice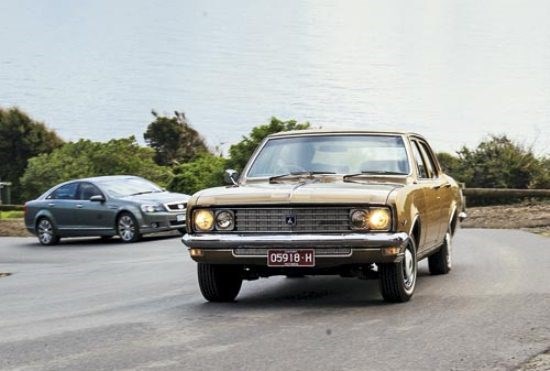 Holden Brougham v Caprice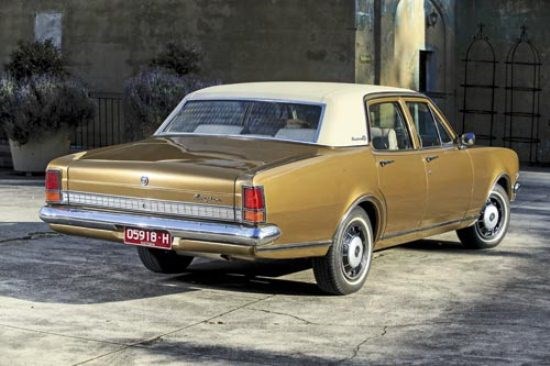 Holden Brougham v Caprice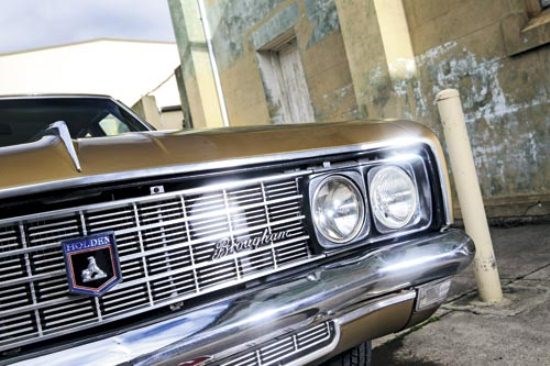 Holden Brougham v Caprice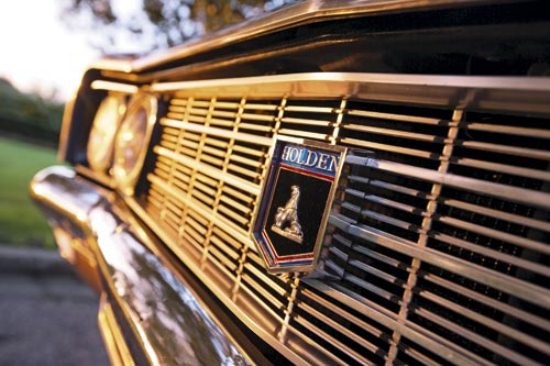 Holden Brougham v Caprice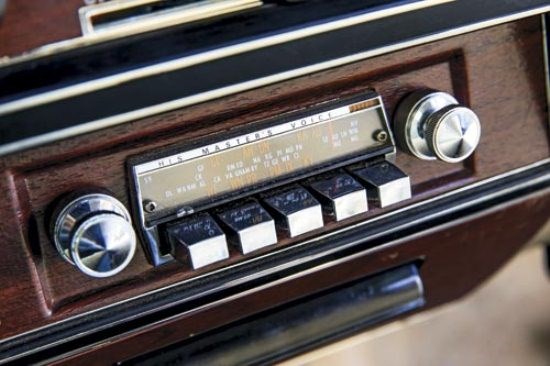 Holden Brougham v Caprice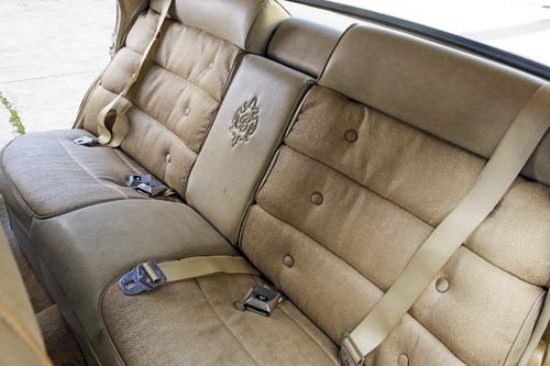 Holden Brougham v Caprice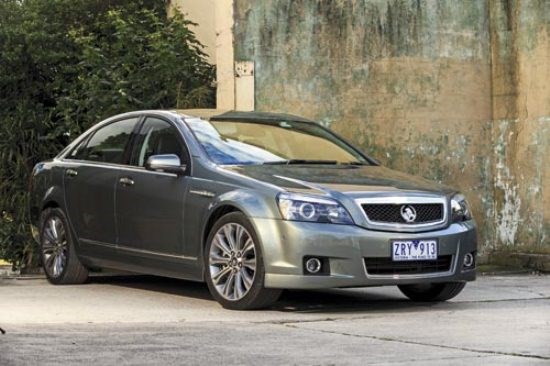 Holden Brougham v Caprice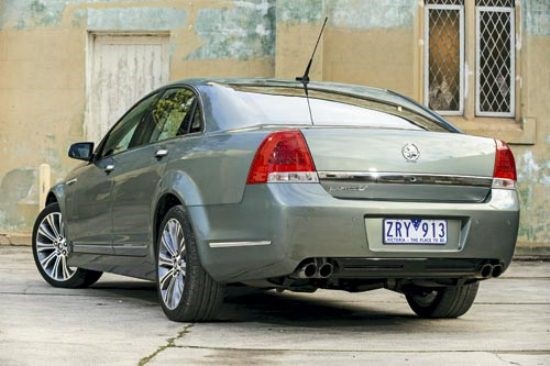 Holden Brougham v Caprice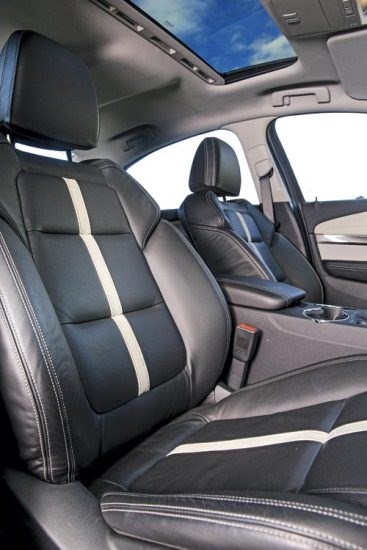 Holden Brougham v Caprice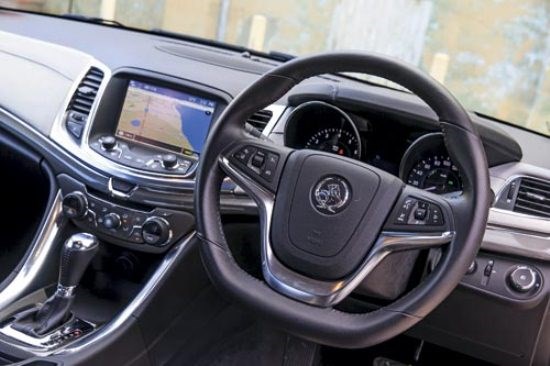 Holden Brougham v Caprice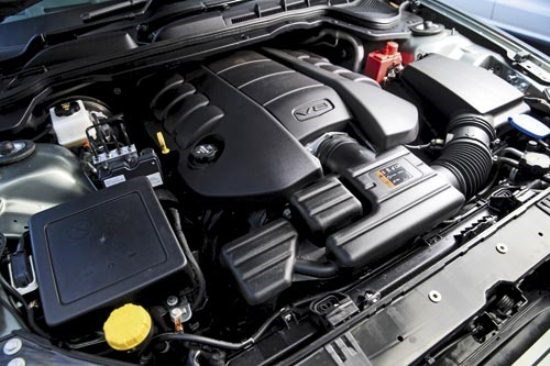 Holden Brougham v Caprice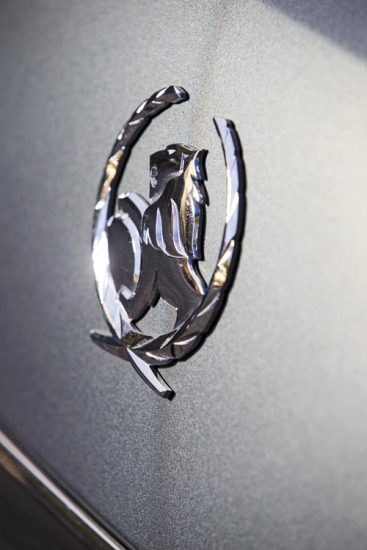 Holden Brougham v Caprice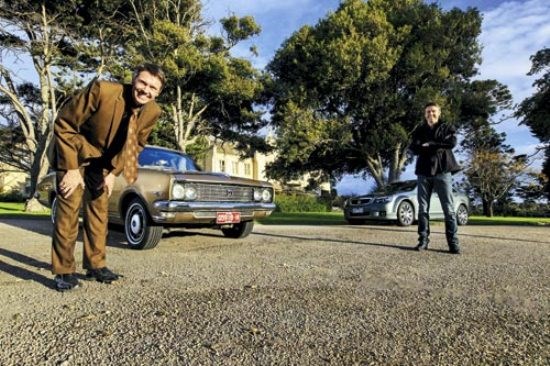 Holden Brougham v Caprice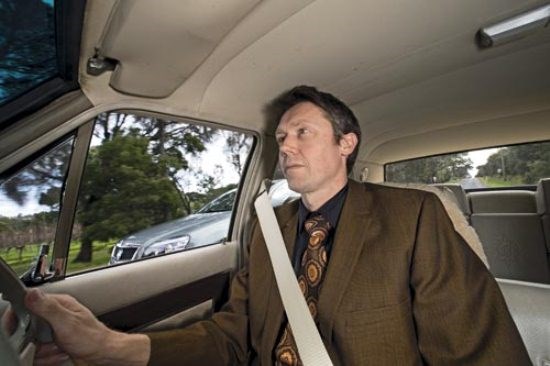 Holden Brougham v Caprice

These luxurious locals rolledout of the same plant, 43 years apart...
Holden Brougham v Caprice
> Watch a video of the HT Brougham here 
These luxurious locals rolledout of the same plant, 43 years apart, and Holden handling wizard, Mike Barber, has a soft spot for both of them...
To be loved, a car has to be special to the person driving it. Mike Barber understands that. As one of Holden's senior chassis development engineers, he plays a key role in massaging communication and personality into cars with the Lion badge, be they locally-developed or imported product.
Mike is literally a test driver, spending much of his life tuning and retuning cars at Holden's Lang Lang proving ground and out on the open road. He was one of the architects of the Zeta architecture that underpins the VE/VF Holden Commodore family and has also spent time seconded to General Motors in the USA working on advanced super-secret stuff.
He delves into the mathematics, kinematics and geometrics of car chassis behaviour and then translates all that into seat-of-the-pants pleasure. Shock absorbers, jounce bumpers, rebound springs, racks and pinions and more are central to his life's work.
A mechanical engineer, a former rally driver and an enthusiastic motorcyclist, you'd think Barber would have some Holden exotica parked in his shed, like the new SS-V Redline or one of the reborn Monaros of the early-2000s.
But no, open the door of his garage and there, sitting clean and neat, slightly worn and clearly loved is an HT Holden Brougham.
To be honest there aren't many locally-built Holdens less well regarded than the Brougham. Built from 1968 to 1971 through HK, HT and HG iterations, it was a quick and cheap response to the spiralling success of Ford's long-wheelbase ZA Fairlane luxury car.
The problem with the Brougham was while its body was stretched, the wheelbase remained the standard 2800mm length. To create its first luxury car Holden simply added 200mm onto the boot of a  Premier! The Brougham was not a success and it was replaced by the HQ Statesman in 1972, a car that was not only longbodied but long-wheelbase too.
Sitting alongside the Brougham in these photos is a brand new WN Caprice V, which descends from the family tree of the original HQ Statesman. Just as that car was a long-wheelbase spin-off of the standard HQ Kingswood, Premier et al, so WN Caprice is a stretch of the VF Commodore's Zeta architecture.
So Barber owns the first Holden luxury car and has intimate knowledge of the latest one, having helped tune its suspension and steering calibrations.
As neatly relevant as that is, there's poignancy as well. We could also be looking at the first and last chapters of an era, given the frail state of the Australian car manufacturing industry now that Ford has announced its departure in 2016 and Holden has questioned the future of its Elizabeth assembly line in Adelaide, where both the Brougham and Caprice were built some 43 years apart.
Indeed, the South Australian capital is central to this story, as Mike explains. "My mother mostly grew up in Adelaide and some good family friends of hers were the Cooper family and we used to go over there every Christmas. This was Geoff and Jessie Cooper and Geoff was one of the Coopers Brewing brothers and Jessie was like a second mother to my mum. She was also a bit of a trailblazer; she was one of the first women elected to the South Australian parliament and the first one into the upper house in 1959.
"In 1970 Jeff was Chairman of the Coopers board and Managing Director and he chose this car. At the time Coopers had a policy of only buying Holdens for any executive vehicle or passenger cars. After a couple of years he bought the car from the brewery and Jessie drove it around until either she retired from driving or passed away in the late 1980s. She drove it for the best part of 20 years into the centre of the city virtually every day.
"Jessie was probably only five feet nothing and was never seen without sixinch stiletto heels – I can show you the holes her heels dug through the carpet to the floor!"
Mike remembers travelling in the car as a child and being amazed by its size and opulence. The love affair began. "I think the affection for this car was triggered by an early affection for cars in general and this being a bit flashier, but also the affection for Jessie and Geoff," he revealed.
After Jessie passed away, Mike made an offer to Geoff to purchase the Brougham: "At the time I was a dead-broke Uni student... he said 'thanks for that' but he seemed to shrug it off and I thought it never seeded in his mind."
But it did, as Mike was to discover some time after Geoff had also died, when he was in Adelaide at Easter in 2002 and dropped in to see Geoff and Jessie's son, James.
"He offered us the latest Coopers brew and asked us our thoughts and then out of the blue said 'have you come to pick up the Brougham?'. I was speechless, I was floored. He said 'the old man wanted you to have it and it's been waiting here for you'. And the price was what I originally offered – $1500." The deal was quickly done and Mike soon towed it home to Melbourne.
What he had bought himself was the 426th HT Brougham to roll out of Elizabeth. Built in April, 1970, it was sold to the brewery by Freeman Motors the following month.
While the HT was only a minor styling change from the HK – note the floating Holden badge in the grille – it was a significant technical milestone because of the replacement of the Chevrolet 307ci V8 with Holden's own 308. The only transmission choice was the GM Powerglide two-on-the-tree, replaced one month after Mike's car was built by the local three-speed Tri-matic (dubbed Trau-matic because of early issues).
Then the hard part began. There was a lot of work ahead. "It's been very targeted repair work really. I wouldn't call the car restored. The suspension and brakes needed a lot of work, the cooling system needed a lot of work. I've had the heads off and I've put new big-end bearings in when I had the K-frame out, but I have never had the block or the transmission out of it."
Rarely has Mike modernised, but he admits to turning to a set of take-apart twin tube shock absorbers and replacing the original water pump with a higher pressure unit with a cast (rather than leaky press-fit) impeller from a newer 308. Overall though, original parts have proved no problem given the Brougham's commonality with other HK-T-G Holdens.
The original 'Egyptian Bronze' paint has been retouched, not renewed; the worn seats are covered in sheep skins, not reupholstered. The sandalwood brocade looks in better shape and the vinyl roof seems to be coping with time okay.
"It's a cruiser," says Mike. "It comes out every couple of weeks or so. When the weather is right we'll go for cruise, or when we are out on the weekend visiting friends or going for lunch.
"People are surprised when they learn I own this car. I suppose they expect me to have an awesome handling car. The thing is I work as hard as I can on the Holdens, trying to get as much out of them as I can. I don't need to be doing that at home.
"And I love tinkering and I love old cars. Old cars drive like crap without exception: let's not kid ourselves, we like them for other reasons." Or, in this case, love them.
WORLDS APART
The BroughamM is the automotive equivalent of an ageing and slightly decrepit southern gentleman; worn around the edges, a bit seedy but capable of a dignified pace. By contrast the Caprice V is very much of today. It's as slick and powerful as a Wall Street futures trader.
From the driver's seat – bench or bucket – the age difference is obvious. The Brougham's dash is metal and square with slide controls and lots of blank space. In contrast, every square centimetre of the Caprice's swooping and swelling dashboard is populated by knobs, buttons and displays.
The Brougham's 179kW 5.0-litre Holden V8 chuffs into life with a friendly, metronomic intimacy. You can almost count every stroke in the cycle. The Caprice's 6.0-litre Chev' V8 is far away behind sound deadening and thickened glass but rev it hard and it snarls.
All there is to do in the Brougham is grasp the steering column-mounted shifter and ease into 'D'. It's antediluvian. Maybe the Caprice's six-speed isn't cutting edge in this era of eight and nine-speeders, but you can select sport or manual mode.
The Brougham's steering wheel is big and bony and the recirculating ball system it attaches to is as vacant as a real estate developer's dream. The Caprice V's fat leather wheel is flatbottomed and hooks you hard and clear into an electric-assisted rack and pinion that is quite brilliant in terms of clarity and accuracy.
The Brougham doesn't so much have body control as body sog. It's never even limply shaken hands with the concept of torsional strength. It eddies through life. The Caprice is taut and terrific, isolating and damping blotches in a way modern Australian cars do exceptionally well.
"There is nothing that links these two cars in an engineering sense," says Mike Barber. "But what I do love is these cars both pumped out of the same plant. Different eras, different people, different products but the place remains the same."
SPECIFICATIONS
1970 Holden Brougham
Engine: 5044cc V8, OHV, 16v
Power: 179kW @ 4000rpm
Torque: 427Nm @ 3000rpm
Weight: 1473kg
Gearbox: 2-speed auto
0-97Km/h: 10.8sec (claimed)
Top speed: 166km/h (claimed)
Price when new: $3988

2013 Holden Caprice
Engine: 5967cc V8, OHV, 16v
Power: 260kW @5600rpm
Torque: 517Nm @ 4400rpm
Weight: 1851kg
Gearbox: 6-speed auto
0-100Km/h: 5.8sec (claimed)
Top speed: 250km/h (limited)
Price: $59,990
*****
More reviews:
> Watch a video of the HT Brougham here
Unique Cars magazine Value Guides
Sell your car for free right here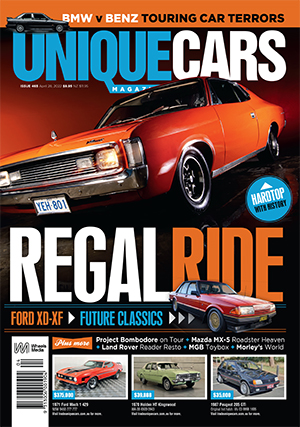 SUBSCRIBE TO UNIQUE CARS MAGAZINE
Get your monthly fix of news, reviews and stories on the greatest cars and minds in the automotive world.
Subscribe