2008 Fiat 500 & 1970 Fiat 500 Feature Review
---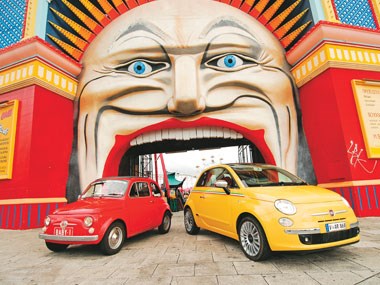 2008 Fiat 500 Lounge & 1970 Fiat 500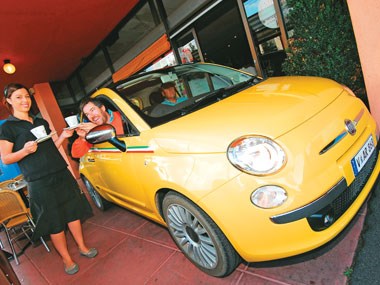 2008 Fiat 500 Lounge & 1970 Fiat 500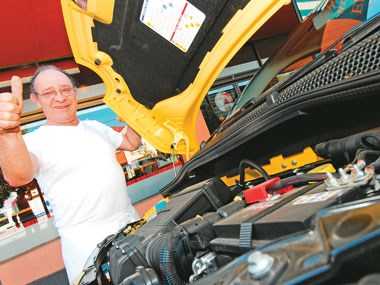 2008 Fiat 500 Lounge & 1970 Fiat 500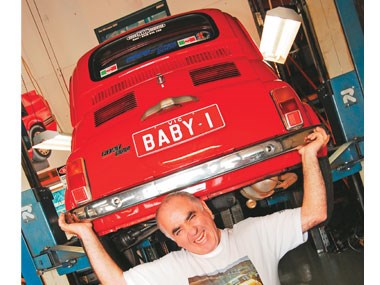 2008 Fiat 500 Lounge & 1970 Fiat 500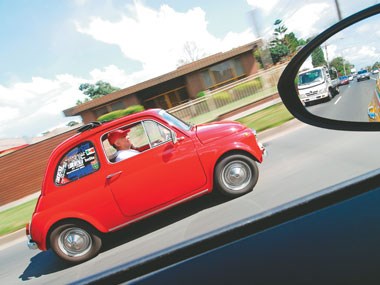 2008 Fiat 500 Lounge & 1970 Fiat 500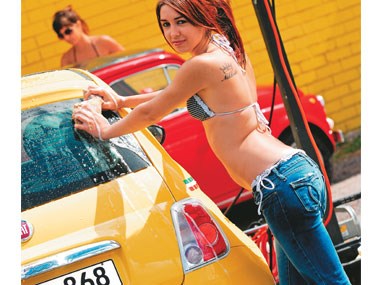 2008 Fiat 500 Lounge & 1970 Fiat 500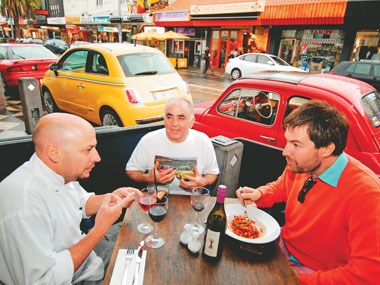 2008 Fiat 500 Lounge & 1970 Fiat 500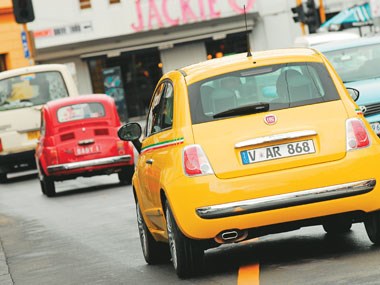 2008 Fiat 500 Lounge & 1970 Fiat 500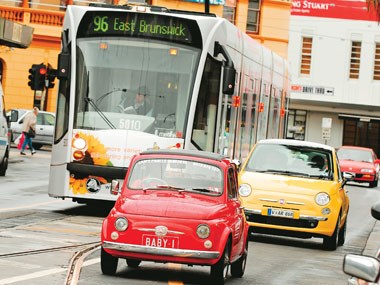 2008 Fiat 500 Lounge & 1970 Fiat 500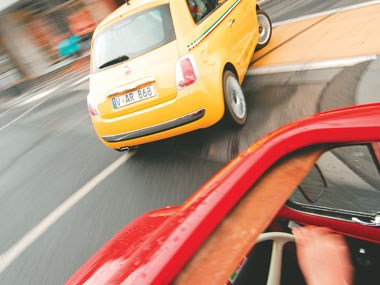 2008 Fiat 500 Lounge & 1970 Fiat 500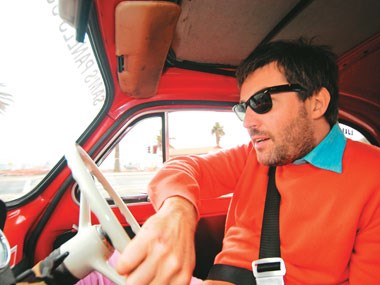 2008 Fiat 500 Lounge & 1970 Fiat 500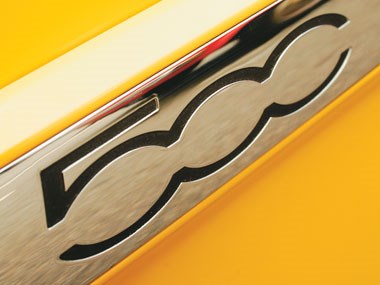 2008 Fiat 500 Lounge & 1970 Fiat 500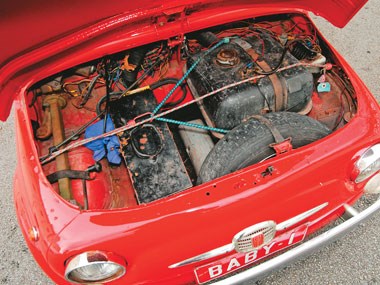 2008 Fiat 500 Lounge & 1970 Fiat 500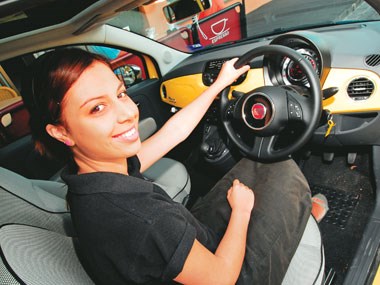 2008 Fiat 500 Lounge & 1970 Fiat 500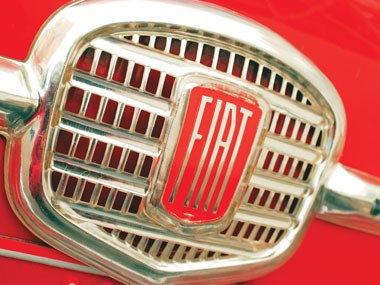 2008 Fiat 500 Lounge & 1970 Fiat 500

Ciao Bella: Fiat 500. Fiat has revived the cinquecento but is it as appealing as the original? David Dowsey does the hard yards to find out.
Fiat 500: 2008 & 1970
[April 2008] I feel sorry for those who have to work for a living. Me? Well I just get to drive nice cars and hang around pretty girls all day. Honest I do!

Today is a typical day at the office. Well, I must confess that I never actually got to the office. I thought a more civilised beginning to the day was to nick across the road to one of my favourite restaurants for some café and biscotti. In Italy they call this colazione - but between you and me let's just call it breakfast.

I don't dine alone though. I have with me in tow Fiat's new 500 baby car - and a classic original version, not from 1957 when these cuties were first launched but an almost identical 1970 version, and its enthusiastic owner.

I should have known that today was not going to be a quiet one. Backing the car up to the front door of the Emporio Restaurant in the Melbourne suburb of Oakleigh I impatiently wait for my coffee to appear. It's anything but pronto though; the blasted chefs and waitresses are ogling 'my' car instead.

The Emporio's animated owner takes control of the steering wheel in a wave of nostalgia. He remembers the days when he could buy an original 500 in Italy for $500. "They were everywhere," he remembers.

A fellow diner, taking time out during school holidays for a quick bruschetta, Lara Templeton, can't resist a go at the wheel of the cheeky car either. And while the youngster is learning Italian she reserves her judgment on the car's looks for two more slightly familiar words: "It's cool!" she giggles.

With everybody salivating over the duco I decide the cars require a spruce up before we get serious about our photoshoot. And you know what? The only car wash within 100km is the appropriately named Kittens Car Wash down the road. Hey, I can't help it if the dedicated professional car cleaners there happen to be wearing bikinis - despite the cool Autumn weather. I never said this job was easy!

After our two babies have been given a thorough going over we are ready to roll. Next stop on our arduous journey is Fiatparts in Moorabbin to chat with Gary Oates about the pros and cons of classic 500 ownership.

Gary has worked on Fiats for over 20 years and specialises in the marque. Sitting in and around his Moorabbin workshop are classic 124 Coupes, 33s and 75 models among others. He has a soft spot for the 500 but confesses that many owners service the mechanically simple cars themselves.

Sam Mazzeo is the 500 Registrar of the Fiat Car Club of Victoria. He owns "half a dozen 500s" - some in better repair than others - including an early '57, a Giardiniera wagon and our featured '70 model. The native of Salerno, near Naples admits his passione is partly a nostalgia for his home country.

"My brothers had Fiats and when I bought my first car it was also a Fiat," he says.

Clearly he loves his Cinquecentos (500s) but what does he make of the re-born version? He's obviously impressed because he couldn't refuse the invitation to buy one. And not just any one - he is soon to become the proud owner of a 'slightly used' version driven by tennis ace Wayne Arthurs during this year's Australian Grand Prix Celebrity Race.

By this time I'm starving so we head to Acland Street near St Kilda beach and Sam and I trade seats to check out how the other half lives. Hardly conspicuous I find the original surprisingly easy to drive in traffic. For a tall chap like myself I am all arms and elbows so I'm not sure how I'd feel about a longer, cross border trip.

Sure it takes a while to get up to speed (0-100km/h takes a turtle-like 35secs) and with all-round drums it's not great at stopping in a hurry either but it's a fun drive with accomplished steering and handling. The best thing is when we try to find a parking space in the busy seaside cafe district; both Fiats fit neatly in one space. Voila!

By chance Executive Chef Paolo Dall'Oste at Vibe Italian restaurant in Acland Street is a Fiat tragic and charges out onto the street from the busy kitchen at the sight of our two cars. He makes a great ragu but when I want to compare notes about my penne con pollo he insists on discussing side-draft Webers. He has a knife so I let him talk.

"I've owned a Fiat 124 Spyder for 10 years…" begins the affable Italian. In between the excitable talk and waving of hands I ask Paolo what he thinks of Fiat's new 500? "They have done a great job. Man, I would buy one tomorrow. I just have to talk my wife around."

Wishing him luck with his bella donna we wipe our chins and head for Luna Park. But when I mention a quick ride on the Street Legal Dodgem Cars photographer Stuart Grant gives me 'the look' and we pose the cars in front of the famous 'mouth' instead. There's serious work to be done you know.

It's here that I discover some of these cars' real pulling power. Normally parking a couple of coupes on the footpath and across the front entrance of a public place such as this would be a no go but as the security guards approach I feel the tension melt away as they stop to admire the stylish autos. We get the nod, but not before the crew shoot more than a couple of longing glances in the Fiats' direction.

Driving the new 500 along the beach road I realise that this car is more than about good looks. It's no road burner for sure but it's great fun to drive; comfortable and well equipped, with good handling and a snappy gearbox. And despite its diminutive looks it has adequate room for front occupants while the rear can accommodate a couple of rug rats and some luggage.

Looking at the stats demonstrates a great deal about how things have changed over the last five decades. Despite the car's name it is no longer powered by a 500cc engine; the new version's has grown out to 1.4 litres, and with twice the cylinders it's around six times more powerful and has a top speed double that of its predecessor. But tellingly it is nearly twice its weight.

The letdown for me was the 1.4-litre engine's lack of torque. Sure it revs but there is little additional power to accompany the ever-rising soundtrack. I could live with that but I wouldn't buy a car like this to win the traffic light Grands Prix. For a city car that's easy to park, fun to drive and pretty good on petrol though it's a winner in my books.

And the looks? Well with the thumbs up from Fiat diehards to impressionable schoolgirls it looks like Fiat has another winner on its hands in that department. You do pay a premium however for the latest in Euro-chic styling and some desirable options.

So my typical working day comes to an end, but this one is tinged with sadness. You see I have to take 'my' baby back to Fiat and leave her there. Usually I don't mind letting a car go, but this time it hurts. Mama mia I think I'll have to go and buy my own!
SPECIFICATIONS
2008 Fiat 500 Lounge/1970 Fiat 500
BODY: two-door coupe
PRODUCTION: NA/four million-plus (all models)
WEIGHT: 930kg/499kg
ENGINE:  1.4-litre four-cylinder petrol/499cc twin-cylinder
TRANSMISSION: six-speed manual/four-speed manual
POWER/TORQUE: 74kW/131Nm/13kW/29Nm
PERFORMANCE: 0-100km/h - 10.5secs/35secs (approx)
TOP SPEED: 182km/h/95km/h
PRICE: $29,190 (as tested)/$15,000 (est.)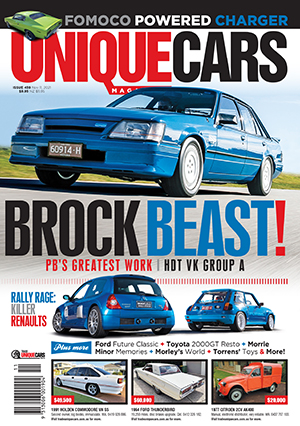 BLACK FRIDAY SALE ON NOW: Save 50% on a Unique Cars magazine subscription
Australia's classic and muscle car bible. With stunning features, advice, market intelligence and hundreds of cars for sale.
Subscribe