Leyland Moke Californian - buyer's guide
---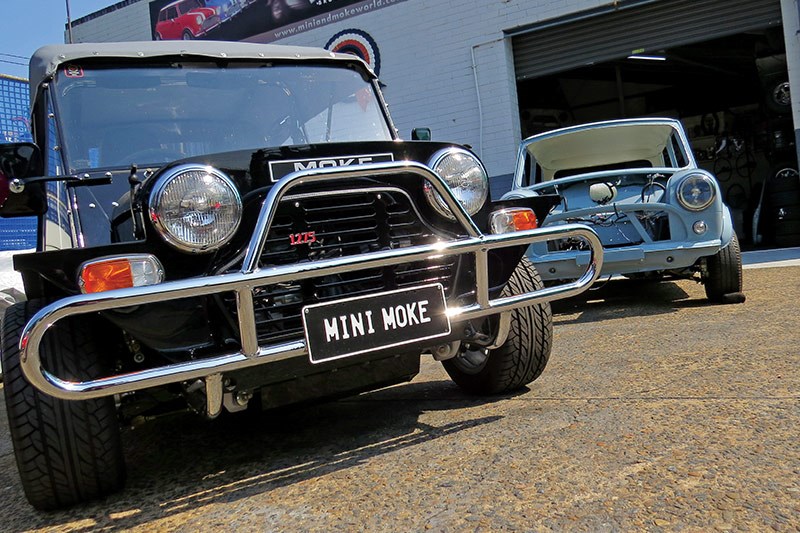 Mini & Moke World have re manufactured a 1981 Moke and given it a dose of modern upgrades

Like the Landrover before it, the Mini Moke's roots can be traced to a military application
If you were struggling to find a conventional sports car at sensible money in the late 1970s, this odd-looking device might provide an ideal alternative.
Having invested heavily in the design of a military 'para-Moke' which didn't succeed, BMC didn't let the concept die and in 1964 a civilian version entered the British market. Two years later, the Mini Moke found its way to Australia and began winning friends.
By the 1970s, local Mokes had a 1.1-litre engine and proper 13-inch wheels with wintertread pattern tyres, plus a sump guard. They weren't quite a 4WD but many people knew how to make Mokes go places you couldn't reach in any other kind of 2WD vehicle. In 1971 a run of 300 'export' Californian versions with 1275cc engines were built. These had steel bodies and survivors are scarce, however the longevity of later versions was helped by their use of a galvanized 'tub'.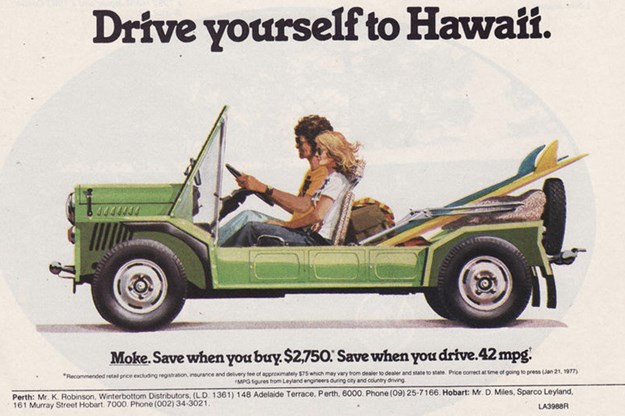 Cost-savings in 1975 brought back the 998cc power unit and emission control measures reduced output to just 29kW. In 1979, towards the end of the Moke's Australia lifespan, 1275cc motors again became available in Californian versions, accompanied by front disc brakes. Safety requirements implemented during the 1970s forced Leyland to install proper front seats with head-restraints, while dash protrusions were redesigned or removed.
| 2021 Market Review: Leyland 1971-1983
In 1982, Leyland needed the Enfield (NSW) factory for Peugeot assembly and Moke production was shifted to Portugal. Portuguese Mokes, as had thsse last of the local Californians, featured an integrated roll cage plus a new hood which was a vastly improvement on Australia's `flapping tent'. The last new Mokes sold in Britain late 1994 for over 6000 Pounds.
Californians with their upgraded interior are preferred choices for comfortable cruising. A roll-cage and lap/sash or full-harness belts are equally important if you plan to drive your Moke with the enthusiasm it will encourage.
Starting, steering and stopping are standard Mini. Brakes fitted to pre-1979 versions were unassisted drums and work okay despite high pedal pressures.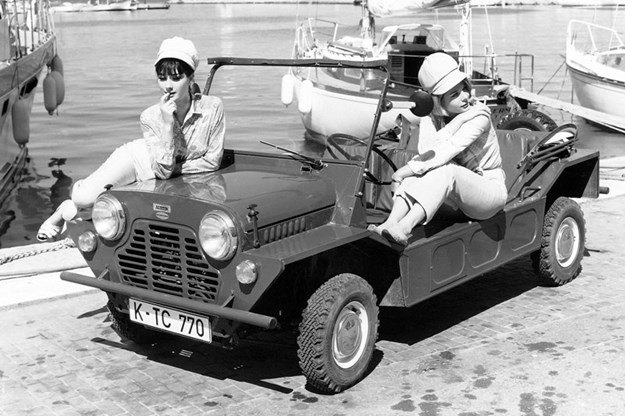 Acceleration even in a 1275cc version was leisurely but the wind and noise reverberating through the buckboard body gave an impression of far greater pace. Just as well; because with the top down in bright sunlight the centrally-mounted speedo is hard to read.
| Workshop profile: Mini & Moke World
Handling is Mini taken to the extreme. Cars fitted with off-road pattern tyres understeer ferociously when pushed and will snap sideways if you panic and back off mid-way through a bend. Such characteristics can be used to advantage by experienced Mokers and these cars have been a favourite with motorkhana competitors since their introduction.
Australian Moke production exceeded 26,000 and survivors of all but the very earliest version are easily found. There aren't as many specialist Moke and Moke parts dealers as there once was, however plenty of excellent vehicles remain available.
Californians in ordinary condition with the 998 engine start at $10,000 while at the opposite end of the scale some fully restored, gal-body examples with 1275cc engines have been offered at $50,000 and beyond.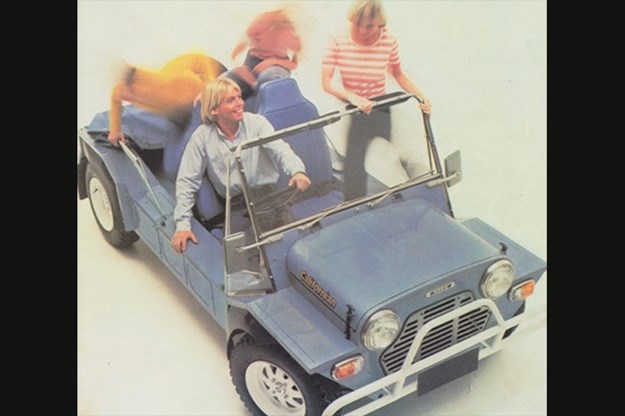 VALUE RANGE: Moke Californian (1275 Californian)
FAIR: $10,000
GOOD: $25,000
EXCELLENT: $37,000
(Note: exceptional cars will demand more)
BUYER'S CHECKLIST
Body & chassis
Panel gaps as such don't exist when inspecting a Moke but you can check the floors and side-pods for signs of previous repair and the windscreen mounts to ensure they are solid. If you've got a car that doesn't have the galvanized body, check seams, floor pans, the petrol tank and rear-suspension mounting points for rust. Also inspect the battery carrier which hides in the right-hand side pod for corrosion. Reproduction bodies in galvanised steel are available and some prices (US$3000-4000) look too cheap for a prudent buyer to consider. But no one really knows until one of these has spent some time exposed to the elements.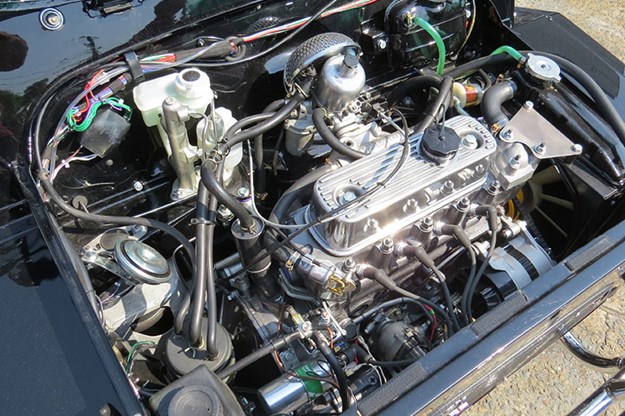 Engine & transmission
Mini motors are reliable provided normal maintenance is observed. Short stroke 998cc engines fare best for longevity but 1275cc units offer superior performance and greater scope for modification. Engine numbers for genuine `1275' Mokes start with 12G or 12YG. Plastic fan blades are prone to breaking but steel replacements can injure the radiator core if worn mounts lallow excessive engine movement. Normal Mini transmission problems – noise, worn synchromesh and noise – are amplified by the Moke structure. Severe whine or difficult gear selection indicate impending expense and reco transmissions cost around $1500 plus fitting. Clutch shudder can be a symptom of wear or disintegrating engine mounts. Driveshafts will break if subjected to harsh use but replacements are available.
Suspension & brakes
Not much to worry about here, provided the structure is straight and the rear suspension mounting points are crack-free . Locating pins for the rear suspension trailing arms wear and can even break if seriously neglected. Replacement pin kits cost less than $60 per side but if the mounting holes are damaged, remedial welding will be needed. Brake drums can become misshapen and new replacements cost around $100 each. Disc front brake conversions using later-model components are available from $1000 plus labour.
Interior & electrics
Replacement hoods and sidescreens in vinyl are available at $900-1200 but the paisley-pattern and denim tops fitted to some cars are very scarce. Instruments and control knobs can be found second-hand from Clubs or specialist Mini wreckers. To improve wet weather reliability, underbonnet electrical components need to be protected from moisture so moulded shields are available from Mini specialists. Owners also recommend a Silastic seal between the distributor cap and base. If you go to the USA and outlay considerable money, a specialty business will even transform your Moke into an electric vehicle.
1966-1982 Leyland Moke Californian specs
Production: 26,142 (total built in Australia 1966-82)
Body: Open-top, unitary construction
Engine: 998 or 1275cc inline four cylinder with overhead valves and single downdraft carburettor
Power & torque: 37Kw @ 5100rpm, 81Nm @ 2500rpm (998cc)
Transmission: 4 speed manual
Performance: 0-100km/h: 24.5 seconds (est.) 0-400 metres: 21.9 seconds (998cc)
Suspension: Independent with wishbones, rubber cone springs and telescopic shocks (f) independent with trailing arms, rubber cone springs and telescopic shocks (r)
Brakes: Drum or disc (f) drum (r) (unassisted)
Tyres: 155SR13 radial
From Unique Cars #450, March 2021
Unique Cars magazine Value Guides
Sell your car for free right here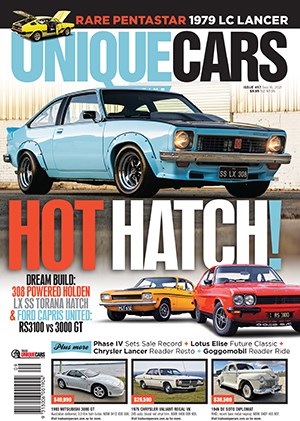 Subscribe to Unique Cars Magazine and save up to 42%
Australia's classic and muscle car bible. With stunning features, advice, market intelligence and hundreds of cars for sale.
Subscribe