Mazda 929 wheels - Our Shed
---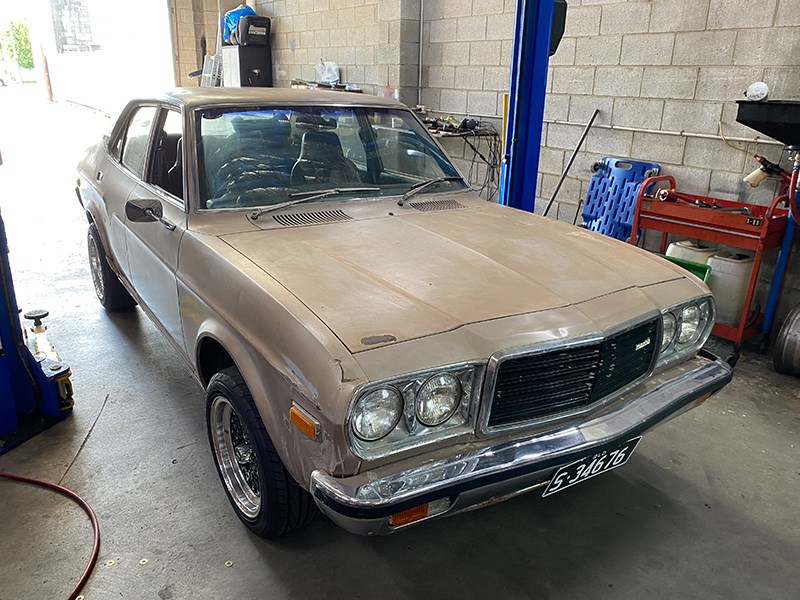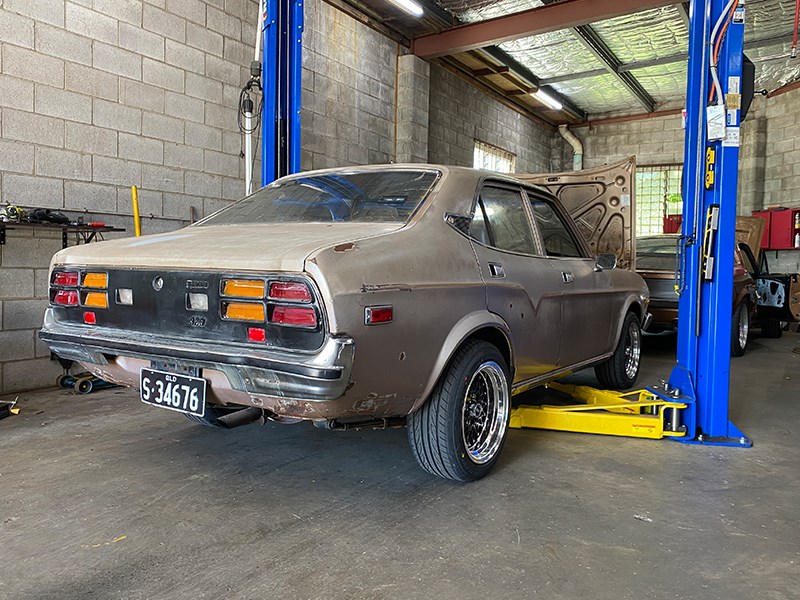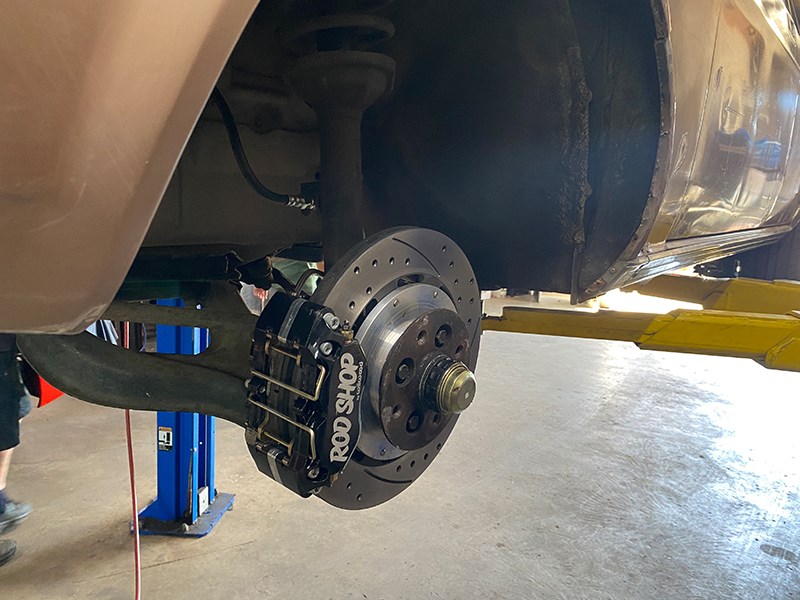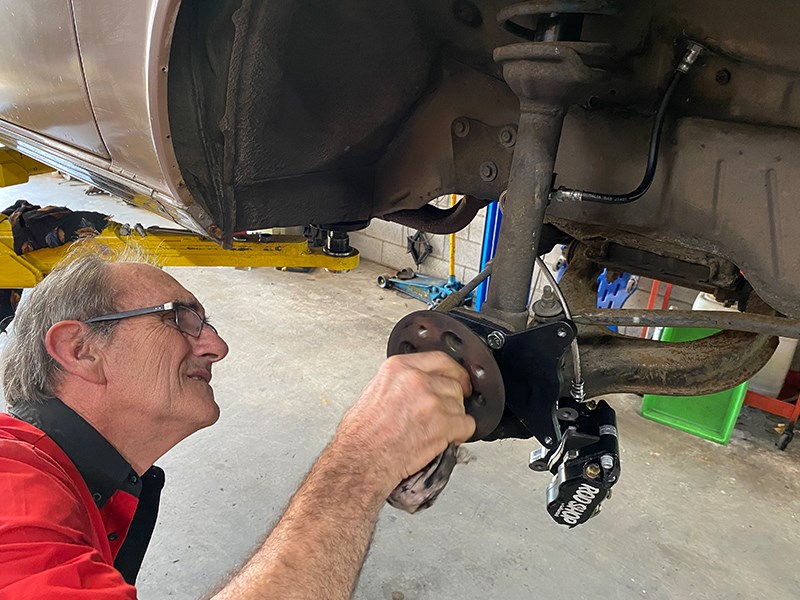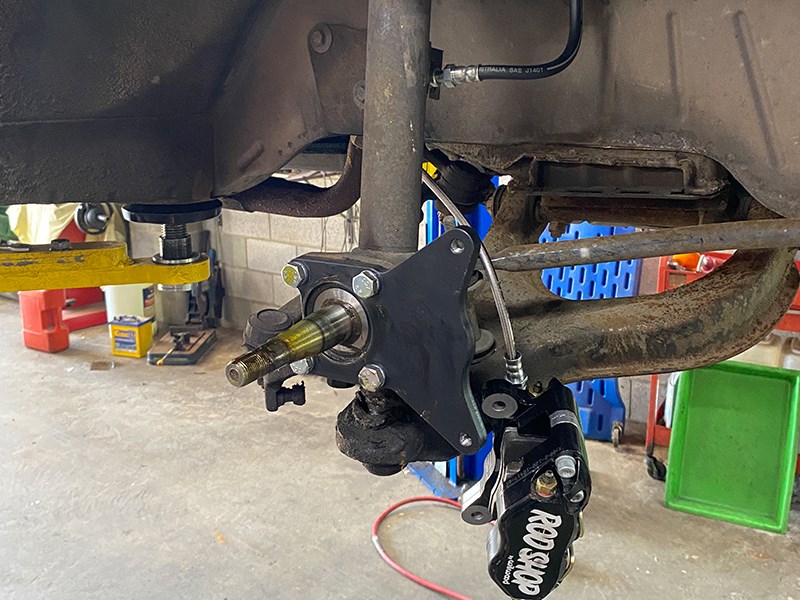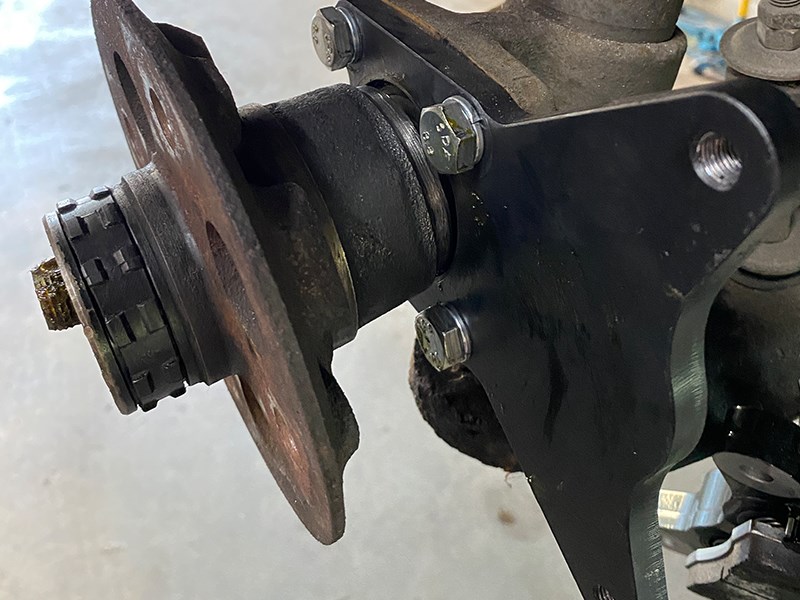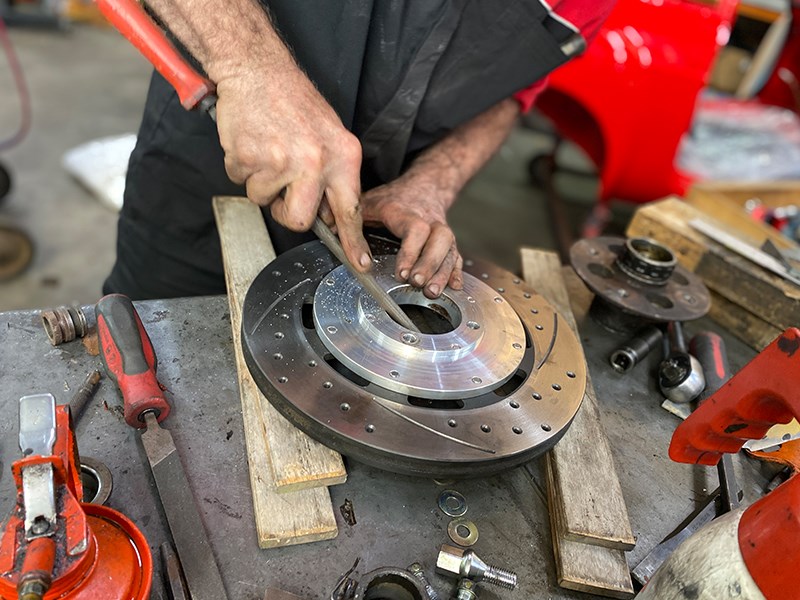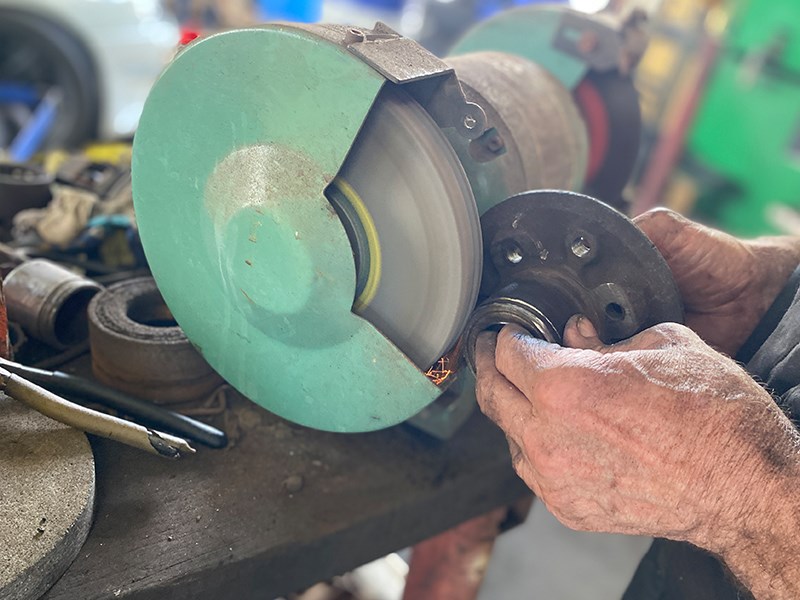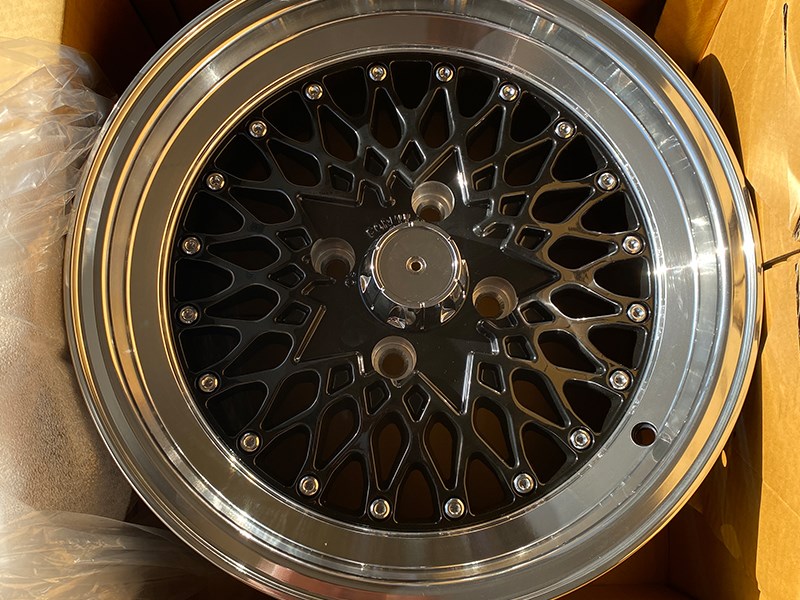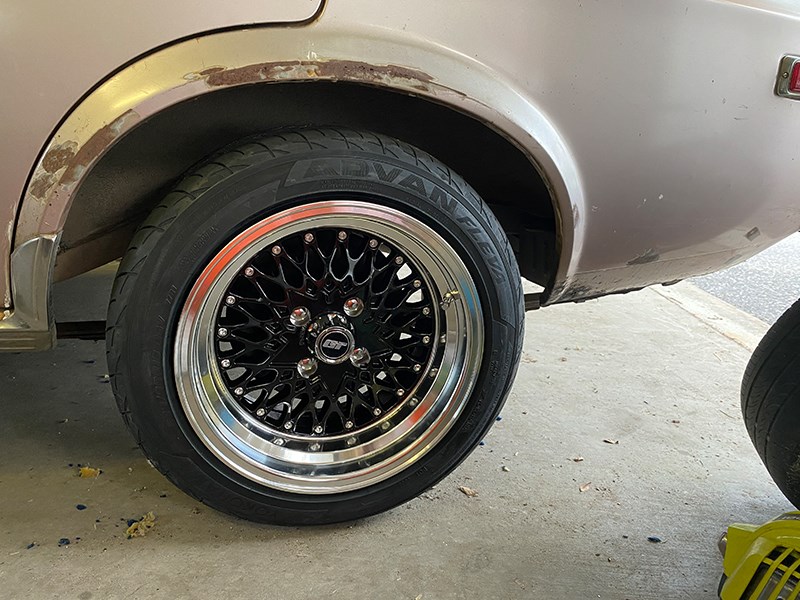 James has been stressing over rims for Project Mazda
I recently broke one of my rules I'd made when starting the build on the Mazda. Don't start a job without all the parts to get it back on the road straight away. It's pretty much the only rule I have aside from the constant voice in my head saying, "You can do it cheaper than that". But that's less of a rule and more of the Scotsman me always looking for a deal.
Quite a few months ago I got very excited at the idea of fitting a Rod Shop brake upgrade kit to my Mazda. It was sitting there begging me to install it while also looking pretty straight forward. How could I resist? Only one minor thing had to be considered. The 13-inch standard wheels are too small to clear the bigger discs and callipers.
| Read next: Mazda 929 brake upgrade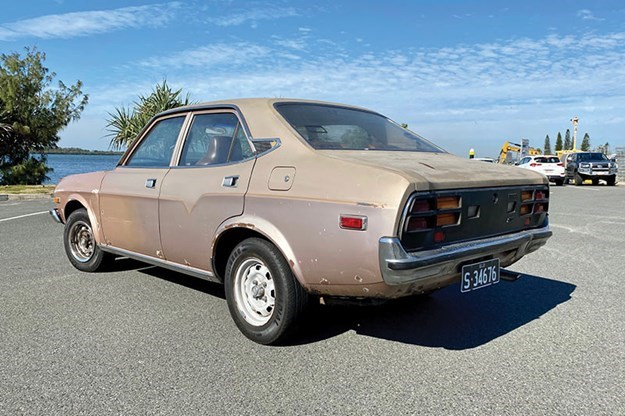 Project Mazda's original steelies had to go
At a minimum 15-inch wheels are required, so once the wheels come off and the kit goes on the car won't be going anywhere. This was not something I found out later, it's right there on the website and all the instructions. So I knew what I was doing when I put the car on jack stands and performed the brake upgrade.
I felt pretty chuffed with the new brake kit. It looks great, is relatively easy to install and for all I knew, worked well too. But I didn't know if they actually worked, as the car ended up sitting on those stands for months going nowhere, mocking me for my impetuous decision.
| Read next: Mazda 929 project begins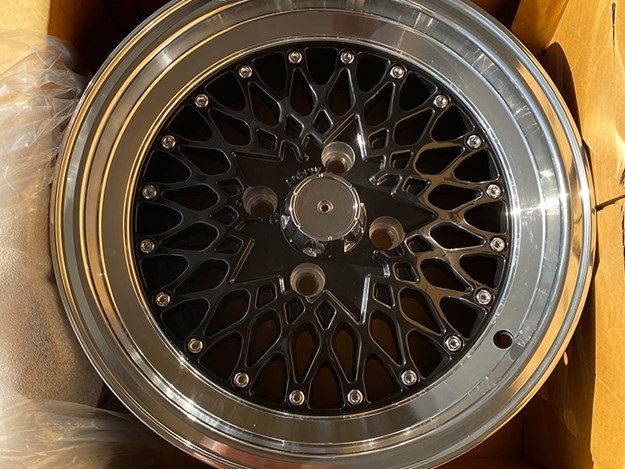 James settled for these flash looking wheels
My time management problems began when I decided to start looking for wheels after the brake upgrade. I knew the wheels I wanted, Black Formula Mesh. I had to laugh at myself expecting to just phone up the wheel shop and get them straight away. "April next year" was the answer I got when asking when I could expect the wheels, it was November at the time. I was determined not to wait that long and phoned all and sundry to hunt down a set.
There were plenty available around Australia, but none in a 15-inch. I remembered speaking with a bloke on the Gold Coast over a year ago regarding all the different custom wheels he did for some show quality cars. I couldn't remember his name or even the business name, but he had been mentioned in a Street Machine article a few issues ago.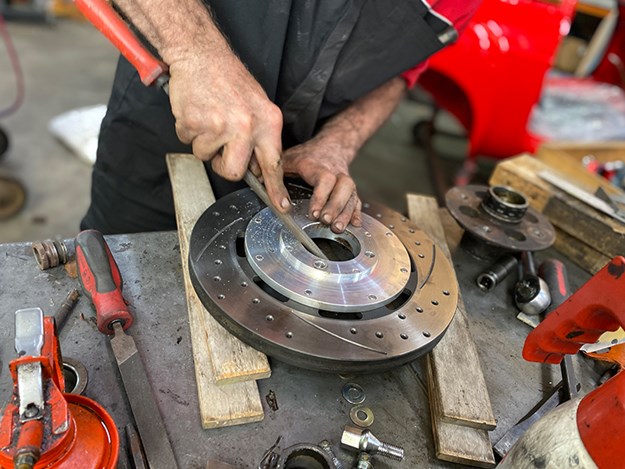 While the new discs and callipers fitted up pretty well, there were some niggling teething issues
Off to the back catalogue of issues I keep at home! Or as my wife refers to them, "the growing pile of door stops". I rifled through a few issues and found the car. November issue, XC Hardtop that a bloke named Marty from GT Wheels had built a set of custom wheels for. I had a business and a name; so tracking Marty down was easy after that. And that's why you should never throw out old copies of magazines!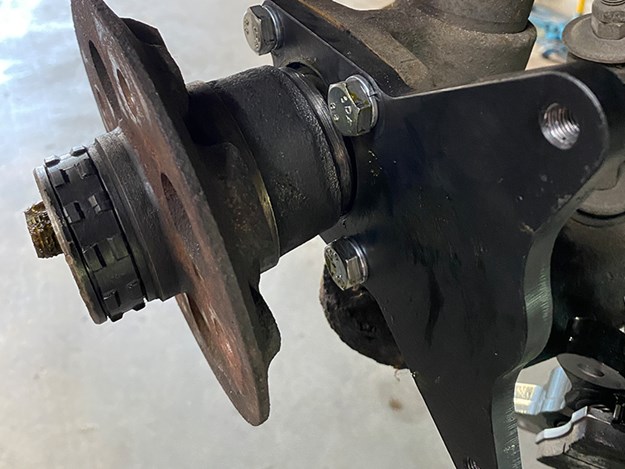 Some work was needed on the front hubs to get the rotors rotating cleanly
Not only could Marty get me the set of the wheels I was after in the right size within two weeks, but he also had them at a surprisingly good price, considering they had to be custom drilled to my stud pattern and offset. He was pretty patient when chatting to me about width, offset, clearances and all the measurements I had to provide.
It dawned on me at the time that I've actually never bought a set of wheels for any of the old cars I've owned. Back in the day, every car I ever bought was second-hand and all came with a set of aftermarket wheels that looked spot on, so I never bothered changing them. I'm sure it also had something to do with my bank balance at the time and the fact I'd spent all my money on the car purchases, with not enough money left over for fuel. It's all about priorities.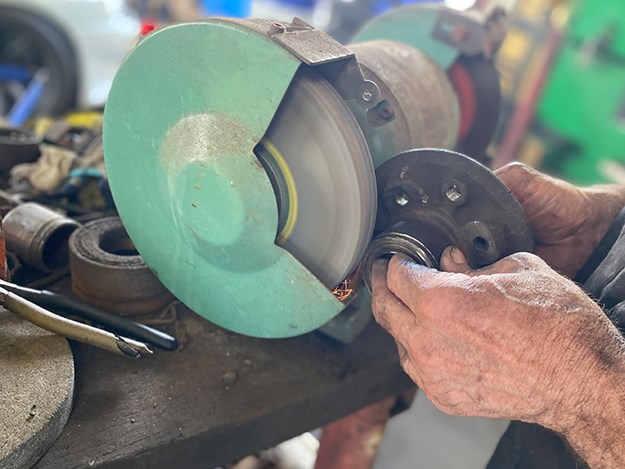 There is nothing like an experienced mechanic who has seen and fixed most things to uncover and rectify the issues on Project Mazda for James
I was surprised at the size of wheel Marty suggested would fit under the little 929's guards. 15 x 7 on the front and a fat 15 x 8 on the rear was the widest I could go. I wasn't 100 per cent convinced I'd measured everything correctly, but figured the worst that could happen is I'd have to roll the guards to fit them if they were to wide.
I drove all the way to the Gold Coast to pick them up, as I didn't want to wait for shipping, just in case they ended up having to go via the NT or some other bizarre freight route. You never know nowadays.
We opted for the Black Formula Mesh wheels as I thought the black centres with a chrome dish would look good against a "Placer Gold Metallic" coloured car, read Mazda's fancy colour code name for brown. Much to my kids disgust I'm planning on repainting the car in its original hue.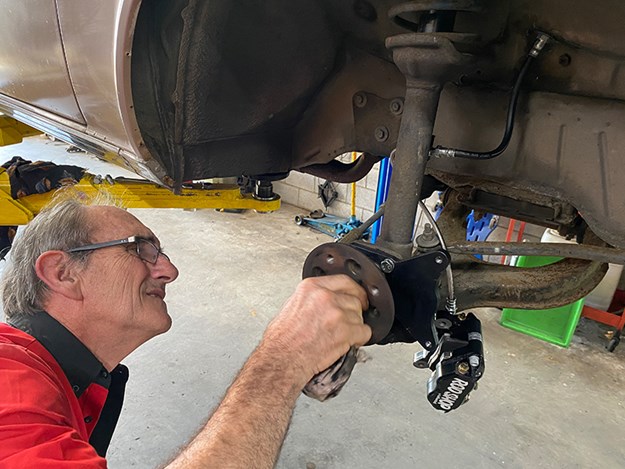 The wheels are designed for a five-stud pattern as you can see by the five-point star in the centre. There is no four-stud version I could find available, so they have to be drilled offset to the five-point star. Not an issue for me, I'm not worried at all, but it might make someone a little bit more "particular" twitch at the thought.
I figured tyres would be easy for a 15-inch wheel and not the pain everyone seems to find with 16s. However I spent a week phoning here there and everywhere for a 205/50/15 front and 225/50/15 as this would give me the same diameter as the original 13s and pretty fat looking rear end.
That particular front and rear pair in any matching brand let alone tread pattern was liketrying to find your soul mate on a dating website in a week. I'm sure it's possible, but I gave up after the 20th website, for tyres that is.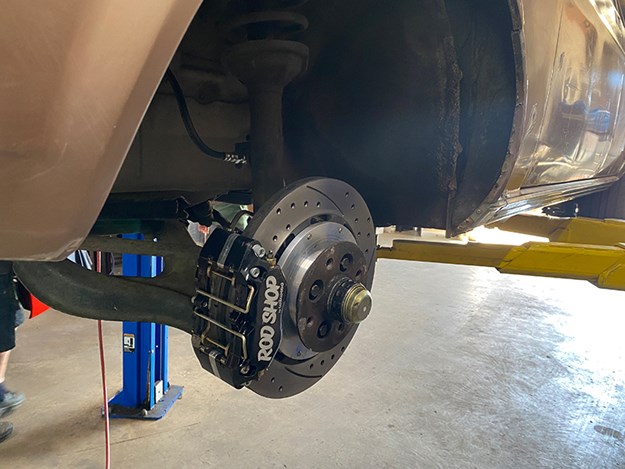 If these don't haul up Project Mazda in a hurry nothing will
I went with Yokohama Advan Fleva 205/50-15 sport tyres all round. I'm pretty pleased with the look. There is a little bit of "stretch" on the 15 x 8 rear, but being a JDM enthusiast, that's fine by me. I think the wheels suit the car but I definitely need to lower the front and rear now as there is way to much gap in the guards.
After fitting the new wheels I hastily replaced the flat battery that inevitably followed after a few months of not running. It was time to take it for a quick lap to test the new brakes and see how the new wheels and tyres rolled. I've got to give the Mazda's little 1.8lt engine some credit; it kicked over straightaway, no hesitation.
It will be a shame to replace it with a potentially less reliable rotary but I've made it this far in life without making reliable choices, so why change now?
As soon as the kids heard it start and get backed out of the driveway, I got met with a chorus of "are you taking the Hot Wheels Car out? Can we come? Where are you going, can we come? What are you doing, can we come?" I still get kick out of the fact my four-and seven-year-old kids call it the Hot Wheels Car and think it is cool.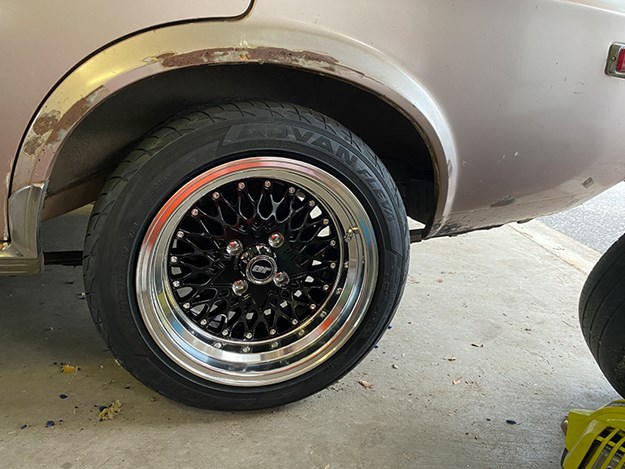 ew rims look the goods, but tyres were a challenge
It's rusty, the paints terrible, it's slow and long way off what I want it to be. But they just see something really different that Dad seems to talk about all the time. They'll probably lose interest when the project is finally finished, but they could also be parents themselves by then!
I did a quick shakedown lap around the block before I considered taking the kids for a drive in the potential death trap. I could hear some slight grinding coming from the brakes and the pedal itself was very soft. Back in the driveway I also discovered a bit of play when I wiggled the front wheels by hand. I had a fair idea the grinding noise might be a case of me incorrectly using the spacers that came with the kit, but the wiggle had me stumped. I checked the bearings with no luck. Time to consult Russell Clark, one of the local gurus.
He runs a local workshop in Caloundra called Sports Classic Garage. Even though Russell's workshop is full of what some might call proper classics compared to an old Mazda 929, he still knows his stuff when it comes to anything old or even more eclectic cars like the Giocattolo sitting in the corner of the workshop. If you don't know what a Giocattolo is, do yourself a favour and look them up, certainly an interesting story on some Aussies giving local car building a go.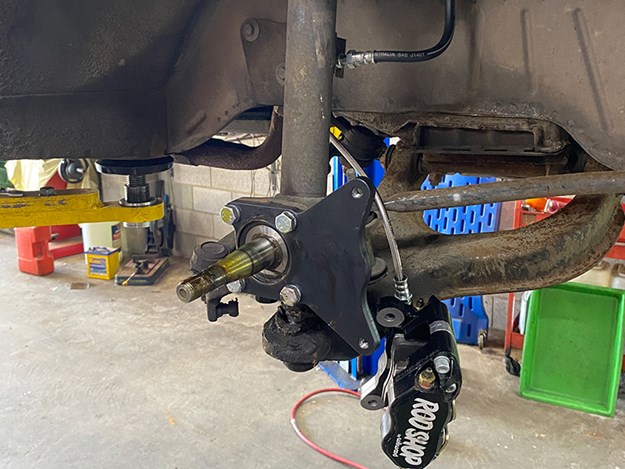 Nothing beats the knowledge of experience in fixing faults
One thing about taking your car to a workshop with a wealth of knowledge like Russell's, they're quick to diagnose problems as they've seen it all. Russell found the issue straightaway. The bearing hub had a small flange on the inner end, which did not quite fit inside the adaptor plate. Essentially it was trying to grind itself off against the adaptor plate. A quick fix was to grind off the already worn flange and also chamfer the alloy disc adaptor on the inner bore to bearing hub. Once everything was back together, hey presto everything was spinning much less encumbered and with no metal wearing noises.
The good news was the issue had nothing to do with my installation, but more of an incompatibility issue with the adaptor plate and my bearing hub.
The brake kit is for a Mazda RX-4 and my car is a 929, so there maybe an issue with my assumption the kit would fit, even though the two models share a lot of parts across the board. The clearance issue was only about 2mm, but it made all the difference when fitting, so moving forward, if a part is for an RX-4, which all the performance upgrades for my car will be, I will double check any measurements in case of slight variations in part compatibility.
It was good to get the old girl up on a hoist to give her a once over. There is always a big chance you'll find some other issues when you get up close to an old car on a hoist, which was exactly the case in this instance. The rear right wheel was dragging which turned out to be a buggered wheel cylinder, a relatively quick and easy fix.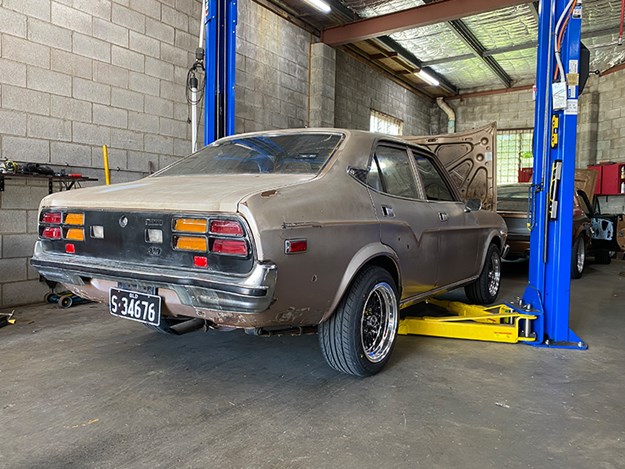 The usual suspension bushes looked like they've seen better days. Russell also diagnosed my soft pedal as a seal in the booster falling out inside the booster, which had probably been happening for years. With the massive front brakes now functioning 100 per cent the Mazda almost turns itself inside out when pulling up, compared to the old brakes.
An afternoon spent with someone who has forgotten more about old cars than I'll ever know and workshop to match; the old Mazda is driving much more smoothly and more importantly stopping. The new wheels and functioning brakes means I can get out and about in the car as well as move it in and out of the garage and being able to travel to workshops for the long list of upgrades and body work that can't be done at home.
Number one lesson learned, again. Don't start a job till you have all the parts to get the car back on the road quickly. I'll still be pursuing as much DIY in the home garage, but it's good to have local knowledge like Russell for the more complicated jobs, or to double check some of my questionable work.
From Unique Cars #464, April 2022
Unique Cars magazine Value Guides
Sell your car for free right here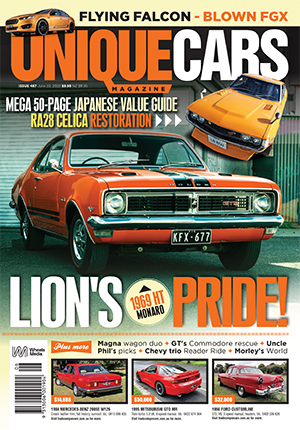 SUBSCRIBE TO UNIQUE CARS MAGAZINE
Get your monthly fix of news, reviews and stories on the greatest cars and minds in the automotive world.
Subscribe