Bargain-buy 1968 VW Beetle - Our Shed
---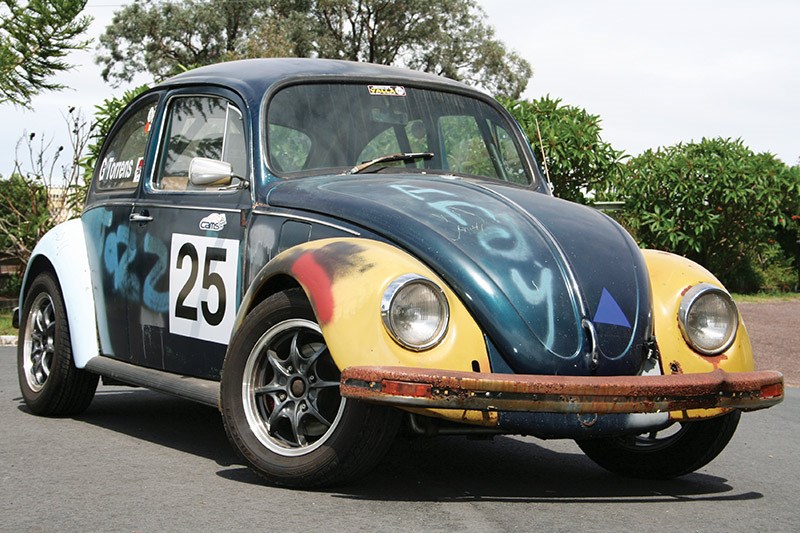 My rough-as-guts Beetle was (in)famous in the NSW Hill Climb Championship years ago. It's inspiration for my 'new' brown one. Yes, really… that was my race car!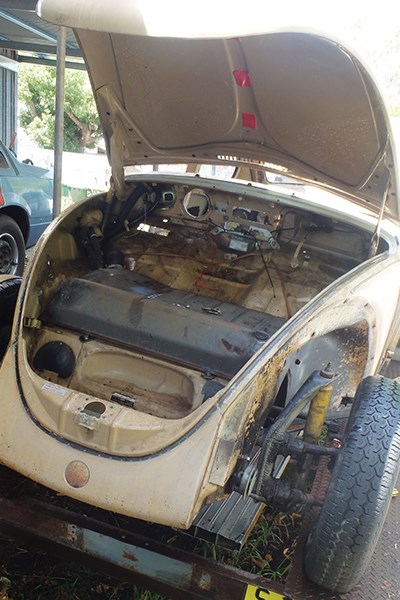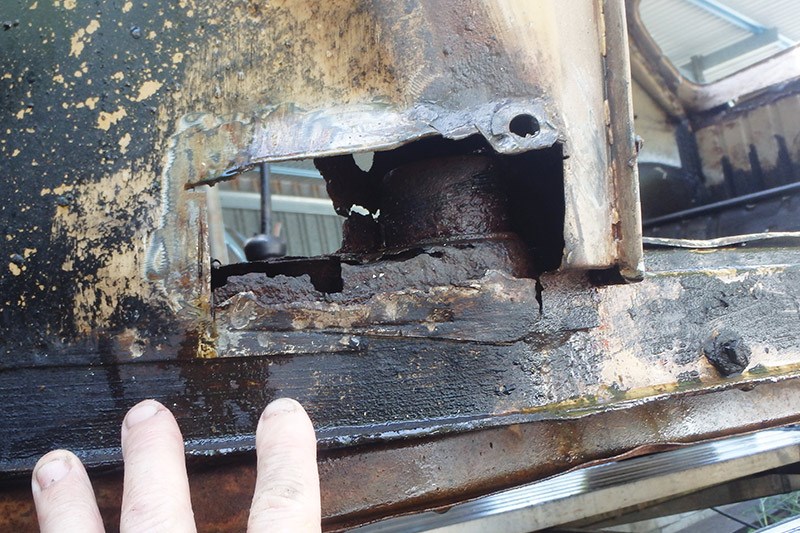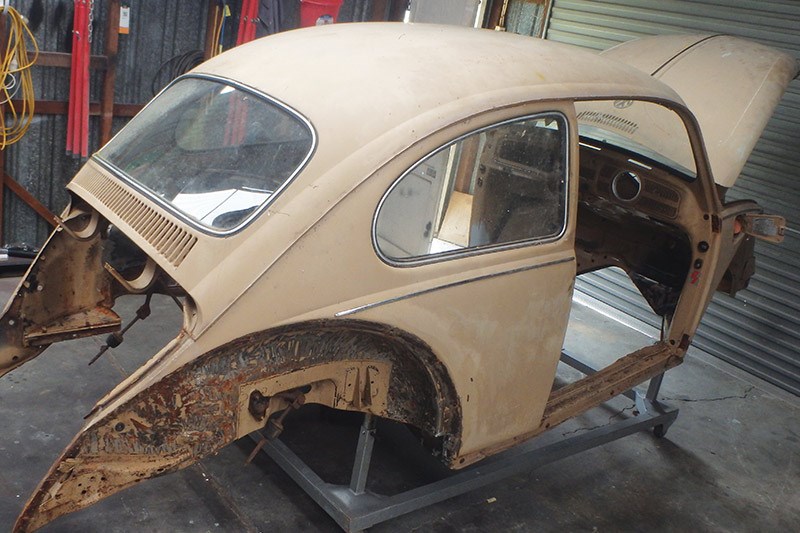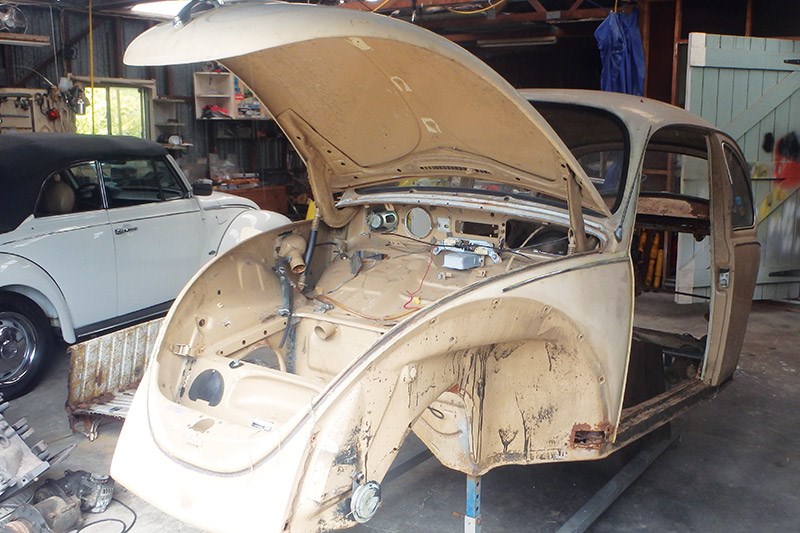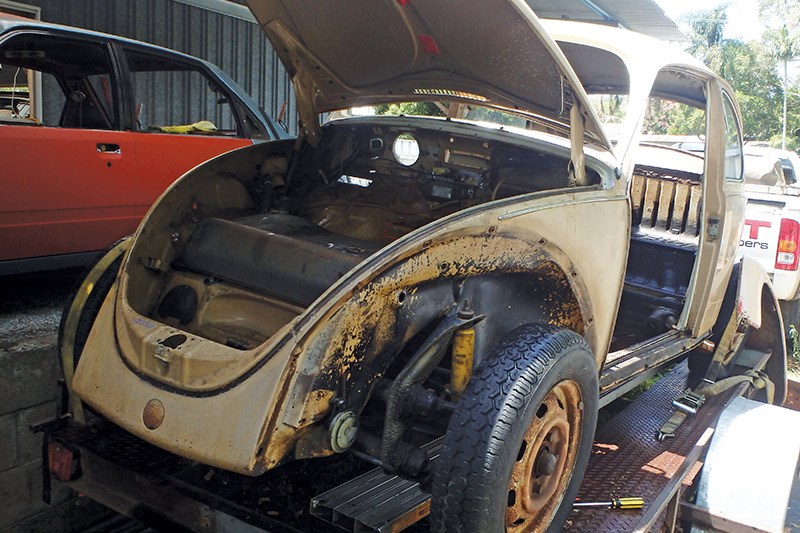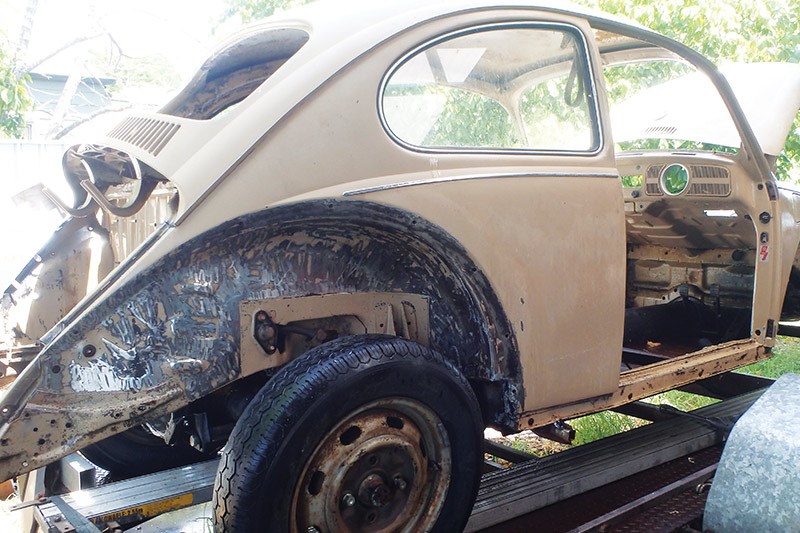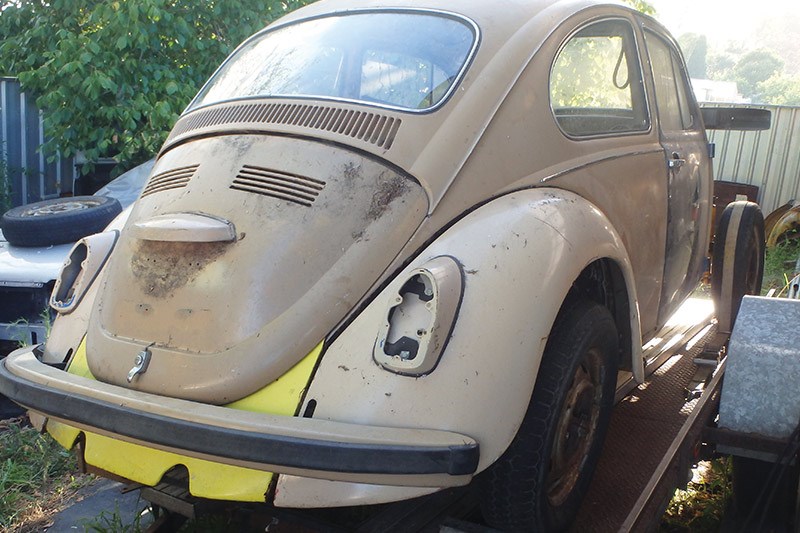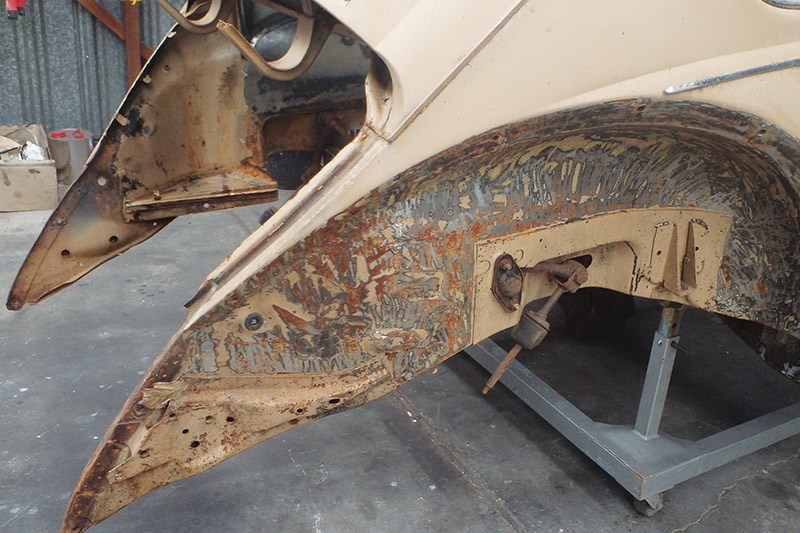 After swearing 'no more', Glenn Torrens bites the bait on another bargain-buy Beetle
Five hundred bucks. Three minutes from home. A bloke I knew. How could I resist? That's the short story of how I came to own another VW Beetle!
Do I need another project? Umm… No. Regular readers may recall that I have another project Beetle right now, plus plenty of other things, but for the price and location I would have been crazy not to take the lure on this one!
The original seam sealer has deteriorated and cracked away from the body. After proper prep, I will apply new seam sealer
The bargain Bug wasn't a complete car; instead, it was a body sitting loosely on a rusty chassis. It had no engine, doors or guards. But anyone casting an eye around my garage and backyard will quickly spy enough spare parts – engines, doors, guards – to assemble a Bug or two!
My bargain-buy Bug body was bought bare, but 'dressing' it with a few panels convinced me I should build another 'outlaw'

My plan for this VW Bug was to rebuild it as a… well actually, as I loaded the bitsa Bug onto a trailer, I had no proper plan. But my mind was swirling with ideas: How about an off-roady Baja Bug, like my mate Tony's camo-covered outback charity trek car? Maybe not… This body was too nice to be sacrificed as a Baja bush-basher and I already have another car set aside for a 'Baja' transformation.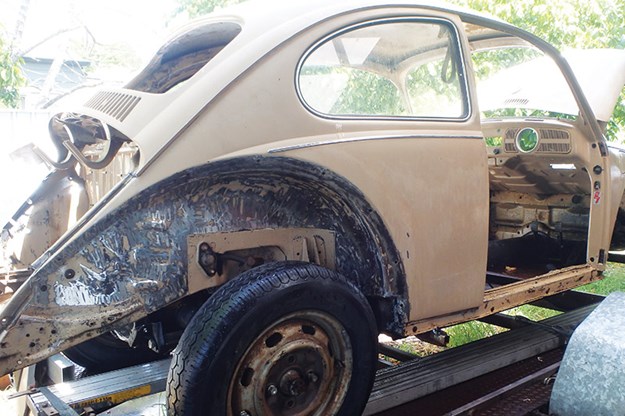 Another brown bomber takes up residence at GT's
How about a full-factory, skinny-tyre, chrome-hubcaps, shiny-paint restoration? Maybe not... With its original engine missing, the car could never be 'numbers matching' pristine and I really could not be bothered right now with a bare-metal, all-new paint job. Plus, I like my Bugs fast, not fuss-pot.
So, what was I to do?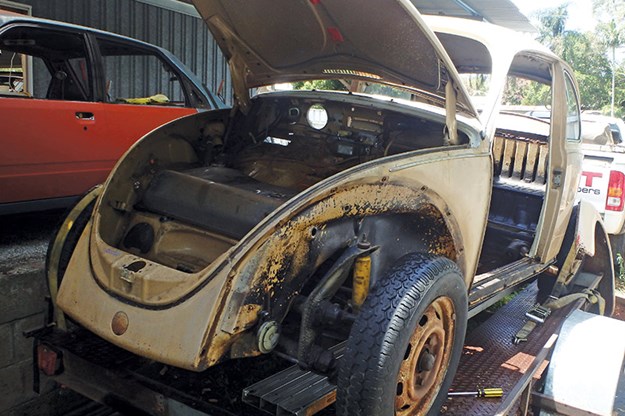 Open wide, there is rust inside
Amazingly, one spare engine lid and a pair of rear guards I had stashed at home were the same colour as my 'new' bodyshell. Loosely installed, those panels made the Bug look almost road-ready! That prompted me to consider how I could quickly create a simple patina Bug and have some fun without too much effort or expense. That's the theme I followed when building a 'wrecker racer' motorsport Bug a decade ago and is of course the theme I followed with my recent farm-find Commodore.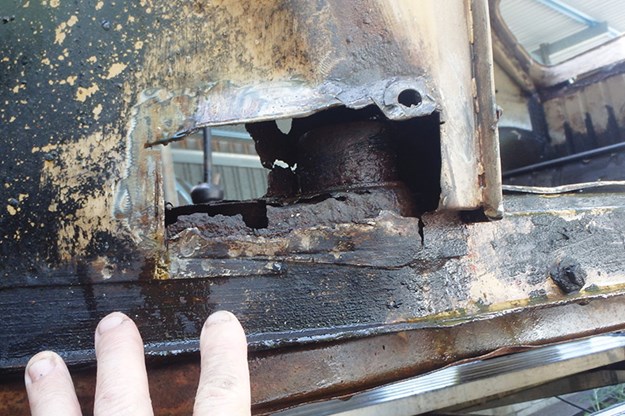 No, this hole shouldn't be here. But thankfully this common Bug rust area is an easy fix
As always, I started the process with a thorough high pressure clean and inspection of the body. Being more than 50 years old, many of these late-1960s Beetles have been patched-up several times but thankfully this one had no previous repairs and not much rust.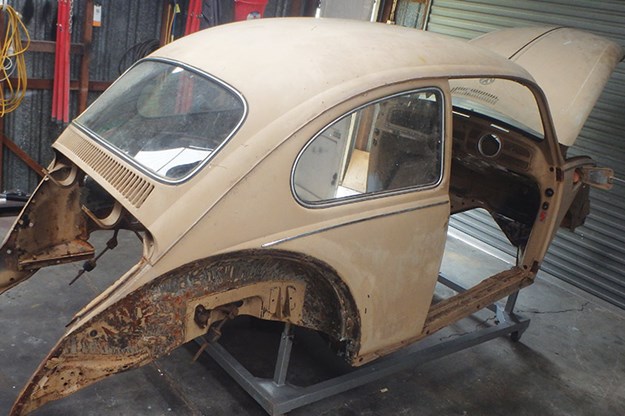 Perching the body on this trolley makes various restoration tasks – such as welding rust – considerably easier 
The arches and the sills – the stiff side-members of the body that, with the chassis spine, give the Bug its rigidity - had been sprayed in a bitumen-type 'car tar' goop so before I could begin any repairs, I had to remove it using oven cleaner, steel wool and a high-pressure washer. Wearing gloves but working in the shade of my carport on a hot springtime day, this messy task was quite enjoyable!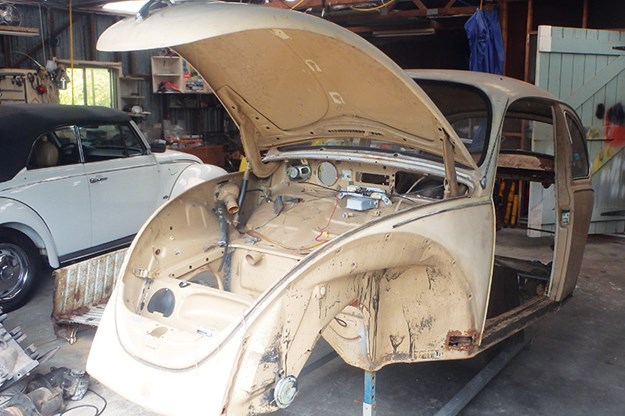 Amazing what a bit of time and effort with a Gerni will do to unearth the true state of the Beetle
With the body washed, a couple of mates helped me lift it from the rolling chassis onto the little trolley I use for my Beetle builds/restorations.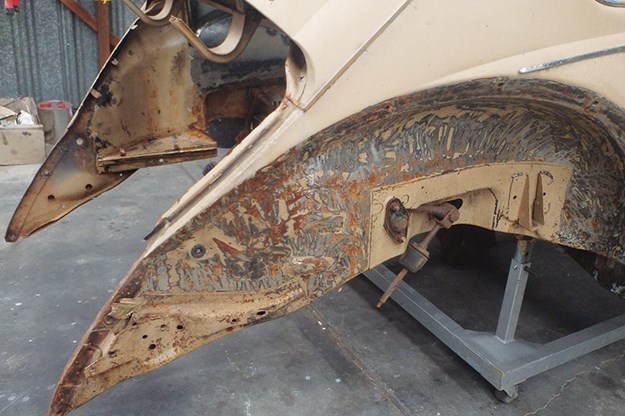 German Racing brown colour revealed and not much rust to be found at this end after the clean
So with the last remaining stuff – such as the wiring harness – removed to reduce this body to almost nothing, I got busy…
Unique Cars magazine Value Guides
Sell your car for free right here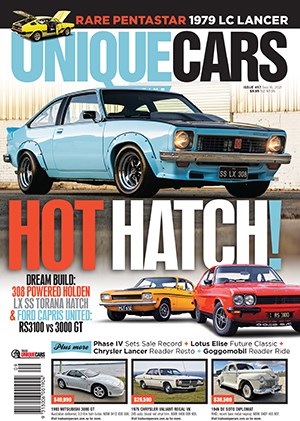 Subscribe to Unique Cars Magazine and save up to 42%
Australia's classic and muscle car bible. With stunning features, advice, market intelligence and hundreds of cars for sale.
Subscribe