Paddock-find VB Commodore fires up - Our Shed
---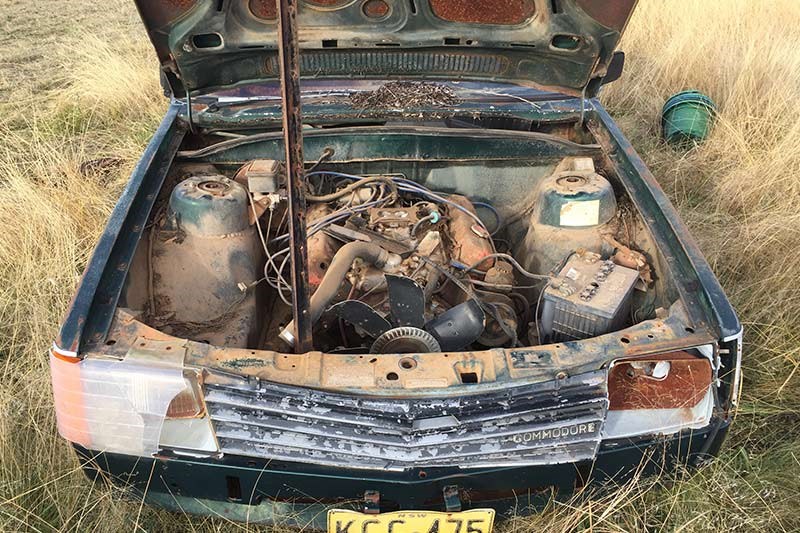 There's more to starting a shed- or farm-find than plonking in a battery, splashing it with fuel and twisting the key, so I needed to fit, fix and fiddle a few mechanicals

Glenn Torrens wakes his farm-find Commodore's V8 engine from its 20-year slumber
After working evenings and weekends to repair my farm-find '79 VB Holden Commodore's rust, my next task was to revive its mechanicals. The odometer shows 385,000km so the 4.2-litre V8 engine has done plenty of work but knowing the Holden V8's reputation for longevity - and with the previous owner Paul remembering how well it drove - I was confident it had plenty of life remaining. However, it sat for a long time with no carburettor, too, so even under a closed bonnet and with a rag poked in the intake manifold, there was a chance that dirt, humidity or wind-driven rain had gotten in.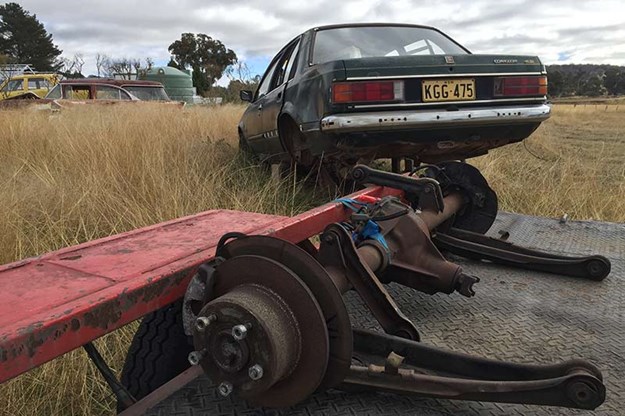 1. Project Bommodore's axle (with rear discs) was pinched for a hot rod project years ago. My replacement allowed me to transport the car, before new wheel bearings were installed and some satin black paint applied
I began by dropping the two-decade old sump oil. Thankfully, although the oil was quite dark, it retained an 'oily' feel between my fingertips and there was no water, lumps or shiny bits to alert of problems. Then, I removed the spark plugs and squirted Inox (my favourite general-purpose lube and anti-seize) into each cylinder, using a long-reach oil can to reach the full circle of each piston and its rings.
| Read next: Farm-find Commodore body repairs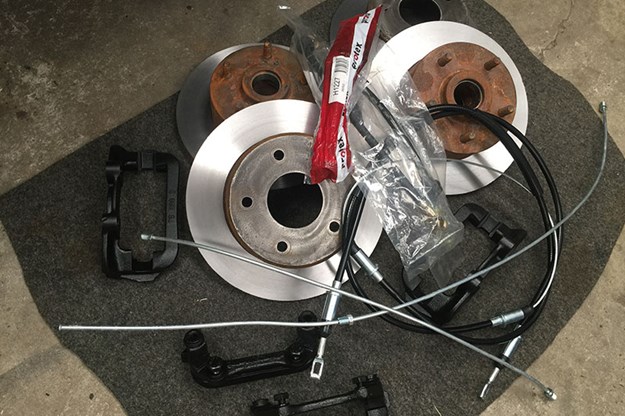 2. The four brake discs were machined, the four callipers replaced with good second-hand and all brake pads and rubber brake lines renewed
I let the lube soak for a few days before using a socket on the engine's front pulley to carefully turn-over the engine; anything other than oily smooth rotation – such as a gritty feeling - means problems. Thankfully, the engine turned-over with a feeling of smoothness which was a great sign!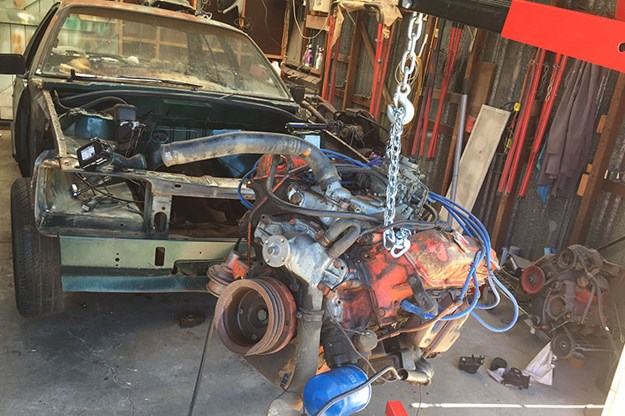 3. After starting the engine, I removed the driveline to replace the car's front crossmember and to allow easy cleaning of the engine and the engine bay
I removed the rocker covers to check for corrosion or other problems. I squirted plenty of oil onto each of the engine's 16 valve stems and down each pushrod hole to give each valve, cam lobe and lifter some lube. Then I refilled the V8's sump with top-quality 20-50 mineral oil and installed a new oil filter. On that subject: Some people think it's a good idea to use cheap oil to get an old engine going, then do a quick/short oil change. I reckon that's a dumb idea: Why use cheap oil for possibly the most critical start in the engine's history? Why then drain it? Why not use good stuff and leave it there?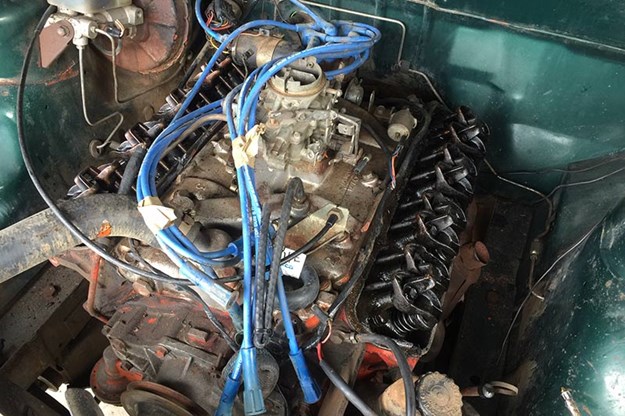 4. Plenty of lubrication was fed to the 253 before slowly cranking it over by hand
Anyway, with a fresh battery installed, I cranked the engine to make sure none of the valves were seized open after sitting for two decades. I installed fresh spark plugs and checked for spark at the coil; all these tasks confirming the starter motor and ignition electrics were working. A second-hand carburettor was installed and by piping the fuel pump line into a lawn-mower petrol can, I'd given the engine everything required to be coaxed back to life… or not!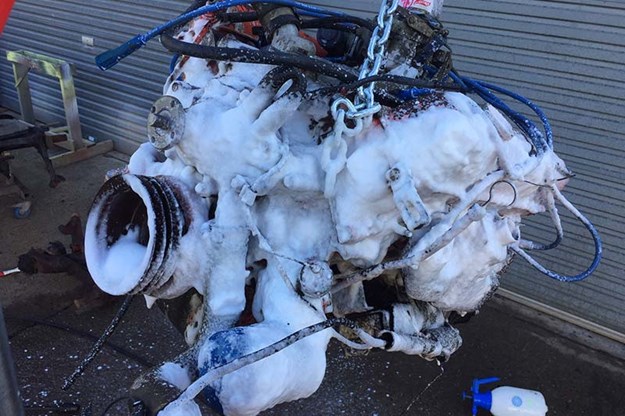 5. It's amazing what a good degreaser can do to years of grime
With a splash of fuel down the carby – and my mate Cameron recording history with his camera - I again cranked the Commodore and almost instantly that little old red V8 spluttered into life.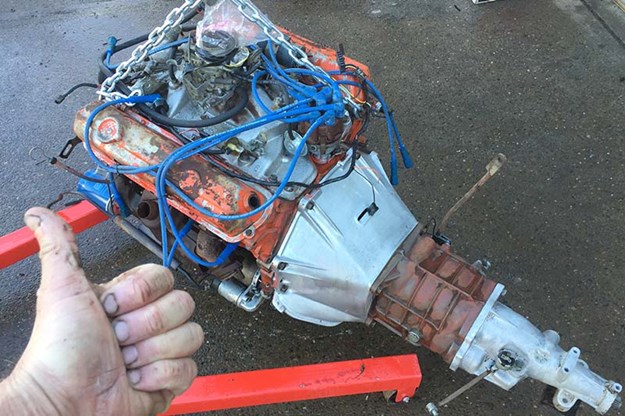 6. Despite a gazillion kays on it already, the 253 fired up first go after 19 years
Even through open exhaust pipes, the blats of the engine running for the first time in 19 years were the sweetest sounds from a Holden V8 that I've ever heard!
7. Cleaned and checked and ready for refitting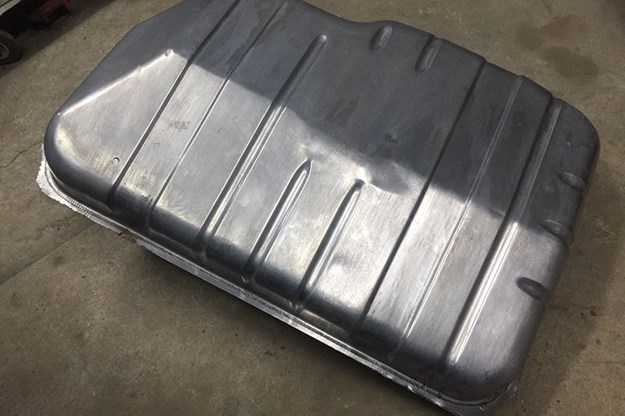 8. My Commodore's original fuel tank was too poor to restore so I bought this good clean replacement from my local parts yard, Classic Oz Wreck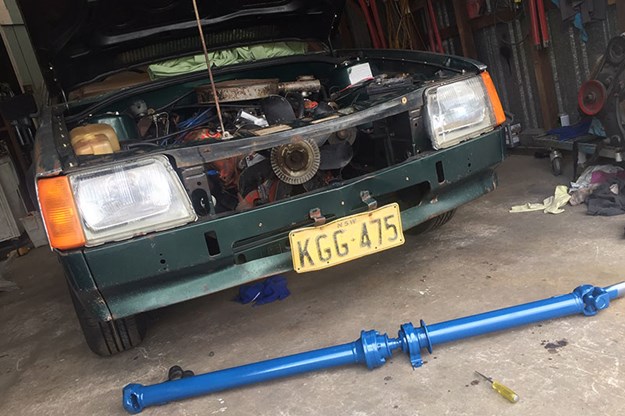 9. The tail-shaft had its universals and centre bearing replaced by a pro shop before I re-painted it the factory-correct blue. The water pump, alternator, starter motor and distributor were replaced too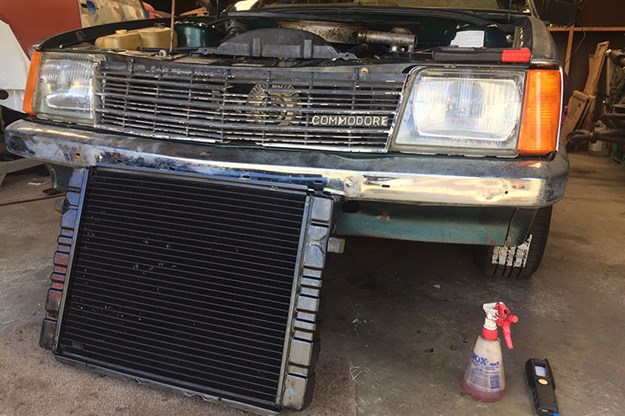 10. My car was missing its correct V8-spec radiator so I installed one of my spares after my local radiator shop gave it a once-over and thumbs-up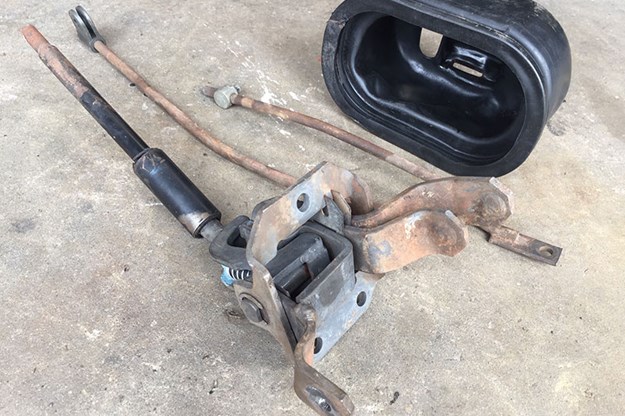 11. Holden's M-series gearboxes have antique-spec external linkages. Thankfully, mine were in good condition so were refitted after being cleaned and lubed
From Unique Cars #451, April 2021
Unique Cars magazine Value Guides
Sell your car for free right here
Unique Cars magazine Value Guides
Sell your car for free right here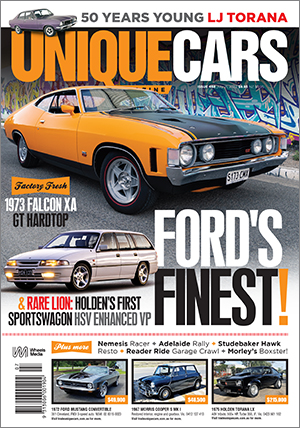 SUBSCRIBE TO UNIQUE CARS MAGAZINE
Get your monthly fix of news, reviews and stories on the greatest cars and minds in the automotive world.
Subscribe