Mercedes-Benz S-Class Review
---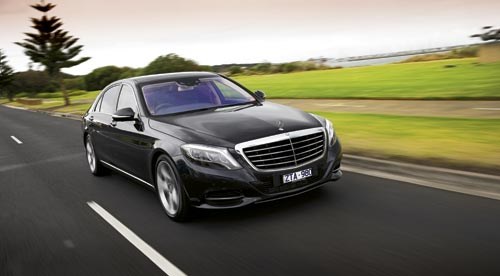 Mercedes-Benz S-Class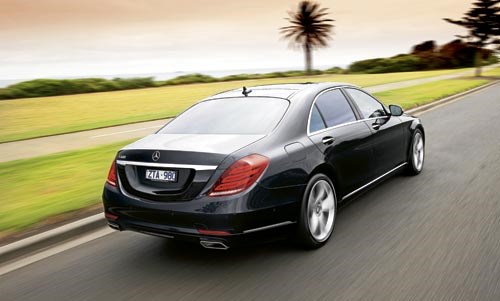 Mercedes-Benz S-Class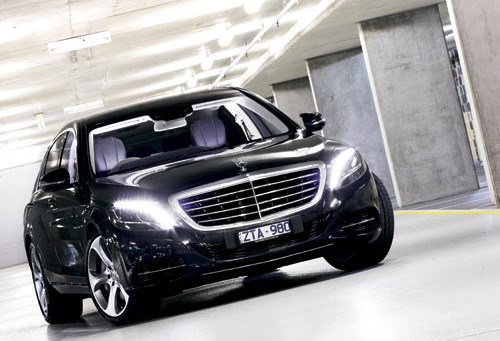 Mercedes-Benz S-Class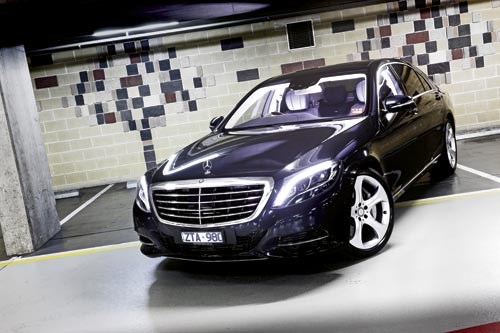 Mercedes-Benz S-Class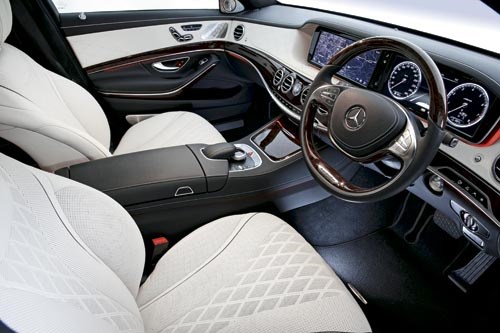 Mercedes-Benz S-Class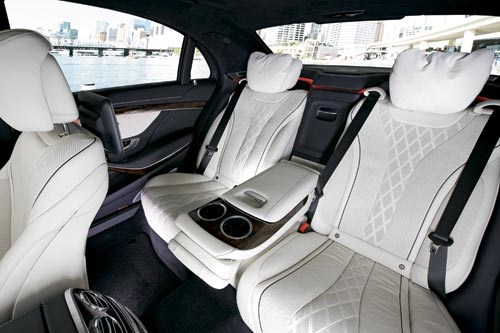 Mercedes-Benz S-Class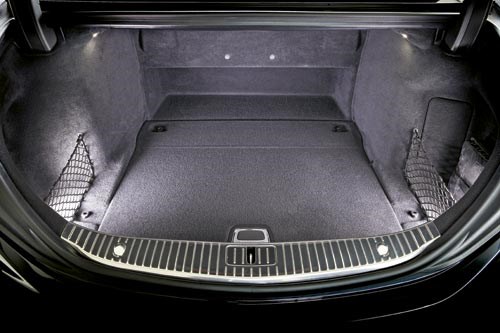 Mercedes-Benz S-Class

The new big Benz carries on the tradition of super luxury...
Mercedes-Benz S500 & S350 Bluetec
The first thing you check on any new Ferrari model is how fast it goes. On a new micro-mini, the first thing under the microscope is the fuel consumption. A new Bentley? How much is it, of course. And when it's a new model Mercedes-Benz S-Class you're dealing with, the first thing you want to know is: Does it still have that fabulous waft-factor?
The S-Class invented the Stuttgart Waft a couple of generations ago (and I named it just now). It amounts to that wonderful feeling of floating along the road in silence with the Hand of God powering you along. It really is magic and very few cars pull it off. None better than the S-Class. And, yep, the new one's got it. Thank goodness for that.
The secret seems to lie in the brilliant NVH isolation the engineers have managed to create, combined with probably the best air-suspension system we've sampled in a car like this. All too often, air-suspension set-ups tend to send the fiddly, jittery, small-amplitude bumps straight into the cabin. Not this one.
There is, of course, a hell of a lot more to the new S than that. So let's start with the body. With up to 95kg trimmed from the weighbridge ticket over the old car (although it's still a hefty 1900-odd kilos in its lightest form), the new car benefits from all-aluminium exterior panels, and M-B says about half the car's inner structure is from the same stuff.
The drivelines start with the entry-level S350 Bluetech, which is a 3.0-litre turbo-diesel V6 and sports 190kW/620Nm, a seven-speed auto and an official fuel consumption number of 6.0L/100km. On that basis alone, it's probably the thinking man's S-Class. It's also the bargain at 'just' $215,000 in short-wheelbase form or $222,500 with a stretch.
For now, the S500 is next with its 4.7-litre V8, a pair of turbos, 335kW, 700Nm, the same gearbox and 9.2L/100km. It'll set you back $285,000 or $310,000 if you want the long-wheelbase version.
We'll also get the S63 AMG, which scores the AMG 5.4-litre twin-turbo V8 complete with 450kW and 900Nm. Fuel consumption of the S63, should anybody be interested, is 10.2L/100km. Equally irrelevant to those in a position to enjoy an S63 is the price tag of $385,000.
In the middle of 2014, there will also be a long-wheelbase model called the S400 that will use a petrol V6, and we'll also get a four-cylinder diesel-hybrid variant called the S300 Hybrid, which promises 4.0L/100km.
We got to drive the S350 diesel and the S500 petrol. While the extra squirt of the petrol V8 is welcome (actually, it's a rocket), there's really nothing wrong with how the turbo-diesel conducts itself. Either version has more than enough grunt and a transmission smart enough to make it all feel seamless.
The S also seems to shrink around you once you're moving, not something that every car this big manages.
It's silent even at speed and the electrically assisted steering is accurate but still has the ability to iron out any bad vibes.
What's really special, of course, is the level of standard kit and delightful little touches that characterise the S-Class. The rear headrests, for example, feature integrated pillows filled with genuine goose down. There's a full-length panoramic sunroof (that opens), noise cancelling technology via the stereo, seven shades of ambient lighting, a fragrance dispenser, a 360-degree parking camera, infra-red night-vision that can distinguish a person from a cow, a Wi-Fi hot-spot in the rear seat and even a function that uses GPS to check the sun's position (and a sensor to measure it's intensity) to keep the climate control informed.
And making it all work are a minimum 54 electric motors or servo-motors and five (count 'em) kilometres of wiring.
Like any run-out model, sales of the current S-Class have slipped in the last few years, but on release nine years ago Benz was shifting almost 600 of the things a year. That's unlikely to be matched now, concedes M-B Australia corporate communications manager David McCarthy, largely because of limited supply. He also admitted that the Porsche Panamera was the model most likely to spoil the S-Class party, having already taken a few bites out of Benz's volumes in the segment.

SPECIFICATIONS
Mercedes-Benz S350 Bluetec

Body: Four-door sedan
Engine: 3.0 V6 turbo-diesel
Power: 190kW
Torque: 620Nm
Transmission: 7-auto suspension Air
Brakes: Disc/disc
Price: $215,000 (SWB)/$222,500 (LWB)
Mercedes-Benz S500
Body: Four-door sedan
Engine: 4.7-litre twin-turbo V8
Power: 335kW
Torque: 700Nm
Transmission: 7-auto suspension Air
Brakes: Disc/disc
Price: new $285,000 (SWB)/$310,000 (LWB)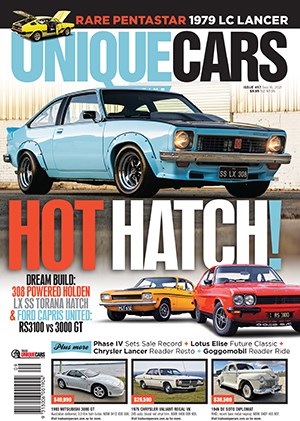 Subscribe to Unique Cars Magazine and save up to 42%
Australia's classic and muscle car bible. With stunning features, advice, market intelligence and hundreds of cars for sale.
Subscribe