McLaren 12C Spider Review
---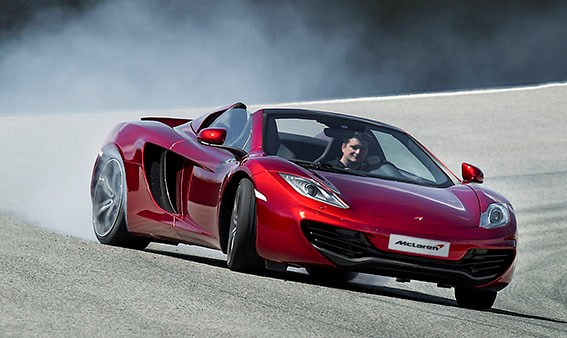 Test: McLaren 12C convertible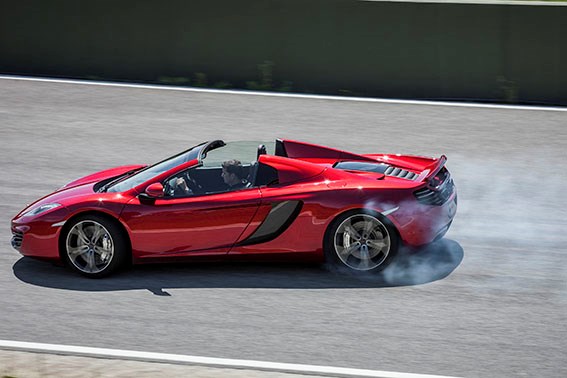 Test: McLaren 12C convertible

Test: McLaren 12C convertible

Test: Can you have a soft-top and a decent chassis?
McLaren 12C Spider
Experience tells us that the concept of a convertible supercar makes about as much sense as a chocolate teapot. Lop the roof off your average hypercar and you either end up with a flexible chassis or you add enough weight via extra strengthening that performance is blunted. Either way, it's a hiding to nowhere. Usually.
But there's nothing usual about McLaren or the latest version of its 12C (the company has dropped the 'MP4' from the name). Designed from the outset as both a coupe and a convertible, the 12C in its latest, roofless Spider form is just as meaningful as its hardtop brother.
How can that be? Simple, really, and it's all to do with the massively rigid carbonfibre tub (or Monocell, as McLaren calls it) that forms the basis of the 12C's structure. So, without the need to add extra metal (or carbonfibre for that matter) and therefore weight, and with no trade-off in torsional rigidity, the 12C Spider emerges as capable a supercar as the 12C coupe, but with the added bonus of being able to lower the roof when conditions demand.
Actually, that statement includes a small simplification because there is about 40kg of extra mass to deal with, but it's all involved in the folding metal roof and its mechanism. And, with 460kW and 600Nm from the twin-turbo 3.8-litre V8, performance is hardly at a premium.
McLaren claims a 0-100km/h time of 3.1sec and a top whack of 308km/h. We wouldn't argue with either claim, other than to say that the 12C is so civilised and unruffled that it can sometimes lull you into a false sense of docility. That's a function of the twin-clutch, robotised manual which boasts seven forward gears and plenty of refinement.
But drop the clog and the McLaren soon reveals itself to be every bit the fire-breather the faithful would have you believe. The flat-plane crankshaft means the 12C doesn't sound like a typical V8, but then it doesn't go like one either, with what feels like a very light flywheel and the ability to rev to 8500rpm.
There's a gorgeous backing track, too, consisting of some refined exhaust blare and just enough huffing and sneezing from the turbos and their wastegates. Roof down, and with a tunnel approaching, we challenge anybody with a beating heart to resist dropping a gear or three and stomping on the gas pedal for an ear-shattering soundscape.
But here's where the McLaren goes one better than most low-volume supercars. For a start, it doesn't have that one-off, home-made feel that some cars like this do. There's no sign of excess glue or poorly trimmed parts on the gorgeous interior and the fit, finish and materials used are up there with the best of them.
Then there's the vexed question of usability. While plenty of the 12C's competitors insist that you sit side-saddle to reverse park or carry your own chiropractor for longer trips, the McLaren is as user-friendly as - dare we say it - a Porsche 911, the original everyday supercar.
It steers beautifully not just on a racetrack, but even in streaming rain on a soaked autostrada, and it remains a stable, surefooted thing that is also entertaining to drive at suburban speeds. The engine is tractable, the rear-wheel drive imposes no limits beyond those of applied physics and the McLaren emerges as that rarest or rarities - the supercar that is as good at 60km/h as it is at 260.
Only the price-tag remains to strike fear into the hearts of supercar fanciers, and at $543,900 plus on-road costs, it's destined to remain out of reach for most of us. Which is lucky, because the Australian importer reckons it can get its hands on no more than about 15 or 20 a year.
Start looking out for the McLaren 12C Spider from about now, though you'll probably hear it coming first.
SPECIFICATIONS
McLaren 12C Spider
Engine: 3799cc V8, DOHC, 32v,  twin turbochargers
Power: 460kW @ 7500rpm
Torque: 600Nm @ 3000-7000rpm
Weight: 1376kg
Gearbox: 7-speed dual-clutch
0-100km/h: 3.1sec (claimed)
Top Speed: 308km/h (claimed)
Price: $543,900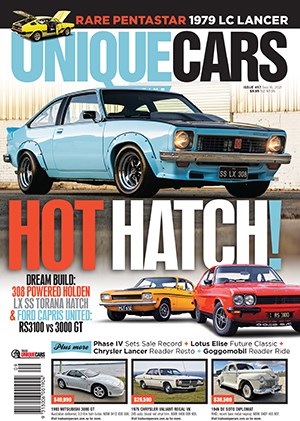 Subscribe to Unique Cars Magazine and save up to 42%
Australia's classic and muscle car bible. With stunning features, advice, market intelligence and hundreds of cars for sale.
Subscribe