Mercedes-Benz ML63 AMG Review
---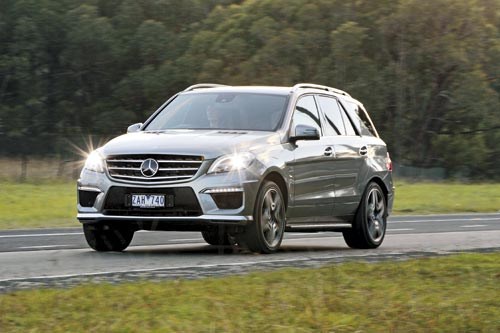 Mercedes-Benz ML63 AMG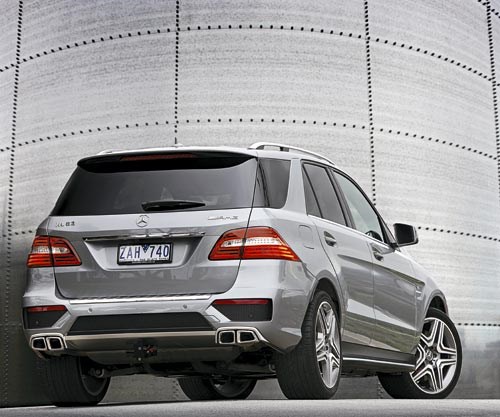 Mercedes-Benz ML63 AMG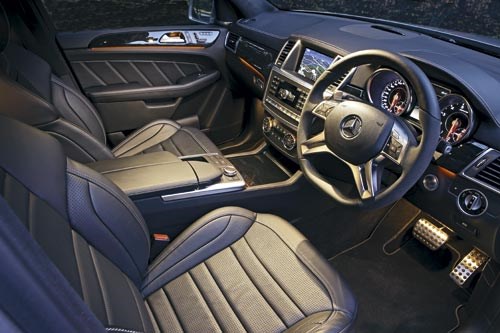 Mercedes-Benz ML63 AMG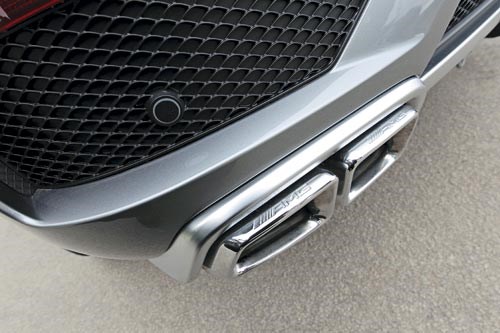 Mercedes-Benz ML63 AMG
AMG ML63. SUV doesn't have to equal slow.
Mercedes-Benz ML63 AMG
During the umpteen replays of Usain Bolt's winning sprint, you may have noticed a lack of fast-food enthusiasts contesting the Olympic 100m final. There's a good reason for this - heavy things aren't much good at accelerating quickly. But it appears that no-one told AMG because the mad hatters from Affalterbach have managed to turn Mercedes' latest ML into a rocketship.
The key to the ML63's speed is the installation of AMG's now-familiar 5.5-litre twin-turbo V8. Not even 2345kg of SUV can dull the relentless surge provided by 386kW/700Nm, though if you still find 0-100km/h in 4.8sec a bit sluggish, AMG's optional Performance Pack lifts outputs to 410kW/760Nm and drops the 0-100 claim by a tenth. A tenth!
Accompanying this incredible performance is an amazing soundtrack. The V8's low growl is joined by what sounds like Darth Vader taking a deep breath as the turbos spool up, while the raucous exhaust bark on full-throttle upshifts brings to mind a Rottweiler with emphysema.
The reason the boosted 5.5 replaced the wonderful atmo 6.2-litre V8 is, strange as it may seem, fuel efficiency. The new car claims 11.8L/100km, a huge improvement over the old car's 16.5, although fully utilise the performance of either ML63 and consumption quickly enters the 20s.
Sadly, the new ML63 doesn't quite shine so brilliantly in the bends. You might think this is no great shock, but there is real talent in the chassis, it just isn't allowed to express it by an over-zealous ESP system. Switching the system off appears to do nothing other than illuminate a light on the dash. Any enthusiastic exits from tight corners are quickly reined in as power is cut dramatically. It's a frustrating, though understandable, shame.
Thankfully, the mighty Merc' relishes fast sweepers and performs Dr Jekyll just as well as Mr Hyde. Select Comfort on the three-stage adjustable dampers (Sport's for a twisty road, Sport+ for ultra-smooth tarmac) and they combine with the standard air suspension to deliver excellent ride comfort. Merc's seven-speed auto makes day-to-day manoeuvring a doddle and the interior literally reeks of quality thanks to the strong aroma of abundant nappa leather.
As you'd expect at $177,900, there's plenty of toys: blind-spot/lane-departure warning systems, active cruise, Harman Kardon audio, TV (digital and analogue), heated and ventilated seats - the list is large.
With its wonderful interior and incredible engine, the new ML63 would make superb money-no-object family transport - though for near-$200K on-road, so it should. We just wish it retained the more elegant looks of its predecessor and allowed keen drivers to exploit more of its undoubted dynamic ability.
SPECIFICATIONS
Mercedes-Benz ML63 AMG
ENGINE: 5461cc V8, DOHC, 32v, twin turbochargers
POWER: 386kW @ 5250rpm
TORQUE: 700Nm @ 1750-5000rpm
WEIGHT: 2345kg
GEARBOX:  7-speed automatic
0-100km/h: 4.8sec (claimed)
TOP SPEED: 250km/h (limited)
PRICE: $177,900
Unique Cars magazine Value Guides
Sell your car for free right here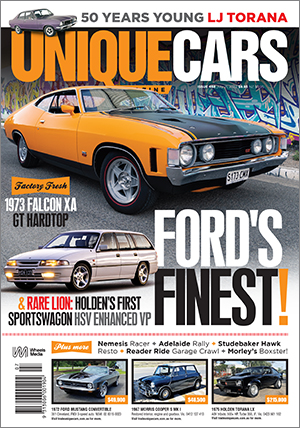 SUBSCRIBE TO UNIQUE CARS MAGAZINE
Get your monthly fix of news, reviews and stories on the greatest cars and minds in the automotive world.
Subscribe