Chrysler 300C SRT8 Review
---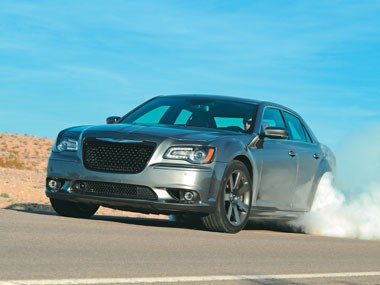 Chrysler 300C SRT8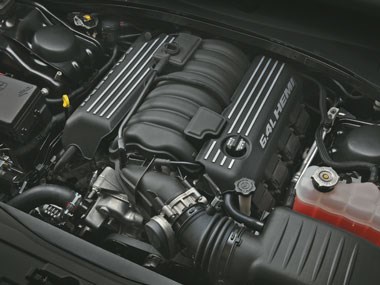 Chrysler 300C SRT8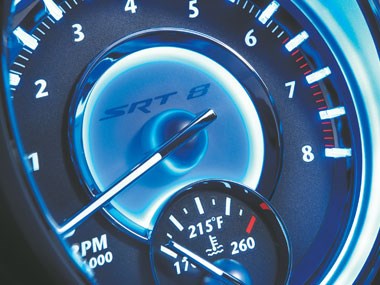 Chrysler 300C SRT8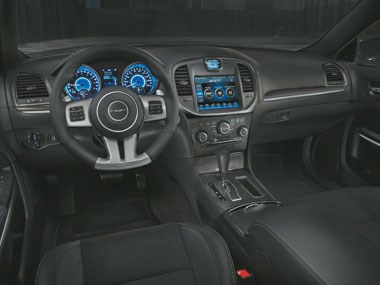 Chrysler 300C SRT8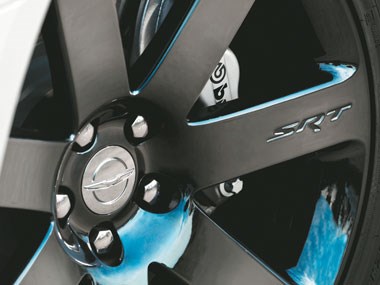 Chrysler 300C SRT8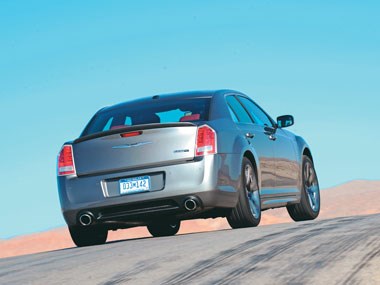 Chrysler 300C SRT8

Chrysler 300C. New Hemi king will clobber HSVs and FPVs in a straight line.
Chrysler 300C SRT8
The clock is ticking on Australia's large-car love affair so we better enjoy it as much as we can for as long as we can! And what better way to get the juices flowing fast and furious than have Holden and Ford's V8 sports sedan hegemony challenged by that old foe, Chrysler.

In the case of the second-generation Chrysler 300C SRT8, which arrives here mid-year as the flagship of the new 300C range, we are talking one deadly serious King of the Hill challenger. Under that pill-box sheet-metal is a stroked 6.4-litre Hemi that fires out 351kW and 637Nm. That means the SRT8 should simply cut down the strongest opposition HSV or FPV can put up against it.

Well, at least in a drag race it should if our first drive on some straight and not-so-long (they didn't need to be) Nevada roads is any indication. Dial up the SRT (Street & Race Technology) Performance Timing function on the 8.4-inch media screen - so you can keep tabs on just how fast you're going - flatten the throttle, watch the bonnet rise, then the desert scrub blur by, and soon the screen flashes 60mph in 4.7 seconds and the standing quarter mile in 12.8.

That's seriously fast, much quicker than the original 6.1-litre SRT8 that lobbed here in 2006, and - pending testing in Australian conditions - fast enough to despatch both the HSV GTS and FPV GT. Now armed with cylinder deactivation, the SRT8 might be able to do all this and be more economical as well, although we averaged 13.8L/100km during our Nevada sojourn. It won't make the Greenies happy but we suspect they don't shop for V8s anyway...

This isn't an open-and-shut case, however, as the local iron makes a comeback when the straights come to an end. While the new SRT8 is undoubtedly an improved handler, it still lacks the steering communication and handling dexterity of the GTS, in particular. Considering it weighs close-as-damn-it to two tonnes, has a 3052mm wheelbase and rides on a generations-old (though updated) Mercedes E-class platform, it's no surprise the edges are a tad blunt.

But it's still good enough to make this the best Chrysler driver's car since the Charger (God rest it's glorious six-pack soul). Thanks to adjustable Bilstein dampers, the 300C rides well on low-profile 20-inch rubber and offers decent body control when the switch is flicked to Sport (although rough roads may make you regret that decision).

You can't quite place the hulking SRT8 as accurately as you'd like mid-hairpin, and the dated five-speed auto gets a bad case of senile dementia under the pressure of rising and falling, on-off throttle, twisty bitumen.

If you want to lay black lines mid-corner, however, then there's no better car around. And once the roads turn into big, fast sweepers, things gel excitingly well. The new SRT8 is solid, secure and stuck-on.

Sitting in the driver's seat and enjoying it all is made more pleasant by a cabin eons improved from the tacky, cheap and plasticky original. Where the exterior is evolution, the interior is a revolution, with back-lit instrumentation, stitched leather and carbonfibre trimmings, consistent, tactile switchgear damping and even panel gaps. Refinement is also notably improved.

At highway speeds this is a hushed space and only when the V8 gets up high in its rev range does it intrude. And you'd be happy for it to do so.

Now the bottom line: thanks to favourable exchange rates and Chrysler HQ's new-found love for Australia, the news is all good for Hemi fans. The SRT8 should cost under $70,000 when it hits our shores. So not only is it faster than the locals, but also cheaper. Enjoy.
SPECIFICATIONS
Chrysler 300C SRT8
ENGINE: 6424cc V8, OHV, 16v
POWER: 351kW @ 6000rpm
TORQUE: 637Nm @ 4300Nm
WEIGHT: 1978kg
GEARBOX: 5-speed automatic
0-100km/h: 4.9sec (claimed)
TOP SPEED:  280km/h (claimed)
PRICE: $65,000 (estimated)
ON SALE: Mid-2012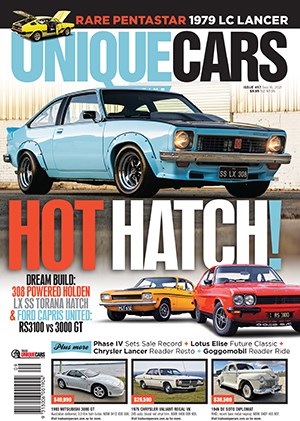 Subscribe to Unique Cars Magazine and save up to 42%
Australia's classic and muscle car bible. With stunning features, advice, market intelligence and hundreds of cars for sale.
Subscribe