Renault Clio V6 255 Review
---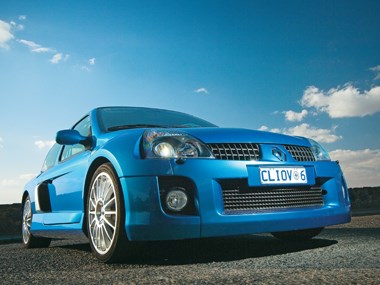 Renault Clio V6 255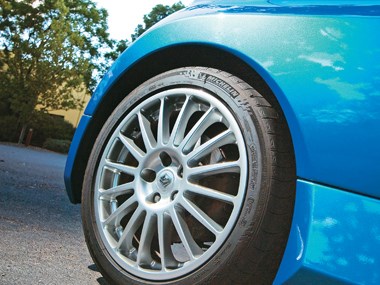 Renault Clio V6 255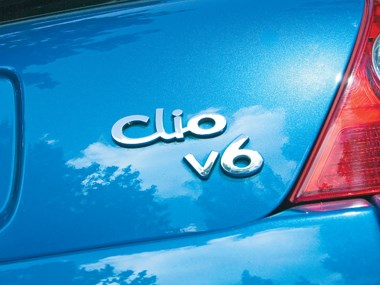 Renault Clio V6 255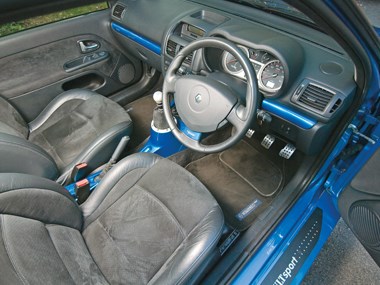 Renault Clio V6 255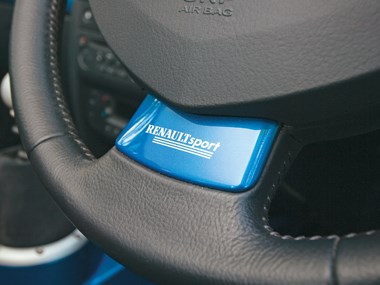 Renault Clio V6 255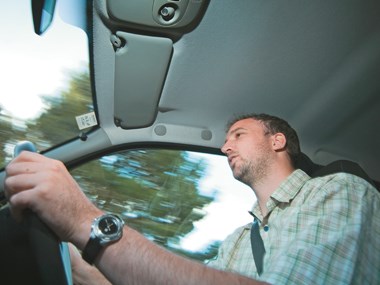 Renault Clio V6 255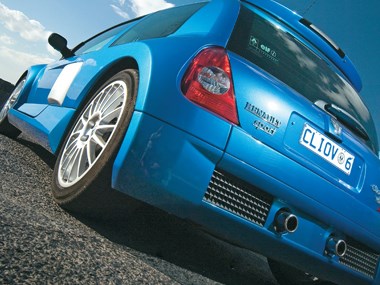 Renault Clio V6 255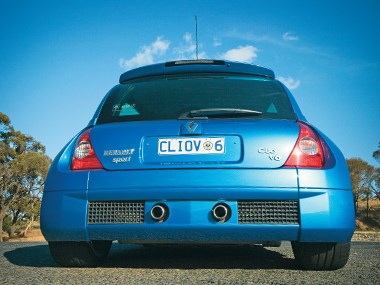 Renault Clio V6 255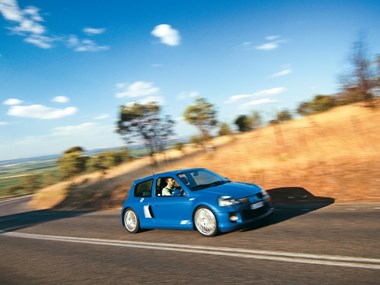 Renault Clio V6 255

French fryer: Renault Clio V6 255. Renault's wild Clio coupe encompasses all that is good (and quirky) in French car design.
Renault Clio V6 255
[Jan 2008] Headed by Citroen, the French are renowned for their quirky car designs, just as they're renowned for their mad performance innovations such as Formula One, the World Rally Championship and the Le Mans 24-Hours.
Clearly there's something in the water over there, and in the case of the little blue Renault parked in front of me, they've decided to have a bet each way and produce something both quirky and mad as only the French can. For what Renault has done is take their most pedestrian model and transform it into a monster by replacing rear passengers with an engine to produce the Clio V6.
Hand built in December 2003, this Illiad Blue Phase 2 car is number 131 of a total of 354 examples sold in the UK and was brought to Australia by owner Corey Fechner who acquired it when living in the UK recently. Corey reckons it's the only one of its type in the country, backed up by the fact our registration authorities had no data on any other car here for the approval process.
"I was attracted to the Clio because of its uniqueness," Corey explains. "I was tossing up between a Lotus 340R, a Subaru 22B and the Renault. They were all a similar price in the UK, and all three are quite rare. I knew there were a couple of 340s and 22Bs in Australia, but as far as I know this is the only Clio V6 on the road here. I've heard a rumour of a Phase 1 in Sydney, but it's not road registered."
Renault first produced the mid-engined Clio V6 in Phase 1 guise in 2001, and despite causing great excitement and admiration from the motoring press and the performance car community, it quickly gained a reputation as a menacing drive.
The problem, primarily, was the Laguna-sourced V6 behind the seats (weight balance) coupled with an inadequate suspension design producing poor roadholding manners when near the limit, or even when drivers would simply apply their natural reactions such as lifting off when coming in too hot or changing direction. Plenty were tanked, and the legend grew to the point where only the brave would venture down the Clio V6 path.
The Phase 2, as owned by Corey, is a significantly altered car from the Phase 1. Renault obviously saw enough potential in the car to invest more engineering, and the first change came from the 3.0-litre V6 which was opened up to Porsche to extract more horsepower, resulting in a jump from 230 to 255bhp (190kW). Underneath, however, serious changes were made with an increase in wheelbase and track over the Phase 1, with a stiffer front end and heavier steering feel. The rear suspension received a major revision to dampen the car's nasty habits via a new rear subframe and longer rear trailing arms and longer, softer bump stops. It was a major revision aiming to provide superior turn-in and a greater ability to extract maximum performance from the car without constant fear of rear-end mayhem.
The result may be a better behaved beast, but it still looks like it's ready to reek havoc thanks mainly to its enormous track compared with the donor car. Going beyond the term 'pumped' the huge fibreglass guards are bonded to the steel panels of the Clio, barely covering the 18inch OZ alloys in each corner, with large air ducts behind the doors to feed the V6.
Inside there is no floor-to-roof firewall sometimes seen in mid/rear-engined cars, but rather a removable horizontal insulated cover over the engine, which is effective in protecting occupants from heat, whilst allowing all the right induction noises to be heard clearly indeed.
The interior is a well executed balance between function and style. After all, you'd be hard pressed to describe an interior as anything other than 'functional' considering it houses an engine, but I'm actually referring to the section housing the occupants. The seats are a mix of leather and suede, providing grip and comfort without being too highly bolstered, while the leather airbag wheel feels superb and the tall shifter for the six-speed manual 'box sits close to the tiller. However it's the finishing on the centre console/tunnel and dash highlights in the same blue as the exterior that really set the cabin off.
Also a bit 'special' is the luggage room, or lack thereof, as there's none out back and only a small plastic tub up front, which isn't waterproof by the way, meaning Corey has to put everything into plastic bags. It does, however, have a drain plug and is an effective esky - simply fill with ice, beer and meat, and your French car becomes very Australian.
According to Corey, locating the Renault in England wasn't as easy as simply picking up the phone. A search revealed V6s that had panel and suspension repairs, but eventually this clean, low mileage example was found in Scotland, though it did come with a problem, as Corey explains.
"The car is actually cursed. I'm the third owner. The first owner had it for 1000miles, then his wife fell pregnant. The next owners looked at it, and were told, 'Hope you're not planning a family', to which they replied in the negative as they'd just got married and it would be a few years off. Little did they know she was pregnant at the time. Then I bought it, and my wife fell pregnant. Plus, I lent it to someone, and his wife fell pregnant!
Depending on how you look at it, it's either not the best family car, or it's the best ever, because you can't take the kids in the back!"
That'd be funnier if I hadn't driven it for this story; now I'm worried. Anyway, concerns of the high fecundity of the Renault aside, a stint behind the wheel reveals a truly engaging drive, reminding me that cars can be so much more than just commuting.
I get the first hint as soon as I turn the key, with the V6 burbling right behind me. Easing the lightly-weighted clutch and pulling into traffic, it feels as comfortable as any Falcodore ambling around the burbs, but as soon as there's an opportunity for some revs coupled with open road, I take it...
The noise hitting me in the back of the head is pure gold, encouraging me to just rev the Clio to 7200rpm and listen to it - all the time. It's a throaty howl that's a genuine attribute, and should be mandatory for every performance car. As Corey says, "It makes the hairs on the back of your neck stand up as it winds up and screams at you; it's much better than your wife screaming at you!"
The V6 provides linear performance with a flat torque curve that's quite deceptive in building pace; it's far from explosive, without the jolt of an Evo IX or similar turbo car. You can feel it's fighting close to 1600kg two-up, but it's a rapid thing and hammering up beyond 7000rpm produces enough pace to put the car into the high performance category that raw numbers wouldn't necessarily support.
The gearshift feels smooth and tight, and I don't often get beyond fourth despite the six ratios, while the brakes feel solid from any speed. So as a sum of its parts: engine, 'box, brakes, it's all good, but what about real world handling?
Knowing the platform's reputation, just like an early Porsche's, is useful in preparing the brain to avoid the bad habits of aggressive lift-off or mid-corner braking. But through quickish mid-to-high speed twisting tarmac the Renault always feels composed, and is difficult to unsettle. The rear feels planted and traction under full throttle is nothing short of outstanding with the big Michelin Pilot tyres biting hard.
Where it feels most nervous at first encounter is the steering, which lacks fine precision and behaves inconsistently when turning in and through a fast sweeper. In the tighter stuff it's fine, but I consciously notice it as something to be aware of. That said, it's not necessarily a problem, but it's not crisp and it feels a bit light and a touch vague.
I don't try any mid-corner braking, and I can feel the weight back there so would be nervous about the ramifications of large attitude shifts if getting a corner way-wrong, but again it all feels firmly planted in comparison to expectations.
As for the suspension itself, I'm a big fan, as rarely have I encountered such a good balance between compliance and performance. There's no crashing or banging, mid-corner bumps are soaked up without fuss, yet it all feels very solid and maintains a flat stance under high cornering loads. I've not driven a Phase 1, but clearly many of the old issues have been resolved.
It's a performance car that is so enjoyable to drive, all the time. You won't get tired of its performance and the rush won't wear off, as it can in modern turbo cars when the adrenalin spike accompanying the boost settles down.
I'm sure the limits are lower than others, but exploring where they are, safely, would be years of fun, and to do it in such a unique package with such a tough exterior is a major part of the attraction. And it won't fit the kids!
Unique Cars magazine Value Guides
Sell your car for free right here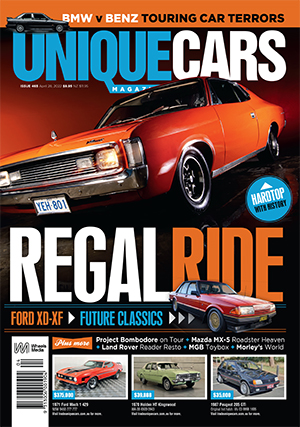 SUBSCRIBE TO UNIQUE CARS MAGAZINE
Get your monthly fix of news, reviews and stories on the greatest cars and minds in the automotive world.
Subscribe