Honda FCX Concept (2007) Review
---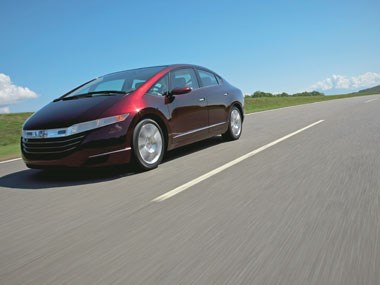 2007 Honda FCX Concept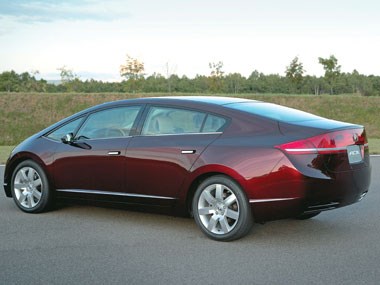 2007 Honda FCX Concept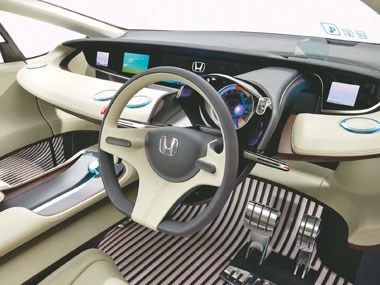 2007 Honda FCX Concept

Honda FCX Concept. Honda's swoopy hydrogen wonder was due to go on sale in 2005.
2007 Honda FCX Concept
[Jan 2008] The future is here, and we're driving it. It sounds part vacuum cleaner, part bizjet, but the FCX - Honda's hydrogen-fuel-cell car that goes into limited production this year - feels remarkably normal in other respects.
Sliding into the spacious, ultra-minimalist cockpit of the FCX prototype (believed to be worth in excess of $5million); the overriding impression is of having been teleported by time machine into the year 2010 - that was the widespread forecast of when fuel-cell cars would begin trickling onto the global automotive market.
Facing me is an instrument pod that houses an analogue-dial-mimicking 'Power' readout numbered from 0-10 (where each of the digits corresponds to 10kW), and above this is a small digital speedometer. There is a brake and accelerator pedal and the three-spoke steering wheel is a grippy item trimmed in leather.
At idle the only sound is the whine of a high-powered air pump that sucks in air to provide oxygen for the fuel cell. The FCX sits completely motionless; there's none of the muted vibrations evident in combustion-engine cars.
Our time behind the wheel is limited as we are allowed just two laps of the high-speed bowl at Honda's Twin Ring Motegi proving ground. Time to roll. Engage Drive on the stubby gearshift (for reverse the motor merely switches its direction of rotation), press on the accelerator pedal and the FCX moves off with startling alacrity. That's the beauty of an electric motor - maximum torque is on tap from zero revs; there's no gradual build-up, as is the case with a combustion engine.
If you've ever driven a golf cart, you'll know the sensation of moving off from rest with instant thrust. Of course, the FCX is much quicker and more powerful than a golf buggy, but the basic principle is the same - both vehicles rely on electric motors for propulsion.
In real terms, the driving experience is utterly conventional, so much so that my two laps of the bowl prove something of an anticlimax. The only real difference between driving the FCX and a piston-engined car is the Hoover/Boeing-like whine it emits, in lieu of an exhaust note. Other than that, it's largely a case of business as usual. Despite the modest power output, it motors along at a reasonable clip, and clocking up 145km/h on the speed bowl was easily achieved.
However, the car instils a strange feeling of disconnectedness as there's little in the way of steering feedback, and its overall dynamics are ponderous. The brake pedal, too, lacks progression. But one must bear in mind that this is just a prototype and the final production version is likely to be better resolved.
Credit is due to Honda. They were the first company to mass-market a hybrid (the Insight) in 1999, and it now stands to be the pioneer in fuel-cell technology.
SPECIFICATIONS
2007 Honda FCX Prototype
BODY: four-door coupe
WEIGHT: 1687kg
POWERTRAIN: electric motor powered by hydrogen fuel cell stack, ultra-capacitor and lithium-ion battery
POWER/TORQUE: 96kW/256Nm
Performance: 0-100km/h: - 10secs (approx). Top speed - 160km/h
RANGE: 570km
ON SALE: 2008 (US and Japan only)
PRICE: $100,000 (approx)
Unique Cars magazine Value Guides
Sell your car for free right here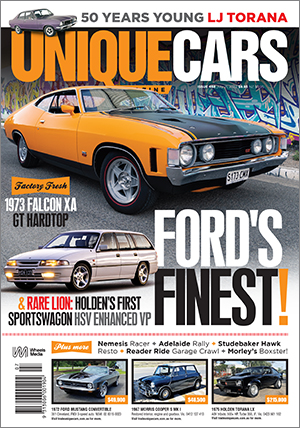 SUBSCRIBE TO UNIQUE CARS MAGAZINE
Get your monthly fix of news, reviews and stories on the greatest cars and minds in the automotive world.
Subscribe