FPV F6 Ute (2008) Review
---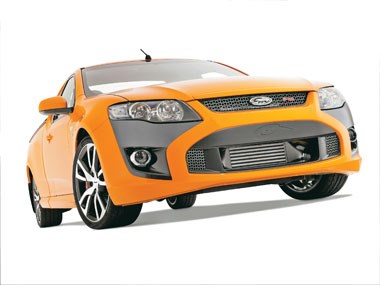 2008 FPV F6 Ute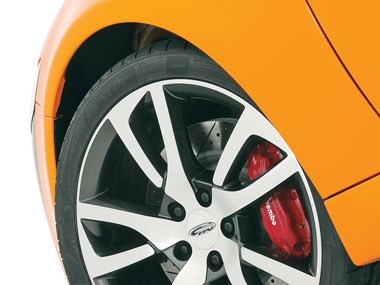 2008 FPV F6 Ute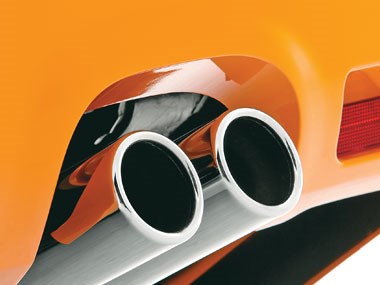 2008 FPV F6 Ute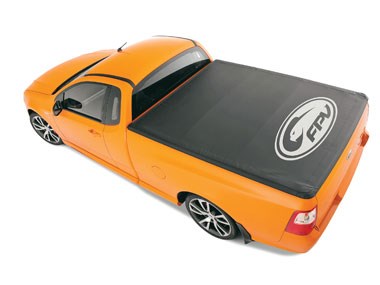 2008 FPV F6 Ute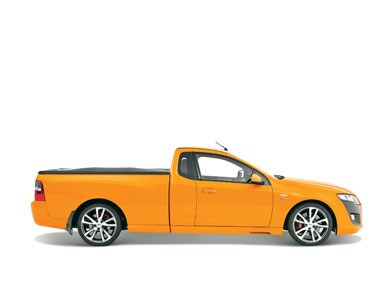 2008 FPV F6 Ute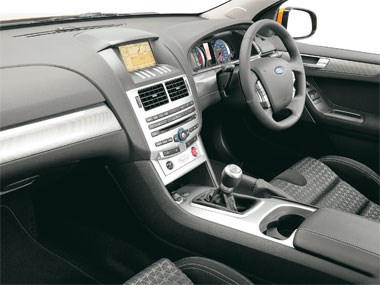 2008 FPV F6 Ute

FPV F6 Ute . When Aussie performance fans found their new working class hero.
2008 FPV F6 Ute
[Jun 2008]The new FG Falcon-based FPV range has just hit showrooms across the country and whilst the performance company still expects the upgraded Boss 315 V8s to be the bigger seller the straight-six turbo in the new F6 range is the king hitter.

FPV has given the F6 sedan and Ute a more powerful and imposing appearance for the new series, with new graphite headlight accents and a titanium mesh grille adding some stylish visual elements to the equation.

The F6 also has a premium feel inside with excellent sport seats trimmed in cloth with suede-feel side bolsters and the inclusion of a sports leather steering wheel, dual-zone climate control air and cruise-control.

The 4.0-litre turbo-six, already an impressive engine in the standard FG Falcon has been given a further 23,000 hours of development time by FPV and it's an absolute humdinger.

In many ways this engine is the swan song of the Geelong engine plant for sadly it will disappear when this facility closes its doors in two years time.

FPV has managed to wring another 40kW of power and 32Nm of torque out of this turbocharged gem, for a total of 310kW at 5500rpm and 565Nm spread across a very level playing field, namely 1950-5200 rpm.

Comparable power and torque figures for the 5.4-litre Boss V8, which has also been tweaked for the FG range, are 315kW at 6500rpm and 551Nm of torque at 4750rpm.  

The turbo engine however is the more impressive. In the F6 sedan it's a sensation, in the lighter F6 Ute it's simply electric, delivering stunning performance that deserves to have more than a two-year life span.

FPV refuse to disclose 0-100km/h performance figures but the F6 Ute must fall into the sub-5.0sec bracket.

Frankly, if you were blind-folded you would think you were driving one of the world's great sports cars, and let's be honest few F6 ute buyers will be parting with $57,990 to use it as a workhorse. This is an out-and-out sports machine.

That said, the F6 Ute has a payload capacity of 486kg with a towing capacity of 1200kg (manual) and 1600kg (automatic).

The money buys you the Tremec TR6060 six-speed manual or the excellent six-speed ZF high-torque automatic and the latter blends so well with the smooth spread of torque I wonder why you would bother with the manual shifter. The auto has manual sequential shift function anyway.

The manual F6 utes have a special launch mode designed to protect the clutch from burnout. When the clutch is fully engaged the manual limits revs on take-off to 3500rpm. The turbo boost is initially fed by 80 percent fresh air for a few seconds until the clutch is fully released. This effectively reduces the need to slip the clutch for hard acceleration off the line.

On the auto variant a 0.25sec cylinder cut feature ensures much improved shorter shifting under harder acceleration.

High performance and fuel efficiency are usually not happy partners but in this case FPV have been able to make real efficiency gains - combined city/country cycle figures for the manual F6 Ute are 12.3L/100km; 12.1L/100km in automatic.

If the Ute has an Achilles heel it's in the suspension where it retains the standard FG Falcon leaf-sprung rear end.

Certainly that's alright in the basic load-carrier where the practical nature of the vehicle overrides handling considerations but in this performance version it can be unsettled and does not have the all-round confidence of Holden's SS V with its all-coil suspension.

Having said that the adoption by FPV of ZF Sachs monotube dampers and further refinements to spring and damper rates has given the Ute a lot more polish. But, obviously, with any load carrier, tuning a suspension for both unladen and laden situations is not easy.

Stopping performance from the big brakes - 355x32mm cross drilled and ventilated front rotors with Brembo four-piston calipers and 328x26mm cross drilled and ventilated rear rotors with a single red piston caliper - is simply awesome.

On road, the only real disappointment with the F6 ute is the noise transmitted to the driver's right ear from the rear of the vehicle. The tyre roar amplified by the tray is poorly insulated and is intrusive at fast cruising speeds and on coarse surfaces.

Nevertheless the F6 is a big step up, whether in Ute or sedan versions, and in my view are the best all-rounders in an impressive line-up of new FPV vehicles.
SPECIFICATIONS
2008 FPV F6 UTE
BODY: two-door utility
WEIGHT: 1807kg (manual)
ENGINE: 4.0-litre in-line turbocharged six-cylinder
POWER/TORQUE: 310kW @ 5500rpm/565Nm @ 1950-5200rpm
DRIVETRAIN: front eng, RWD
TRANSMISSION: six-speed manual/auto
PERFORMANCE: N/A
PRICE: $57,990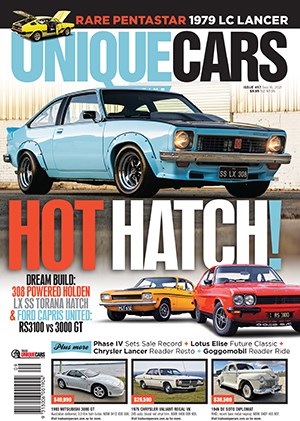 Subscribe to Unique Cars Magazine and save up to 42%
Australia's classic and muscle car bible. With stunning features, advice, market intelligence and hundreds of cars for sale.
Subscribe