Ford Falcon G63 Turbo (2008) Review
---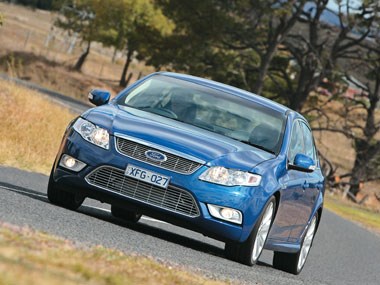 2008 Ford Falcon G63 Turbo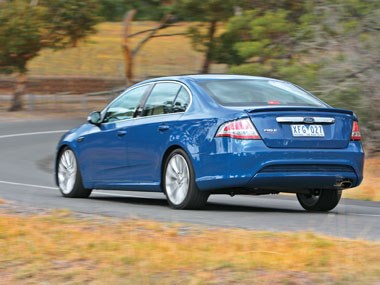 2008 Ford Falcon G63 Turbo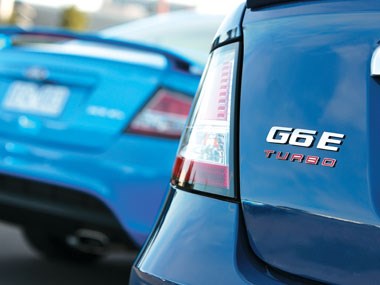 2008 Ford Falcon G63 Turbo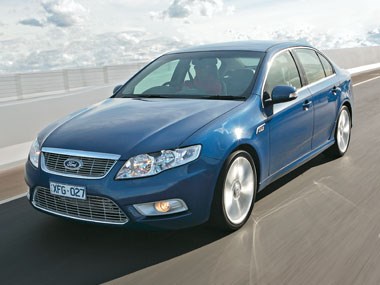 2008 Ford Falcon G63 Turbo

2008 Ford Falcon G63 Turbo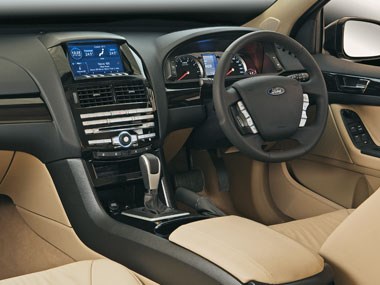 2008 Ford Falcon G63 Turbo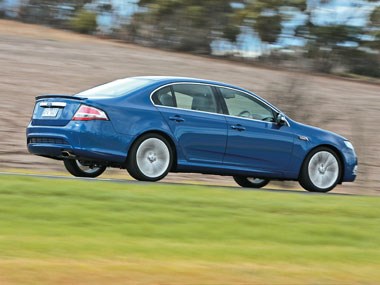 2008 Ford Falcon G63 Turbo

Ford Falcon G63 Turbo. Has Ford's new turbo 'six' range-topper consigned its V8s to the performance car wilderness?
2008 Ford Falcon G63 Turbo
[May 2008] Ford's Falcon has always been big and blokey which is why, in a market currently driven by more fuel-efficient cars, the positioning of the new FG range is all-important to the survival of this make-or-break model.

Ford suggests the FG prefix for this eighth-generation series is all about the new model's freshness compared to the outgoing BFII range and represents the heritage of the long-standing Fairmont and Ghia nameplates.

The Fairmont name is no longer but Ghia lives on, embodied in the Falcon G-Series range comprising G6, G6E and G6E Turbo variants.

While the G6E name is awkward and less inviting than Fairmont Ghia, the top-line turbo is so good maybe Ford should have simply called it the Falcon G-Whiz. The G6E Turbo is without doubt the most exciting car in the new Falcon line-up. Selling under the luxury tax threshold at $54,990 it gives Ford its best chance yet of winning back ground in the prestige sports sedan market.

And with its larger executive-skewed Fairlane now dead in the water the G6E Turbo flagship is all-important - a softer-styled car to the more-ballsy XR6 Turbo but with the same performance and with enough comfort and luxury to woo the executive car buyer.

Ford talked a lot about new 'kinetic' design when it released this car but the truth is whilst it has a lot of dimensional differences and looks smaller to the outgoing model, to the untrained eye it still looks very much like the old car.

The changes are subtle - gone is the very raked A-pillar of the BFII while the rounded roof shoulders have been pushed out to give noticeably more headroom.

With their distinctive dual mesh grille the G-Series models are perhaps the most differentiated; the top-line Turbo sophisticated and classy.

But it's under the sheetmetal where Ford has spent the real development dollars - the 4.0-litre Turbo engine in particular has come in for a lot of work. Along with the naturally-aspirated models it gains a new, more fuel efficient 'fast burn' cylinder head while the already impressive turbo engine has been tweaked further.

It now responds 30 percent faster while delivering more power and torque in the process. Higher boost pressure, a larger intercooler with less restrictive ducting and a new exhaust manifold help deliver 25kW more power - now 270kW at 5750rpm.

On top of that it now gains an overboost feature - during overtaking manoeuvres this allows the engine to get a 'torque kick' by up to 10 percent for several seconds - kick it down and it jumps to attention especially in the crucial 80-110km/h overtaking zone.

The engine also now stumps up 11 percent more torque, 53Nm more at 533Nm; more than the gutsy new 5.4-litre Boss 290 V8 in the XR8.

But it's where the Turbo engine achieves its torque that makes it such a rip snorter - a near flat torque curve sees maximum twist spread from 2000-4750rpm. In fact, 80 percent of its torque is spread from a low 1250rpm right through to 5750.

The torque is also delivered a lot smoother compared to the V8 and coupled with the new ZF six-speed automatic it purveys a very refined feel.

Revisions made to the standard auto has reduced shift times by more than 50 percent - give it a boot and under full load there's absolutely no sense of surge during auto shifting.

Such is the swiftness of the shifting I doubt many buyers will resort to using its manual mode apart from the odd occasion, although the inclusion of steering wheel-mounted shift paddles would have made this function more user friendly.

Under load the turbo also emits a delightful whine - once again more refined than the rawer XR6 Turbo and right on the money for a prestige performance sedan.

Fuel consumption benefits from a lighter right foot - we managed 11.9L/100km but drive it hard and you're likely to touch 14L/100km; still way in front of the V8 which under similarly hard conditions slurps around 18L/100km.

But it's just not the responsive engine that gives the G6E Turbo so much polish - all new Falcons are around 20 percent torsionally stiffer, sit on a longer wheelbase and wider track, and feature upgraded suspension and a new forward-mounted variable ratio steering rack.

The steering feel from the locally-developed Bishop Y-shaped steering rack is the first thing you notice - with a tight 2.6 turns lock-to-lock the turn-in from centre is sharper, and makes the car more nimble and lighter on its feet.

With a softer suspension tune the G6E Turbo is not as hard-nosed as the XR6 Turbo but it's not far behind - frankly it doesn't need to be and it gives this car more of a premium feel. Well tuned stability control with traction control also gives it confident handling irrespective of surface.

It also feels smaller and more nimble to its direct competitor, the highly-regarded Holden Calais V, which is a fine car and for many the pick of the VE Commodore range.

Tyres are the other big improver - the G6E Turbo comes standard with 18inch alloys shod with Dunlop SP Sport Maxx 245/40-series rubber. Noise levels and ride quality are fine despite their low profile but the optional 19inch alloys wrapped in 35-series tyres provide a noticeably choppy ride on broken surfaces.

The noise reduction is a combination of tyres and the introduction of a new single-piece body side which has meant improved body tolerances. This feature has also allowed a new 'inset' door design featuring hidden seals which better insulate road noise and wind - the result on our coarse road surfaces is a much quieter cabin environment, again giving the model more of an upmarket feel.

The instrumentation and dash layout on the G6E Turbo are one of its best features. A combination of dials and a central LCD read-out are well defined and easy to read while the centre information screen is about as good as it gets.

Leather and faux carbonfibre trim on the dashboard and doors provide a classy environment with great seat comfort. Equipment, as you would expect, is comprehensive even down to a reversing camera as well as the reversing sensors.

Unfortunately the marriage of steering wheel tilt and driver's seat height adjustment could be better - occupants sit too high on the lowest seat setting while the steering wheel adjustment needs more upward movement. I also found the headrest on the driver's seat too far forward and intrusive which no amount of fiddling with the seat back rake would improve.

All told however the Falcon G6E sport sedan is a remarkable car. Yes, it's big but one that shrinks around you and given our rotten roads leaves many of the European imports for dead in our driving conditions.
SPECIFICATIONS
2008 Ford Falcon G6E Turbo
BODY:  four-door sedan
WEIGHT: 1704kg
DRIVETRAIN: front eng, RWD
ENGINE:  4.0-litre inline six-cylinder turbo
POWER/TORQUE:  270kW/533Nm
TRANSMISSION:  six-speed ZF automatic
PERFORMANCE: 0-100km/h - 5.1secs. Top speed - 250km/h (approx)
PRICE: $54,990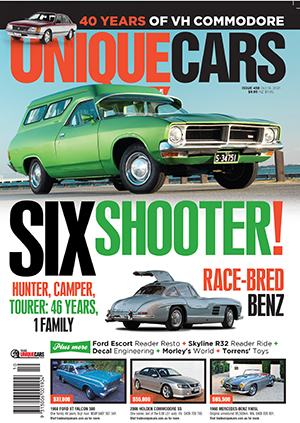 Subscribe to Unique Cars Magazine and save up to 42%
Australia's classic and muscle car bible. With stunning features, advice, market intelligence and hundreds of cars for sale.
Subscribe