Citroen C6 (2008) Review
---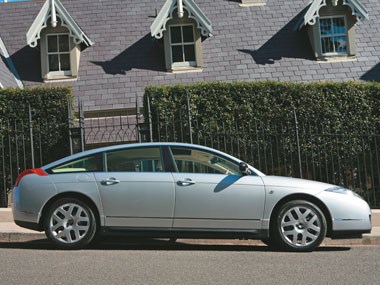 2008 Citroen C6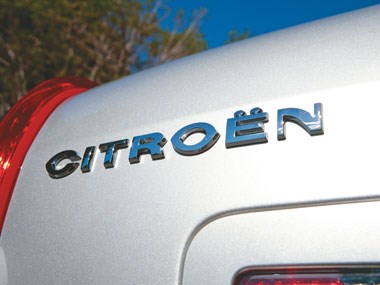 2008 Citroen C6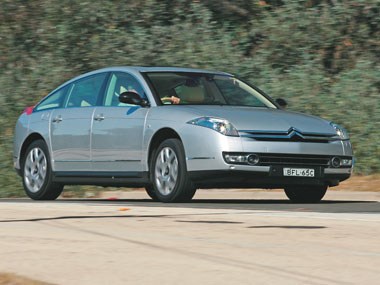 2008 Citroen C6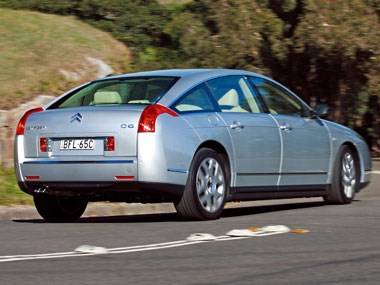 2008 Citroen C6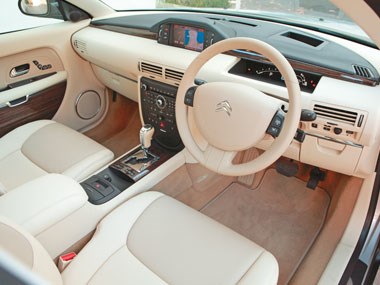 2008 Citroen C6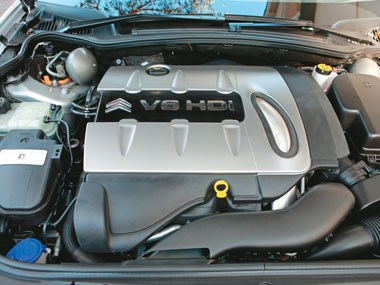 2008 Citroen C6

Citroens have always been innovative and this long-wheelbase luxury saloon is no different.
2008 Citroen C6
[Jun 2008] In an upper luxury world full of Teutonic badges the Citroen C6 is a breath of fresh air; a highly-individual, exclusive French saloon that really stands apart from the rest. Sitting on a long-wheelbase the C6 purveys the elegance and space of a saloon but is almost coupe-like in appearance.

Not the only model to carry the C6 moniker it takes its name from the first six-cylinder luxury Citroen, previewed at the Paris Motor Show in 1926. Further inspiration was drawn from the large post-war Citroen models, the avant-garde DS, CX and SM.

The long bonnet, extended front overhang, large cabin and short rear overhang all reflect the maker's trademark style. Nice touches like the taillights and concave rear window have an art deco feel.

But importantly, while the C6 is different and innovative, form does not rule over function. You're looking at the safest car in the world according to the European New Car Assessment Program and it rates highly in pedestrian safety as well.  

The nose is not only designed to deflect passengers upwards it also boasts a 'pop up' bonnet - the rear edge of the alloy 'hood' springs upwards by 65mm in an instant to provide a buffer between bonnet and engine, thus providing a relatively soft landing.

The C6 is not the quirky Citroen we remember of old - more a modern interpretation with a level of build-quality and fit and finish that will surprise its severest critics.

Last year just 46 C6 Citroens reached Australian roads in both 3.0-litre V6 petrol and 2.7-litre V6 HDi twin-turbo diesel (like our test car).

The twin-turbo diesel - it also features in the Peugeot 407 and Jaguar's new XF saloon - feels a little lethargic from rest but soon responds and over 1000rpm feels much stronger and more purposeful.

Linked to a six-speed automatic with manual function, it can be 'rowed' back into the lower gears to get the most out of its strong torque band.

The innovative fully-active suspension is recognisable the moment you pull out from the kerb. At first it's a little disconcerting as the 'magic carpet' ride purveys a feeling of disconnection. Citroen appropriately call this mode 'Sky Hook' with the emphasis on comfort and body control - it generates a floating feeling that gives an initial impression that ride overrules dynamics.

Far from it. For as the car reaches 60km/h or when driven with more aplomb, the active suspension, with electronically-controlled springing and damping, stiffens in an instant. This mode is called 'Road Hook' and it totally transforms the car's nature.

At speeds over 100km/h the suspension is automatically lowered by 12mm with improvements to stability, steering sharpness and aerodynamics.

The steering with 2.94 turns lock-to-lock is nicely weighted at all speeds with excellent feel and response.

You can also override the automatic nature of the ride by dialing up Sports Mode to stiffen the suspension. This is the preferred mode when pushing hard as the car feels far more locked down with less tendency to float.

At speed an air deflector on the boot also deploys automatically for better stability - initially from 65km/h and with an increased angle from 125km/h.

Ride quality on a good surface is probably as good as it gets - the floating sensation is an acquired taste and the more you drive it the more you warm to it. However on our patchy broken surfaces the Hydractive suspension loses some of its colour and in Road Hook system it becomes just a little too stiff for our poor surface conditions.

Fine on smooth European surfaces but on small rough edges it transmits a noticeable degree of 'pitta patta' compared to a conventional system - the low profile 245x45-series tyres on 18inch alloys offering little comfort from their short stiff sidewalls.

Outside, the C6's xenon directional headlights are the best I've driven and work just as effectively on low and high beam.

Inside, the Citroen C6 is pure comfort - almost aircraft-like in feel with excellent, easy to use controls and a high level of leather trim quality. A head-up digital speed display reinforces the aeronautical feel; reflected in the windscreen it can be adjusted to suit the driver's line of sight.

All up the C6 appeals by being so different and above all breaks tradition in a clever way.
SPECIFICATIONS
2008 CITROEN C6

BODY: four-door sedan
WEIGHT: 1871kg
ENGINE: 2.7-litre V6 twin-turbodiesel
DRIVETRAIN: front eng, FWD
POWER/TORQUE: 150Kw @ 4000rpm/440Nm @ 1900rpm
TRANSMISSION: six-speed automatic
PERFORMANCE: 0-100kmh - 8.9secs. Top speed - 230km/h
PRICE: $108,750 (as tested)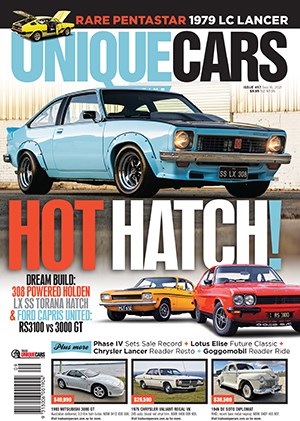 Subscribe to Unique Cars Magazine and save up to 42%
Australia's classic and muscle car bible. With stunning features, advice, market intelligence and hundreds of cars for sale.
Subscribe