Mercedes-Benz CLK 63 AMG Black Series (2008) review
---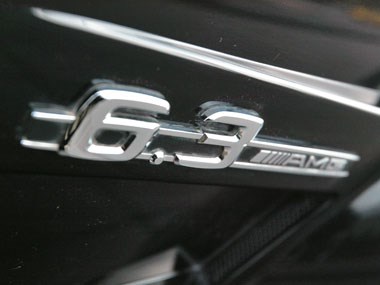 2008 Mercedes-Benz CLK 63 AMG Black Series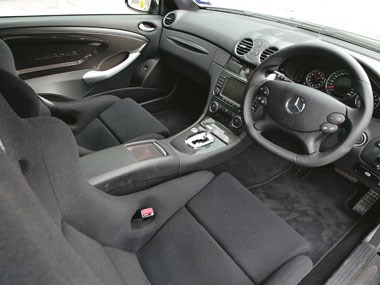 2008 Mercedes-Benz CLK 63 AMG Black Series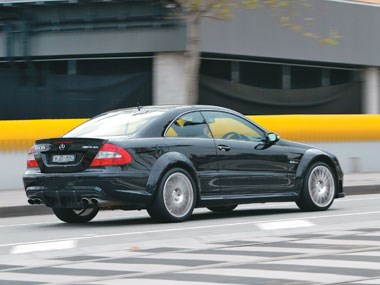 2008 Mercedes-Benz CLK 63 AMG Black Series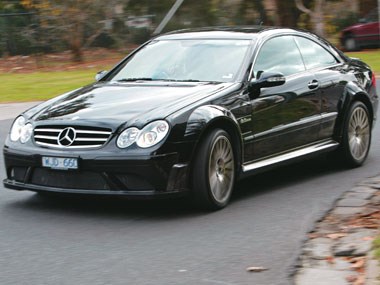 2008 Mercedes-Benz CLK 63 AMG Black Series

Mercedes-Benz CLK 63 AMG Black Series. AC/DC's thumping Back in Black was written for this muscle machine.
2008 Mercedes-Benz CLK 63 AMG Black Series
[Jul 2008] There's no doubt that Mercedes-Benz makes some of the world's best cars. Their quality and durability are almost beyond peer, but to be blunt, some are not exactly exciting are they? 

Behold the CLK AMG 63 Black Series. This is Mercedes' bad-ass halo car; except this dark angel doesn't wear a circle of light. Actually, it's a bit of a devil.

Parked at the curb with its big wheels, pumped-up guards and black livery it looks so intimidating I'm apprehensive simply approaching it. But after a few brave pills I climb aboard and kick the starter. Oh my god, this thing sounds like Satan himself.

The 'Black' is 93mm wider and 48mm lower than the 'standard' AMG CLK 63. It has a bunch of oil coolers for power steering, transmission, engine and diff, carbon-fibre front air ducts and a rear diffuser and boot spoiler. Mean isn't quite the word.

The interior is all business and looks great with its pared down ambience. Once strapped in, the racing buckets are surprisingly comfortable and just the thing for a quick fang on my favourite twisty mountain road. But the lack of door armrests is tiring on long trips and that little auto stick-shifter looks a bit naff doesn't it?

The AMG-fettled 6.2-litre engine is 19kW more powerful than the donor car and boasts a monumental 373kW/630Nm. For a big V8 it revs too - all the way up to the 7200rpm redline - without any fuss whatsoever. In collusion with the wonderfully smooth Speedshift 7G-Tronic auto the drivetrain is automotive heaven. Make no mistake this Merc is seriously fast; almost unbelievably so.

But the sports exhaust is where the real thrill is. Its guttural, masculine howl is the most exciting I've heard this side of Le Mans' Mulsanne Straight. A bespectacled long-haired classical composer couldn't have done better. Although, come to think of it, there is that wonderful stanza from Act 3 of Puccini's Turandot…

With 2.4 turns lock-to-lock, and in line with the car's sportier handling, the steering is sharper and heavier than most other Mercs. Around town it's easy to manoeuvre and park but point it at a snaky country road and it comes into its own.

One puzzling thing though is the car's weight. With fixed racing seats, carbonfibre interior trim, deleted rear seats, no side airbags, aluminium door handles and the like you'd be pretty confident laying a betting that it was lighter than the 'standard' AMG CLK 63. But it ain't! Beefier brakes, suspension mods, additional oil coolers and AMG wheels actually conspire to add 5kg.

Never mind, AMG's boffins have weaved their black magic and with a shorter final drive and 19 extra kilowatts the 'Black' will blow away almost all-comers with a 0-100km/h sprint of only 4.3secs, down from 4.6 for the standard AMG CLK 63.

It's usually around this time that the stirring music stops and we say 'but'...

So what's wrong with it? Well not much. But for what it's worth here goes: the lack of rear seats couldn't have saved more than a few kilos with the inconvenience of now having only two front pews in a body that can seat four. One thing that many Mercedes clients won't enjoy either is the very hard ride, despite the manually adjustable ride height - the thin seats certainly don't help.

The strongest criticism though is that the CLK 63 sits somewhere between two stools. It is neither the ultra-refined four-seat GT CLK donor car nor is it a truly hardcore supercar. That in itself is no great sin but the coupe is compromised.

Turfing out the rear seats and tuning the engine and suspension has created something short of the ultimate in performance and it lacks the comfort and ride enjoyed by some cars in its class like Aston's DB9.

At $299,000 plus on-roads the 'Black' is a whopping $100,000 (give or take a few bucks) more than the 'standard' AMG CLK 63. For that you get 19 additional kilowatts (torque remains unchanged), with weight up by 5kg. Hmm, the maths doesn't seem to be adding up. But with only 32 imported into Australia (700 built worldwide) you do get exclusivity.

There are more powerful and expensive models in Mercedes' catalogue but the CLK 63 'Black' is Australia's meanest performance 'Benz. It's Arnie in a tuxedo. It's Pavarotti in shiny black armour. More importantly it's such a storming car that I would gladly live with it. In hell if necessary. Forever.
SPECIFICATIONS
2008 Mercedes-Benz CLK 63 AMG Black Series
BODY: two-door coupe
WEIGHT: 1760kg
DRIVETRAIN: front eng, RWD
ENGINE: 6.2-litre V8
POWER/TORQUE: 373kW/630Nm
TRANSMISSION: seven-speed auto
PERFORMANCE: 0-100km/h - 4.3secs. Top speed - 300km/h (limited)
PRICE: $299,000
Unique Cars magazine Value Guides
Sell your car for free right here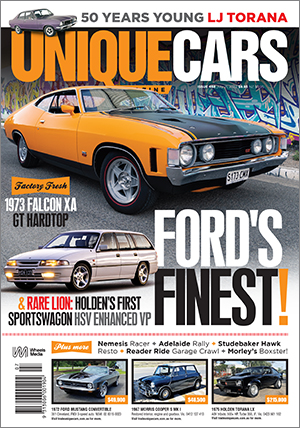 SUBSCRIBE TO UNIQUE CARS MAGAZINE
Get your monthly fix of news, reviews and stories on the greatest cars and minds in the automotive world.
Subscribe