Porsche 911 C4S Cabriolet (2008) Review
---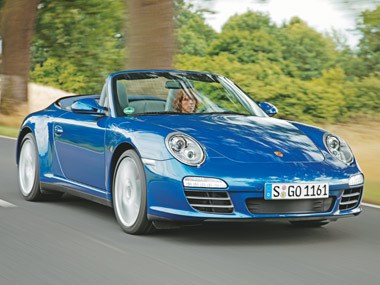 2008 Porsche 911 C4S Cabriolet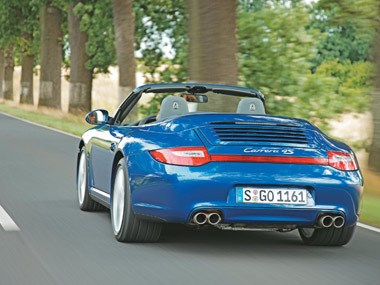 2008 Porsche 911 C4S Cabriolet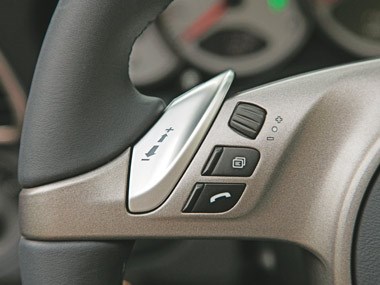 2008 Porsche 911 C4S Cabriolet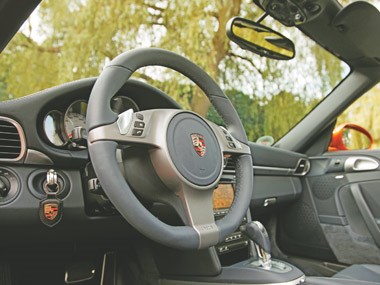 2008 Porsche 911 C4S Cabriolet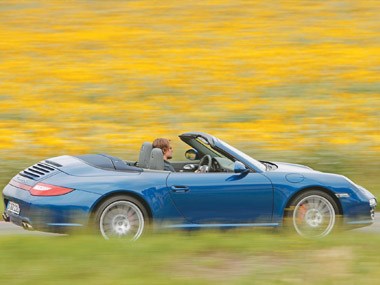 2008 Porsche 911 C4S Cabriolet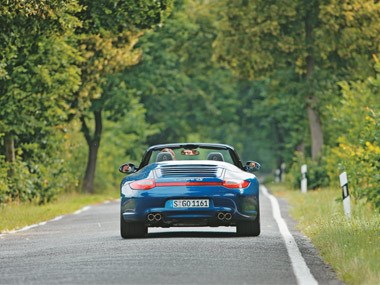 2008 Porsche 911 C4S Cabriolet

Porsche 911 C4S Cabriolet. The days of unpredictable 911 handling are long gone.
2008 Porsche 911 C4S Cabriolet
The most impressive thing about Porsche's mid-life update of its all-wheel-drive 911 is not the new dual-clutch 'auto', although it does impress with its lightning quick, intuitive and barely perceptible changes, whether suburb dawdling or full-speed attacking.

Nor is it the more powerful direct-injection engines, or faster-acting all-wheel drive system, which ditches the old viscous coupled system for an electro-magnetically controlled PTM multi-plate clutch that can channel anywhere from zero to 100 per cent of torque to the front wheels as necessary.

No, the most impressive thing about the '997.5' all-paw 911 is the way it all comes together to ensure precise, almost foolproof handling even under extreme conditions, as we learnt during a series of driving tests at the Michelin Driving Centre near Berlin during the international launch in August.

Putting a Carrera 4S Cabriolet through its paces on the former Soviet air force base, in what can only be described as an Olympics-style test for high-performance cars (wet slalom, slippery go-kart circuit and high-speed 'go to whoa') demonstrated the extra safety net provided by the new four-wheel drive system in conjunction with Porsche's all-encompassing PSM stability management and powerful brakes. 

While still possible to induce that old 911 trait of power oversteer, but only if severely provoked, the car remained composed, predictable and confidence-inspiring no matter what was thrown at it, with levels of adhesion, body control, and  margin for error that defy comprehension for a road car.

A good demonstration of its fuss-free capabilities was a high-speed run down a 1700m concrete runway. Stamping on the brake pedal, dialling up 6500 revs, then releasing the brake to activate launch control, allows anyone, with just a hint of tyre chirp, to achieve sub-five secs for the zero to 100km/h sprint… time and time again.  Slamming on the optional, ceramic brakes at 260km/h was also educational, bringing everything to a swift, controlled stop in less than 200 metres!

Of course, all this techno-wizardry, the result of 44 years of 911 development, doesn't come cheaply. But even with any luxury car tax increases, the 997 update is still a performance bargain of sorts, the AWD variant simply reinforcing the rear engine sport car's reputation for being safe and extremely forgiving on the limit.

Visually, there are few changes to report and only Porsche anoraks will notice any differences, like the new LED rear light cluster. Likewise the interior, which gets an easier-to-use PCM touch screen monitor with less buttons. Definitely a case of "if it ain't broke…"

The C4 variants do however retain their 44mm wider rear hips, to set them apart from their 'lesser' 2WD siblings.
Like the rear-wheel drive 911s, the all-paw cars now come with new direct-injection versions of the boxer six-cylinder engines that push power and torque up while improving fuel economy.

While the C4's 3.6-litre flat-six with its 254kW/390Nm is more than sufficient for Sunday morning blasts, the 3.8-litre with 283kW/420Nm shaves an extra 0.2secs off the 0-100km/h sprint and provides awesome in-gear acceleration; useful on Germany's autobahns. The bigger engine also emits an addictive wail at higher revs, enjoyed best with the roof down.

After debuting a dual-clutch 'box on a race car 25 years ago, Porsche has joined Volkswagen, Audi, BMW, and Mitsubishi in offering a DSG-style transmission. Dubbed PDK, the seven-speed automated manual is a big improvement over the old five-speed auto and works as well in semi-auto or manual mode.

In fact, we rarely shifted it out of 'auto', even at full throttle on the race circuit, and it was rarely caught out in the wrong gear. Alternatively, you can shift manually via steering wheel buttons or more traditional gear lever.

Unless you're a heel-and-toe aficionado, the PDK's versatility is hard to beat, and a worthwhile option despite the $6600 premium over the six-speed manual. The optional Sports Chrono Plus package, will sharpen the shift response even further but to the detriment of smoothness.

The only letdown is the wheel-mounted shift levers themselves, which can be inadvertently knocked and up-shifted during hard cornering and are not as user-friendly as some other paddle shifters we've tried.

While the 85kg heavier C4S Cabriolet gives little away to the hardtop coupe in on-road dynamics, the ride was still a little harsh over rippled surfaces.

All up, the soft-top and four-wheel-drive package adds about $36,000 to the price of the entry-level 911. Whether the additional cost and wet weather benefits of the all-paw system can be justified in drought-stricken Australia, is debateable.

Those with the cash, though, could argue they're now getting a cut-price 911 Turbo, minus the badge and turbo engine, of course. And on our speed-restricted highways, a 283kW all-wheel drive 911 with folding roof should be more than enough.
SPECIFICATIONS
2008 Porsche 911 C4S Cabriolet
BODY: two-door convertible
WEIGHT: 1565kg
ENGINE: 3.8-litre six-cylinder boxer
DRIVETRAIN: rear eng, AWD
TRANSMISSION: seven-speed dual clutch auto-manual
POWER/TORQUE: 283kW/420Nm
PERFORMANCE: 0-100km/h: 4.5sec
PRICE; $281,200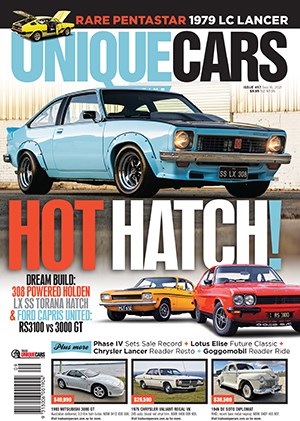 Subscribe to Unique Cars Magazine and save up to 42%
Australia's classic and muscle car bible. With stunning features, advice, market intelligence and hundreds of cars for sale.
Subscribe