Maserati Quattroporte S (2008) Review
---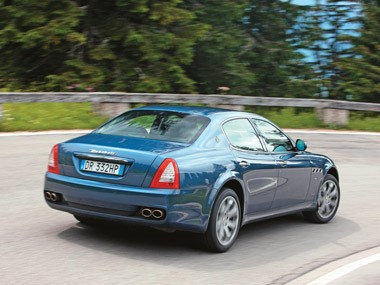 2008 Maserati Quattroporte S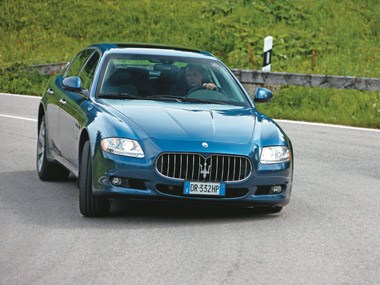 2008 Maserati Quattroporte S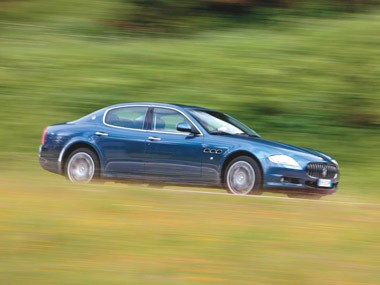 2008 Maserati Quattroporte S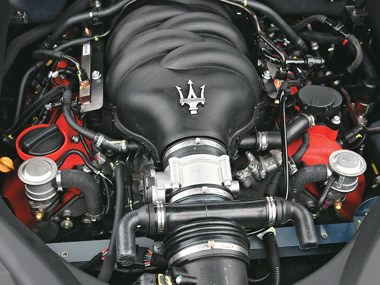 2008 Maserati Quattroporte S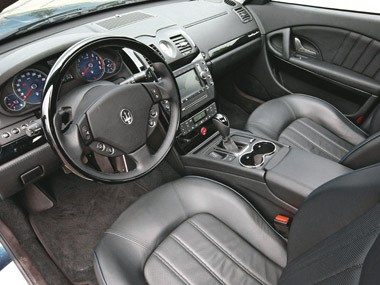 2008 Maserati Quattroporte S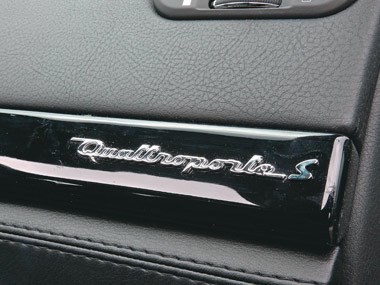 2008 Maserati Quattroporte S

Maserati Quattroporte S. When Italy's stylish tourer became even more grand.
2008 Maserati Quattroporte S
[Oct 2008] Car companies are forever trying to create answers to questions that were never asked in the first place; Mercedes-Benz R-Class anyone?

But back in 1963 Maserati forged a genuine niche for performance enthusiasts wanting the practicality of four doors, a genuine boot and luxury fittings, with the Quattroporte (Italian for four-door).

Since then there have been several generations and the latest iteration, launched in 2003, was the best yet. But hold the presses, Maserati has waved its wand and raised the bar yet again with the updated S variant.

This model will be sold alongside the standard 4.2 Quattroporte and will undoubtedly appeal to those cashed-up and wanting a bit more punch without shouting about it.

The S of course is not a totally new model but an extensively updated version of the existing Quattroporte featuring numerous mechanical, exterior and interior improvements.

Styling changes wrought by Pininfarina include a new-design grille with vertical slats (reminiscent of the stunning '50s Masers that helped forge the Italian company's early GT reputation), a reprofiled boot with handsome LED taillights, 19-inch stock wheels (with larger alloys available as an option), and restyled side skirts.

The interior benefits from a redesigned centre console featuring an intelligent new multi-media system, while thousands of leather, wood, carpet and colour combinations await the most fastidious buyer looking for individuality. A disappointment inside, though, is that some important controls are obscured by the steering wheel.

The big news for performance drivers, is the addition of the Gran Turismo's 4.7-litre V8 engine to the package. And what an absolute corker it is. Maserati has pegged the engine tune at 317kW/490Nm (compared to the two-door's 323kW/490Nm) but even with a hefty 1990kg to pull, the motor will hurl this gigantor at astronomical speeds; 0-100km/h comes up in an impressive 5.4secs.

Maserati engineers explain that the slight detuning of the engine is in the interests of mid-range torque and smoothness. Speaking of which, the S retains the six-speed ZF automatic from its 4.2-litre brother and it's delightful to use either in fully automatic mode or when overridden manually.

Perhaps the greatest achievement wrought by Maserati's engineers is that this prodigious grunt is delivered in complete serenity; no nasty aggro attitudes here. The price to pay for all this luxurious power and weight, however, is a claimed combined fuel economy of 15.7L/100km.

Part of the sedan's immense appeal lies in its surprisingly capable handling in the twisty bits. The secret to its success here is that the engine is located behind the front axle for a near ideal 49/51 weight balance.

Our launch drive was through the picturesque Austrian and German Alps, where handling is not only desirable but a potential lifesaver as well. The Quattroporte handled every twist and turn on the greasy roads with absolute ease; it was not only confidence inspiring, it was awe-inspiring.

Standard and sport suspension settings are available; the best advice I can give here is to leave the underpinnings in standard mode on the highway and slip it into sport when it's time to have fun.

Also impressive are the amazing fade-free disc brakes. I don't mean to harp on about this but this saloon is a two-tonne car and repeated jabs on steep descents didn't faze the big stoppers at all.

The stylish Italian sedan's quad exhaust pipes will be a welcome sound to those who appreciate performance motoring and don't want to sacrifice their comforts in achieving it. 
SPECIFICATIONS
2008 Maserati Quattroporte S
BODY: four-door sedan
WEIGHT: 1990kg
DRIVETRAIN: front eng, RWD
ENGINE: 4.7-litre V8
POWER/TORQUE: 319kW/ 490Nm
TRANSMISSION: six-speed automatic
PERFORMANCE: 0-100km/h - 5.4secs. Top speed - 280km/h
PRICE: $320,000 (approx)
Unique Cars magazine Value Guides
Sell your car for free right here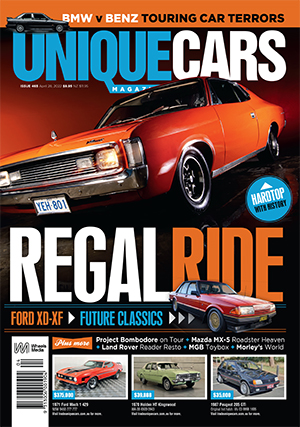 SUBSCRIBE TO UNIQUE CARS MAGAZINE
Get your monthly fix of news, reviews and stories on the greatest cars and minds in the automotive world.
Subscribe