HSV W427 (2008) Review
---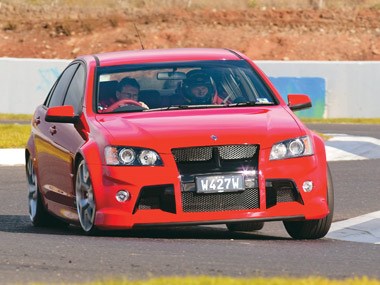 2008 HSV W427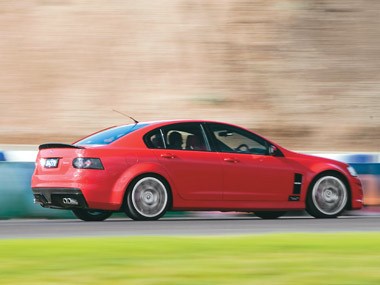 2008 HSV W427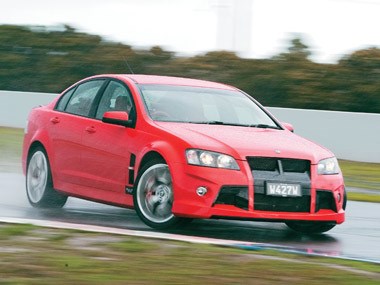 2008 HSV W427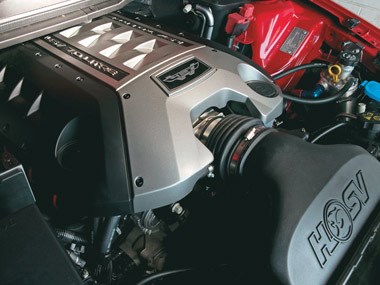 2008 HSV W427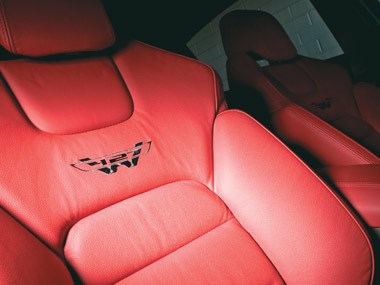 2008 HSV W427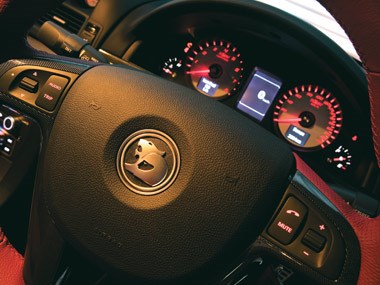 2008 HSV W427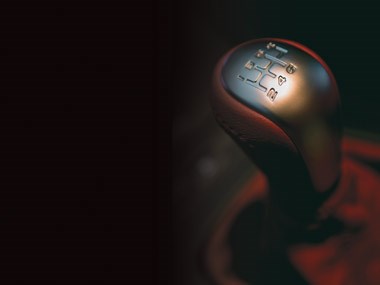 2008 HSV W427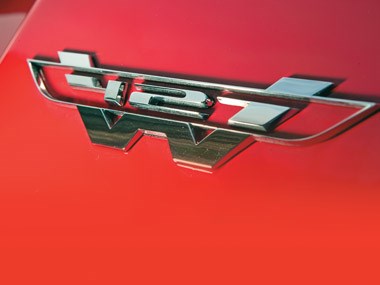 2008 HSV W427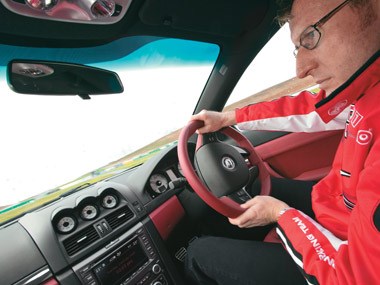 2008 HSV W427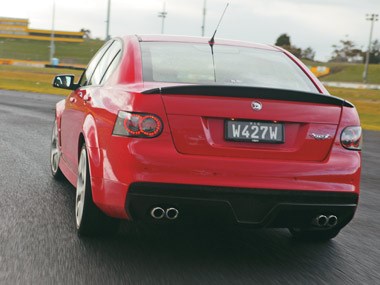 2008 HSV W427

HSV W427: The Lion King. HSV's super-sedan is more than a self-congratulatory 20th anniversary present for Holden fans. With its blend of performance, surprising sophistication and street cred, it truly is the King of Beasts.
2008 HSV W427
[Sep 2008] It starts as a menacing rumble, somewhere deep in its alloy crankcase. But as my right foot slams the floor, revs soar and other aggressive inputs are registered, a throaty roar, a meaty growl erupts from active bi-modal rear mufflers.

It's not the shrill, ringing howl of a highly-tuned small block Chevy LS1 or LS2 that commands hairs on your neck to attention. Nor the urgent, aural blast of the 6.2-litre LS3 V8 that powers current ClubSport R8, GTS and Senator HSVs.

No, it's the signature tune of Australia's first 7.0-litre supercar, set to go top of the pops with enthusiasts for whom 'global warming' means white hot headers, molten rubber and glowing disc rotors.

'Exciting' has been an adjective synonymous with HSV road cars for the past 20 years, but 'awesome' is a much better fit for the master blaster of them all - the HSV W427.

Ferry Porsche famously once said that the last car ever built will be a sports car. Tom Walkinshaw is staking his claim for it to be an HSV. Flying flat in the face of global emissions, soaring fuel costs and social acceptability that has seen leviathans like Hummers pilloried in the popular press, the W427 has much in common with the most famous of all production Fords - the XY Falcon GT HO.

Like James Dean and Diana Spencer, the final production HO died fashionably young at the hands of the alarmist media, enshrining its place forever in the hearts of enthusiasts.

Producing a mind-moving 375kW at 6500rpm, stump-ripping torque of 640Nm, for a combined fuel consumption of 17.2 litres/100km and CO² emissions dangerously more than double those of a Holden Astra, the HSV W427 is a daring dinosaur doomed to ultimate extinction in a boring, greener and cleaner world.

But it's these glorious, last blast, two-fingered credentials that are destined to make it an instant classic, even at a retail price of $155,000 - well over double the ask of its $64,990 ClubSport R8 sibling.

From its surprise first public appearance at this year's Melbourne Motor Show, there was never any doubt that HSV would build the W427.

While rivals were boasting their fuel efficiency, the Clayton Crowd was busy recording more than 1500 'Expressions of Interest' from enthusiasts as diverse as Mt. Isa miners and Perth millionaires, with the inevitable sprinkling of spotty 16-year-olds.

After follow-up phone calls and culling, that list was then turned over to the 57 HSV dealers who were each allocated just one W427 from the first 90 cars that will be built by early December this year, with an additional allocation going to '200 Club' and '100 Club' dealers that sell more than 200 and 100 HSVs a year respectively.

After the first 90 (all of which were spoken for within three weeks of the Melbourne Motor Show) HSV plans to keep building six W427s a week on the VE Commodore platform until demand peters out, or until the 427th car is built, with the promise that it will be the last of the line.

While the W427 numbers are piddling compared with total HSV production that peaked at 5222 vehicles in 2007 (65 per cent of which went to people who had never previously owned an HSV) the new flagship is significant as "the car we always wanted to build", according to Managing Director, Scott Grant.

"It has captured the passion of all HSV employees and rejuvenated us emotionally," he said.

Enthusiasm is one thing, but supply of the latest aluminium block LS7 with its dry sump lubrication, titanium rods and valves and CNC-ported heads was an issue for HSV until Holden's then-CEO Denny Mooney met Walkinshaw in a bar and suggested he could access supplies of the iconic LS7 Corvette engine in time for TWR to build a 20th anniversary blockbuster.

HSV had already dabbled with a 7.0-litre engine earlier this decade and built a few Monaro-based 427s for the Holden Racing Team, but they couldn't guarantee supply to put a model into series production.

With ongoing LS7 engine supply now assured in batches of 20, the task of creating the most exciting HSV of all began in earnest. Perhaps surprisingly, given that there are 165 new parts on the W427, not a huge amount was required to create a BMW M-beater.

As the weight of the R8's LS3 and the LS7 engines were almost identical and the W427's more rugged 6-speed TR6060 manual transmission was only marginally heavier than its R8 equivalent, no additional body strengthening was required and overall weight distribution was more or less the same.

The radiator was leaned back a little to accommodate the new cold air induction system with a high flow air filter, a new 13-row oil cooler was fitted, while a hand-fabricated oil reservoir with baffles for high G loading for the engine's dry sump system was located on the passenger's side of the engine bay.

Underneath the arches, new springs 30 per cent stiffer than those on the R8/GTS are fitted, stiffer rear suspension bushes are employed, the car's MRC (Magnetic Ride Control) electronic shock absorbers were recalibrated and ride height was set 20 per cent lower than the GTS.

The other major change is in the W427's braking, with new 6-piston AP callipers and two-piece floating 380mm front rotors fitted up front compared with the 365mm solid front rotors of the GTS.

However impressive these new mechanical specs are, HSV knew better than anyone that substance had to be matched by style if enthusiasts were to be persuaded to part with BMW M3 money for a made-over Commodore and first acquaintance with a W427 in the metal confirms that this is indeed a supercar to be taken seriously.

Right in your face is the bold new front clip by Chief of Design & Styling Julian Quincey, which borrows heavily from current V8 Supercars cues to create the bigger lungs necessary to cool the 7.0- litre power plant. It is matched at the rear with an all-new, fixed-angle three-piece carbon fibre bootlid spoiler.

The massive new 6-pot callipers necessitated a bold new 20-inch wheel that is exclusive to the W427 and features a deeply dished 10-spoke 'castellated' design by former Wheels Young Designer of the Year Adam Dean Smith.

Smith is also responsible for the matching chiselled exhaust tips and the iconic W427 badge and logo that adorns multiple surfaces and is set, alongside the new iPhone, to become one of the most 'souvenired' items of 2008.

Inside there's the no-option 'Hot Red' leather trim (with W427 graphics), a red gear knob gaiter and console cover and numerous other appliqués, mouldings and sill covers designed to leave you in little doubt that your hard-earned money has been sunk into something special.

The seven-year gestation period of Australia's first 7.0-litre supercar has given it something of a mythical status and it was with mixed expectations that I slipped behind the wheel of one of two pre-production engineering cars at the official launch in Melbourne.

While the W427 undoubtedly has the heart of a lion, careful production engineering has produced a beast whose primal side is tamed for road use and whose wild side need only be experienced when you choose to crack the whip.

The engine starts quietly, the GMPT LS7 clutch is unexpectedly light and progressive and heading off on the road loop near Victoria's Calder Raceway saw none of the low-speed snatch and histrionics with which owners of supercars like Falcon GT HOs will be familiar.

In fact the 6-speed Tremec transmission  could be flicked easily from gear to gear with fingers, rather than palms, although with 640Nm of torque - albeit peaking at a relatively high 5000rpm - gearchanging is more of a hobby than a necessity for most road driving.

Back-to-back laps of the road course with a current 317kW R8 Clubsport for comparison showed the W427 was, if anything, easier and more comfortable.

While the extra 90Nm provides noticeably more flexibility in the low to mid-range, the W427's meaty 1874kg means that it's not until you get beyond three quarter throttle that the 7.0-litre engine asserts its considerable presence and the W427 enters a class of its own.

HSV has recorded 0-100km/h times of 4.7 seconds during its 65,000km of testing the new model, along with a standing 400 metre time of around 13 seconds, which puts it into the Euro supercar zone. But it's not until you work the engine hard that the urge really becomes feral.

While the 6.2-litre LS3 engine is all over at 6000ropm, the LS7 loves to rev freely and real quality time is spent between 6000 and 7000rpm.

Most impressive though, is the way that the chassis puts all this onto the ground. Despite the stiffer suspension, the revised MRC rates and the car's standard limited slip differential, there was impressively little wheel tramp as long as the MRC's dashboard control was set to 'Performance' and not to 'Track' - even under hard acceleration on a bumpy uphill left hander on the drive loop.

Even more surprising was that despite riding on 20-inch wheels, the W427 rode slightly more smoothly than the R8 ClubSport, with HSV telling us that the 245/35-20 Bridgestone Potenzas are more compliant in their sidewalls than their smaller brothers. Overall, I'd rate the ride comfort better on average suburban roads that an 'S' series Audi or BMW M5.

The W427's monster new brakes were another pleasant surprise. The new pad material bites smoothly and progressively from cold, yet proved perfectly matched to aggressive driving on the Calder circuit. The absolute stopping power is now awesome and beyond even HSV's expectations for a high performance sedan weighing over two tonnes with a full complement of passengers.

Great road cars rarely shine on a track, with the inevitable ride/handling compromise already skewed, however there's a surprise for W427 owners.

While HSV went to pains to emphasise that its new flagship is primarily a road, rather than a race car, it will certainly not disappoint anyone at a Track Day. Flick the MRC setting to 'Track' and switch off the traction control if you dare.

That's what HRT boss Mark Skaife did with impressive style at Calder, burying the W427 deep into the braking zone at the end of the main straight and playing with its tail at will on Calder's slow, constant radius corners.

"They have done a great job," he enthused. "For a road car it works really well on the track. The brakes are great, the chassis is well balanced and it's very user friendly."

Taking the wheel, it was hard not to agree. Rather than the brute of a car it could and would have been 30 years ago, the W427 is a true grand tourer that flatters the average driver with traction control on and rewards the more experienced with it switched off.

Like Porsche's GT2, HSV's engineers have left the level of intervention quite high, so even with TC 'on', you can still move the car around on the throttle, especially on damp surfaces.

But more impressive was how the W427 felt at the end of its caning, rather than at the start. Like the thoroughbred it is, it was hardly even breathing hard.

Looking at the W427 in comparison to a current R8 ClubSport, spending more than twice as much is perhaps hard to justify over what is already a pretty handy tool. And if you park it beside its logical BMW, AMG Mercedes and Audi rivals, it may look a little crass by comparison.

But if you want the most powerful, most capable and most exciting car ever built in Australia and you're an HSV fan, the lure of the $155,000 W427 may be simply irresistible.
SPECIFICATIONS
2008 HSV W427 
BODY: Four-door sedan
WEIGHT: 1874kg
ENGINE: 7.0-litre LS7 V8, dry sumped
DRIVETRAIN: front eng, RWD
TRANSMISSION: six-speed manual
POWER/TORQUE: 375kW @ 6500rpm, 640Nm @ 5000rpm
PERFORMANCE: 0-100km/h - 4.7 secs; standing 400 metres - 13 secs (claimed)
PRICE: $155,000
PRODUCTION: 427 (maximum)
Unique Cars magazine Value Guides
Sell your car for free right here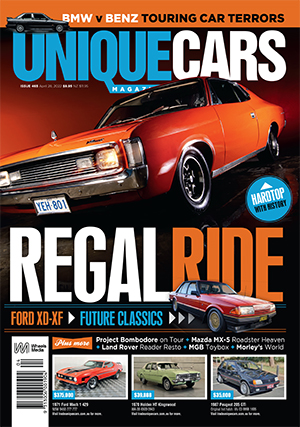 SUBSCRIBE TO UNIQUE CARS MAGAZINE
Get your monthly fix of news, reviews and stories on the greatest cars and minds in the automotive world.
Subscribe