GTM Libra (2008) Review
---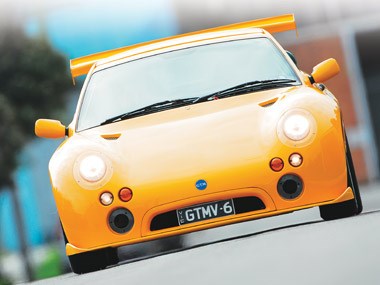 2008 GTM Libra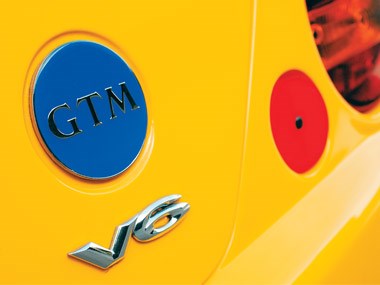 2008 GTM Libra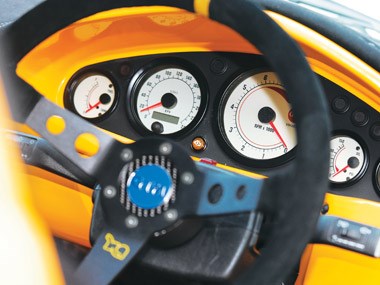 2008 GTM Libra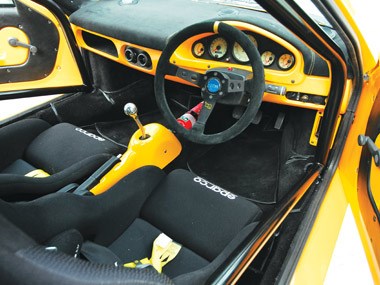 2008 GTM Libra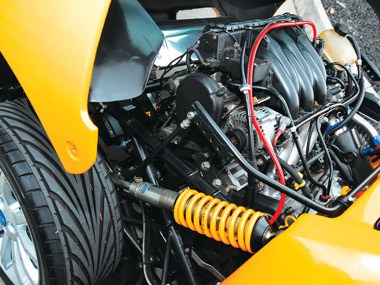 2008 GTM Libra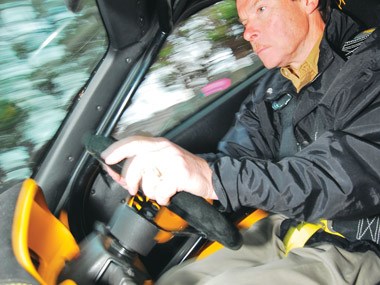 2008 GTM Libra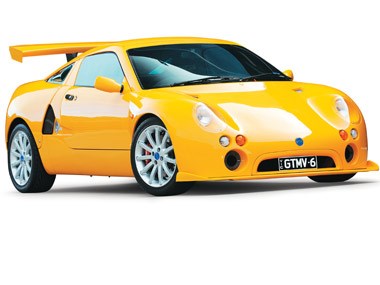 2008 GTM Libra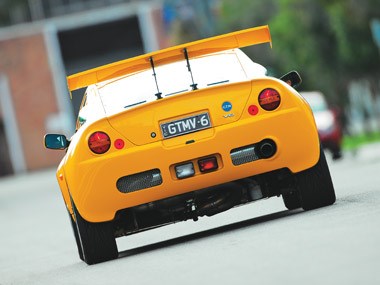 2008 GTM Libra

Sunday scorcher: this free-spirited sports coupe was a potential Lotus-eater.
2008 GTM Libra
[2008] It's much smaller and even more compact than it looks in print, like a 1:43rd scale Nissan Z, but it draws crowds and comments like few other cars and could well become the love of your life.

GTM Libra is a name rarely found in the Australian automotive lexicon. It sounds more like a feminine hygiene product than a ballsy sports car, but stand by to be re-educated. This pocket-size Exige-eater may soon change the way you view your motorsport.

Designed to be assembled around principally MG and Rover K-series mechanicals, the Libra is being built in Australia under the government's low volume compliance plan with power and weight around that of a Lotus Exige, but is expected to sell at little over half the price.

Like the Exige, the Libra has 'race on Sunday, commute on Monday' motorsport ambitions and is specifically being marketed to track day and tarmac rally enthusiasts by Australian franchisee Kel Kearns and his Australian sales agents, Meridian Motorsport of Melbourne.

Kearns' voyage of discovery, which has seen him devote much of the past three years to the project, will ring a bell with many other weekend warriors.

A club racing and tarmac enthusiast, who finished second in the Winton 6 Hour race in 2001 as part of a Ford Laser team, he wanted to compete more regularly, but didn't like what he found. Performance sedans like BMWs, HSVs and GT-Rs, and even more sporting vehicles like Evos, STis and Porsches, represented a high capital purchase and were heavy on mechanical components, particularly brakes and tyres.

At the other extreme were dedicated circuit cars like the unregisterable Radical, but if you wanted to drive your car to a track day, or compete in a tarmac rally and enjoy real driving satisfaction and realistic running costs, all paths led to the $115,000-150,000 Exige. Problem was, that this was nearly twice as much as he wanted to invest in a vehicle aggressively exposed to Armco and the environment.

But while he was saving up for an Exige, a UK friend introduced him to specialist British kit carmaker GTM. He made contact with the UK factory, who he found was keen to expand, and his Exige savings went into Australian certification for the Libra coupe kit that the factory shipped to him.

In the UK, most Libra buyers fit either the 1.4-litre Rover K-series or 1.6-litre Honda VTEC four cylinder engine, but with tarmac rallying in mind, Kearns decided to build Australian Libras around the optional 142kW 2.5-litre K Series V6 normally found under the bonnet of the MG ZS sports sedan.

Now do the math. A basic Exige S weighs around 935kg and its 1.8-litre Toyota supercharged four cylinder pumps out 162.5kW of power and peak torque of 215Nm. But sharing a similar footprint, the Libra tips the scales nearly 100kg less, yet delivers 25Nm more torque over a wider rev range. So while it loses out on power, it should work better on give-and-take tarmac rally roads.

Featuring a stiff F1-style composite monocoque tub weighing just 98kg and with a claimed torsional stiffness of 14,000Nm/deg, the Libra is around twice as stiff as most Australian sedans, so the basis is there for an entertaining track car.

Underscoring this, the Libra in its Australian tarmac configuration comes with a wind-tunnel developed local aero kit consisting of a cut-down and adjustable VX Commodore Supercar rear wing and a compensating front spoiler lip that generate 40kg front and 40kg rear downforce at 130km/h.

A Torsen LSD, a CAMS-approved roll cage, a safety ignition kill switch and a full-size spare wheel are also part of the Tarmac spec, but the Dzus-type fasteners that currently hold the front and rear bodywork in place are more suited to a track environment and will be replaced by simple turn-buckle latches for road and tarmac rally customers.

Approaching a GTM for the first time you are struck how much smaller it is in real life than in photographs. For a low volume fibreglass-bodied car, the finish is generally good, with the test car featuring a gel coat colour finish that made it virtually impervious to minor scratches and abrasions.

Despite its diminutive size, the Libra's cockpit is surprisingly roomy and a comfortable place for two once you have secreted yourselves through the roll cage.

It has reasonable head and legroom, and visibility is generally good (even through the Lexan rear window and wing). However those with large feet may find they foul the offset steering column, while a left footrest was an omission on the test car that is being rectified in future versions.

The removable targa roof panel, which stows behind the seats when not in place, is an appealing feature, but it's a fiddly thing to remove and refit and tarmac rallyists will doubtless want to keep the roof closed to ward off potential intrusions. The boot is useful only for small bags, but that's fine for the GTM's expected use, where golf clubs compete with driving time and dinner suits are only worn on trophy night.

With its fairly modest power output, the 2.5-litre V6 is not exactly a fireball, but with less than 900kg including the roll cage to move, performance via the stubby short-shift five-speed gearbox with its nicely-spaced ratios is brisk. This is the same gearbox used by the Exige. The gearchange on our test car was decidedly notchy at first, but freed up considerably once warm.

While five cogs are a minimum requirement these days when the latest performance cars are embracing seven, the combination of low weight and the GTM's broad torque band made it clear even after our brief drive that this would be a very useable and enjoyable package in which to spend five days in Tasmania.

The brakes too inspired confidence and with 305mm diameter ventilated rotors and four-spot callipers up front, they feel reassuringly robust and look up to the job of retaining their cool and stopping the Libra consistently under the heat of tarmac rally competition, although only time will tell.

Kel Kearns and the team at Meridian Motorsport under Brenton Alcorn are still finalising suspension settings, but the overall feel and ride comfort of the test car suggest they're already on the money for a road and rally spec.

Meridian are now taking orders for the Libra, with customers able to choose a turnkey car like the V6 we drove for around $70-$80,000, or to purchase it as a self-assemble kit without engine for under $50,000.  If a customer would prefer a four cylinder Honda K20A with six-speed gearbox from an Integra, a second-hand powertrain can be purchased and easily fitted, with Meridian assisting purchasers with the required compliance engineering.

"As long as what a customer wants is within the latitude of the Australian Design Rules, we can do just about anything," said Alcorn.

Kearns has also imported a pretty GTM Spyder convertible for evaluation, but feels at the price it would have to sell that interest in Australia would be marginal. However, for someone who has invested three years of his life in bringing a car few people have heard of to Australia, you never say never.

Initial plans are for Kearns to run the yellow 'mule' in a number of low-key motorsport events such as Dutton rallies and hillclimbs before looking at full-scale tarmac rally engagement later in 2009.

"The aim is to introduce the Libra to enthusiasts and to let them see its potential in their branch of motorsport," said Kearns. "Like we did, we expect them to see its potential."
SPECIFICATIONS
2008 GTM Libra
BODY: two-door coupe, composite
WEIGHT: 835kg (with rollcage)
DRIVETRAIN: mid-mounted, RWD
ENGINE: 2.5-litre V6
POWER/TORQUE:  142kW/240Nm
TRANSMISSION: five-speed manual
STEERING:  Unassisted rack and pinion
SUSPENSION: Front by double wishbone with AVO coil-over adjustable shock absorbers. Rear by angled double trailing arms with AVO coil-over dampers and adjustable spring seats
BRAKES: Disc brakes all round 
WHEELS/TYRES: 205/45R16 (f), 225/40R16 (r)/ Toyo T1-R
PRICE: Approx $70-80,000 complete
Unique Cars magazine Value Guides
Sell your car for free right here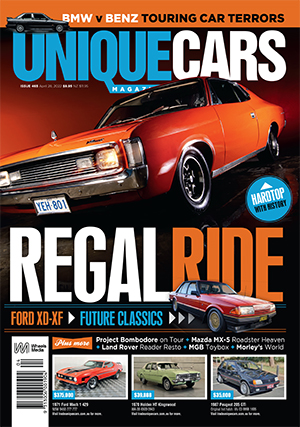 SUBSCRIBE TO UNIQUE CARS MAGAZINE
Get your monthly fix of news, reviews and stories on the greatest cars and minds in the automotive world.
Subscribe