Chevrolet Corvette ZR1 (2009) Review
---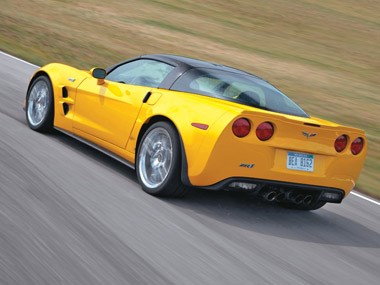 2009 Chevrolet Corvette ZR1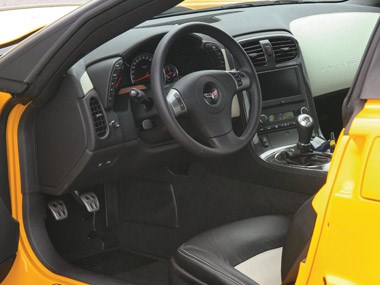 2009 Chevrolet Corvette ZR1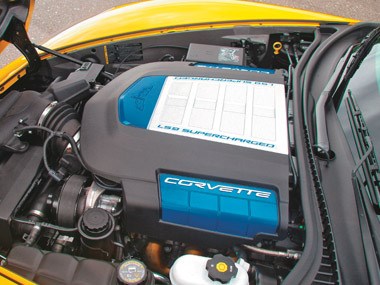 2009 Chevrolet Corvette ZR1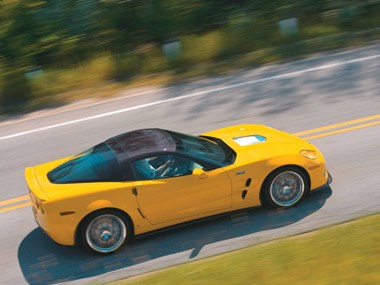 2009 Chevrolet Corvette ZR1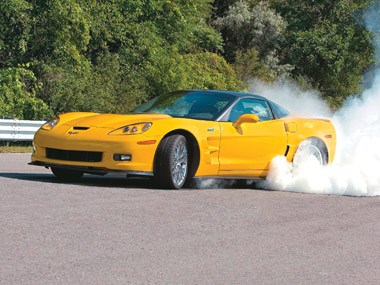 2009 Chevrolet Corvette ZR1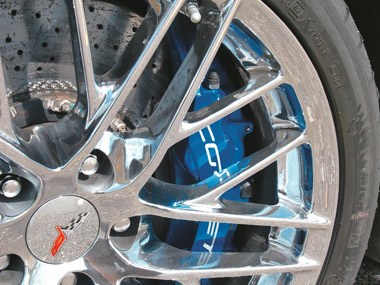 2009 Chevrolet Corvette ZR1

GM celebrated its 100th birthday by unleashing the most potent Corvette yet, the 476kW ZR1.
2009 Chevrolet Corvette ZR1
Yep, it's quick. As in speeding-bullet quick. As in parked-to-100km/h in 3.5 seconds quick. As in 338km/h top speed quick. But it's what happens when you stomp on the middle pedal that turns Chevy's latest and greatest 'Vette - the eagerly-awaited US$105-grand ZR1 - into a true automotive rock star.

This thing has the brakes from hell.

Just the sight of the monster discs and giant metallic blue callipers lurking behind the ZR1's thin-spoked 20-inch rims will have you salivating like a teenager at a spring break wet t-shirt contest.

Supplied by Brembo, the 394mm front and 381mm rear carbon ceramic stoppers are the biggest fitted to any production car. In fact the front rotors were originally created for Ferrari's Enzo-based FXX track racer, while the rears are the same ones used for the Enzo's fronts.

Hit them really, really hard and they'll turn-in a staggering 1.2g of deceleration, and in the process detach retinas and transform belly buttons from innies to outties. And if you need one more number to piss off the Viper boys, reel-off the zero-to-160 km/h-to-zero time of 11 seconds dead. That's over two seconds better than the Snake.

Yet unlike most other carbon-ceramic set-ups, the Corvette's anchors don't squeal like a piglet when cold, or grab under light pedal pressure. They're nothing less than stupefyingly awesome.

Which pretty much describes everything else about this Detroit superhero.
LORD OF THE RING
Half a day spent lapping GM's killer 4.7km Milford Road Course outside Detroit, otherwise known as the 'Lutzring' in honour of The General's car-czar vice-chairman Bob Lutz, showed the new 'Vette to be mind-numbingly-quick yet staggeringly well-mannered. At least at our level of real-world fast driving.

But it was two laps in the passenger seat alongside development engineer Jim Mero that showed the ZR1's out-of-this-world capability.

Jim-who? He's the stocky, nice-as-pie, everyday joe who hammered the ZR1 around the Nürburgring in a Nissan GT-R/Porsche GT2-decimating time of 7 minutes 26.4 seconds. Think of him as superman in Wal-Mart chinos.

Mero reckons the brilliance of the new 'Vette has a lot to do with those Brembo stoppers coupled with the custom-tailored Michelin Pilot Sport 2 run-flats that vacuum the Chevy to the blacktop like a Dyson on steroids. Mero would consistently brake what seemed like a minute later than us mere mortal drivers and use the Michelins' staggering grip to fire through the Lutzring's fearsome array of roller-coaster curves.

It's certainly a smart move on Chevy's part to include a high-performance driving course at Bondurant's Spring Mountain, Nevada school with every new ZR1 sold in the US. Even if it's simply to make the GM legal department breathe easier.
Two laps were just enough to avoid the jettisoning of stomach contents in the aptly named Toilet Bowl, a 45-degree-banked wall-of-death turn fashioned after the 'Ring's famous Karussell.

Time to take a break and soak-up the technical majesty of this King of the Hill Corvette....

Power comes from an all-new, hand-built 6.2-litre supercharged LS9 V8 with a four-lobe Roots-type Eaton blower spinning at 2.3 times engine speed pumping out 10.3psi of boost. A forged crank, dry-sump oiling, titanium valves and aluminium-silicon heads are just part of the engine's exotic spec.

What it serves up is a massive 476kW and a stump-pulling 806Nm of twist. And with almost 734Nm of that summoned-up from a mere 2600rpm, the thing pulls like a railway loco in pretty much any gear, from any speed.

Talking of gears, the big V8 delivers its poke to the rear wheels through a beefed-up Tremec six-speed with a taller first for faster zero-to-100s, and a shorter sixth for 320km/h-plus running. A new Sachs twin-plate clutch reduces clutch pedal effort and provides smoother, lighter shifts.

Now stand back and eyeball the styling changes that will have every Corvette aficionado drooling like a spaniel eyeing a meat pie. You certainly can't miss the black carbon fibre roof panel and roof bow clear-coated with a special US$14,000-a-litre additive to stop sun-light from yellowing the carbon weave. Or the slightly cheesy 48x43.2cm clear polycarbonate window on the bonnet showing off the LS9's intercooler. Or the carbon-fibre chin spoiler which we guarantee will last less than a day if there's a speed bump anywhere on your drive home.
MORE DRAMA, PLEASE
But it's all detail stuff. For us, it's just a pity that the Corvette team didn't give the ZR1 more substantial styling changes to really define it as the halo model it is. Maybe a more dramatic front end and less chopped-off rear. After all, it's only moulded composite. Fact is, to the untrained eye, the US$105-grand ZR1 doesn't look that much different to a US$47k base C6 coupe.

Climb aboard and the cockpit also has the familiar look and feel of lesser 'Vettes. But on the ZR1 the latest optional stitched leather trim is standard, and it looks great. But if you're spending US$105k it would be worth ponying-up an extra US$10,000 for the 3ZR pack that includes the gorgeous leather-wrapped dash, along with Bose sound and navigation.

Again it's a pity the team didn't decide to offer a pair of real Recaro-style sports seats, even as an option. As our 'Lutzring' laps proved, the standard pews are just not up to the job of supporting their occupants, especially with their lack of lateral support.

While the track lapping was fun, for us the real test is on regular roads, driving back-to-back with a Z06 over the Michigan potholes, finding out whether the ZR is worth the extra US$32-grand over the '6'.

It takes literally two minutes to recognize that the ZR1 is light years ahead of its sibling in virtually every single dynamic quality.

From the instant-on responsiveness of its supercharged motor (99kW up on the Z06's 376kW), to the laser precision of its new variable-ratio steering, to the suppleness of its magnetic-controlled ride, the ZR1 is just a fabulous road car.

And it's much more of a joy to drive, thanks to its lighter, smoother, more precise gear shift and lighter, more progressive clutch. And despite having 20-inch Michelins that have all the thickness of rubber bands, the ZR1 soaks up lumps and bumps like paper towel soaks up water.

And there's no need for any fancy sound system; just power down the windows and listen to the full aural Banshee wail of that Eaton blower as it spools up, coupled with the sweet, spine-tingling roar of the adaptive exhaust as it flicks opens its valves at 3000rpm. Pavarotti in his prime never sounded this good.

Chevy hopes to sell around 1800 ZR1s in a full year - only 150 will be allocated for export and none in right-hand drive - with sales kicking off right around now.

It's certainly no done-deal as times are tough in the sports car world. But even at a lofty US$105-grand, this could well be the best performance bargain in decades.
SPECIFICATIONS
2009 Chevrolet Corvette ZR1
BODY: Two-door coupe
WEIGHT: 1519kg
ENGINE: 6.2-litre supercharged LS9 V8
DRIVETRAIN: front eng, RWD
TRANSMISSION: six-speed manual
POWER/TORQUE: 476kW @ 6500rpm/ 806Nm @ 3800rpm
PERFORMANCE: 0-100km/h - 3.5 secs
TOP SPEED: 338km/h
PRICE: US$105,000
PRODUCTION: 1800 a year (LHD only)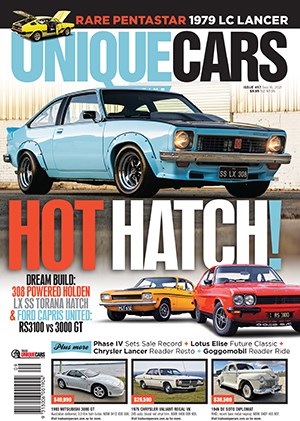 Subscribe to Unique Cars Magazine and save up to 42%
Australia's classic and muscle car bible. With stunning features, advice, market intelligence and hundreds of cars for sale.
Subscribe