Callaway C7 Corvette Review
---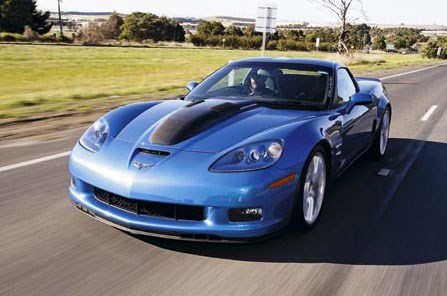 Callaway C7 Corvette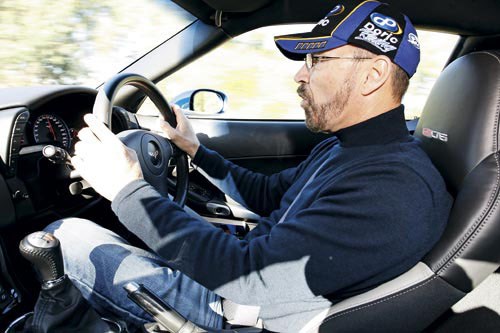 Callaway C7 Corvette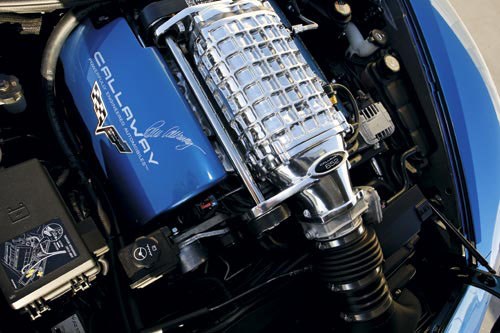 Callaway C7 Corvette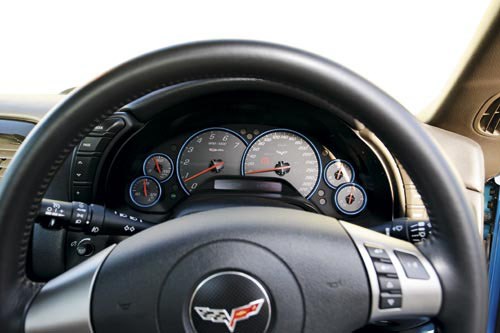 Callaway C7 Corvette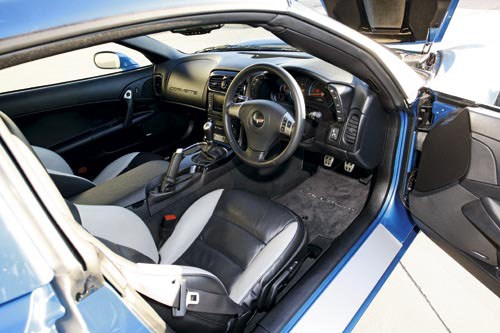 Callaway C7 Corvette

Callaway C7 Corvette. Supercar ace John Bowe tackels a 625hp road car
Callaway C7 Corvette
Until recently, I've never really paid much attention to Corvettes, but here's a set of numbers that will really grab you: this is a 652-horsepower road car! That's why I'm driving this thing - it's not really 'past' but wow, this Callaway Corvette SC652 is a blast! The number of course corresponds to the power output.
This is the only officially-certified right-hand drive Callaway Corvette in the world and carries the number 001 on its build plate. This makes it quite special. You might know the Callaway name from its involvement with HSV here about a decade ago - it was responsible for the 300kW C4B engine development when HSV first adopted the all-alloy LS1 Chev.
This is just about the baddest, angriest Corvette you can buy. It's a supercharged V8, just like Chevrolet's own ZR1, but the ZR1 'only' has 6.2-litres, whereas Callaway uses the 7.0-litre Z06 engine as a base. The hood bulge is open at the back so you can see the supercharger working its magic.
Think about that for a moment - it's a 7.0-litre V8 with a blower! If you use the equivalency factor that FIA uses with the Formula 1 cars, it's like a 12-litre engine! Corvettes have a loyal following and Callaway is a trusted and approved supplier to GM. When they arrive in Australia they are converted to right-hand drive by Motor Cars International in Sunshine and it retails for around $250,000. This is a serious performance car - I'm talking international-grade supercar stuff here - at a relatively reasonable cost. Most cars with this level of performance cost at least $500,000.
There's a bit of an odd feeling when you get in it for the first time. From the outside the car doesn't appear to be very big, yet when you sit in it, its feels quite wide and large. Of course, you sit quite low and the steering wheel is relatively high but there's a massive range of adjustment so it's easy to get comfortable. Taking into account this was never designed to be a right-hand drive vehicle, there's no seating compromise, which is not something that could always be said of right-hand drive conversions - which goes a long way to explaining why Callaway were happy to officially recognise this car.
I drove it out around Victoria's Mt Macedon, which has some great driving roads. Let me tell you, this thing has serious grunt. Serious, serious grunt. It has 335-section (that's almost 13.5-inches wide!) tyres under the back of it, yet anytime you want to, you can make it wheelspin. Anytime! You can dribble along the road but as soon as you stand on the gas, it overwhelms the traction-control system and slithers and snakes and wobbles. When Callaway does the conversion, I suspect they don't recalibrate the traction-control system!
Compared to what is available in other cars of this level of performance - like Ferraris or Lambos - the traction control simply can't keep up. But then again, traction control can really kill the character of a car such as this. And this is a car of great character in a bourbon-drinking way!
Now this is not a criticism of the Callaway Corvette, but in Australia, and especially Victoria, which has become the nanny state for motorists with more speed cameras than just about anywhere in the world, it's just about the most ridiculous car you could ever drive.
This thing does 142km/h in second gear, so you're already 32km/h over the speed limit with four cogs to go! At 110km/h in sixth it's doing about 1200rpm. Like a lot of other supercars, the only place left on the planet where you can really enjoy this thing is on the German autobahns.
Until 2007, you could legally and safely run it hard here in the Northern Territory, but they put a stop to that, too. I'd like to put this thing onto a racetrack to really exploit its performance.
If you lined this up against a Lamborghini Murcielago there wouldn't be too much difference between them in terms of straight-line performance - they'd both flatten your eyeballs! Cars like this will always appeal to enthusiasts because people buy cars for what that can do, not always what they do with them. And, like a Porsche, you could drive this to work every day - no question.
Through the corners, it's quite poised. It has very good lateral grip thanks to those wide tyres and when you give it a bootful, its nose lifts up and it squats down in the back. But if it's in any of the lower gears, it just bursts into wheelspin. It's so flexible that you don't need any gears. It has such a range! It'll pull third gear from jogging pace to almost 200km/h so just brake, leave it in third, come around a corner and give it a squirt to the next corner without any gearchanges. The gearbox is a heavy-duty, six-speed Tremec manual with triple synchros and there's a bit of gear chatter in it, but the shift is good.
The brakes are pretty effective. They're big six-piston front, four-piston rear jobbies and the steering is good, even with that fat rubber. Some people have an impression of Corvettes being big donk, swoopy body and little else but the marque has left all that behind. It's not above criticism: it tramlines and the ride is jiggly. It's not what you'd call sophisticated, but the whole lot works together nicely and I have to admit I was pleasantly surprised - but the way it delivers that grunt is overkill!
Growing up in the 1960s I had this picture in my head of 'American Muscle' and I reckon this is the latest, greatest version of all that.
SPECIFICATIONS
Callaway Corvette SC652
ENGINE: 7008cc V8, OHV, 16v, supercharger
POWER: 486kW @ 6600rpm
TORQUE: 841Nm @ 4500rpm
WEIGHT: 1488kg
GEARBOX: 6-speed manual
WHEELS: 19 x 10-in(f); 20 x 12-in (r)
PERFORMANCE: 0-400m 12.23sec*
*Tested MOTOR August 2011
Unique Cars magazine Value Guides
Sell your car for free right here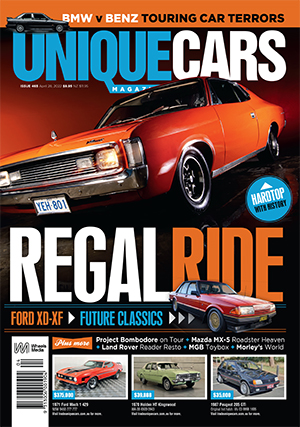 SUBSCRIBE TO UNIQUE CARS MAGAZINE
Get your monthly fix of news, reviews and stories on the greatest cars and minds in the automotive world.
Subscribe