Chrysler 300C SRT8 Moto GP course car review
---
Chrysler 300C Moto GP course car - take one SRT8 and raid the Mopar parts bin...
Chrysler 300C SRT8
The Moto GP bikes that Aussie Casey Stoner and his cohorts ride are among the fastest-accelerating gadgets in motorsport. So, if you're going to have a Course Car to accompany the Moto GP circus, you'd better make sure it's no slouch itself then, yeah? Exactly.
All of which explains how this rather special Chrysler 300C SRT8 came about. See, Chrysler/Jeep has signed a deal to supply everything from stewards cars, medical first-intervention cars, VIP transport and this, the official course car to the Australian Moto GP which, by the time you read this, will have been, hopefully, won by Stoner [it was, and he sealed his second worldchampionship].
Actually, there'll be two official course cars, but Chrysler figuredit'd be fun to let a few journos loose in the thing. Sadly, it's as close as I'll ever get to the grid of a Moto GP race, but as a means of showing off what the Mopar catalogue can do for a 300C, this is an interesting exercise.
Naturally enough, Chrysler started with the hottest version of the 300C,the $69,990 (drive-away) SRT8 complete with its 317kW 6.1-litre V8. It thenraided the Mopar parts catalogue and added a cold air intake ($616 including GST), a cat-back exhaust ($3153), a beefier front sway bar kit ($1106) and coil-over suspension units ($3216).
Bolt on the lights and sirens, plaster on the appropriate decals and you've got yourself a Course Car.
Thumping the thing around the Calder circuit soon revealed that the coil-over suspension does the trick in terms of dialling out some of the 300C's body movement. Okay, it doesn't actually make the car lighter, but it definitely feels it with a more determined side-step and less tyre squeal compared with the stock version we drove as a yardstick.
There's doubtless a little extra squirt, too, but not enough to change the car's overall complexion. It did seem a little friskier towards the top of second and third gears and fractionally more capable of overcoming the grip of those huge rear tyres. And we recorded 0-100km/h in 5.7sec and 0-400m in 13.8sec.
In any case, extra poke is not the exhaust system's trump card. Nope, that would be the glorious bellow the new pipes unleash. Apparently they're legal and, if you were buying an SRT8, I reckon they'd be the first box you'd tick.
Add it all up and you get perilously close to an $80,000 300C, and that doesn't include the lights and sirens. Or the opportunity to mix it with C Stoner and his mates. But there are some things money can't buy.
 
SPECIFICATIONS
Chrysler 300C SRT8
ENGINE: 6063cc V8, OHV, 16v
POWER: 317kW @ 6000rpm
TORQUE: 569Nm @ 4600rpm
WEIGHT: 1920kg
GEARBOX: 5-speed automatic
0-100KM/H: 5.7sec (tested)
0-400m: 13.8sec (tested)
PRICE: $80,000(estimated)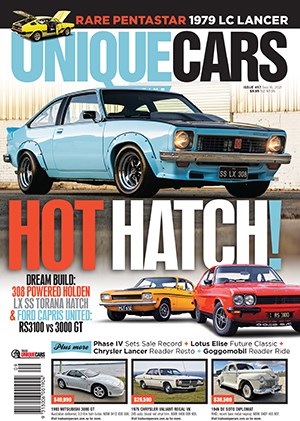 Subscribe to Unique Cars Magazine and save up to 42%
Australia's classic and muscle car bible. With stunning features, advice, market intelligence and hundreds of cars for sale.
Subscribe