Nissan R35 GT-R Review
---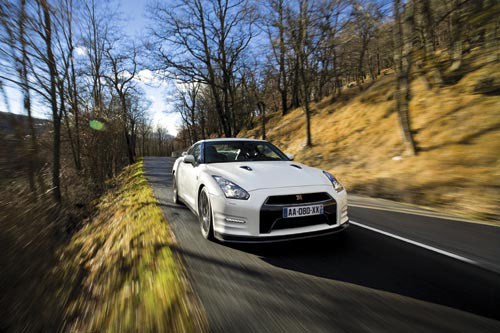 Nissan R35 GT-R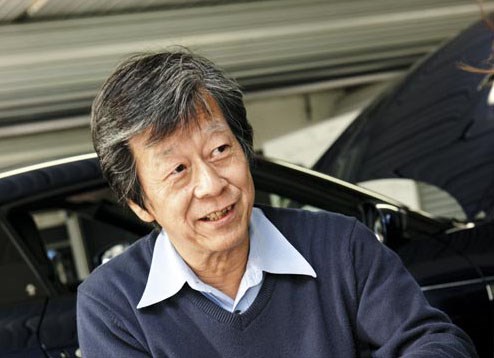 Nissan R35 GT-R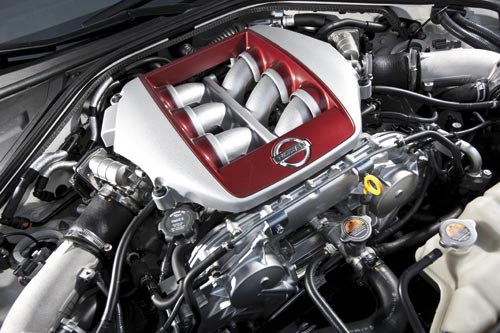 Nissan R35 GT-R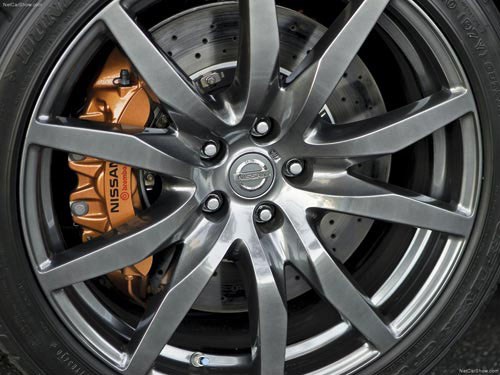 Nissan R35 GT-R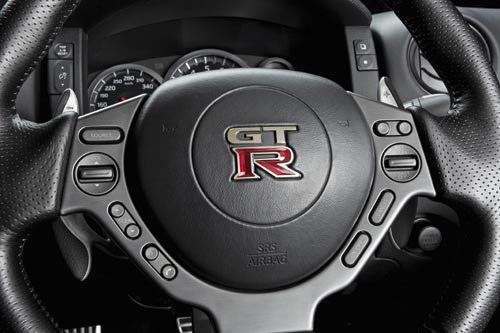 Nissan R35 GT-R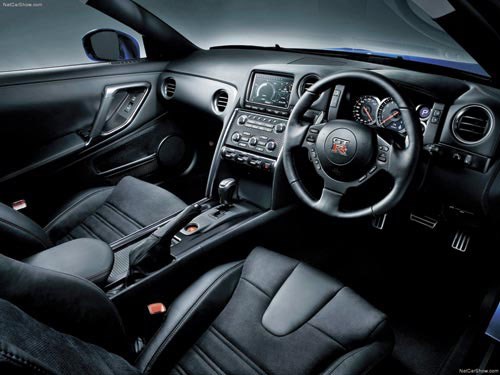 Nissan R35 GT-R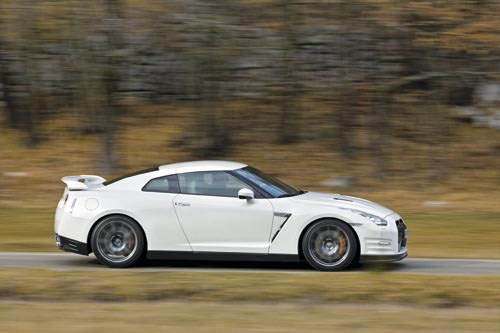 Nissan R35 GT-R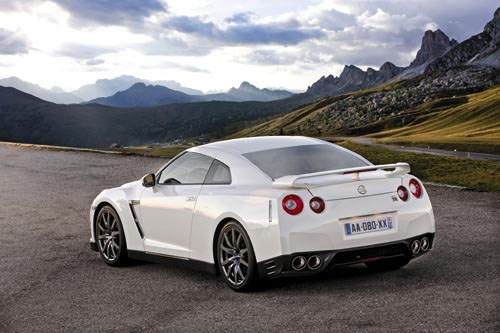 Nissan R35 GT-R

Katzutoshi Mizuno has spent a decade refining the mighty Nissan GTR - we sampled his handiwork
Nissan R35 GT-R
Prise Katzutoshi Mizuno away from his beloved whiteboard, let him light up and he relaxes and clucks around his prodigy like any other doting father.
Due to turn 60 in early January 2012 and hence facing mandatory retirement at Nissan, the 'Godfather' of the R35-series GT-R looks satisfied and disarmingly paternal as he strokes the ribbed nose panels that are a significant part of the vehicle's 2011 evolution.
"These are my design," he points out proudly. "Together with the 14 percent larger front intake, they give 25 percent better airflow for co-efficient of drag and downforce. Oil and engine temperatures are now eight to 10 percent lower at 300km/h - I know because I drive these tests on the road. Because of regulations, official test drivers can only do this on the circuit."
He then indicates the monster front brake rotors - up 10mm to 390mm in diameter - that fill the R35's new 10-spoke aluminium wheels (that are 3kg lighter per set). "Also my design," he smiles. "Brembo makes them to my specification. They cool quicker - drop 60-100C in five seconds."
Mizuno is also full of praise for the R35's new 20-inch Dunlop Maxx tyres, which give "40 percent better tyre life plus better grip. Normal run-flat tyres have a speed limit but I have run these to 300km/h."
He moves on to the revised and extended (by 50mm) rear diffuser that adds 10 percent more downforce, enhances cooling and helps cut the previous GT-R's already-slippery 0.27 drag co-efficient to 0.26.
It's soon clear that the 2011-spec GT-R is the way Mizuno envisaged it when he began development on the model nearly a decade ago.
"I wanted to create a new sports-car culture - the performance, the dynamics. When the R35 was launched in 2007, I said we would reveal it in its true form within three years. My dream for this car is now realised."
Much more than a power-up facelift, the second iteration R35 is a major evolution of the vehicle that first broke cover as a concept at the 2001 Tokyo Motor Show.
The extensive mechanical changes help soften the blow of a price increase of around $9000 over the 2007 R35, as does the obvious upgrade in interior quality.
New Recaro-designed leather seats, revised stitch lines on the dashboard, real carbon on the centre console and soft-feel seatbelts have brought the GT-R closer to the ambience of its German rivals, and the doors now close with a substantial, upmarket 'thunk'.
For number crunchers, however, the biggest news is under the bonnet, where power from the 3.8-litre twin-turbocharged V6 engine has increased by 33kW to 390kW at 6400rpm and maximum torque is now 24Nm greater at 612Nm from 3200-6000rpm.
Nissan's international PR for the 2007 R35 focused on its racetrack performance rather than street cred but the drive program chosen by Nissan for its latest Godzilla shows a shift in emphasis from hot laps to high street.
A peak hour freeway drive out of Melbourne is followed by a stirring blast on 'B' roads through south Gippsland, culminating with laps and exercises at the Phillip Island circuit. It's a good call because for all its racetrack competence, it's on challenging roads, not tracks, that the updated R35 shines brightest.
Trundling out of Melbourne along the Monash 'car park', the latest GT-R proves more benign, despite the extra fire in its belly. Along with the 'R' (Race) and Normal transmission modes offered on earlier R35s, there is now a new SAVE mode (replacing Snow) that reduces engine torque and alters the shift points in the six-speed, dual-clutch 'box for a more relaxing and economical drive.
If you are parking with a steering angle of more than 180 degrees, SAVE also disconnects the front differential to give you two-wheel drive up to 10km/h for easier low-speed manoeuvrability.
But it makes the GT-R a bit too snoozy for a supercar and we find the best balance for most road driving is the Normal setting for the transmission and the softest Comfort setting for the adjustable dampers, leaving the Sport and R settings purely for track work.
In this configuration, the GT-R is still a kitten to drive and only the persistent background whine of the transmission and front differential betrays that you are driving anything more brutal than a Micra.
Turning off the freeway and onto the back roads from Warragul to Phillip Island reveals a very different side to the new GT-R. A series of sinewy ridge-top roads, punctuated by straight stretches with picture-postcard rural views, brings out the best in the chassis, the revised front castor angles, lower rear roll centre and more precise damping of the new piston-free, lightweight aluminium shock absorbers - always maintaining the master-servant relationship in the driver's favour.
The all-wheel drive system is hugely impressive, incorporating Vehicle Dynamic Control and electronic traction control with a mechanical, rear limited-slip diff. It would take suicidal tendencies or distraction to get the R35 out of shape on public roads.
Hitting the smooth surface of the Phillip Island circuit offers a chance to experience Nissan's new Launch Control, also known as Vehicle Dynamic Control R mode. Replacing the previous limp-wristed 'traction assist' program where clutch engagement was limited to just 3000-3500rpm in R mode, the latest GT-R can now match the 911 Turbo and other supercars with a repeatable launch from 4000rpm that does not void the warranty.
The process couldn't be easier: simply select R mode using the left-hand toggle switch on the centre console, depress the brake pedal with your left foot, mash the accelerator until the revs reach a computer-controlled 4000rpm, then step off the stoppers and hang on.
For a nanosecond nothing happens, then with neck-snapping ferocity and leaving just a stain of expensive Dunlop Maxx on the track, the GT-R hurtles forward.
At a press function in Japan last year, the GT-R recorded 3.046 seconds from 0-100km/h, with Mizuno-san assuring watching journalists that, with warmer track temperatures "the GT-R will reach the world of two seconds!"
With temperatures in the low-20s at Phillip Island, the best anyone can achieve in manual or auto mode is 3.4 seconds, but then Mizuno-san explains the trick.
In auto mode, the transmission changes up at 6950rpm, however the optimum shift point for maximum acceleration is 7050-7100rpm. To achieve this, you have to be in manual mode, anticipate when the shift light will come on and shift gears with the new magnesium-alloy steering-wheel paddles at precisely that rev point.
We tried, but couldn't replicate that magical three-second-flat run.
Let loose on the circuit, the GT-R shows the benefit of its extra power and handling tweaks and in the hands of V8 Supercar star Cameron McConville, it laps Phillip Island comfortably, two-up, in 1:44sec. Yet it doesn't feel like it should.
While GT-R's performance is seamless, Mizuno's new 390mm brakes are truly impressive and the chassis behavior is obedient and predictable, you are always conscious that this is a near-1800kg road car first, not a race car.
For track days, Mizuno-san told us, we should encourage Nissan Australia to offer the new Club Track edition that is available in Japan. But as it's not road registerable, it is highly unlikely to come here. Better, perhaps, to view the R35 as a supreme and relatively affordable road warrior rather than a track Ninja and here it scores well against its sub-$200,000 rivals.
However, perhaps it's the distinctive GT-R emblem on the hand-stitched steering wheel that best sums up the R35's position in the supercar marketplace.
The emblem, with its velour-like coating, is an example of 'maki-e', a decorative technique unique to Japanese lacquer-ware. Mr Sakae Kubota of Wajima in the Ishikawa Prefecture makes these embossed badges exclusively for the GT-R.
Each boasts 50 separate coats of lacquer and takes a month to complete. In a way, this seemingly small detail encompasses the special nature of the GT-R.
Nissan's chief creative officer, Shiro Nakamura, likens the R35 to the eponymous giant robots of the Japanese Gundam TV series.
"It is not simply a copy of a European supercar - to be relevant it has to really reflect Japanese culture," he stresses. Mizuno smiles and nods approvingly.
SPECIFICATIONS
2011 NISSAN R35 GT-R
ENGINE: 3799cc V6, DOHC, 24v, twin-turbochargers
POWER: 390kW @ 6400rpm
TORQUE: 612Nm @ 3200-6000rpm
WEIGHT: 1730kg
GEARBOX: 6-speed dual-clutch
0-100km/h: 3.0sec (claimed)
TOP SPEED: 310km/h (claimed)
PRICE: $168,800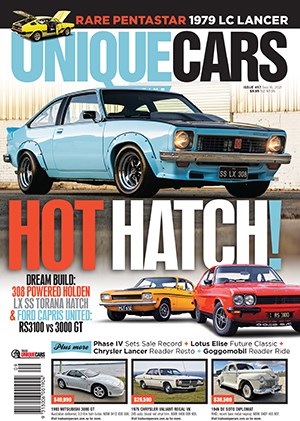 Subscribe to Unique Cars Magazine and save up to 42%
Australia's classic and muscle car bible. With stunning features, advice, market intelligence and hundreds of cars for sale.
Subscribe