Lamborghini Gallardo LP550-2 Review
---
Lamborghini Gallardo LP550-2. Ponch has a wrestle with a big Italian
Lamborghini Gallardo LP550-2
In an era where even Ferrari has now succumbed to building an all-wheel drive supercar, doing the reverse and going back to rear-drive seems unusual, to say the least.
Lamborghini's V10-engined Gallardo has been with us since 2003, and for six of those eight years, has been exclusively all-wheel drive. But following 2009's edizione limitata release called the LP550-2 Balboni - a lighter, rear-drive Gallardo intended to celebrate Lamborghini's large-nutted test driver, Valentino Balboni - the rear-drive LP550-2 is here to stay.
Calling it Lamborghini's base model is going a bit far, but that's essentially what it is ... for $399,000. And for that 400 large, you get a head-turning wedge of modern automotive art, powered by an equally stunning 5.2-litre direct-injection V10 that cranks out a generous 405kW at 8000rpm (or 543hp in the old money - the 550 in the title refers to metric horsepower, or PS).
Losing a pair of driveshafts has dropped the Gallardo's weight by over 100kg, which is more than enough compensation for the 550-2's marginal 7kW power drop compared to the all-paw Gallardo 560-4's output. But it's the effect of driving just the rear wheels that makes the biggest impression in this car - potentially a sizeable one into an Armco.
On the road, the rear-drive 550-2 has so much tyre grip and such a sizeable footprint that you need to be pushing dangerously hard to get any real sense of what this chassis is ultimately capable of. Trail some brake into a corner and the 550-2 demonstrates its razor-sharp reflexes, pivoting its nose towards the corner apex faster than a sniffer dog to Charlie Sheen's luggage. With the stability control on its ESP Sport setting, there's enough tail-out movement powering out of tight corners to never warrant removing the electronic safety net completely, and all this is backed by one of the greatest engine soundtracks you'll ever hear. Ever. Regardless of vintage.
Find a smoothly-surfaced, sparsely-populated twisty road and after a minute or so of enthusiastic fanging, it's impossible not to crack-up laughing. The V10's aggressive wail approaching the 8500rpm redline is an experience that every petrolhead deserves to enjoy at least once in their lifetime, and you can't help but love the metallic clackety-clack of an open-gated manual.
But then you take the 550-2 to a high-speed racetrack like Phillip Island and a totally different side of its character emerges. Here, unless you drive it with your fingertips and treat it with almost fearful respect, it will bite. Hard.
Only a very brave man (or Valentino Balboni, perhaps) would switch ESP completely off because unless you do all your braking and power application in a straight line, the 550-2 will try and swap ends like it's on castors. And all that does is make you realise why the mid-engined Gallardo was designed to have a rear-biased all-wheel drive set-up in the first place.
SPECIFICATIONS
LAMBORGHINI GALLARDO LP550-2
ENGINE: 5204cc V10, DOHC, 40v
POWER: 405kW @ 8000rpm
TORQUE: 540Nm @ 6500rpm
WEIGHT: 1380kg
TRANSMISSION: 6-speed manual
0-100Km/h: 3.:9sec (claimed)
TOP SPEED: 320km/h (claimed)
PRICE: $399,000
Unique Cars magazine Value Guides
Sell your car for free right here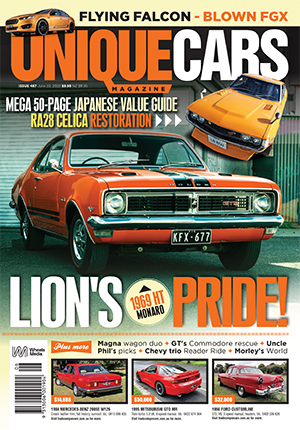 SUBSCRIBE TO UNIQUE CARS MAGAZINE
Get your monthly fix of news, reviews and stories on the greatest cars and minds in the automotive world.
Subscribe