Nissan GT-R (2011) review
---
Nissan GT-R. Subtle changes make the 2011 version easier to drive fast
2011 Nissan GT-R
When the Nissan GT-R arrived back on the scene in 2007, it reset the relationship between supercar performance and pricing. Here was an immensely capable super-coupe that delivered Porsche 911 Turbo speed for Boxster S money.
But not everyone liked it. Some argued the emphasis on technology made it too easy to drive fast. Trick all-wheel drive, slick stability control, three-mode suspension, a six-speed dual-clutch transaxle - they all combined to control the twin-turbo V6's huge outputs just a little too efficiently.
Tell you what, come drive the updated MY11 GT-R at the Nurburgring Nordschleife on an opaque, zero degree, monsoonal morning and decide just which parts of the package you want to unravel...
Sampling the GT-R at the legendary 20km German circuit in such appalling conditions simply underlined Godzilla's speed and surety. Sure, there were slips, slides and moments of butt-clenching anxiety, but nothing that couldn't be handled. It gripped and grunted like no rear-wheel driver could hope to achieve.
While characterised as only a "minor change" by legendary chief engineer Kazutoshi Mizuno, the MY11 GT-R - which goes on-sale in Australia next March - has more power and torque, better braking, more downforce, less drag and, unexpectedly, less thirst than its predecessor.
And it does all this without changing the essential formula. Instead, Mizuno-san and his team have concentrated on refinement and efficiency improvements.
Power climbs to 390kW (from 357) and torque to 612Nm (from 588) courtesy of turbo boost pressure, valve timing and air mixture ratio changes, reducing intake air resistance by enlarging the inlet pipe diameter and reducing exhaust air resistance via an enlarged section of exhaust pipe.
Hit the throttle hard and the shove in the back and the raw, barking soundtrack are both familiar. But faster. Launch control is now standard and Nissan track testing has achieved an incredible 3.0sec 0-100km/h time. The film is on YouTube.
Mizuno's men have also fettled the chassis, altering front suspension geometry for better turn-in grip and straight-line stability while a rear roll-centre adjustment improves tyre grip. Lower-friction dampers, thinner front brake rotors, lighter and more rigid 20-inch RAYS alloy wheels and new Dunlop run-flat tyres complete the package.
Hook into a corner and the MY11 is more neutral with initial understeer reduced. In faster turns, less steering adjustment is required and the rear end squats down more securely under hard braking. There are other changes, too, such as a larger grille, reprofiled bumpers, LED running lights and new interior trim. But this is mere window dressing if your main motivation for driving a GT-R is going fast.
And with MY11, that means going faster than ever is easier than ever.
SPECIFICATIONS
2011 NISSAN GT-R
ENGINE: 3799cc V6, DOHC, 24v, twin-turbo
POWER: 390kW @ 6400rpm
TORQUE: 612Nm @ 3200-6000rpm
WEIGHT: 1730kg
TRANSMISSION: 6-speed dual-clutch
0-100km/h: 3.046sec (claimed)
TOP SPEED: 310km/h (claimed)
PRICE: $165,000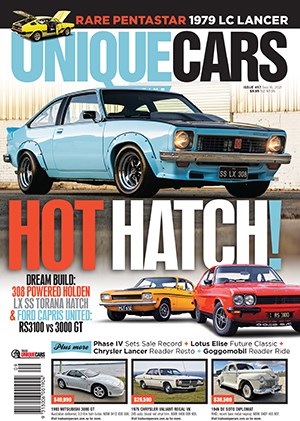 Subscribe to Unique Cars Magazine and save up to 42%
Australia's classic and muscle car bible. With stunning features, advice, market intelligence and hundreds of cars for sale.
Subscribe