2009 TMR Mitsubishi Lancer Evo X RS Review
---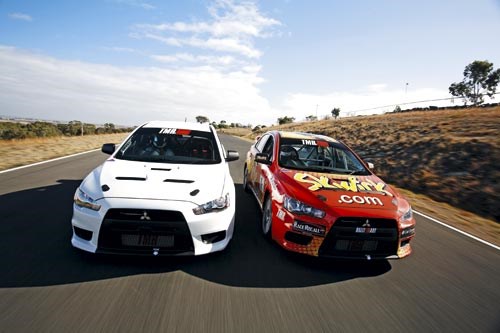 2009 TMR Mitsubishi Lancer Evo X RS (Production Car race spec)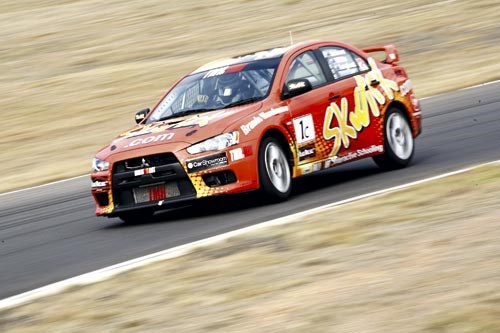 2009 TMR Mitsubishi Lancer Evo X RS (Production Car race spec)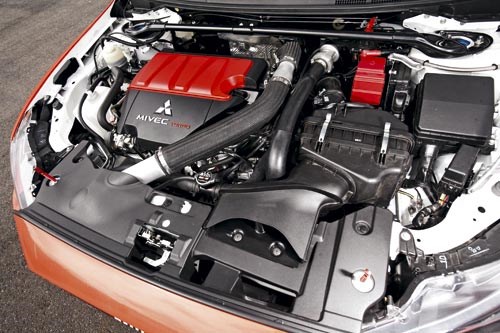 2009 TMR Mitsubishi Lancer Evo X RS (Production Car race spec)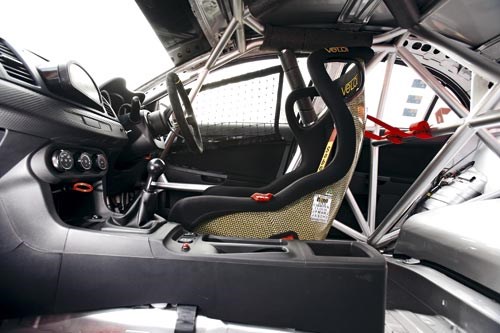 2009 TMR Mitsubishi Lancer Evo X RS (Production Car race spec)

Road Ace: Melbourne company, TMR, builds Oz's fastest Mitsubishis. Steve Nally samples its Bathurst 12 Hour-winning Evo X...
TMR Mitsubishi Lancer Evo X RS
The last time I saw this garish orange Mitsubishi Lancer Evo X RS its brakes and engine were still cooling down while its drivers sprayed champagne from the top step of the Bathurst 12 Hour podium. It had just thrashed all-comers and run faultlessly for almost 1500 kilometres with just a change of front tyres and regular fuel top ups.
In the gloved hands of Damien White, Rod Salmon and Tony Longhurst, the Team Mitsubishi Ralliart Evo had blasted down Conrod Straight touching 255km/h, belittling Subaru WRX STis, BMW 335is and HSV ClubSports in the process. Not only that, but its sister car came home second for an historic one-two for TMR.
A few weeks later, at rest in the almost deserted pitlane of the Broadford Motorcycle Complex, outside Melbourne, the Evo looks more like a blinged-up Auto Salon entrant. But this is a serious race car, albeit one built on the back of Mitsubishi's hottest road car.
Apart from a post-race mechanical once-over at TMR it's in exactly the same condition as it finished the 12 Hour – same tyres and brake pads – yet could probably do another six hours of flat-out running. And Unique Cars – that's me – will be the first magazine to drive this Bathurst winner.
CIRCUIT WORK
I arrive in Mitsubishi's low-cost sporty Lancer, the VRX (front-wheel drive, atmo 2.0-litre, paddle-shift CVT trannie, 125kW, 226Nm) – not a bad thing, although the CVT can be annoying when shifted manually. But I had sampled the killer Evo X SST (AWD, turbo 2.0-litre, twin-clutch, paddle-shift, six-speed, 217kW, 366Nm) a few weeks earlier. Sadly, it had been on the heavily speed-camera'd streets of Melbourne and I only got a nano-glimpse of its potential, so not a great preview of what to expect from the racer.
Now, in the back of my brain, I know the TMR Evo X is a hot-rodded road car and I shouldn't be too intimidated by it. But it's still a race car and that means more power, stiffer chassis and suspension, higher top speed, deeper braking and greater cornering forces – a perfect recipe for sucking in an over-confident journo, especially at Broadford, which has a curly mix of elevation changes, blind apexes and two long-ish straights ending in tightening, constant-radius corners.
Add to that the fact that it's only seven degrees (but mercifully dry) and a warning from TMR boss Alan Heaphy that the worn semi-slick Dunlops will feel "like ice" until I get some temperature into them and I feel a certain level of apprehension as I squeeze into the carbon-fibre race seat and buckle up the five-point harness.
Perhaps sensing some trepidation, Heaphy genially reassures me that the brakes will get up to temperature quickly even though the front pads are down to half their starting depth. Thanks heaps, Heaph. I decide I will err on the side of caution.
The Evo's DNA may be road car but inside the ambience is race. Ahead of me is a three-spoke steering wheel through which peers a large LED shift light. Beyond it is the standard dash, and where the sat-nav should be resides the MoTec data dash (MoTec only manages the engine). The shifter gets a nifty Ralliart knob but the pedals are stock rubber; no flash drilled metal items here.
Snaking its way around the cabin is a complex TMR-designed chrome-moly rollcage built by Rai Curry at Fabraications in Braeside, Victoria. Like the rest of the car, the cage has been cleverly designed to be multi-purpose and it can be used for rallying or racing.
To that end, the main rollover hoop section is set way back behind the driver's seat to allow a navigator's seat to locate some 300mm further rearwards and 50mm lower. It also contributes to the Evo's 60/40 weight distribution as does the bigger 100-litre race fuel tank (standard is 55 litres), which is located low and just ahead of the rear wheels.
"It works very well for production car racing and tarmac rallying," Heaphy says of the roll cage. "Whenever you can lower the centre of gravity and improve weight distribution it makes a better race and rally car because it's all about going fast in corners. We also looked very closely at safety, particularly side impact for tarmac rallying, and both driver and co-driver are protected by a comprehensive cage construction beside them and in the pillars and additional bars in the roof."
The white Evo you see here is TMR's targa-spec model (built for Rod Salmon for Targa Tasmania) which is almost identical to the Production Car racer, the only differences being a co-driver's seat and harness, different spec exhaust and tune, and different (softer) springs. The big bonus is the targa car is allowed to run more boost, bumping peak power up to 258kW at the wheels.
"Basically, you can do Targa Tasmania, make a few basic changes then do the Bathurst 12 Hour; it's an all-purpose race car," Heaphy smiles.
"Motorsport is expensive no matter what level and it's always been difficult to get a good platform to build a good reliable race car for rally or circuit. This car is ideal if you want to do a lot of motorsport for a reasonable price and the durability is outstanding."
WHITE KNUCKLES
Damien White has already done a couple of installation laps to warm the car up and the familiar odour of hot pads and oil wafts through the cabin.
My turn. Twist the key, the fuel pump whirrs for a second then the engine fires and it's immediately obvious from its exhaust and induction notes that the turbo four is quite a bit hotter than stock.
The exhaust is a TMR racing system with a free-flow muffler and the tune is optimised, bumping power up to 238kW at the wheels (about 300 at the flywheel) and torque is a V8-like 520Nm on 98RON fuel. Running 102 octane ELF racing fuel, power spikes to 340kW at the flywheel and 630Nm! The intercooler water spray system gives 8kW at the wheels but TMR didn't use it at Bathurst.
Depress the clutch – it's heavier than standard but easy to modulate – and I idle out of the pits, alternately accelerating and braking to warm the pads while I slalom left and right to get some heat into the front tyres. On the move, induction noise disappears replaced by exhaust bellow. Considering it's a turbo car it's quite loud in the cabin, with gear whine and brake squeal contributing to the cacophony. Outside the car though, the exhaust note is flat and uninspiring.
The steering is nana-light; completely devoid of feel. Even at speed it doesn't load up which makes it hard to figure out what the front tyres are doing or how much lateral grip there is. There is obviously a lot more grip than I experience in my short stint but it takes confidence to find it. Turn-in, however, is sharp and accurate with the clever hydraulic centre diff apportioning drive to the rear of the car as required.
Using wheel speed and steering angle information, the ECU locks the centre diff into AWD under brakes for maximum retardation, releases it as the car turns in, then progressively locks up again as power is applied. Most of the time the car is "basically front-wheel drive", Heaphy says.
Getting the Evo's Centre Diff Control Unit and the MoTec to talk to each other properly is something TMR is still working on and at Bathurst the car raced with only one diff setting, whereas the road car has three for different road conditions.
The car is stiff but not unbearably so on the bumpy Broadford layout. TMR designed and developed its own compact Macpherson strut front suspension package with Ohlin's Steve Cramer and each strut weighs 2-3kg less than a standard unit.
"Nobody in the world had developed anything for an Evo X and Ohlins came up with a (strut) leg that we had to adapt to the car and work out the spring rates and valving," Heaphy says. "It has a three-way shock absorber with adjustment for high and low-speed bump and rebound and has two camber adjustments. It's not overly complex; four-ways get too difficult and the car isn't sophisticated enough to warrant a four-way adjustment. It's very expensive but you get what you pay for. We recommend it for circuit racing because we know it works and looks after tyres."
The only other changes to suspension are stiffer Ralliart competition bushes.
FORWARD THRUST
Hemmed in by gutters and parked cars on city streets, a road Evo X feels shatteringly quick but on a largely deserted racetrack, the race car's acceleration doesn't feel that strong but the extra space and the car's short gearing mask the Evo's real speed.
The first four ratios are close and the shift light flashes so quickly I'm in fourth before I know it. Fifth is tall – it could do with a sixth ratio – but the engine is very smooth and wants to rev harder than its 6800rpm shift setting.
The TMR Evo is anything but slow, of course, and I saw over 200km/h in fifth on the MoTec down the short back straight, even with my slow corner exit speeds.
Torque is the engine's strength and where I pussy foot around dropping to second gear for slow corners, White dives in deep under brakes and uses torque and third to slingshot off corners. "If you try to rush into the corner too much you lose mid-corner speed and get all untidy," he says. "It's got fantastic driveability and speed off corners and the trick is to sacrifice 10km/h going into a corner and get more than 10 coming out because you've got four wheels and torque driving you off the corner."
The non-ABS brakes are excellent although I never really stood on them; didn't need to, as the car stops easily from high speed and in a straight line. The rear rotors and calipers are stock, save for better pads, but the fronts were changed by TMR to handle the rigors of the 12 Hour and the car's improved performance and consist of huge 350mm AP Racing rotors with four-piston AP Racing calipers.
"We wanted to go through the 12 Hour without a pad change and we achieved that," Heaphy says, proudly. "The strategy was to make only one front wheel change in 12 hours so we needed durability in the brakes. We put a 25mm thick Endless pad in and it finished the race still with 12mm. We were stunned by how low brake temperatures were at Bathurst."
For a hack, the TMR Evo is easy to punt quite rapidly and more laps and familiarity with the car would have lowered my lap times. But it's easy to see why TMR's Evos have become so popular and why Heaphy has a full order book. The cars are beautifully built, professionally developed and fuss-free and that makes going racing or tarmac rallying easy for the amateur and pro alike. n
TEAM LEADER
Alan Heaphy has had a long and distinguished career in motorsport including running Nissan Motorsport's European touring and sports car programs and the all-conquering Gibson Motorsport Nissan Skyline attack in Australia in the early-'90s.
In 1994 he set up and ran Wayne Gardner's V8 Supercar team before going back to Gibson Motorsport and masterminding its 1999 Bathurst 1000 win.
After a year with the short-lived CAT Racing V8 team he returned to GMS in 2001 to establish the 00 Motorsport V8 team, which eventually became Ford Performance Racing when it was bought by Prodrive.
Heaphy established Team Mitsubishi Ralliart in 2004, based around rallying, and developed the AWD Magna that dominated its class with six wins from six starts in the Australian Rally Championship.
TMR switched to Lancer Evo VIIIs in 2005 and again scored wins then upgraded to the Evo IX in 2006 and won the Rally of Melbourne.
Since forming, TMR has modified 80 Evo IXs for motorsport and, to date, 28 Evo Xs, as well as road-going specials.
"We give people the option: they can buy a finished car or we can build one to different levels, as budgets allow," Heaphy says, adding that his small team of five can build a full targa-spec racer from a road car in 8-12 weeks. "We've pretty much got components to a point where they can bolt on and work very well.
"And any technology we develop we release to our customers. If someone beats us in one of our cars then we need to do a better job."

SPECIFICATIONS
2009 TMR Mitsubishi Lancer Evo X RS (Production Car race spec)
Body: four-door sedan
Engine: turbocharged/intercooled, 2.0-litre, four-cylinder
Power/torque: 238kW @ 6800rpm/520Nm @ 4000rpm
Transmission: five-speed manual
Wheels: Enkei 18inch alloys
Tyres: Dunlop Direzza 18 x 235 semi-slicks
Brakes: 350mm AP Racing rotor/4-piston AP Racing caliper (f), 330mm Brembo rotor/ 2-piston caliper (r)
Suspension: TMR Macpherson strut/Ohlins shocks (f), multi-link TMR/Ohlins coil-over shocks (r)
Cost: $180,000 (inc. donor car)
Website: tmraustralia.com.au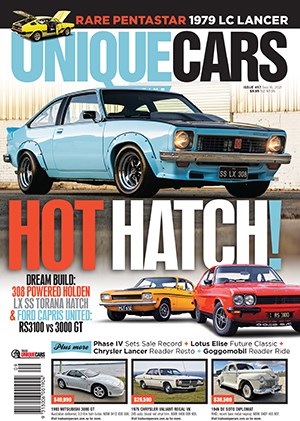 Subscribe to Unique Cars Magazine and save up to 42%
Australia's classic and muscle car bible. With stunning features, advice, market intelligence and hundreds of cars for sale.
Subscribe