1989 Mercedes-Sauber C9 'Silver Arrow' Review
---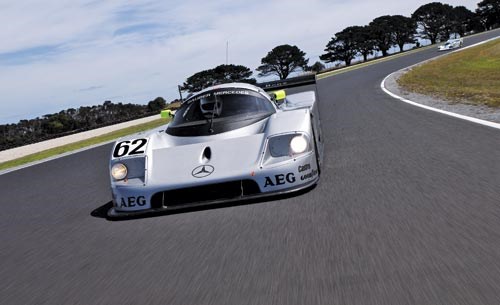 The Mercedes-Sauber C9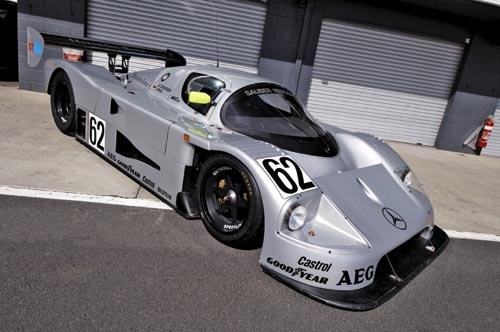 The Mercedes-Sauber C9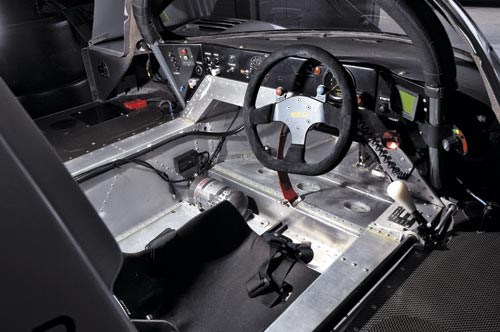 The Mercedes-Sauber C9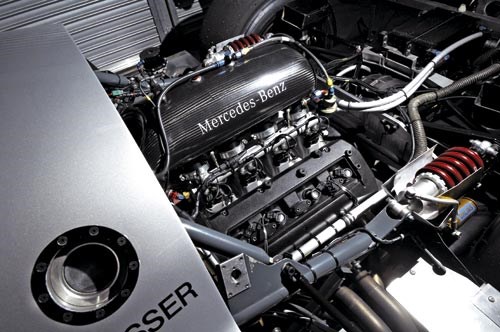 The Mercedes-Sauber C9

If you blink you might miss this championship-winning Mercedes missile, the fastest racecar in the world...
1989 Mercedes-Sauber C9 'Silver Arrow'
CAGED BEAST
Phillip Island's race circuit has hosted some pretty impressive machines over its long life, but never anything quite like this. We're here to witness the Australian debut of the fastest racecar in the world, the Mercedes-Sauber C9. A tall claim, you might say? Actually, no, for this car still holds the record for the fastest speed of any circuit racecar on any track in competition, period.
Back in 1989, this very C9 shot down the Mulsanne straight at Le Mans at a handy 407km/h in qualifying for the 24 hour enduro and, although the Island's not about to accommodate such crazy high speed antics, it's a big day for motor aficionados regardless, as not only is the Silver Arrow in Australia, it now calls Oz home.
Arriving at the circuit straight from customs, the C9 is stretching its legs as owner Rob Sherrard is giving it a shakedown for a hopeful return in March. It's actually a track day organised by the Maserati Car Club, so the C9 is sharing the tarmac with a suite of enthusiasts in GT-Rs, M3s, V8 Commodores and a brace of Porsches. But it doesn't take long for other drivers to wander over for an astonished look.
Sitting in a pit garage, the C9 looks like every bit the modern sportscar, despite being built 20 years ago. A total of six were produced by Sauber, this being chassis number five. It's the second-last built for the 1989 World Sportscar Championship, where it dominated the season in the hands of Jean-Louis Schlesser and Jochen Mass, winning five races and beating its sister car to the prize. It's also the official Mercedes Silver Arrows factory entry, meaning it has the provenance plus the clean Silver Arrows appearance of plain silver body work and black wheels, minus any large sponsorship livery.
The C9 is a monocoque construction using an aluminium tub housing the driver, with carbon fibre body work and flat undertray. The ground-effects body can be set up for different aero packages depending on the circuit requirements, with low downforce used at Le Mans for higher speeds, whilst its current setting generates much greater aero grip.
At the heart of the beast is the all aluminium Mercedes-Benz 5.0-litre V8 engine with twin KKK turbochargers, good for between 750 and 950bhp (560-709kW) depending on the level of boost dialled in, and producing around 810Nm of torque at a low 3500rpm. The highly-tuned engine uses Bosch Motronic 1.7 engine management which controls the usual functions around timing and ignition, but was also capable of providing real-time telemetry during races.
Boost is adjustable via a dial across 10 positions, located on the far left of the cabin. There are eight positions of useable boost, ranging from zero, which is 0.4bar, incrementally through to eight, which produces 1.0bar and the maximum used under racing conditions, and even then only if really needed. Keep turning the dial past there and you encounter two additional settings, described by chief mechanic and collection manager Ben Hanson as being "one bar and a bit!" According to Ben, the last two settings are practically off limits.
"They are basically qualifying boost," he explains. "If they ran the engine on the last setting, they used to drive it for one lap then they'd effectively have to change the engine. Things start to get very hot very quickly, with turbo temperatures building to 1000 degrees, and things basically start melting. A harnessed driver in the C9 can't reach the dial, and that's all in the making!"
Things the driver can adjust in-cabin include brake bias via a small dial on the right, just in front of a mixture dial that provides for limited adjustment to compensate for atmospheric conditions like the difference between late night and midday at Le Mans, although the bulk of engine tuning is done on the dyno.
The rest of the cabin is typical sportscar, with no creature comforts and the bare minimum of essentials. The floor-mounted pedal box disappears beyond the basic dash containing a small tacho and an adjustment dial to switch between displays for temperatures and other information functions.
Tucked on the right sill is the small gearlever, mated to the five-speed dog box residing behind the engine, fed via triple plate clutch. The C9 can't be flatshifted, but clutchless upchanges are routine, although the clutch must be used for downshifting. Ben says the gears are very big, particularly compared with modern 'boxes and the Hewland-derived shifter feels a tad cumbersome.
Front and rear suspension comprises double wishbones with titanium coil springs over Ohlins remote canister shocks and a sway bar set-up, all fully adjustable by the mechanics along with the aero package.
Brakes are huge vented discs and four-pot callipers all round with 17x13.5 inch Speedline wheels up front and 18x14.5 at the rear, wrapped in massive Dunlop slicks, replacing the original Goodyear rubber of 1989.
Draped in the silver carbon fibre bodywork, the C9 has an almost liquid appearance, and there's barely a clue as to what lurks beneath. Only a few small vents and intakes reveal the componentry and you have to lie on the ground with your head in the exhaust aperture to catch a glimpse of the turbos. But as soon as the ignition is fired, there's no mistaking the intent.
Unlike many Group C cars, particularly the Porsche 962s, this monster has a note. It's unmistakably V8 with a deep rumble at idle but with a crisp rasp from the very short exhausts. It's the best of both worlds, the perfect combination of tuned V8 and big turbos. Once flashing past on the circuit, the sound becomes addictive and, here at Phillip Island, I can hear every prod of the throttle around the entire track from a pitwall vantage point. There's no mistaking it, and with revs capped at about 7000rpm, it never sounds pressured.
According to Ben, reliability was a major driving force in its construction for a gruelling Sportscar Championship that included Le Mans.
"This is a really, really strong car, and that's one of its main attributes," he explains. "It's five litres, so it's not as stressed as the some of the other cars in the championship that would be revving to 10,500 rpm. It's got a lot of torque, and that's a part of the reliability built into it. It won the championship comfortably with its sister car second."
After completing its racing duties in 1989, the car was sold by the Mercedes team to make way for the replacement C11 model for 1990, ending up with a collector in Switzerland where it was garaged until early 2008. New owner Rob Sherrard had been keeping an eye on the Mercedes sportscars for a while, and had been looking at a C11 when the C9 emerged at auction and, after some negotiation, the historically important car was to receive a second life.
As soon as the car was collected, Ben commenced a full strip down and refit, including extensive crack testing and x-raying of componentry and the fitment of new specific safety items, such as a new fuel tank to meet historic Group C Sportscar regulations for today's racing series. The C9 was purchased as raced, and the vast majority of parts were in good condition, remaining on the car today.
"We actually completely rebuilt the car in two to three months," recalls Ben. "The chassis was stripped down to a bare tub, reassembled and then we went to Spa with it for its first race.
"We did five laps testing at Silverstone on the way over, then it was straight into it. The car qualified fifth, held position in the sprint race, then won the endurance race by a lap over the Nissans."
Historic Group C Sportscar racing is a big scene in Europe, with four races now held per season comprising Spa, Le Mans, Silverstone and Donnington Park. Each weekend (bar Le Mans) sees two races, with Saturday hosting a 30 minute sprint race before a 90 minute endurance race on Sunday, with fuel stops and driver changes.
Strong fields attend as around 35 cars form an average grid, from the approximately 60 cars on the Register, ranging from 1984 through to 1994. Cars joining the C9 on the track include the Silk Cut Jags, the factory Nissans, IMSA Jags from the 'States and Porsches in 956 and 962 guise. Rob describes the car as being fairly comfortable to drive, although the potential for an adrenalin overload is always lurking.
"I haven't driven it at full boost yet," he explains. "We're just easing it up at the moment, so I don't know just how big an animal it can be. There's not a lot of lag, and it's very torquey, pulling right through from 3500rpm. I've driven it at about 0.8bar boost so far, and we're at about 0.7bar here today on this track. Throttle response isn't too brutal, but in the wet it'll spin very easily with all that torque. In the dry, it's got a lot of traction and it really hooks in – the suspension does bite down well.
"In the right hands it's as quick as any other Group C car out there, in fact, quicker. When Wayne Park drove it at Donington Park, he was one or two seconds quicker than everyone in the field."
The C9 is obviously rare and special, as evidenced by the international media coverage it generated in 2008 when first it was purchased, then later raced throughout Europe with a visit to Goodwood in the middle. It's a bonus that Rob makes the car so accessible, not only using it as its designers intended, battling against cars of the era, but also happily rolling it out to tracks like this one for others to see in action.
However, it must be daunting given its potential value and rarity, and there's always a risk of a mishap. That day arrived at Silverstone last year, as Rob recalls.
"I had a bingle with a 962 at Turn 1. A guy slid off in front of me at the first corner, I tried to get around behind him but he backed into me with nowhere to go. It comes with motor racing, so I suppose you just hope that at the end of the day your investment potential is better than all your costs!"
Fortunately the damage wasn't too bad, with the odd bent suspension component and some heavy carbon fibre remodelling, and the guys had the car back on deck not long after.
There were only six chassis made in total, of which five remain, so parts aren't exactly common. There are still a few components floating around in Switzerland with Sauber, but in general it's a case of having to fabricate components, although this apparently is quite straightforward in the UK where facilities abound.
Fortunately for Rob, us and the rest of the motoring world, this C9, Chassis number 5, the 1989 World Champion and World Record holder is out and about, where it belongs. Rob's attitude sums it up well. "I don't know, but to me I'm not sure I'd want to have cars I couldn't use."
DREAM JOB
Prior to wielding the spanners and laptop over the C9 and other sweet members of the Sherrard collection, Ben Hanson's seen his share of automotive icons. Beginning as an apprentice with a Nissan dealer in the UK, then 17-year-old Ben got a call from a mate to help out on a March 761 Formula 1 car, and it all went mad from there.
Since then, he's worked on Historic F1, Group C Sportscars, F2, Formula Atlantic and Formula Ford. Added to this has been extensive car restorations, such as Ford GT40s, Lola T70s, Lamborghinis, Ferraris in '63 GTO, '64 GTO, Daytona and 250 GTO guise, plus Alfa TZ1s and GTAs, although he doesn't understand proper sport.
"I haven't got my head around AFL, that'll probably take me 10 years," he grins.
Recently arrived from the Midlands of the UK to set up home in Tassie with his family, he actually rates Tasmania's 'beautiful' weather. "It's minus eight degrees with three inches of snow back home!"
SPECIFICATIONS
1989 Mercedes-Sauber C9 'Silver Arrow'
Chassis: Aluminum monocoque
Bodywork: Carbon/aramide reinforced body in sandwich construction, safety glass windshield
Weight: 902kg
Engine: 5.0-litre V8, twin-­turbocharged, intercooler, four valves per cylinder, aluminum block and heads, titanium connecting rods, Bosch electronic management, dry sump lubrication
Power/torque: 750hp (520kw) at 7000rpm (track performance at 0.7bar, 800hp (597kW))/810Nm at 3500rpm (qualification performance at 1.2bar)
Top speed: 407km/h (LeMans 1989)
Transmission: 5-speed race gearbox based on a Hewland VGC, LSD, triple plate clutch, gearbox cooler
Suspension: double wishbones, titanium coil springs, gas loaded shock absorbers
Brakes: hydraulic brake system with four-piston brake calipers all-round, vented steel discs, front/rear brake balance adjustable from cockpit
Tank capacity: 99 litres
Wheels: 13x17inch (front), 14.5x18 (rear)
Unique Cars magazine Value Guides
Sell your car for free right here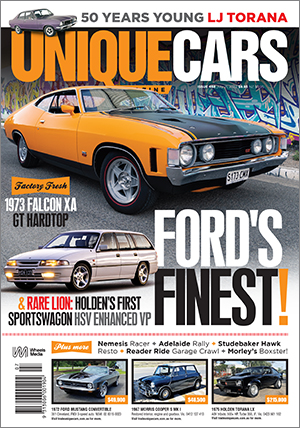 SUBSCRIBE TO UNIQUE CARS MAGAZINE
Get your monthly fix of news, reviews and stories on the greatest cars and minds in the automotive world.
Subscribe