2010 Brabus EV12 Review
---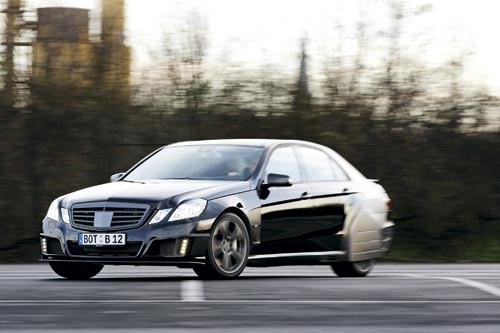 10 Brabus EV12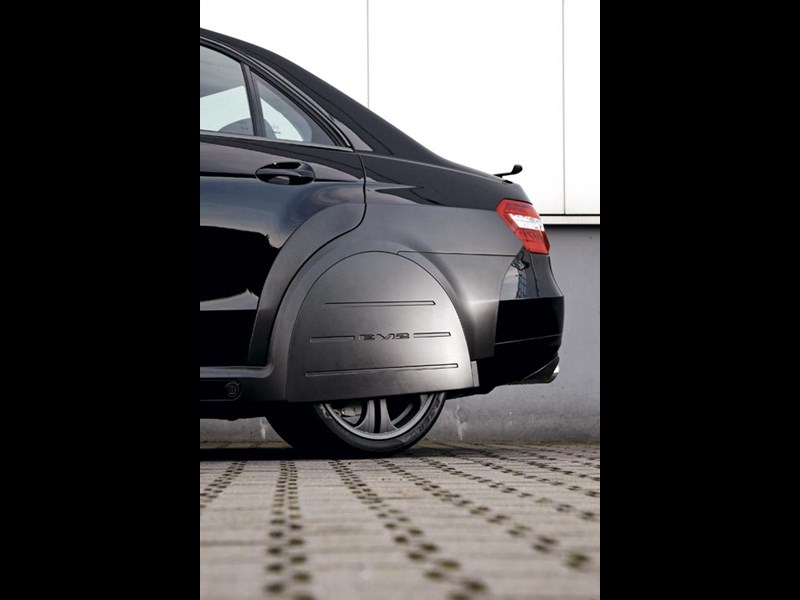 10 Brabus EV12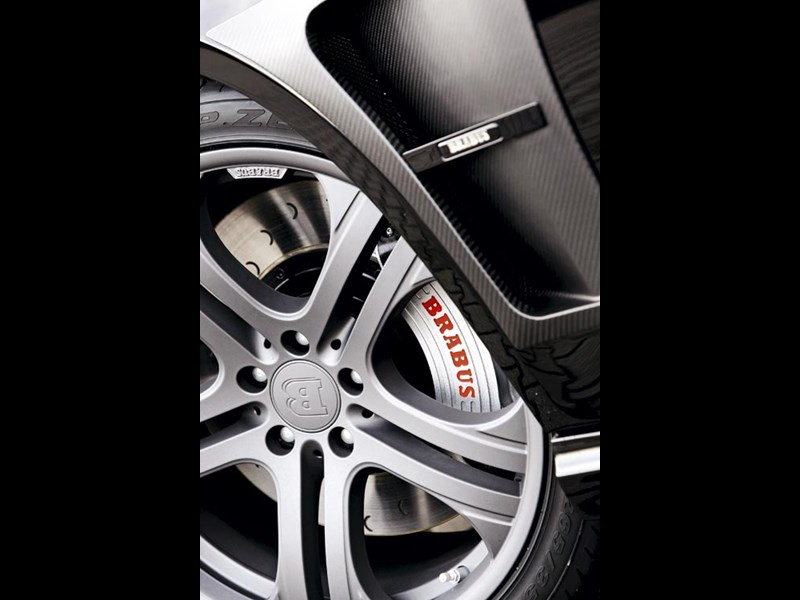 10 Brabus EV12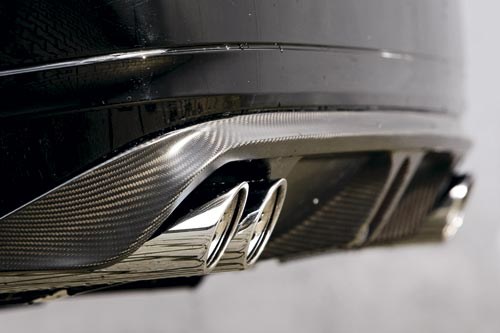 10 Brabus EV12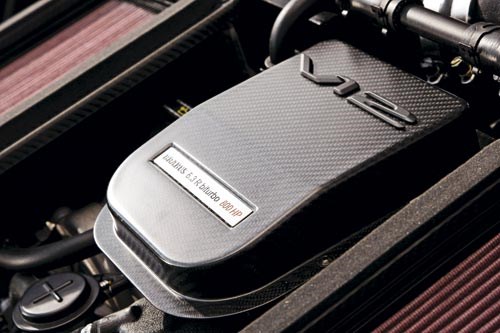 10 Brabus EV12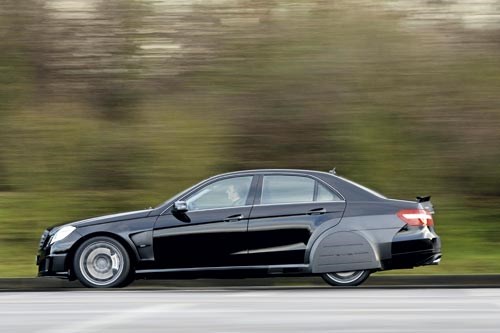 10 Brabus EV12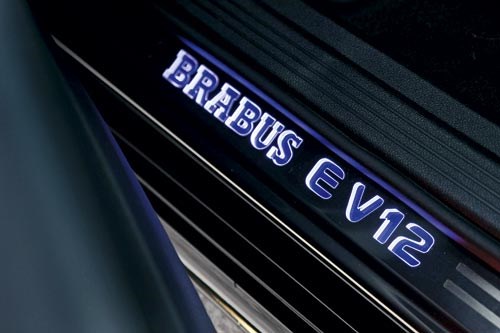 10 Brabus EV12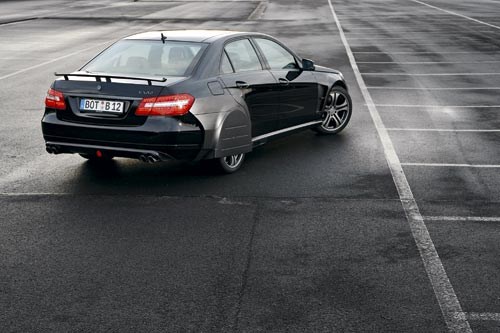 10 Brabus EV12

Mad Mercedes tuners Brabus turn an executive express into a Lambo-bashing blaster. We want one!
2010 Brabus EV12
The Mercedes E-Class is technically brilliant, but it's also an aging, middle-management sedan that's so steady and reliable it won't even let you crash. Well, not without all of its clever passive safety gear trying to stop you first.
The E-Class is aspiration on wheels, a grown-up sensible car we'd all be proud to drive when we reach 'that age'. But this car isn't a normal E-Class, it's the Brabus 'EV12 one of ten', which lifts aspiration to a higher level and comes with rage burning in its soul. It reeks of teen spirit.
It's a ground-up rebuild using an E-Class shell, some of the interior, and a few parts from the original engine to create a 597kW, 320-plus km/h supercar that looks like a normal Merc from a distance yet will slaughter a Lamborghini LP640 in a straight line. It costs a mere US$715,000 plus tax and only 10 will be built at Brabus' German factory
But why? The first time I plant the throttle on the company's proving ground (a converted carpark with a friction circle and a long straight) the traction control light becomes permanently aglow, induction roar fills the cabin, and the car explodes down the road on a wave of excess power.
I couldn't care less about the logic behind it; there's simply nothing quite like a Brabus and to drive one, even in this small playground, is to love its sheer insanity. That's why.
POWER BULGE
Under the bonnet, the Teutonic tuner started with the 5.5-litre engine that normally powers the E600, bored it out to 6.3 litres and fitted new pistons, titanium crankshaft, a modified cylinder head and a sports camshaft.
Then they strapped on two turbos, four intercoolers, and added gaping air intakes in the bonnet that form a RAM air system for added power high in the range and also stop this near nuclear weapon from melting when you hit the right pedal hard.
The engine is called the SV12 R Biturbo but you just need to know it's what is technically known as Bejesus powerful! No fears on the longevity front, though; it won't explode on its second autobahn run.
This car is so meticulously engineered it's Euro IV emissions compliant, will return 16.7L/100km with a relaxed right foot and even its CO2 emissions are reasonable despite uber power.
Torque is limited to 1100Nm, as the theoretical full-bore 1420Nm, Brabus wisely decided, was just a tad over the top, even for them. But that means it still has double the torque of a Ferrari 458 Italia and more than most transmissions this side of a coal mining truck can handle, so Brabus raided the bigger, beefier Maybach limo for its five-speed gearbox.
Seven speeds are wasted when a car has this much twist and getting stuck in the wrong gear just isn't an issue. Punch the throttle and the car takes off at any speed, at any revs, in any ratio and tries to ram your kidneys through the plush leather seats.
The interior, incidentally, was due for a total upgrade – the owner wanted white, for reasons best known to him.
Catch me if you can
With almost 200kW more power than the 458 Italia, the Brabus is brutally fast in a straight line. The 100km/h mark falls in just 3.5 seconds; it will hit 200km/h in 9.9secs, and 298km/h in a mind-boggling 23.9secs, by which time a Lambo LP640 will be six seconds behind and won't be able to catch up. No wonder the speedo reads to 400km/h.
Top speed is limited to 349km/h for the sake of the tyres yet the car is capable of 370-plus. That's insane, but the Brabus does it in air-conditioned comfort and the only outward signs that you're approaching a 747's take-off speed, are the thundering noise and the world rushing at the windscreen.
Brabus tests its supercars in a wind tunnel to ensure they handle like a Mercedes should at speeds few owners will ever attempt, and tweaks the body with wings on the front fender for absolute stability.
The level of pride that goes into the engineering at Brabus also explains the aggressive look. The EV12 comes with a carbon-fibre bodykit designed to increase downforce and reduce drag and the low-slung front spoiler reduces lift.
Bulging front wheel arches contribute to a 3.5cm wider stance and it's hard to ignore the Batmobile-like 'Speed Spats' covering the rear wheels. They quell turbulence and make a huge difference to high-speed cornering, as does the thin rear wing with 'devil's horns' end plates. Don't like 'em? Order the 559kW version, with a lower top speed, that dispenses with them.
Brabus reckons most of its 'look-at-me' customers want cars that are far from standard, but the idea of a sleeper 559kW E-Class blasting past bewildered Ferrari drivers holds far greater appeal to me.
A limited slip differential helps in the corners, together with suspension that comes with full height adjustment and 10 levels of compression and rebound. That might seem excessive for a luxury sedan but this suspension, the 40 percent LSD, chunky anti-roll bars, and new 19inch wheels, have to contain almost two tonnes of auto that corners faster than Mercedes ever intended.
MONSTER BRAKES
Stopping this monster are 12-piston calipers up front that clamp down on steel rotors with crescent moons cooling slots rather than full vents. Research concluded it was the best solution for ultimate stopping power and water dispersion. You can still feel the weight of the car pushing against these mega discs but with anti-dive geometry and stiffer suspension stopping front-end dip, the Brabus sheds speed at a prodigious rate.
It really is a supercar in a business suit – until you have to turn it into a corner. You cannot hide two tonnes at the apex even though the Brabus can carry scary corner speeds. It would be way more fun to smoke the car the whole way through the bend but the EV12 isn't about stopwatches, it's about the fun you'll have getting there.
For three decades, Germany's Brabus has been making indecent monsters out of respectable Mercedes and founder Bodo Buschmann has records for the world's fastest production sedans and the title of the world's largest independent tuner.
In a world that is increasingly sanitised, and government controlled, the Brabus EV12 rages against convention. It's well over the top and absolutely brilliant.
SPECIFICATIONS
2010 Brabus EV12 'one of ten'
Body: four-door sedan
Drivetrain: Front-engine, rear-wheel drive
Engine: Twin-turbo 6.3-litre V8
Transmission: Five-speed automatic
Power/torque: 597kW @ 5500rpm/1100Nm @ 2100rpm
Brakes: 12-piston calipers (f), six-piston calipers (r)
Performance: 0-100km/h -- 3.5sec.
top speed -- 349km/h
Price: from US$715,000 (A$800,000)
Unique Cars magazine Value Guides
Sell your car for free right here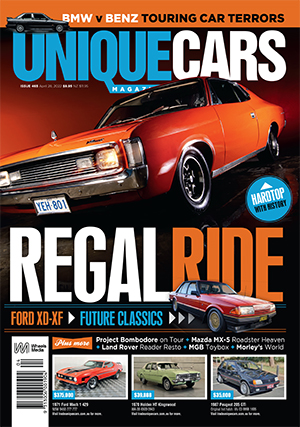 SUBSCRIBE TO UNIQUE CARS MAGAZINE
Get your monthly fix of news, reviews and stories on the greatest cars and minds in the automotive world.
Subscribe