2009 Chevrolet Camaro SS Review
---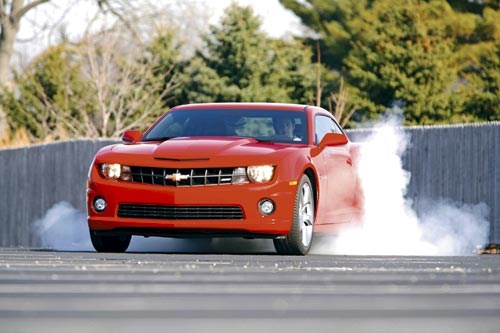 Chevrolet Camaro SS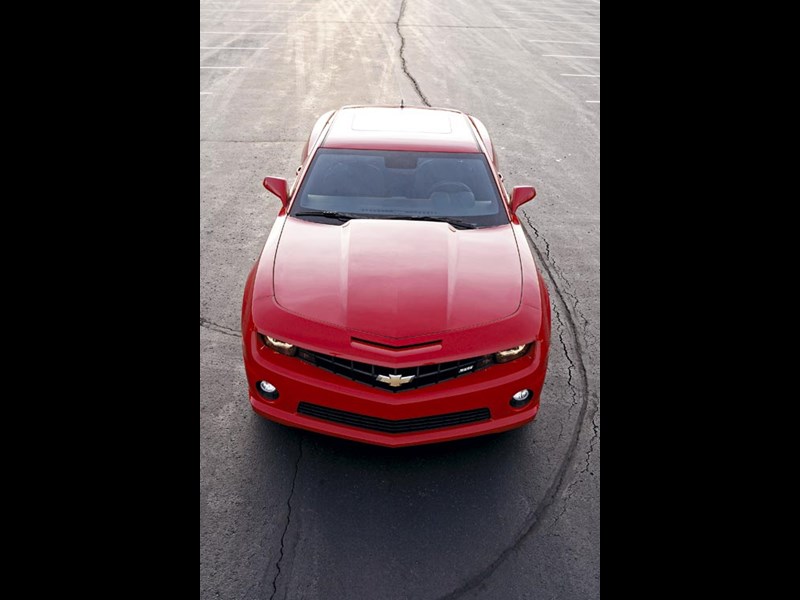 Chevrolet Camaro SS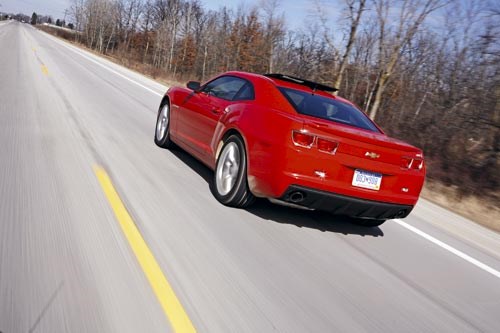 Chevrolet Camaro SS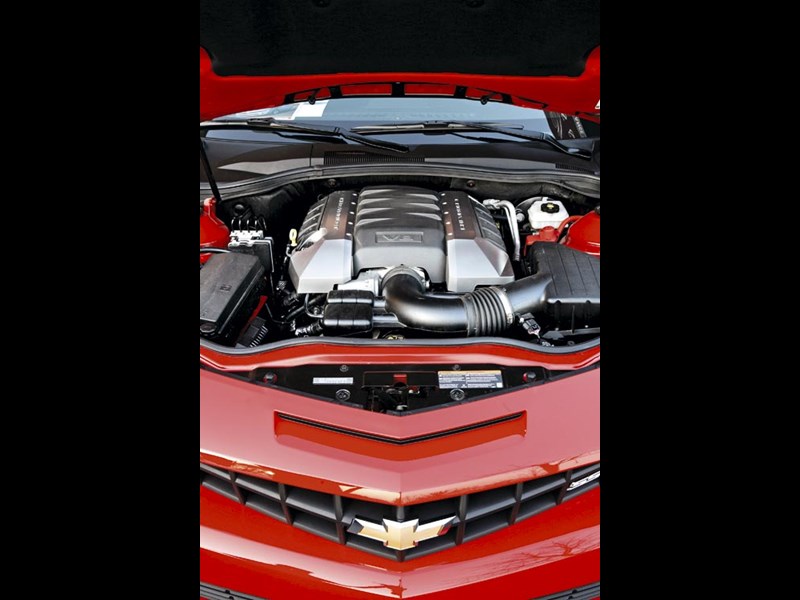 Chevrolet Camaro SS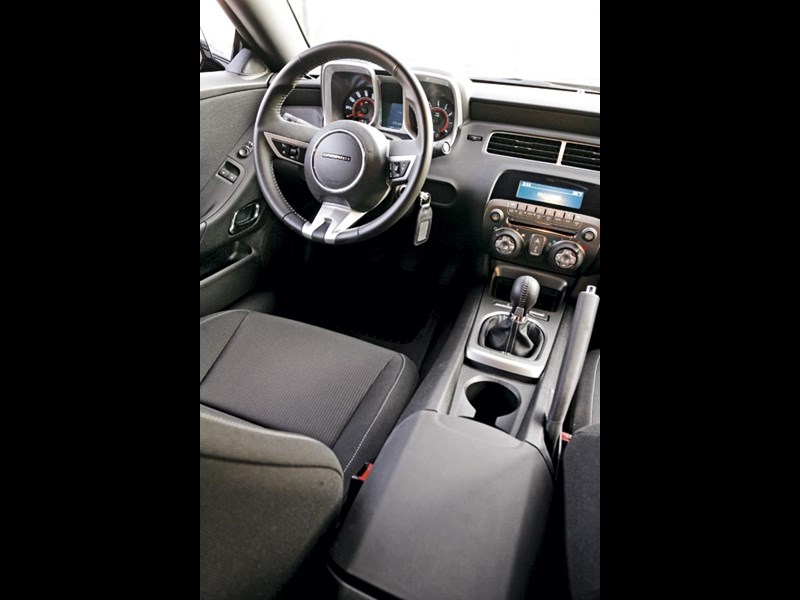 Chevrolet Camaro SS

Camaro is back, packing a 318kW musclecar punch
2009 Chevrolet Camaro SS
We've waited seven endless years for this. Eighty-four empty, hollow months. Three hundred and thirty six never-ending weeks. All since that tragic, toxic day back in '02 when The General euthanized our beloved Camaro.
So what's a bloke going to do when he finally, finally slides behind the wheel of Chevy's brand, spanking new Camaro? Especially when it's a flame red, bad-ass SS with a 6.2-litre LS3 Corvette motor up front packing 318kW and six on the floor.
Of course, you're going to burn some freakin' rubber.
Off with the traction control. Into first. Dial-up six-grand on the tach, and simply step off the clutch. Yow-eeee. Talk about fricasse'd Firestones.
And with 560Nm of twist being channelled to those monster 20-inch rears, the smoke just billows like an Aussie brush fire. Heck you could read a chapter of War & Peace, or learn Swahili, before the rubber finally hooks up and the Camaro goes off on its merry way.
Thanks to a trick software programme called Launch Control, you can floor the throttle and step off the clutch and the on-board Dell will manage the torque and feed in the wheelspin. The result? Zero-to-100 kays in a searing 5.0 seconds.
Here is the new pony car king; a true Yankee musclecar that mangles the new Mustang, and kicks the butt of Dodge's lardy new Challenger.
See the Chevy in the metal, and those cascading, curvy lines are enough to make grown men cry. And the beauty here is that unlike the Challenger and Mustang, which stick firmly to their retro roots, the new Camaro is a fresh, modern take on its originator.
Of course, if the Camaro could talk it'd greet you with a chirpy 'G'day mate'. Let's not forget that the Camaro's origins are in Holden's Fisherman's Bend plant.
The Chevy boys saw a good thing in the rear-drive Commodore, with its fancy coil-sprung independent rear end and super-stiff platform.
Two engine options – well, three actually – are up for grabs. The 'base' model – not that there's anything remotely 'base' about it – gets the terrific 3.6-litre direct-injection V6 out of the Cadillac CTS.
It's good for a muscley 227kW, which is actually more than you got with last year's 4.6-litre Mustang V8.
Opt for the big 6.2-litre bent-8 with the six-speed auto 'box and you get an L99 motor that makes 298kW and 547Nm of torque. It comes with Active Fuel Management too, which reduces its thirst by shutting down four cylinders when throttle action is low.
But Camaro heaven is the full-house, fire-breathing 318kW motor coupled to that he-man Tremec six-speed manual.
This thing has muscle in its spit. Yes, it'll blast off the line like it's been fired out of a circus canon, but its massive serving of low-end grunt makes it a joy to drive in cut-and-thrust daily driving.
It's super-refined too, delivering all the right, horny V8 'rugga-rugga-rugga' noises from low speed, but it never sounds boomy or breathless even as the tach needle sweeps towards the 6400rpm red line.
And while you won't confuse the six-speed with the snick-snick shift action of an S2000 Honda, it's super-precise and has the long throw and heft you expect of a muscle car.
Pity, however, that the Camaro's pedals are in different postcodes; GM engineers must think that heel-and-toeing is something you do in a country music line dance.
But no matter how fast this new Camaro gets off the line, its real appeal is the way it handles itself. The Holden-based platform is truly superb, delivering a poise, a balance, an agility that will thrill any hard-core wheelman.
The steering might feel a little light initially, but it is as precise as a surgeon's scalpel and offers a ton of feedback. And with 245/45 Pirelli PZero rubber up front and 275/40s at the rear, this thing sticks to the blacktop like Wrigley's to a running shoe.
It also stops. With mega Brembo callipers at each corner clamping down on 355mm discs, the thing just sheds speed without the slightest hint of fuss or fade.
And that independent rear end is simply brilliant at coping with pretty much anything you throw at it – even Detroit potholes the size of lunar craters. It makes the Camaro a truly fun-handling car that feels much more competent, capable and 'grown-up' than its image suggests.
And you'll love the cabin, with its look and feel of the '69 original. Those squared-off instruments, cool centre console quad gauge pack, and George Jetson jet-thruster heat-and-vent controls are retro nirvana.
What sucks however, is the quality of the interior trim. Some of the plastic, especially on the centre console, looks like something Trabant would have binned.
But the new Camaro is as cheap as chips. Here in the States, the base V6 kicks off at an amazing US$22,995. That's the equivalent of AUD$33,300. Step up to the SS V8 and you'd pay US$30,995, or a whisker under AUD$45-grand.
Alas, while this new Chevy could easily be engineered for right-hand drive it costs money. US$30 million is the figure GM suggests for doing the engineering work. Which it doesn't exactly have right now.
Sad, because here is one of the best new cars in GM's stable, a car that shows that American muscle is alive and well and delivering some serious thrills.
Yep, you'd want one.
SPECIFICATIONS
2009 Chevrolet Camaro SS
Body: Two-door coupe
Weight: 1752kg
Drivetrain: Front eng, rear drive
Engine: 6.2-litre V8
Power/torque: 318kW/561Nm
Transmission: Six-speed man/auto
Performance: 0-100km/h – 5.0secs
Price: from US $22,995 (No AUS sales planned)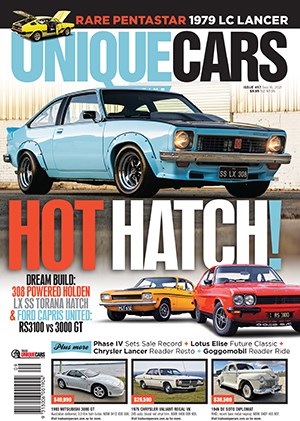 Subscribe to Unique Cars Magazine and save up to 42%
Australia's classic and muscle car bible. With stunning features, advice, market intelligence and hundreds of cars for sale.
Subscribe