Porsche Carrera GT review
---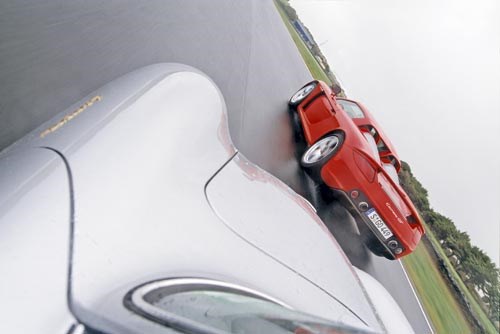 Porsche Carrera GT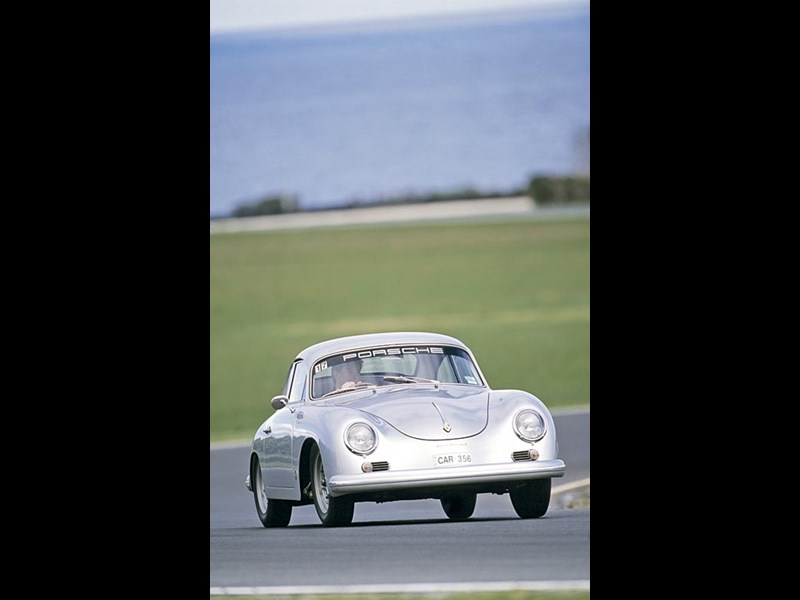 356 Porsche Carrera GT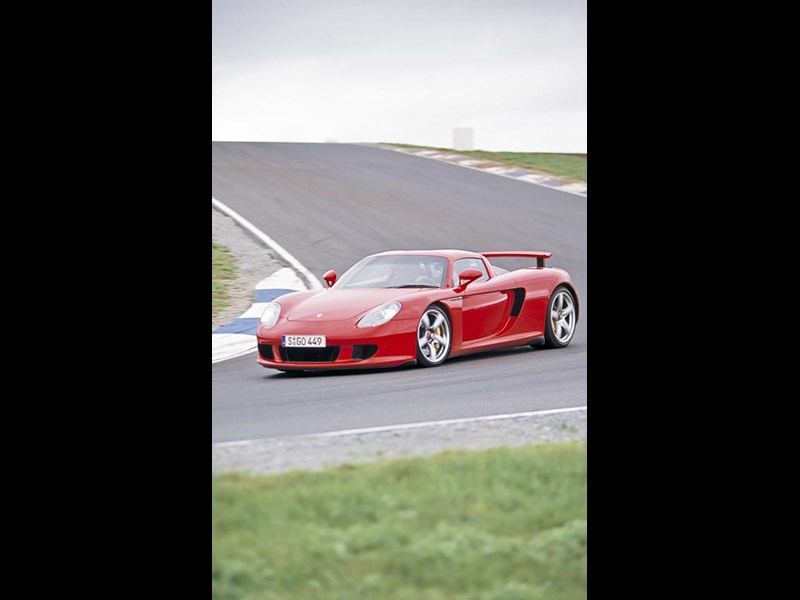 Porsche Carrera GT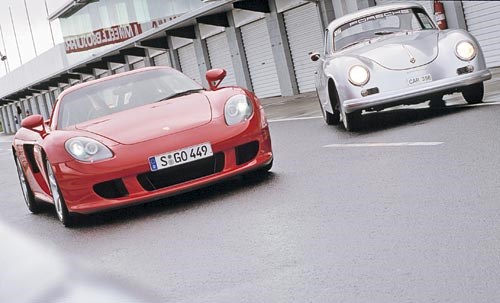 Porsche Carrera GT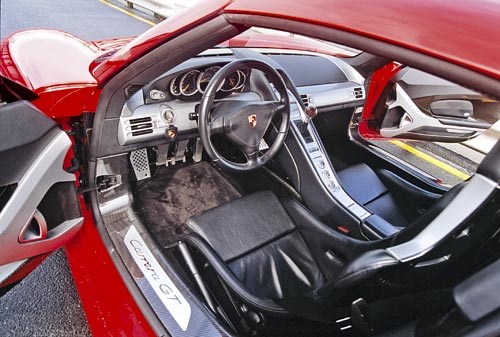 Porsche Carrera GT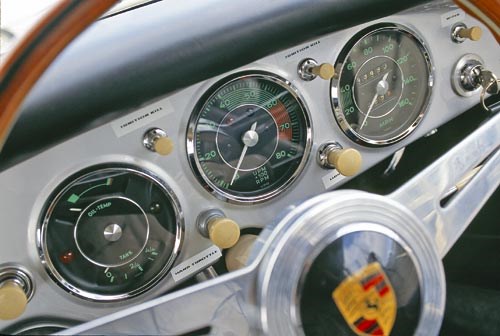 356 Porsche Carrera GT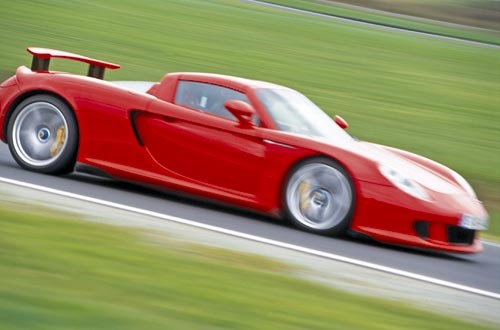 Porsche Carrera GT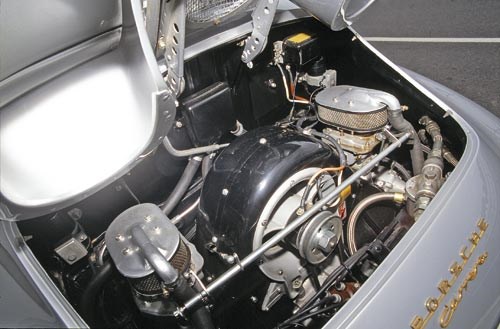 356 Porsche Carrera GT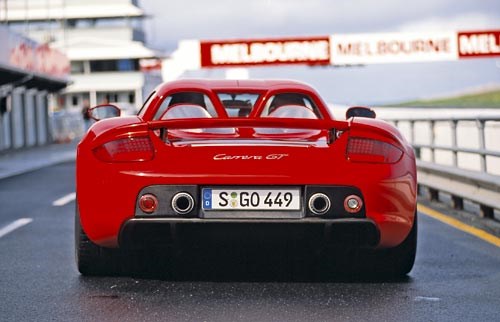 Porsche Carrera GT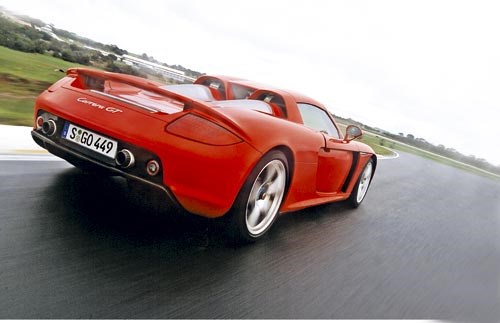 Porsche Carrera GT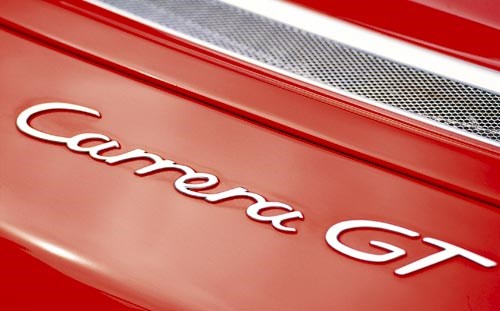 Porsche Carrera GT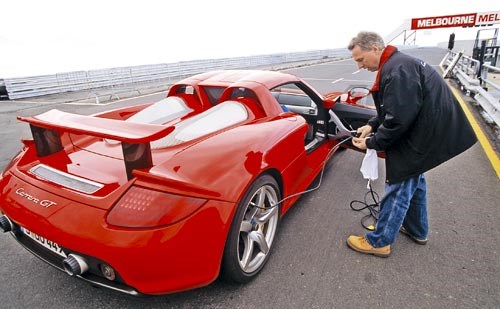 Porsche Carrera GT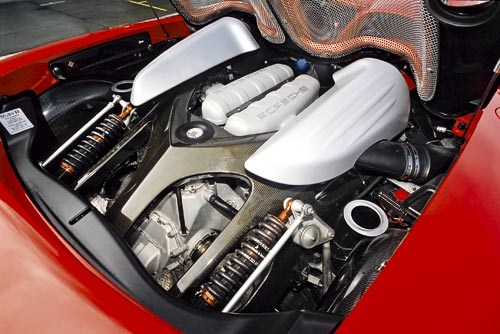 Porsche Carrera GT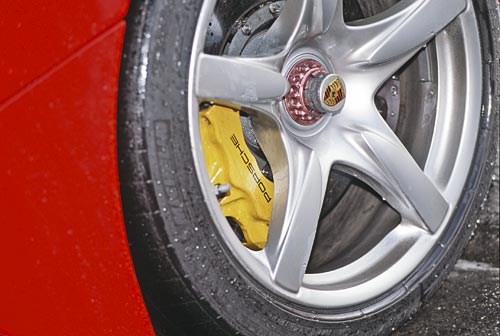 Porsche Carrera GT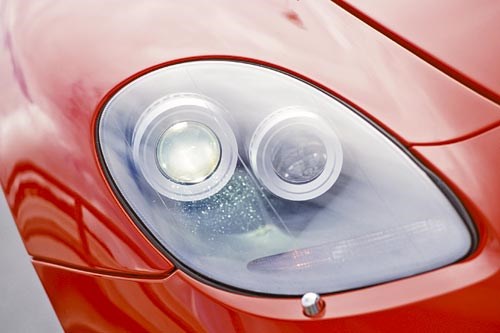 Porsche Carrera GT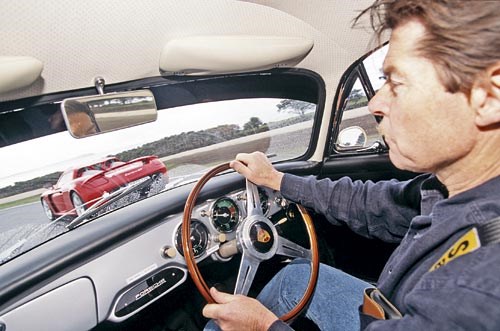 Porsche Carrera GT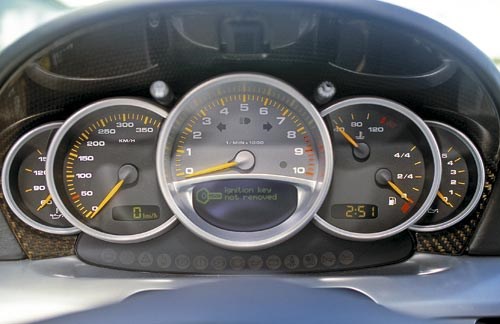 Porsche Carrera GT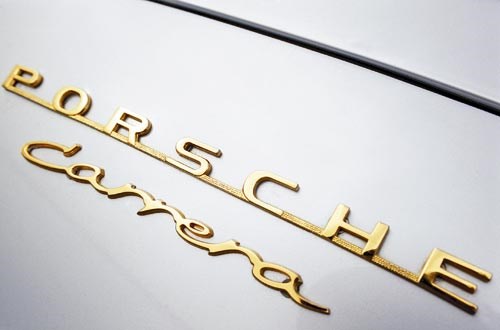 Porsche Carrera GT

A famous badge returns with loads of muscle...
Porsche Carrera GT
First published Unique Cas magazine, issue 240 (Oct/Nov, 2004)
Forty-five years after the first 356 road racer, Porsche has revived the Carrera GT badge with a 450kw bitumen-pounding supercar. But does it recapture the essence of the original?
It stands low, wide, red and rare. All carbon fibre, Kevlar and unafordium – a screaming 450kW V10 engine in the middle and a million buck price tag on its nose.
The only one in the Southern Hemisphere, with an exhausting multi-dealership and Sydney Motor Show display schedule ahead of it, and instant shame and mortification awaiting the first to scratch it.
Then there's Alex Davison in the passenger seat, within a crotch-throw of an erring driver. Alex, the new 'wonderkid' of the Australian Carrera Cup, who has regularly seen off seven-time Bathurst winner Jim Richards since his local Porsche race debut this season.
He's personable, confident and direct as many 24-year-old top sportspeople are: "Just take it easy at first," he warns. "It's got so much torque you could loop it in pit lane!" It would make a great story, but not the one I had in mind.
Drop inside through the refreshingly conventional forward-hinged doors and it's a deceptively familiar place. The sill is wide, but once bridged, the racing bucket seats borrowed from the GT2 but re-cast in carbon fibre are comfortable and hip-hugging.
Ahead, the bunched five-dial instrument cluster is straight from the Cayenne/911/Boxster design school until you read the fine print; the central rev counter red-lined at 8300rpm and reading to 10,000; the half-dial speedometer running out of room at 380km/h.
Sprouting from the deep centre console, the gearstick with its slightly incongruous round wooden knob seems rather tall, but there are none of the inconveniences or wacky design ideas that identify most supercars. It's only when you glance around you realise you're marooned in a very expensive carbon fibre cocoon unlike any other production Porsche – even the very limited-build late '90s GT1.
Turn the ignition key in its traditional Porsche dashboard position and a muted explosion erupts. Unlike the McLaren F1 or Lamborghini Murcielago's bellowing V12 engines, the Carrera GT's 40-valve 68-degree V10 whirrs to life with relative calm and idles immediately with a turbine-like refinement.
It might not have the presence of a Ferrari engine bay, but this light alloy engine, weighing just 214kg, is still a wonderful thing to behold beneath the twin, sculptured mesh cam covers in the rear deck lid, cradled by its carbon fibre 'yoke'.
The racing-derived pushrod suspension lies proudly naked and in full view to each side of the specially-developed transverse-mounted six-speed gearbox.
The late Porsche endurance champion Bob Wollek held high hopes for this engine. In its original 5.5-litre, 507kW @ 10,000rpm racing form, it seemed destined to give Wollek a long-overdue victory at Le Mans in 2000 after 29 attempts and four second places.
He had personally tested and helped develop Porsche's new Le Mans package and was bubbling with enthusiasm at the Adelaide Le Mans series race in late '99. Porsche boss Wendelin Wiedeking scrapped the project to concentrate on getting the new Cayenne to market.
Wollek was shattered and then just months later he was killed riding his pushbike at Sebring. But in its 5.7-litre road guise, something of this great Alsatian driver and his understated way of performing brilliantly lives on in the engine.
"Just ease it away from rest," Porsche's national technical trainer, Paul Watson advises. "Short shift and let the torque (590Nm) do the work."
It's good advice. With its tiny 192mm flywheel, titanium conrods and a thin-webbed crank, the V10 has low rotational masses and revs with the eagerness of a pure racing engine.
To complicate matters, the 169mm diameter ceramic composite clutch is not really designed to be slipped. So if you're tardy between changes with the six-speed close ratio box, the revs plummet and incoming changes are embarrassingly jerky. Even twiddling your toes can send the revs soaring, so a degree of discipline is necessary.
On the positive side, the standard Porsche stability management system stops the rear wheels locking under engine compression. So you don't leave big black lines on up-shifts if you dump the clutch with too few revs!
I 'walk' the Carrera GT out of pit lane, treating the floor-hinged accelerator like a fresh egg and engaging the clutch at little above idle. Ease in the power, into second early, then third, then fourth with the engine note rising to a muted scream, still well short of its red line.
Circuit conditions at Phillip Island are not ideal. Heavy overnight rain has made the green bits a virtual paddy field, while the grey bits in the middle are tinged with rainbow colours following a major oil spill by a Carrera Cup competitor during an abortive earlier practice session. It hadn't stopped Alex wringing the neck of the Carrera GT earlier, when he lit up the fat 335/30-ZR20 rear Michelins regularly in fourth and fifth gears while checking the drying track for grip.
Now sitting alongside him with the V10 howling gleefully at full song, we see an indicated 280km/h on Gardner Straight – V8 Supercar speed – just before the six-piston calipers are clamped onto the massive 380mm ceramic composite brakes.
It makes me wonder what this missile could manage in his hands on racing tyres instead of road rubber on a dry surface. Porsche claims 0-100km/h in 3.9sec, 0-230km/h in under 10sec and a top speed of 330km/h, and I know from past experience their factory figures are conservative.
There are some things you think 'I can do that' and some you know 'I can't'. Driving the Carrera GT with that much gusto at Phillip Island on this wintry spring day was one of the latter.
My mission was to survive with pride and dignity intact rather than dazzle Davison with my driving talent.
The first lap was spent finessing the controls: squeezing the brakes hard, then harder; easing in the power and feeling every granule in the road surface through those super-light forged 19-inch magnesium wheels up front, with 265/35 ZR19 liquorice straps that pass for rubber.
By the second lap it is getting easier. Confidence is up and with it, revs and speed rise in each gear and braking distances come down. It was probably no coincidence that Davison motioned me into the pit lane entry. It was time for lunch and he was hungry!
After satisfying the inner man, there was an opportunity to appraise the Carrera GT in a new light of familiarity.
It is a pretty car from most angles, except around the rear, where the twin built-in roll bars battle with the Kevlar rear wing for recognition. Plentiful styling cues from Porsche production models aside, the unkind might suggest it looks like a Boxster sat on by an elephant.
But the most impressive thing, which it shares with just about every other production Porsche except the homologation special GT1, is it can operate as a road car when required. Porsches are all about available performance and with the exception of its marginal ground clearance, which rules out most car parks and driveways, there's little doubt the Porsche flagship can live in the real world.
It is time to drive again, but this time I feel that the Carrera GT and I are bonding. Alex senses this and looks understandably nervous.
Now it feels almost normal from the outset and even though we agree to tackle the two slowest corners on the circuit in third instead of second gear, the fat rear Michelins break traction with ease. I have a brief opposite lock experience exiting MG Corner that is easily managed.
With a smooth, yet still nowhere near maximum attack on Gardner Straight, the speedo reads an easy 235km/h before we brake very early for Turn One and power through gently in fifth. The next lap comes and goes far too quickly and I'm seriously disappointed to see the 'in' sign before we've completed two flying laps. I'm sure we could have got on, on even better terms, given more quality time.
"For a car with such amazing performance, they've done a great job making it so driveable," enthused Alex. "But the chassis is so stiff that it really needs race tyres to deliver its best on the circuit."
Porsche plans to build 1500 Carrera GTs and more than 1300 of these are already spoken for, including one to an Australian owner who intends to keep it garaged in Europe. Makes sense with unlimited master blaster roads like Germany's Autobahn network on your doorstep.
But would I really want one if the gravy train stopped at my station? I looked across at the 'ordinary' ($241,500) 911 GT3 and its upmarket lighter GT3 RS ($288,000) mate in pit lane, in which I had enjoyed some earlier laps.
They had been fun – available, achievable and thoroughly enjoyable. But could I ever get on those close terms with the Carrera GT? You'd need wide open roads and regular track days to keep on the pace and there would be few times that you could, or would want to, drive it back home through traffic.
I've driven exotic Ferraris, Lamborghinis and Porsches and walked away from all of them after the drive frustrated, very happy to live with something I can enjoy to the full.
Like Bob Wollek's Le Mans dream, some things are just not meant to be. For me, the Carrera GT – not too sadly – is one of them.

1959 CARRERA GT
They share the same bonnet badge, engine cover script, but on first glance, precious little else.
The 1959 Type 356A 1600 Carrera GT was the first Porsche to be accorded the now-hallowed C-GT nameplate. With its lack of sound deadening, stripped-for-action interior, Perspex side and rear windows, aluminium opening panels and gutsy 1587cc quad camshaft four-cylinder engine, it empowered private owners to follow in the wheel tracks of the factory drivers in GT races and rallies – just like the 356 A 1300S and 356 1500GS models before it.
But with six fewer cylinders, a deficit of 357kW, four instead of six forward gears and 500kg less to propel, is there any other connection with its 2004 descendent?
While the V10 Carrera GT's cockpit is low, enveloping and personal, the 356's is stark, open and airy, but surprisingly comfortable.
There was not enough information worth telling the 356 Carrera GT driver to warrant the five separate dials that now grace all production Porsches. But the essentials are all there: a central rev counter red lined at 7500rpm; a speedo reading to 160mph (258km/h); oil pressure and fuel gauges and a random sprinkling of cream pull-switches for all the ancillaries.
Owned by the Porsche Museum in Stuttgart but permanently based in Australia, this car is one of just three right-hand drive versions built by the factory. It was purchased new in 1959 to special order by Victoria farmer David Calvert and was located and totally restored by former Porsche concessionaire Alan Hamilton in the mid-'90s.
Turn the skinny ignition key and the family connection between these unlikely 'brothers in arms' becomes more obvious. While the throaty roar of the 1.6-litre four sounds nothing like the shrill, tuned scream of the 5.7-litre V10, it is equally urgent, intoxicating and in some ways more inspiring.
"Keep it revving," I was told – brave advice considering the cost of rebuilding one of these quad cam motors today is about one third of the 356 Carrera GT's market value of $300,000 – but orders are orders.
Besides, keeping the Type 547 engine singing happily between 5000rpm and its 7500 red line was just what its designer Ernst Fuhrmann would have demanded.
You would expect brisk performance from 115hp (86kW) hauling just 880kg, but the real revelation is the car's flat and predictable handling on its skinny 187/70-15 Avon tyres and its powerful braking, once warm, from the finned, alloy drums.
After several laps, I pulled into the pits and invited Alex Davison to slip behind the slim, wood-rimmed Nardi steering wheel while I sat shotgun. He'd just stepped out of the current Carrera GT and I expected indifference, but got genuine emotion.
"What a beautiful car," he said after several full-on laps. "The harder you rev it, the harder it goes and the better it sounds. Like the latest Carrera GT, you have the feeling of driving something special."
He was then called back for further driving duties in the new car, leaving me and the 356 Carrera GT alone together. You know, somehow I felt I was sitting in the real Porsche.
Unique Cars magazine Value Guides
Sell your car for free right here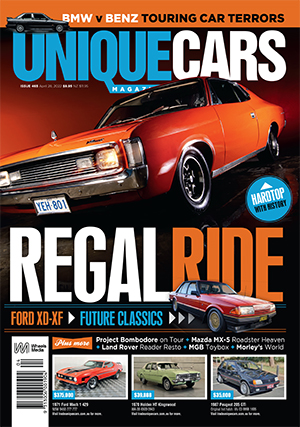 SUBSCRIBE TO UNIQUE CARS MAGAZINE
Get your monthly fix of news, reviews and stories on the greatest cars and minds in the automotive world.
Subscribe