Ford Focus RS review
---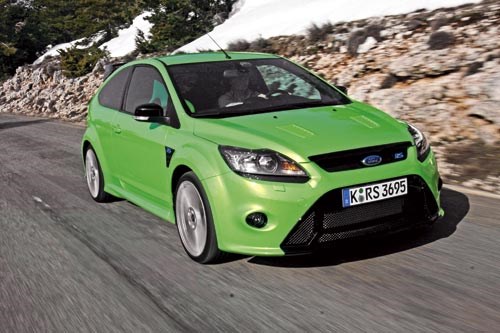 Ford Focus RS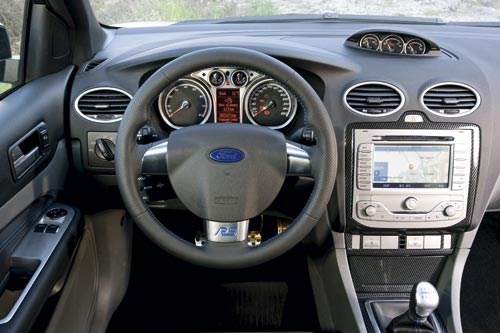 Ford Focus RS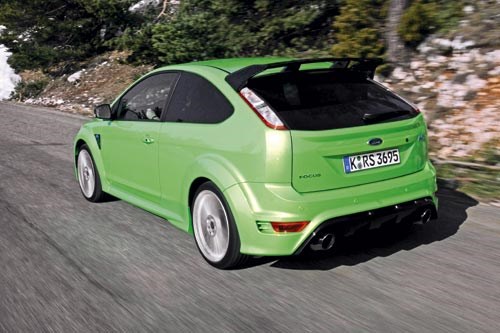 Ford Focus RS

Driven: The new RS is a front-steer without peer, but unfortunately won't be coming to Australia
Ford Focus RS
In 1970 the first Escort RS produced a puny 89.5kW and 152Nm from its 1.6-litre, four-cylinder engine, which was pretty impressive for its time. But the latest Ford to bear the RS moniker, pumps out 224kW at 6500rpm and a stonking 440Nm from 2300 to 4500 rpm from its blown five-cylinder engine.
Pretty impressive headline figures that are backed up by a 263km/h top speed and an entirely credible 5.9 secs run to 100km/h, with 50 to 100km/h taking just 5.3 seconds in fourth gear.
Those figures take the Focus RS right into the heart of mad Subaru and Mitsubishi territory, but what they don't tell you is, that, unlike its Japanese rivals, the Focus is front-wheel drive. And we know what that means: vicious torque steer under power and enough wheel tramp to dislodge fillings.
Except that the RS engineering team, led by Jost Capito, have wrought a minor miracle thanks to a clever patented front suspension system called 'RevoKnuckle'.
The RevoKnuckle uses a 'C' shaped mount connected to both the wheel hub, via two arms, and the strut which is attached at its top, reducing the king pin offset to less than half of a conventional McPherson strut.
Combine that with a Quaife LSD and ESP and you have a peerless front-wheel drive car that, well-driven, would give performance cars costing three times its price – the equivalent of $56,000 in the UK – a run for their money.
A day spent thrashing an Ultimate Green example along the sinuous roads that form a back drop to Nice, including the spectacular Col du Vence, convinced me that the latest RS is the best value for money Pound/Dollar per bhp/kW that money can buy.
Its traction through and out of corners is nothing short of exceptional; just pile on the power and keep the lock tight and it will slingshot you out of the bend with nary a trace of under or oversteer. Occasionally, physics win out, but only rarely and very mildly on, for instance, damp patches and, even so, the situation is covered by the subtle ESP.
Capito and his team could have swathed the car with electronic angels but that would have killed the RS's purity. Their engineering-led solution means you can feel every nuance of the fat Continental 235/35 R tyres as they bite into the tarmac and feedback through the 2.3 turns lock-to-lock steering is firm, but never heavy and dull.
Meanwhile the ride, despite the stiffer set up, is firm but comfortable with no teeth chattering inputs. Combine that with the engine's diesel-like spread of torque and you have a car that granny could take down to the shops if she could get her arthritic hips into the snug Recaro seats.
Except she wouldn't roll down the window to hear an exhaust note that sounds like the ghost of early quattros accompanied by a whistling turbo on the overrun.
Just 8000 will be built in the next two years but it looks like Aussies won't get to experience the hottest Focus. Pity.
SPECIFICATIONS
2009 Ford Focus RS
Body: three-door hatch
Weight: 1467kg
Engine: 2.5-litre five cylinder, turbocharged
Transmission: 6-speed man
Drivetrain: front eng, FWD
Power/torque: 224kW/ 440Nm
Performance: 0-100km/h – 5.9sec. Top speed – 263km/h
Price: £26,000 ($56,000) – UK only
Unique Cars magazine Value Guides
Sell your car for free right here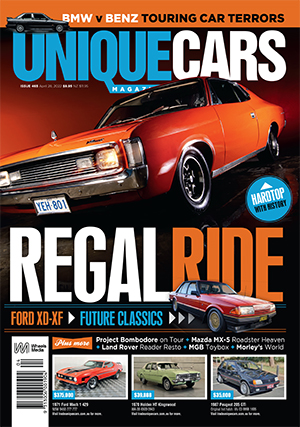 SUBSCRIBE TO UNIQUE CARS MAGAZINE
Get your monthly fix of news, reviews and stories on the greatest cars and minds in the automotive world.
Subscribe