1956 Buick Roadmaster: Reader ride
---
Alexandra Brand's 1956 Buick Roadmaster...
1956 Buick Roadmaster

I bought my Roadmaster about seven months ago. I first saw it at the inaugural Motorclassica show in Melbourne three years ago where I worked as a volunteer. I was just gobsmacked by its beauty and the condition of the vehicle and I took a few photos of it. It really stood out, big time.
Then last year I saw it advertised as part of a deceased estate and someone mentioned it had been at Motorclassica. When I looked through my photos I realised it was the same car and I had to have it. My dad's into Buicks too and I'm also into all things vintage from the 50s and 60s and like pin-up modelling. The car is more than twice as old as me.
We picked the car up in (Melbourne bayside suburb) Williamstown and went for a bit of a cruise along The Strand before going home. It was a great feeling. My first impression was, "Oh my gosh, I can't believe how big this car is!" compared to my 1971 Mustang convertible. The Roadmaster is much bigger, it's huge! You can fit six people in it and three bodies in the boot! When it was released it was the top-of-the-range Buick, it was a prestige car in America at the time.
Driving it is a totally different experience to my daily driver, which is a 1991 Mercedes 190E. It's very heavy so gravity pulls it down and it takes a while to take off and stop, compared to my Mustang, which just goes when you put your foot down. It's more of a Sunday cruiser we take to wineries and on long drives. I never thrash it. It was built in 1956 and it'd be like telling grandpa to sprint 100 metres.
It's got a 364 cubic-inch 'nailhead' V8 with a single four-barrel carby that makes about 210hp and a two-speed Twin-Turbine Dynaflow gearbox, with power steering and brakes and just about everything is electric powered, like the front seat. It was ahead of its time. What I like is the Phillips record player in the dash, which plays 45s.
The car had been restored and the engine rebuilt when I bought it and we haven't done anything to it since. We try to keep cars as original as possible. I plan on entering car shows eventually but I haven't entered any show-n-shines yet. But I do take it to car shows and it's a great head-turner. Recently, I took it on the Great Australian Rally from Melbourne to the Mornington Racecourse dressed up in 1950s clothes. The car was swarmed by cameras at the Melbourne checkpoint, I felt like a movie star. I parked at the racecourse and got marriage 'proposals'!


*****
Search used:
Unique Cars magazine Value Guides
Sell your car for free right here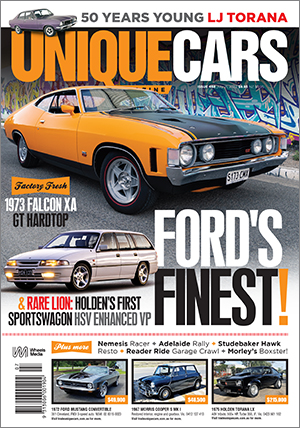 SUBSCRIBE TO UNIQUE CARS MAGAZINE
Get your monthly fix of news, reviews and stories on the greatest cars and minds in the automotive world.
Subscribe