Daimler DB18 Drop-Head: Reader ride
---
Eddie Brand's 1948 Daimler DB18 Drop-Head...
1948 Daimler DB18 Drop-Head
I'm not interested in working on cars, I get other people to. I just like to collect and drive great cars. I'm actually trying to collect a car from every decade, although American cars from the 40s weren't too crash-hot, in my opinion. English cars from the 40s were totally different to American cars. I've had my Daimler DB18 for about 28 years and it's my favourite car; it's very stylish.
It was made in 1948 and the model was phased out in 1952. There were only about 400 made and it's a drop-head three seater with a body built by Barker & Co. It's actually made up from quite a few different Daimler components because it was made as an exhibition car then Daimler made more to sell.
The unusual thing about it is the rear seat doesn't face forward, it faces the side of the road. I don't know why Daimler did that. It's not a dickie seat, you can actually sit in it comfortably, but it looks funny. The Rileys were similar but the Daimler is a prettier car and was more upmarket, it was in the same league as Rolls Royce and Bentley.
The car was in pretty bad shape when we got it from West Australia but it was worth shipping it over. A German guy had owned it, and I'm a German, and he had a passion for these cars. It needed a ground-up restoration and two brothers in Melton restored it over 15 years. We had to search overseas for parts and some even came from America.
The car's been restored basically to original with leather trim and a lot of woodwork in the cabin. The frame is a coach body made from wood and plywood and the panels are steel with aluminium fenders. It's got a 2.5-litre straight six with a four-speed semi-automatic gearbox and column shift. You only use the clutch to take off and change from first to reverse. It's an early English automatic transmission.
DB18s were two-tone and came out in red and white, red and yellow, and green and silver but when we restored it we chose Holden 'Atomic Green' and silver, because if anything happens to the car we will be able to get the paint to repair it. It's probably a little brighter than the original paint, though.
People often remark about the differing front and rear hubcaps, but that's how they came. The rear wheels look smaller than the fronts but they're not.
It is difficult to drive. With no power steering it feels just like driving in the 40s and 50s. You've got to get used to these old cars. I'm still looking for a German car although we've got a 1965 Mercedes 280SE in the paddock which my son and I were going to do up. I may look for a DKW or a Borgward next. Borgward were very good mechanically, but that's why the company went broke.
*****
Search used:
>> Search Daimler cars for sale
Unique Cars magazine Value Guides
Sell your car for free right here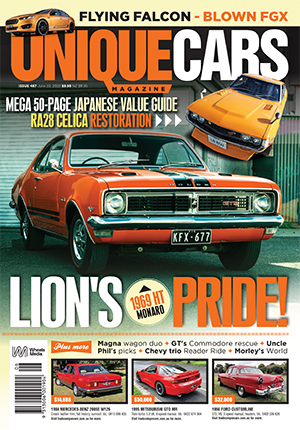 SUBSCRIBE TO UNIQUE CARS MAGAZINE
Get your monthly fix of news, reviews and stories on the greatest cars and minds in the automotive world.
Subscribe