Ford XC Fairmont: Reader resto
---
After nine years of trials and tribulations, you could forgive John Tsatsakis for almost giving up on his classic car dream
Ford XC Fairmont resto
This story starts not with FALCOR, my XC Fairmont Hardtop, but with a Calypso Green XB Coupe that would have been better off being thrown in a quarry. I wanted to build an Onyx Black XC Coupe so being very green in the classic/muscle car scene, I thought I would just buy the cheapest coupe I could find and modify it into the next amazing show car.
After all, I had seen all the write-ups in the car magazines – from wreck to show winner in a few months, how hard could it be? The XB was $1800, a six-cylinder that had been mocked up like a GS and had the life well and truly flogged out of it. It ended up being total swiss cheese and was quickly canned once I discovered it needed $6500 worth of metal repairs alone.
Having already learned that starting with a decent shell was the wiser move, I found an XC Fairmont on the internet for $5000 'Buy it Now'. A friend in Sydney checked it out for me and said it looked a million dollars, snap it up. So I did. Despite buying it sight unseen, when it arrived at my place in Melbourne I couldn't be happier.
It needed pretty major work, of course, but it looked straight as a die and everyone who saw it said I'd got myself a good buy. A mate at the time was just starting up his own panel beating shop and offered me 'mate's rates' as long as I delivered the car as a rolling shell. Still entertaining ideas about a custom show car, the teardown began almost immediately, with most of the original parts being sold or thrown in the bin as they would never be needed again…
Work began pretty quickly, but while the like it looked in the magazines. Then, 10 months after I had dropped the car off, my 'mate' mentions he is getting kicked out of his shop and that he's going to keep the XC at a mate's place until he finds a new shop.
Shocked at the news, my wife urged me to collect the car immediately. Explaining to the panel beater that I'll follow him to his mate's place, I collect the various pieces, load the car on a trailer and take off to a family friend's house. It was the last time I saw him.
A week later, while cruising the local area, I came across a new panel shop with some quality GTs parked out the front. I stopped by, explained what had been done and what I was aiming for. The car was delivered and they got stuck straight in. A mere 24 hours later, they called me explaining that the paint was coming off in postcard-sized sheets due to the poor quality of the prep work.
They assured me that if I wanted a quality finish, there was nothing to do but sandblast the car back to bare metal and start again. I crossed my fingers that it wouldn't be that bad but the results were less than encouraging. The car came back needing a myriad of panels – sill panels, inner and outer rear quarters, some roof work, pieces behind the back window and more – and metal work that would approach the $5000 mark. Still cheaper than the green XB, at least.
It was around this time that the direction of the build changed. Panel beater number two was a real Ford nut and mentioned I might want to consider restoring the car back to factory specification as a V8 manual Hardtop was a nice combination and would be worth more in the long run. The value of the car didn't bother me, but discussing what the panel beater said with the guys at aussiecoupes.net led me to call 13 FORD and get a verification letter explaining my car's specification.
The result told me my car was a Sno White XC Fairmont Hardtop with a black vinyl roof. It was fitted with the 4.9-litre V8, four-speed manual, limited-slip diff and dual exhaust system.
It was one of just 648 XC Fairmonts and one of only 135 built in 1978. This was a game changer. I mocked up photos in Photoshop to envisage what the vinyl roof would look like and decided to take the plunge and give the car a second life as per its ID plate.
While I was researching, the Fairmont had been on a rotisserie and work had been progressing – but far too slowly. What I was originally told was going to be a four-month project was stretching towards four years. At the time I had nowhere to put the car so I didn't really have much choice but to wait for them, but eventually I got sick of hearing "yeah, we'll get onto it next week", or "we've just got to finish off this quick job" and I said "nup, it's been four years and the car's still not in primer, it's coming out of there".
By this time my engine had finished being rebuilt. As a matching-numbers engine that was already oversize, I didn't want too much engine work, but Peter Clark at Head Job Head Shop in Coburg did an amazing job. It's had mild work done but uses a lot of original components.
I had a lot more luck with my third panel beater. He said, "I can see you've had a hard time, so no mucking around, let's get this happening." The second guys had done a lot of bodywork but not finished it off so the third guy finished it, painted it, and it came up a million dollars. I couldn't be happier with the job.
The car came home around the middle of 2012 (having been bought in late-2004!). Through aussiecoupes.net, I have a great group of friends who all rallied together and had a working bee at my place to help give me a kick start to get it back together. About 8-12 people came over with as many spares as they could and went hell for leather all weekend. From then on, I spent every night I could in the shed putting whatever I could on, whether it be a door handle or a whole brake assembly.
My mechanic and good friend, Travis Allan, was over almost daily and every day someone was checking in and saying "what've you done today? No slacking off!" The support from the guys (and my extremely understanding wife) was phenomenal and the best part of the build. After so many years and problems, in 18 months it went from just getting painted to being registered.
I've learnt how to do so many things on my car and I've got a car that isn't concours, but is a damn good example. The best advice I can give is to ask as many questions as you can to as many car clubs as you can before you start looking for a car, because every car is different in its problem areas.
In addition, take as many photos as you can. You need to document everything – the way things are put together, the way you pull them apart, right down to particular screw lengths or where certain bolts go. You always go 'yeah, I know which ones they are', but four years on you don't remember.
I'm definitely glad I've got an original car rather than a street machine. I feel if the car was any better than it is, I'd be too protective of it. I'd think 'I can't take it out because there's a cloud in Sydney and it might rain in three weeks' time'. I'm not scared to go for a cruise and if it gets dusty or a bit of grime on the wheels it doesn't matter, I just wash it!
XC PARTS PRICES
Tail light: $121.00
Patch panel rear tailight: $456.01
Body rubber kit: $1343.50
Parcel shelf: $156.05
Patch panel boot corner: $53.35
Boot mat: $306.25
PARTS RESOURCES
*****
More reviews:
> Reader resto: Ford XA Fairmont GS review here
> Buyer's Guide: Ford's collectable coupes review here
Search used:
Unique Cars magazine Value Guides
Sell your car for free right here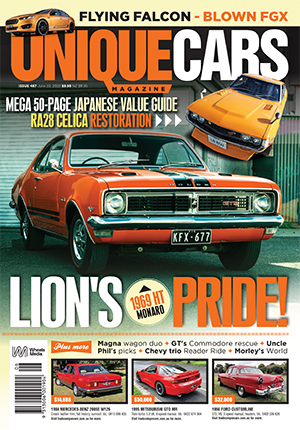 SUBSCRIBE TO UNIQUE CARS MAGAZINE
Get your monthly fix of news, reviews and stories on the greatest cars and minds in the automotive world.
Subscribe