Project HQ - Ignition
---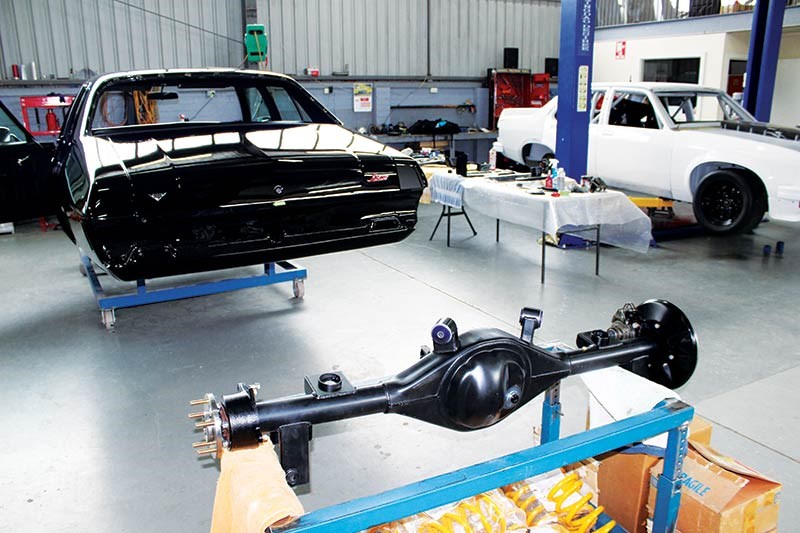 Sometimes it's easy to gorget the talent behind the parts
Project HQ
One of the things that's all too easy to lose sight of when you're putting together a complex project like a total car rebuild – effectively a remanufacturing exercise – is just how many clever details go into making the whole. In an effort to catch up with some of that gear, we're looking at opposite ends of the car: first the ignition in the snout and then the diff housing out back. Let's start out front.
Ice Ignition in Victoria provided the spark for our 355-cube V8 and, along the way, we discovered that the technology has moved on since we were depending on a shaft and a couple of sets of points. The 7842MC kit fitted to Project HQ is the most popular model in the Ice range, according to company boss Michael Konstandinou. He reckons the kit has one major selling point: "It's made locally (over 90 per cent in Melbourne), which a lot of people freak out over – they don't believe it's not made in China.
"All the engineering and development is done in house and we do give a three-year warranty.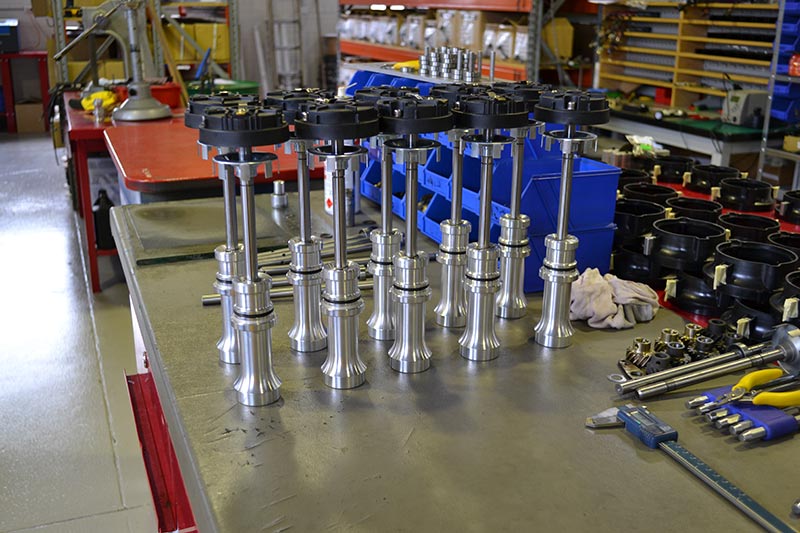 "It's an inductive and not a CDI system, which means we produce more spark energy than any CDI. Having more spark will never make you less power, it can only make you the same or more.
"You should get a cleaner burn especially where the fuel curve isn't perfect – and it rarely is on a carburettor car – especially when it heads to the rich side. Plugs are less likely to foul and we are very specific about what people should use. They should be non-resistor type, which is very important," he warns Because all new cars have resistor plugs, they find a lot of people unwittingly swapping over when they go to buy replacement parts at the auto store.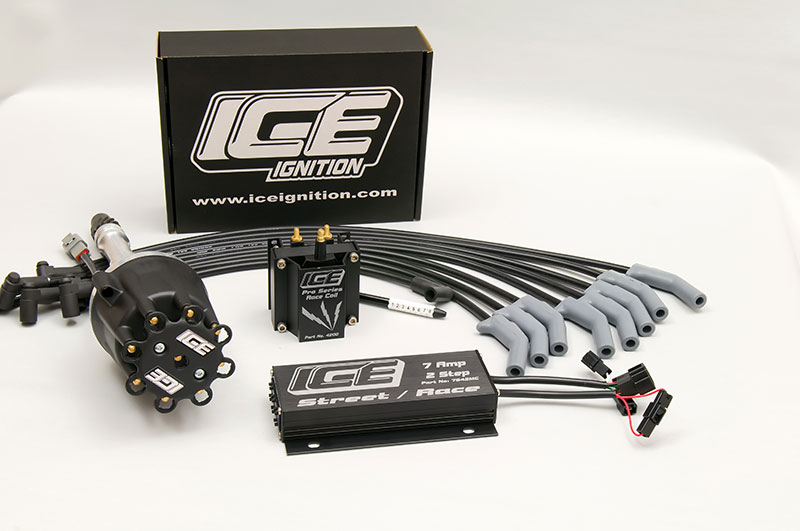 "Even the plug leads we use are the lowest resistance on the market," says Konstandinou, "Which works out to around 110ohms per metre.
"The coil's developed specifically around the ignition system. With the control box, there are no mechanical weights or springs inside the distributor, there's just 80 pre-programmed advance curves built into it. So someone doesn't have to pull anything apart to reset the curve, you just push a button and select the one you want. It saves a lot and money, particularly if you're tuning on a dyno."
In another departure from traditional systems, it offers two rev limiters: one for top-end over-rev protection and the other can be used in a couple of ways, either to set a level for a launch mode or as a valet mode to restrict how high the car is revved by the driver. That can be engaged with a hidden switch, to stop someone thrashing the car.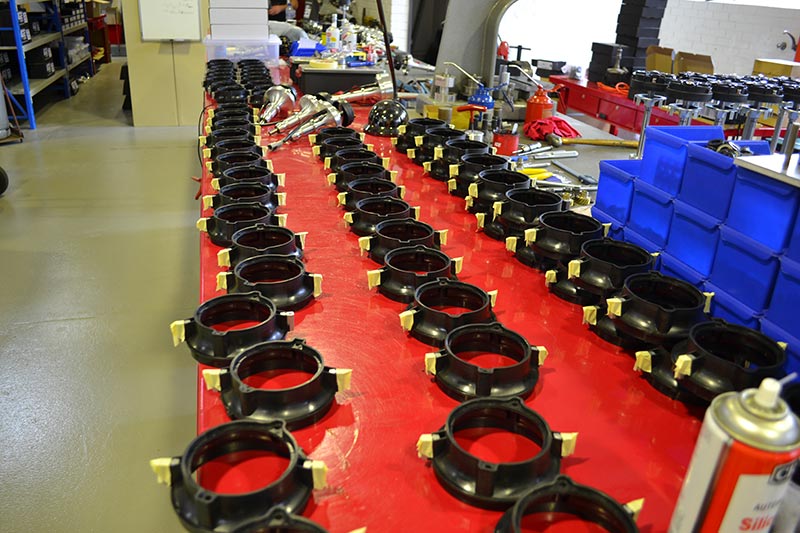 "They're very simple to use and should last forever so long as you look after it," he promises.
Looking through the online offerings, you quickly find there's a pretty big range for street through to race use on carburettor and EFI powerplants. See iceignition.com.au.
Housing issue
Last issue we had a squiz at Harrop Engineering, the folk who supplied the internals for our diff. That, however, was only half the story as McDonald Brothers Racing, a firm that's been around for 45 years, got in on the act by providing a housing and axle set that represented a major upgrade over what the car scored from the factory.
"The business was started by my older brother Lyndsay, myself and younger brother Russell. We were interested in the American hotrod scene and went down to the Riverside drag strip locally. From that I started building my first hotrod. It was finished in 1972 and I took it the Sydney hotrod show and won a number of trophies.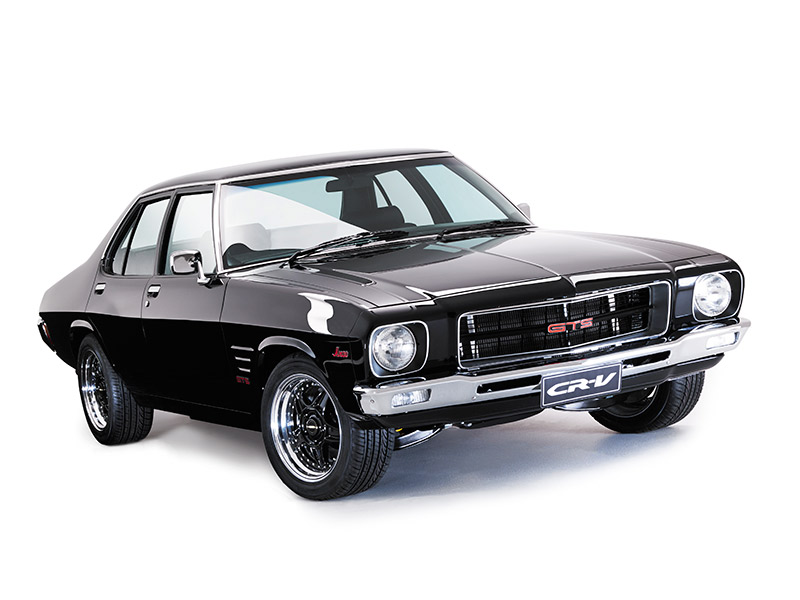 "We basically built the business off our hobby because guys saw what we were capable of doing. We started in Mum's garage and then moved into a factory in 1972. We built hotrods in the early days, along with lots of engine swaps and other component swaps.
"Nowadays we concentrate mostly on the aftermarket suspension field, including lightweight components for drag racing and street machines." Their Facebook page shows what the crew is up to at the moment and it's a bit of an eye-opener.
"It's amazing how different the direction of the modified car field is these days. What we're doing now, there just wasn't the demand for 10 years ago. What they're doing now is just amazing. You go to Motorex and it's just rolling artwork.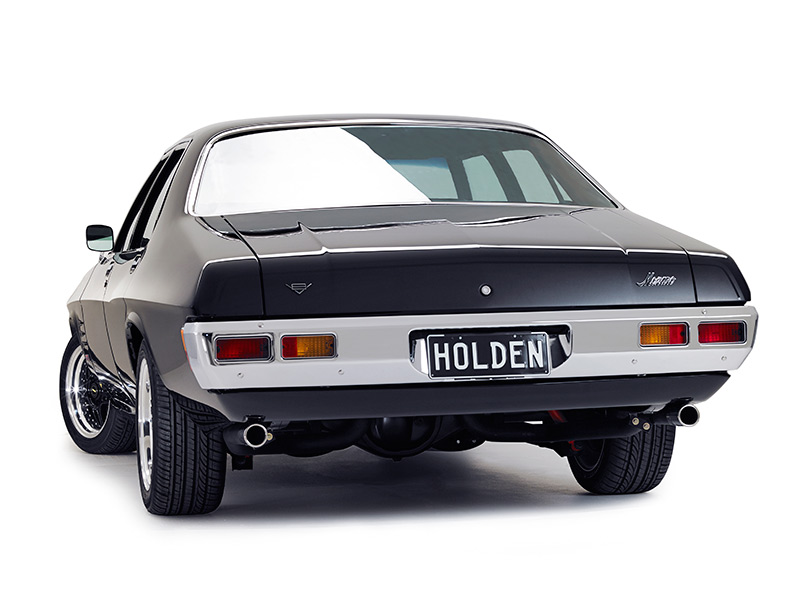 "Specialised suspension components is where the demand is developing. We do a heck of a lot of kits to set a vehicle up with coil-over shockers so they have more adjustment.
"Everyone has 1000hp these days – no-one has 350 any more – and they want to take it out to the track and give it a squirt and everyone is doing nine-second times. It's a case of setting the vehicle up so it can do that."
Our ambitions for Project HQ were somewhat more humble, with horsepower somewhere over the 400 mark and targeted to make it a civilised road car, albeit with some go.
Our housing was all jig-welded and came complete with all the appropriate bracketry. As Ray rightly says, "It's a heck of a lot stronger than the original." In a way, it's a shame to hide all that workmanship, but there is value in knowing the car isn't going to tear itself apart when you hit the loud pedal. See mcdonaldbrothersracing.com.au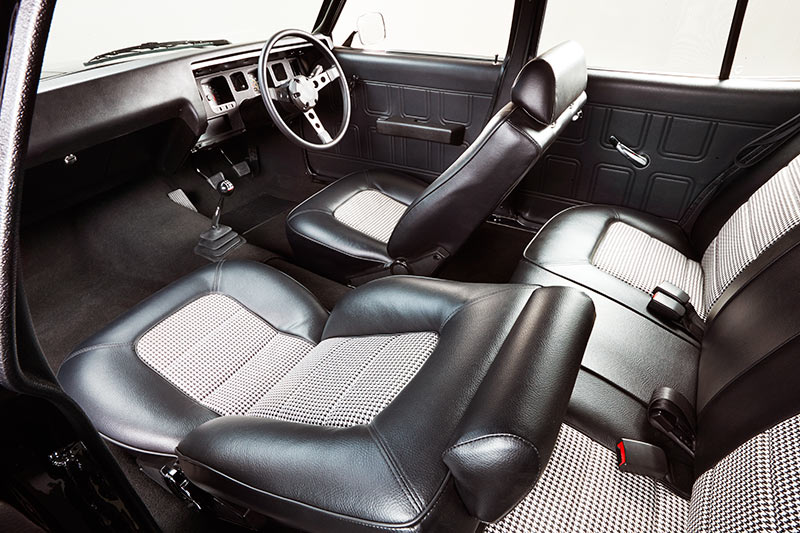 The HQ Talent Pool
The line-up of magicians who've assisted with Project HQ is pretty extensive and represents a very handy list of suppliers you should consider if tackling a project yourself in future.
BENDIGO RETRO MUSCLE CARS
Bodywork
www.bendigoretro.com.au
RARE SPARES
Classic car parts
www.rarespares.net.au
PRECISION INTERNATIONAL
Engine
www.precisionintl.com/
MAL WOOD AUTOMOTIVE
Transmission
www.malwoodauto.com.au
TOP TORQUE
Engine machining and assembly
www.toptorque.com.au
MCDONALD BROTHERS RACING
Diff
www.mcdonaldbrosracing.com.au
HARROP ENGINEERING
Diff mechanicals
www.harrop.com.au
HOPPERS STOPPERS
Brakes
Ph: 03-9748 6950
ICE IGNITION
Ignition system
www.iceignition.com
DI FILIPPO PERFORMANCE EXHAUSTS
Exhaust system
www.darrendifilippo.com.au
DAVIES CRAIG
Water pump
www.daviescraig.com.au
AUSSIE DESERT COOLER
Radiator
www.aussiedesertcooloer.com.au
TOPERFORMANCE
Koni suspension
www.toperformance.com.au
SIMMONS WHEELS
Rims (via Tempe Tyres)
www.tempetyres.com.au
A&H TRIM, BENDIGO
Interior
www.facebook.com/AANDHTRIM
PPG
Paint
www.ppgrefinish.com.au
AMAZING DENT REMOVAL
Opti-Coat finish
www.amazingdentremoval.com.au
TORQUE-POWER
Inlet manifold
www.torque-power.com.au
SHANNONS INSURANCE
Just in case
www.shannons.com.au
Unique Cars magazine Value Guides
Sell your car for free right here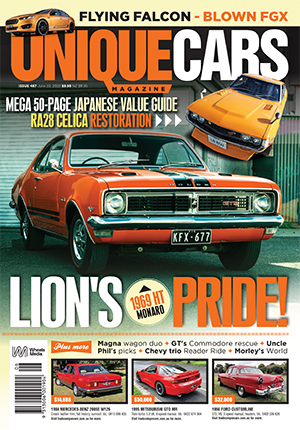 SUBSCRIBE TO UNIQUE CARS MAGAZINE
Get your monthly fix of news, reviews and stories on the greatest cars and minds in the automotive world.
Subscribe