Project HQ GTS tribute: Part 4
---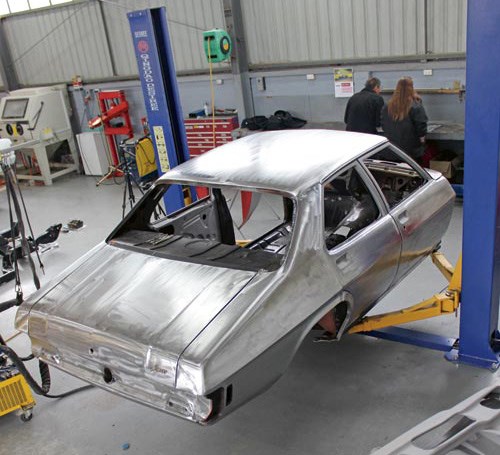 Project HQ GTS: Part 4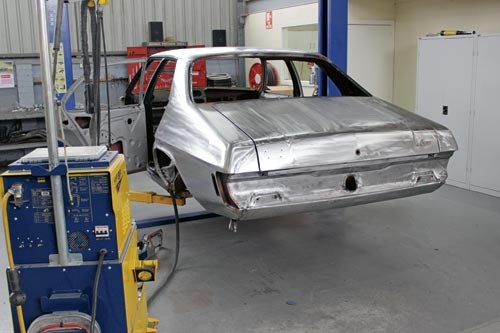 Project HQ GTS: Part 4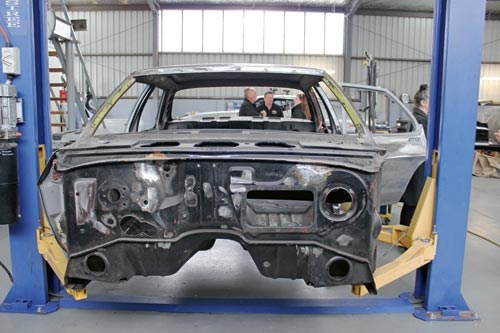 Project HQ GTS: Part 4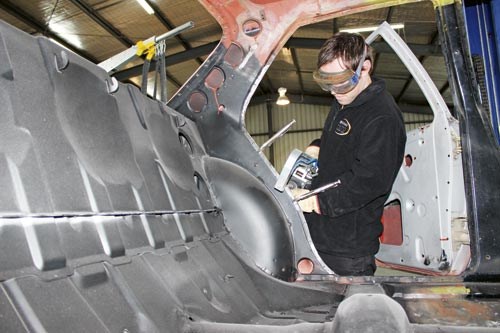 Project HQ GTS: Part 4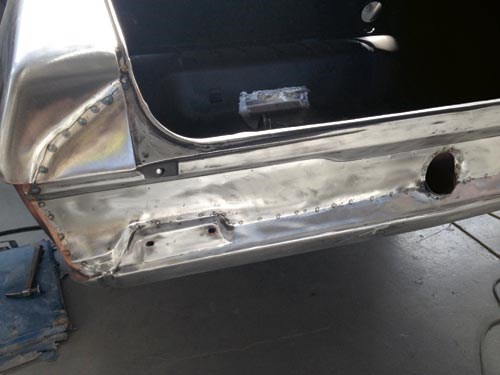 Project HQ GTS: Part 4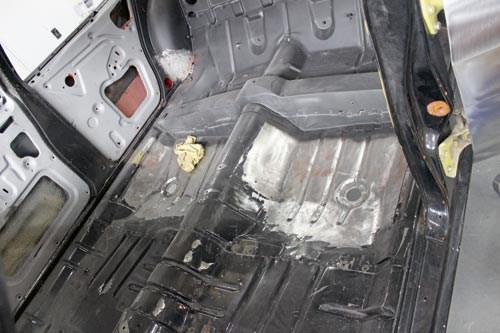 Project HQ GTS: Part 4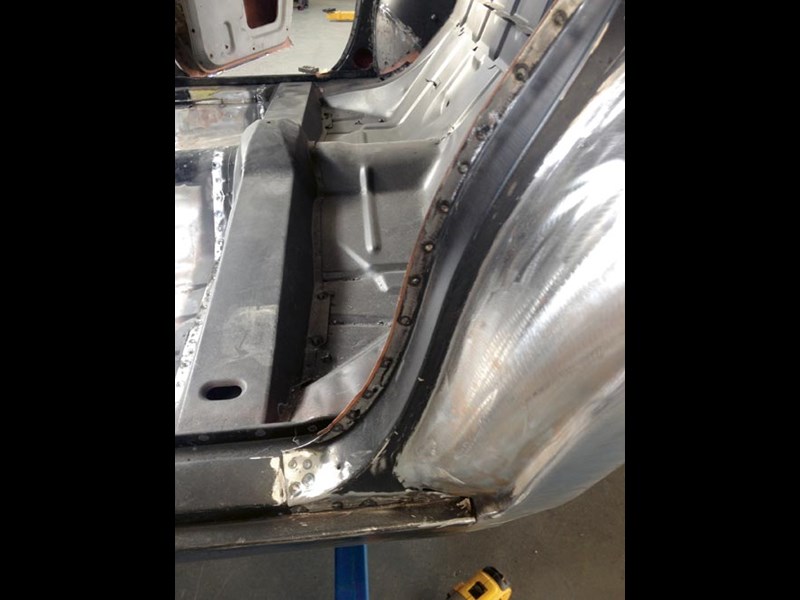 Project HQ GTS: Part 4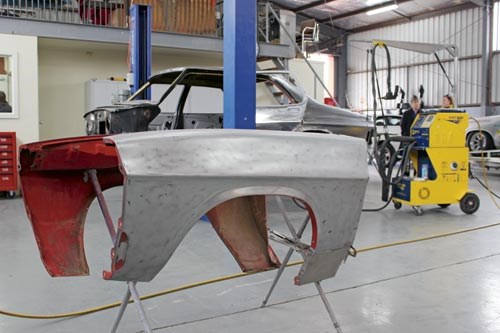 Project HQ GTS: Part 4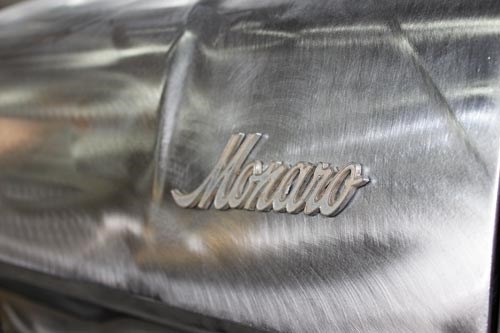 Project HQ GTS: Part 4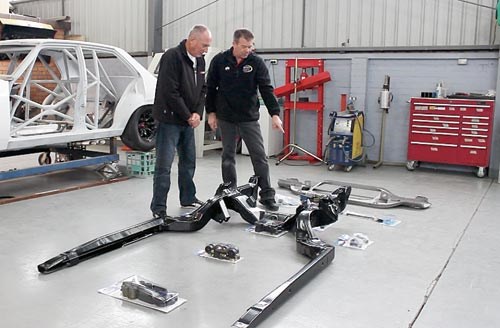 Project HQ GTS: Part 4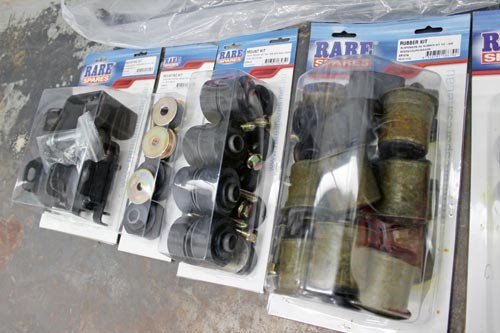 Project HQ GTS: Part 4

Our mighty HQ GTS has been pulled apart, Now for the long journey back to being whole..
Project HQ GTS tribute: Part 4
ROAD TO RECOVERY
Stumbling into Gary O'Brien's sandpit, aka Bendigo Retro Muscle Cars, over recent months has involved what you might be tempted to call anti-progress. You see, we started with what had been a somewhat sinister-looking and quite successful Touring Car Masters GTS and, over time, have watched it get stripped down until there was nothing left on the hoist other than a vague outline of the body. It went from being a Holden to an approximation of one.
Even Uncle Phil, our project manager and the world's fussiest man, was a taken aback by just how thorough the crew had insisted on being. O'Brien had made the rash statement that he reckoned this car, done properly, should outlive its next owner. To that end, every speck of rust was to be tracked down and seen off the premises. If that meant stripping double-skinned sections back to single sheets of metal and painstakingly reassembling them, then so be it.
This time around, we blundered into the O'Brien shed and were met by a grinning crew with what looked like something that might have started life as a medieval torture device, though it apparently plugged into the mains. That, we discovered, was the in-house spot-welding machine – not something you see every day.
"We've been aligning all the panels and getting it ready for the spot-welder," O'Brien explained. "The thing's all square now."
Uncle Phil pointed at the rear quarter panels, commenting they looked like new old stock. "What we did was we unpicked a donor body," explained O'Brien. "That car had had a biff at Sandown and the back was wrecked, so we had to get two quarters and a back panel and repair the rest. The parts that we got needed a couple of Rares (Rare Spares) panels in them and, as you can see, you can't tell. They were refurbished off the car, rust-treated inside and now going back on.
"The help we've had with the body from Rares, all the rust sections, has been awesome," he added. "We've had about eight panels go into that car."
The crew has stuck to some traditions when it comes to reassembling the GTS. For example, the major panel joins are filled with lead wipe, just as it would have been from the factory.
"Back in the day, that's how they did it," O'Brien said. "Every join had lead wipe in it and you painted straight over it. There are products out there now that if you're doing that job you don't need to lead wipe, but we like to use the original method."
Meanwhile, O'Brien is on a mission to get the chassis sorted. Step one was a trip to Rare Spares for a ute-load of parts, which he laid out with the chassis rails to show us how it all goes together.
The list of bits is extensive: steering arms, tie-rods, drag link idler arm, pitman arms – and that's just the front. Much of what's available comes as a kit. For example, you can get a complete set to mount the lower and upper suspension arms, including bushes, bolts and washers.
The same goes for the rear. Body mount kits, control arm bushes and a host of finishing parts are easily found in the corporate 'cattledog'. "It's all very affordable," O'Brien said. "But someone doing this at home might need a mechanic helping them so they don't squash some of the parts when they get them in – a mechanic and a press would be a big help."
But isn't this a bit of overkill, all the new bushes and bolts? Not at all. "A lot of blokes pull the thing half apart and paint it and call that a resto. What we're doing is a full restoration which will hopefully give your readers a sense of what goes into a proper job.
"Some people have the shiny paint, but what they build doesn't drive very well…they don't work properly. It's got to turn and it's got to stop, particularly if it's got a bit of horsepower."
With a bit of luck, next month we'll be a lot closer to seeing an actual car.

RARE SPARES HOT TIP
"What people need to remember is you can buy an HQ for $2000 or you can buy one for $8000," Gary O'Brien says. "With the support of Rare Spares, and all the energy they've put into these, you can rebuild almost anything, but you're probably better off buying a good car, a grandad car if you can find it.
"Commercially, if you can find one that's already pretty good, your bodywork, rust repairs and paintwork are all going to be easier and cheaper. It's a lot easier to say, 'I've got this much budget', and structure your build around that."

Links:
Rare Spares:
Looking to restore, repair or rebuild a HQ?
Contact your nearest Rare Spares store for parts, advice and service.
Visit the website: www.rarespares.net.au
Unique Cars magazine Value Guides
Sell your car for free right here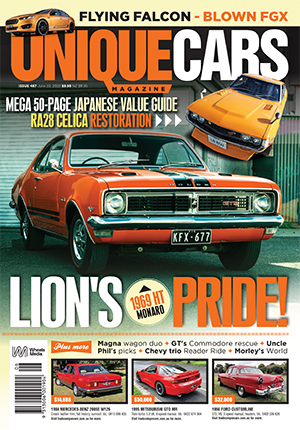 SUBSCRIBE TO UNIQUE CARS MAGAZINE
Get your monthly fix of news, reviews and stories on the greatest cars and minds in the automotive world.
Subscribe