Project 350/351 engine: Part 4 - 350 Chev: Machine shop
---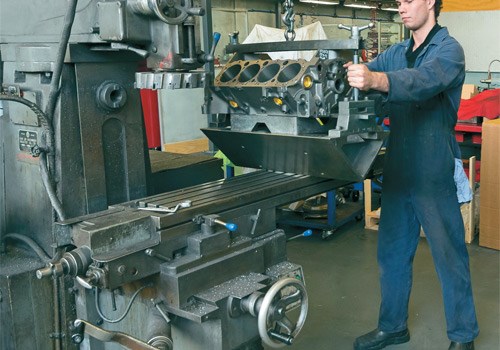 Chevrolet 350 small-block engine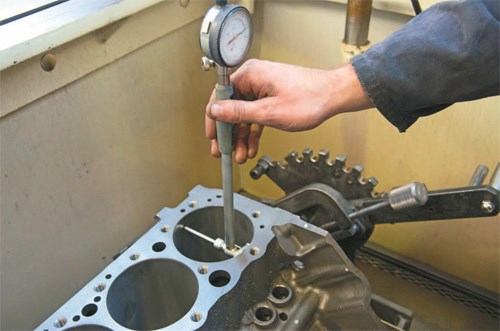 Chevrolet 350 small-block engine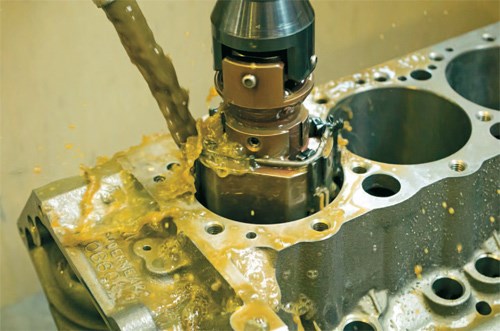 Chevrolet 350 small-block engine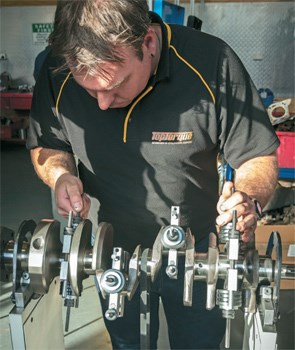 Chevrolet 350 small-block engine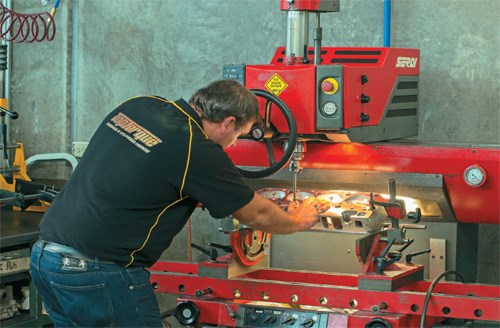 Chevrolet 350 small-block engine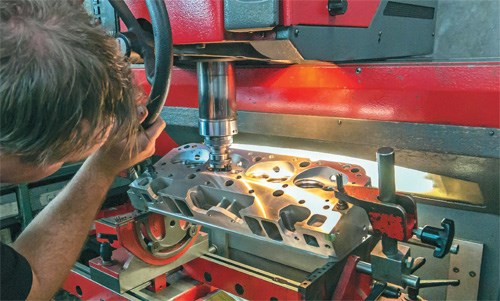 Chevrolet 350 small-block engine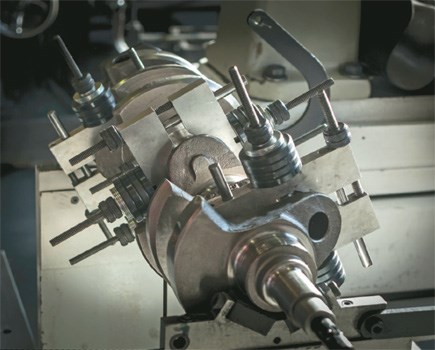 Chevrolet 350 small-block engine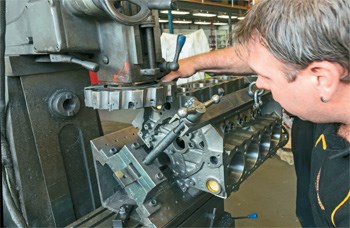 Chevrolet 350 small-block engine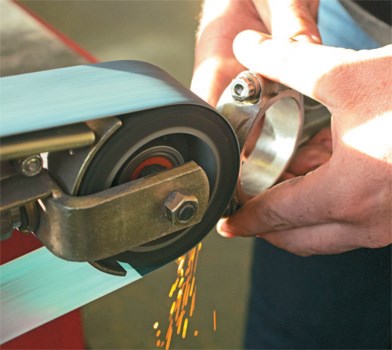 Chevrolet 350 small-block engine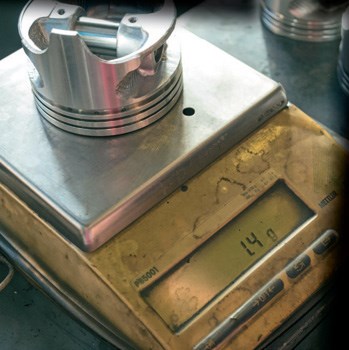 Chevrolet 350 small-block engine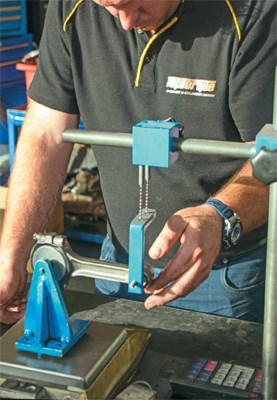 Chevrolet 350 small-block engine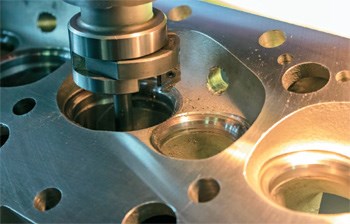 Chevrolet 350 small-block engine

Part 4: Some outfits simply slap engines together, the experts reckon there's a much better way
Win a Chev 350 small-block engine: Machine Shop
It's been two months since we launched this project, with the rash promise that we'd build a really nice, up-to-date small block Chev engine and put it up as a reader giveaway. So far we're pleased (and relieved) to report things are going along just swimmingly.
To recap, Precision International has come to the party with what's effectively a giant Meccano set that allegedly bolts into a real, live 350ci V8. Run by a bunch of dyed-in-the-wool petrolheads, the company sells an incredible range of gear to stuff under the bonnet of your transport of delight. For them, the 350 small-block is a top seller, and they're not alone in that assessment.
Sean Griffioen, the engine reconditioner at Top Torque in Melbourne who is building 'our' powerplant, is also a big fan. "It's ridiculous how many of these things are around. We build them for anything from Corollas through to HQs, we do a lot for boats... they are in absolutely everything. It's simply the most versatile engine around.
"They're good for around 600-plus horsepower, depending on capacity and what sort of recipe you have in there. And there's always new parts coming out to make them even livelier.
"The engine we're starting with is a new GM small-block – a four stud block, , the best available – a Scat 9000 crankshaft and Scat I-beam conrods. They're a bronze-fit conrod, designed for a full-floating piston. In this case we've chosen Hypatec pistons."
Added to that little mix is a set of Precision Motorsport alloy cylinder heads. These alone will be hugely influential in how the end product performs and feels. They represent a huge weight saving, dissipate heat far more evenly than cast iron units, run a very different port design to the originals and, just as a bonus, look fantastic – much too nice to hide in an engine bay!
The mix of components means we'll end up with an engine that's up-to-date and in healthy rather than radical tune. Project Manager Uncle Phil reckons we'll end up with somewhere around 350-400bhp – more than enough to make the car fun to drive while still being reasonably civilised.
What's been happening on the workshop floor? "So far we have bored and honed the block to the pistons we have got from Precision," explains Sean. "We've also surfaced the block and we've set up our deck height there.
"We have balanced the crankshaft, the conrod and piston assembly as well, so we're now at a stage where we're ready to assemble our bottom end.
The crew has also spent a lot of time on the heads, ensuring the valve seats are spot-on and that all the mating surfaces are perfect.
"The final washing and fitting of cam bearings has yet to be done, but the basic machining is ready to go," adds Sean. It's easy to assume that you could just grab all this stuff and bolt it  together, and that is physically possible. So why go to all this additional trouble?
"It's imperative to make sure everything works with its fellow component," continues Sean. "It's important the pistons have the correct clearance, that the conrods have clearance to the block, that their tunnels are the right size. It's important the reciprocating assemblies are the right weight in relation to the crankshaft and the crankshaft itself is properly balanced.
"That all adds to the engine's longevity and power. Once it's all built it makes for a much nicer package and a much more reliable engine."
So does this qualify as blueprinting? Blueprinting, says Sean, is taking the engine to its exact tolerances, so every clearance is exactly as the manufacturer intended it to be. All the bearing clearances are right, all the piston clearances are right, the ring end gaps are correct – the list goes on. It's one of those jobs where you need experience, a feel for what you're doing and what seems like an infinite amount of patience.
According to Sean this experience presents a huge component in the cost of employing an engine reconditioner. "It's the time taken for someone to go and check every bearing, journal and gap and
make sure it's all right."
Somewhat ironically, you can in fact end up with a powerplant that follows the blueprints more accurately than one straight out of the original factory. "Every engine built by a professional engine reconditioner is effectively blueprinted," he says. "We check those tolerances, make sure they're correct and make sure the thing's got good oil pressure and that it's not going to have a problem."
Okay, so we're being told all this work will result in a stronger and longer lasting engine. But by how much? Sean reckons that's impossible to quantify. "But, when the rod and piston mass is the same as the counterweight on the crankshaft you've got good weight balance, which means you get good, even bearing wear on all your journals. It avoids one bearing failing before another one and just gives it a nice even load across the whole crank."
It absolutely makes a difference to driveability, he adds. "It makes an engine a lot smoother, a lot crisper. I've had customers say many a time that they were glad they spent the money to get it balanced. It just makes the engine so much nicer to drive. It's better at idle and high revs, too.
"It's at high revs where balancing is particularly important, when it's really singing," Sean concludes.
So the moral to the rebuild story, from Sean's point of view, is to get it done properly the first time around. He reckons scrimping on this stage is a false economy, because the extra spent is more than repaid when you drive it.
What's next on the agenda? Sean reckons we need to put aside a Saturday to assemble all these nicely machined and fitted components. It's a comparatively straightforward job, but he feels it's also one that's best not rushed – patience is the keyword. It's a final opportunity to check everything fits the way it should and to make any last-minute corrections.
Then, it's off to the Gasolene Muscle Car Expo in mid-July to show off this 350, along with the 351 Cleveland we're also building. Maybe we'll see you there?
Unique Cars magazine Value Guides
Sell your car for free right here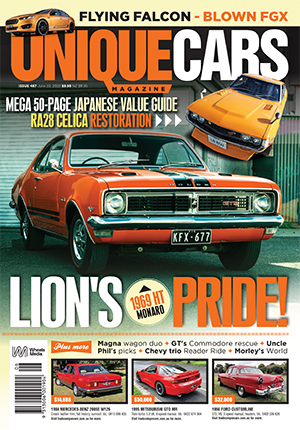 SUBSCRIBE TO UNIQUE CARS MAGAZINE
Get your monthly fix of news, reviews and stories on the greatest cars and minds in the automotive world.
Subscribe