Project 350/351 engine: Part 3 - 351 Cleveland: Fettling
---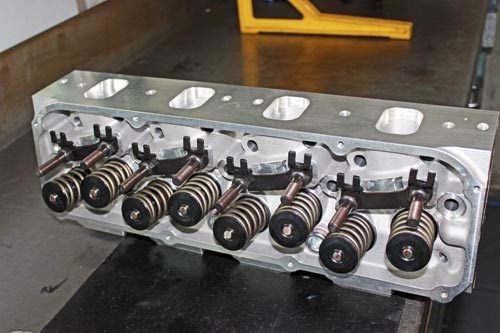 351 Cleveland engine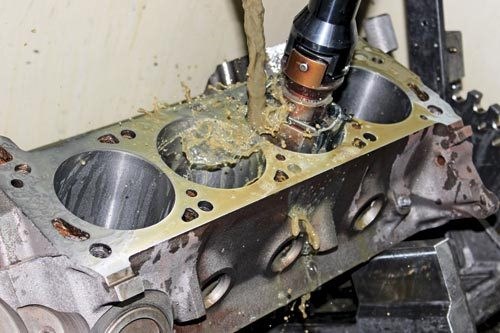 351 Cleveland engine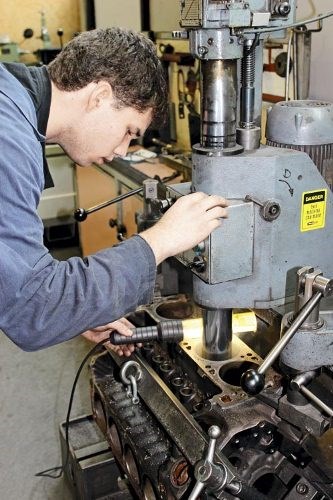 351 Cleveland engine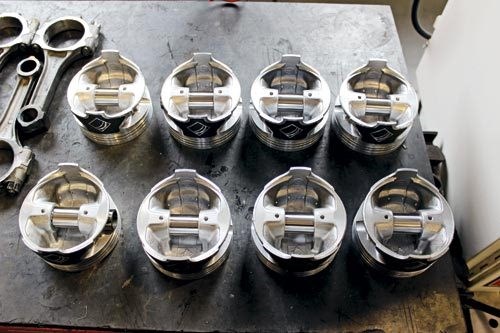 351 Cleveland engine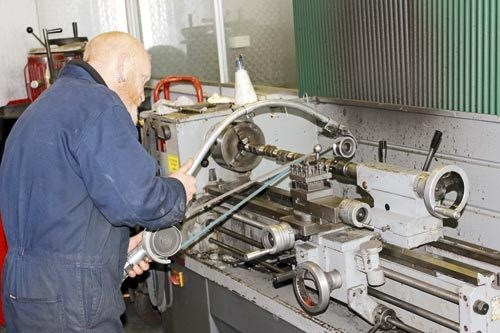 351 Cleveland engine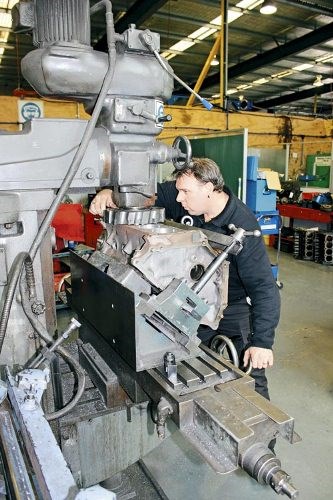 351 Cleveland engine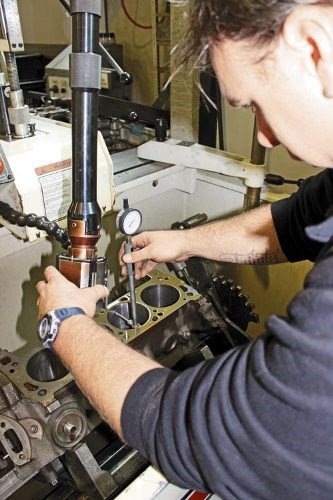 351 Cleveland engine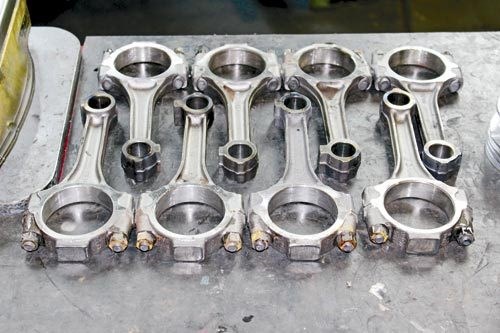 351 Cleveland engine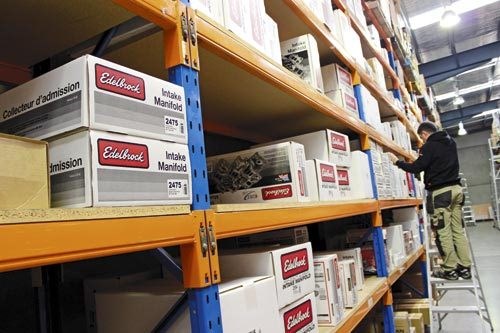 351 Cleveland engine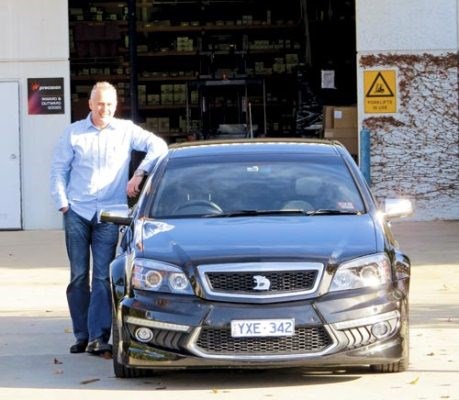 351 Cleveland engine

Part 3: Our give-away 351 Cleveland engine as entered the machine shop and is just about ready to assemble
Win an engine: 351 Cleveland
FORD FETTLING
It's been a busy time at the palatial Unique Cars magazine offices, as we've been tracking the build of our two give-away engines, the 351 Cleveland and 350 Chev.
Though they have a bit in common, the big difference is that the Ford is being done using a mix of old and new bits, while the Chev is brand new from the sump up.
"The 351 is a completely different format to the 350 Chev," explains Sean Griffioen, the engine reconditioner at Top Torque in Melbourne who has been shepherding our Precision 350 and 351 powerplants through the build process. "We're starting with a second-hand block, rods and pistons. So we're reconditioning this motor, as we would any other Clevo that's given to us, say in a classic XY or GT.
"We've been provided with a big greasy block that's done plenty of good honest hard work out there. To start we pull the block right down, take the cam bearings out of it, hot tank it, and remachine it to accept new parts. We bore and hone it, resurface it, grind the crankshaft, and fit new cam bearings.
"The idea is to get it up to where we were with the Chevy, where we were presented with a new block.
"There's no disadvantage with having a 'seasoned' (used) block and even rods. We thoroughly go through the block to make sure that it's going to be a useable item – so we check for cracks and look for any defects or other issues. When we're boring it, if there's any problems with the bore, that's when it shows up. Usually if there's a crack in the bore you can see it straight away when you run the tool over it.
"Provided it's been a running motor when it comes apart, we check things such as cam tunnels to make sure they're going to be serviceable again. It's checked to make sure it's serviceable in years to come, so it's effectively [as] good as a new block.
"First thing we do after it's hot tanked is we bore and hone it. So we set up the tooling to our pistons. We machine the bores out about three thou' beneath the piston size, to allow for our finish honing."
In the final wash-up, we've ditched the old pistons in favour of a new set of Hypatec items. They're a heat-treated, high-silicone content design which Precision reckons are perfect for a street engine producing up to 500bhp. Lunati supplied the camshaft, while the Edelbrock heads are all-alloy, which give improved breathing and excellent heat dissipation.
Back to the machining: "Once our eight cylinders are bored," says Sean, "We surface it so we have good flat surfaces to work with, for our head gaskets and cylinder heads. After it's surfaced it's into the hone. We set up our bore gauge and our diamonds to suit. Being a diamond hone, it's extremely accurate and reproduces exactly the same bore time and time again, which is extremely important when you've got a Clevo.
"So when the block's been bored and honed and surfaced, we final wash the block, we do all our pre-assembly checks and fit new cam bearings to it. The crankshaft, conrods and pistons are then balanced before we are ready to commence the assembly.
"We have new cylinder heads, which is great – otherwise we'd be reconditioning those, too. That means putting [valve] inserts and seats in, cutting the inserts to suit the valves, setting up the seat heights, checking the springs, and then assembling the heads ready to go on to the motor.
"In any case we check the combustion volume of the cylinder heads, and the swept volume of the cylinder and we calculate our compression ratio. We can either raise or lower it, given factors such as camshafts, supercharging or turbocharging, whether it's using LPG or nitrous – whatever the application is, we can modify it to suit.
"This is a fairly straight-forward engine, so we're looking at about 9.6 or 9.7:1. That's a happy medium between 9.5 and 10:1 – 10 can get a little unfriendly on a hot day, especially with some of the poor quality fuels getting around. At 9.7 you end up with a good lively engine without detonation problems."
By lively, Sean means around 350-400bhp. That's enough to make a Falcon jump and still deliver long-term reliability. So, what car would you want to see it in?
PETROLHEAD HEAVEN
A recent chat with the good folk at Precision International (which is supplying all the bits for these engine builds - visit website here) leaves you a bit bewildered once someone starts rattling off the list of brands they stock. We asked National Business Development Manager David Halstead to do just that, and it seemed to take several minutes.
"It's a fairly comprehensive list," he says, "We probably have the largest range of engine parts under one roof, in the world.
"It's a big statement, but when you look at the range, aside from performance, it's a lot of stuff." He is of course talking about the extensive list of gear they keep for professional engine rebuilders, home tinkerers and modifiers.
For a long time the business was primarily a trade supplier. "That's the reason why we're probably not so well known out there – we've always kept ourselves under the radar as a wholesaler. The core market was selling aftermarket replacement parts direct to an engine reconditioner."
However, the company has recently moved into the retail market, selling direct from its website at PrecisionIntl.com. He explains that with the strength of the local dollar and a trend for younger owners getting into the performance market, it was time to cater to that demand. "They're fairly tech-savvy and using the internet a lot. We had to catch up with it all and go retail through that forum."
Halstead currently drives an HSV Grange, but he confesses that with time and money to spare he would plump for a Henry product as his own restoration project. "I'm a bit of a Ford man," he confesses, "I like the ZD Fairlanes – always liked them as a kid.
"I'd probably stroke a little Windsor and have a nice little ride there for the kids. Something to take away to a few places. I'll do it one day…"
Unique Cars magazine Value Guides
Sell your car for free right here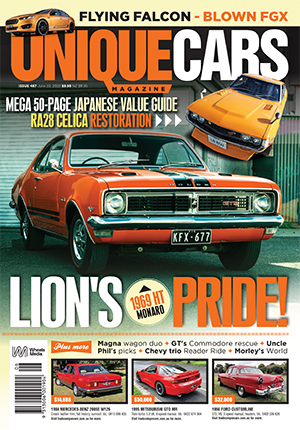 SUBSCRIBE TO UNIQUE CARS MAGAZINE
Get your monthly fix of news, reviews and stories on the greatest cars and minds in the automotive world.
Subscribe