Holden HG Project gets some V8 muscle
---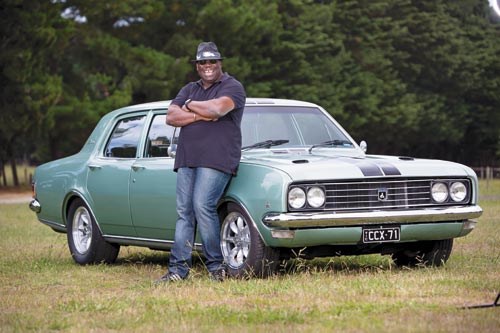 1971 Holden HG Project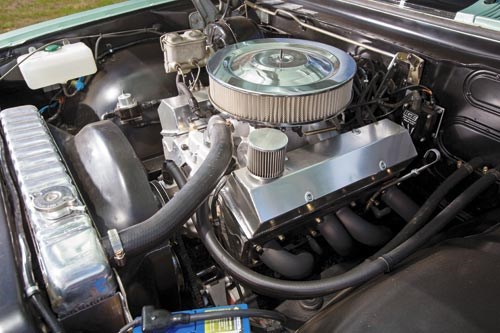 1971 Holden HG Project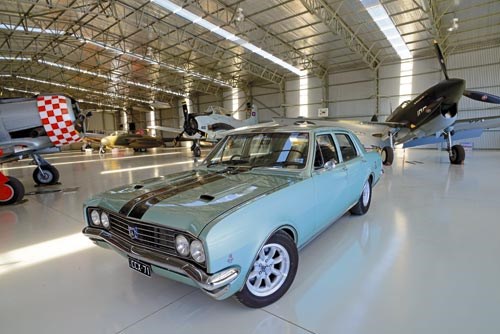 1971 Holden HG Project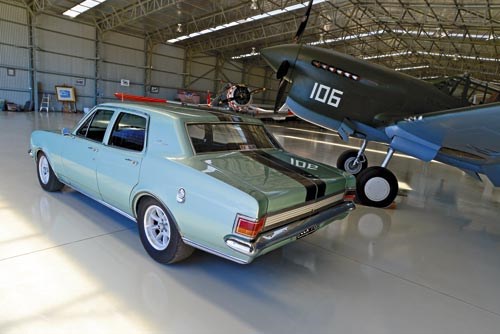 1971 Holden HG Project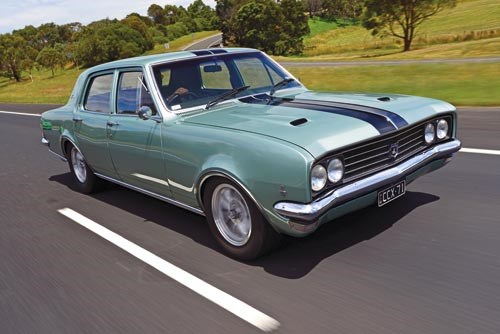 1971 Holden HG Project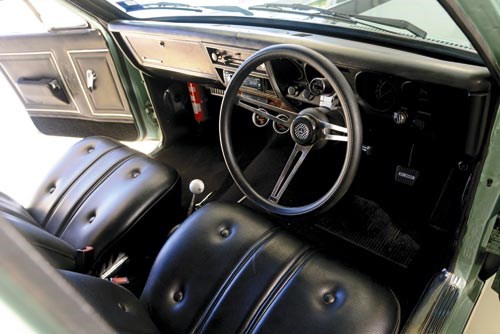 1971 Holden HG Project

This is what happens when you let a drag racing nut (and one of the world's top DJs!) loose on your project car
Project Holden HG
Regular readers may remember that Unique Cars embarked on the total refurbishment of a very down-in-the-mouth 1971 Holden HG Premier back in 2008.
Discovered gradually returning to Mother Earth, shoulders hunched, down a suburban sideway, the car was rescued and set on a path that took it to such heights as participating in the Targa Tasmania Tour in 2009, with myself and Uncle Phil sharing the steering.
The restoration series consisted of several instalments that were published both in Unique Cars and on our website. Areas covered included refurbishment of the body and paintwork, suspension, engine, interior, brakes and myriad other bits and pieces. Our aim was to show that you could build an Aussie classic without breaking the bank.
The upshot was a 186-cube six (bored to 192), fitted with triple Webers, hooked to a four-speed M21 gearbox, a set of very schmick front disc brakes, super paint job, Performance mags, GTS bonnet and a host of other niceties. It was a hit with readers wherever we took it. Oh, and I owned the car - from basket-case to brilliant. In fact, had it not been for the offer from one Carl Cox, I probably still would. Here the plot thickens.
Cox, who, when not touring the world doing his DJ thing, resides in Frankston - just down the road from my good self - fell in love with the car to the extent that in 2010, after a chance meeting, he bought it.
"The funny thing was that I came past your house to have a look at your bikes [a mutual friend had introduced us, based around our shared interest in things automotive]. The car was in your carport and it absolutely stopped me in my tracks. I found it stunning," Cox smiles.
"I knew this one was a little bit special, and I had a look under the bonnet and saw the triple Webers and that immediately grabbed my attention. I then looked into the series of stories in Unique Cars and I could tell it was a job well done. I just had to have that car." In fact, the deal was done on the day the big fella first laid his besotted eyes on my turquoise Prem'.
Being as successful as he is, Cox has the wherewithal to own quite a few cars, including a brace of Lotus Cortinas housed in the UK, a Plymouth Road Runner, 1965 Mustang Fastback and a Pontiac GTO. His motorcycle collection is even more impressive but he gets a glint in his eye as he speaks of the HG. He simply loves the car.
"I still think it is one of the prettiest and most iconic cars on the planet. Okay, it's not a Monaro, which we all know is very desirable, but for me, it looks amazing. I loved what you created," says the likeable Cox, his enthusiasm self evident.
Now, it has to be said that I had no idea who Carl Cox was when he came to my house that fateful day, other than he was a mate of a mate of mine. So, while the younger set will probably recognise the name instantly, you, like me, may not know just who this bloke is. Famous doesn't quite cut it. Google 'Carl Cox DJ' and you will get an astonishing 12,400,000 results.
Respected music magazine Mixmag announced him as "the best DJ of the past 25 years" according to the results of a poll surveying its readers to establish their favourite disc-spinner, tune, club and live act. And we are talking worldwide. You see, Cox's 'Global' radio show reaches over 12 million listeners and is syndicated across stations throughout 35 countries.
So, this guy is huge in the music scene, that's established. But it's his life-long love of cars that interests us, along with the route that brought him to set about putting his own stamp on the Prem'. And believe us, he has certainly made his mark. The car puts out 462kW/772Nm these days - a slight step up from the 167kW of which I was immensely proud!
While the essence of the car appealed to Cox, he was determined not to forego the car's heritage and old-school 'feel'.
"It was very important to keep the car as you sold it to me visually," says Cox.
"I had no plan for the car at first, other than the fact that, if I was going to live here, I was going to own at least one iconic Aussie car." But the injection of serious horsepower soon formed the cornerstone of the Premier's transformation under Cox's ownership.
The story goes that, after being blown away by a kid in a VS Commodore while out cruising, Cox's eyes narrowed. He needed more power.
Reflecting Cox's lifelong hunger for that horsepower is the fact that he was a keen drag racer in his younger years in the UK. "I have a history of drag racing at Santa Pod in the UK, so I wanted to make the HG into a street car that could hold its head high on the dragstrip.
"There are a few tell-tale signs that give away that it has a new powerplant, and the wheels and tyres are obviously bigger, but nothing bodywork-wise has changed. It was important to me that the DNA of this car was maintained," he proudly says.
Once on tour, Cox handed the HG project across to great friend and the man that looks after his fleet in Australia, Rod Taylor. A high-powered street and strip version of the HG was the brief. Yep, a worked small-block was the order of the day, as the trusty red 192 was just not lighting the big bloke's wick. Well, not lighting up the rears anyway…
The engine build was given to Frank Marchese from Dandy Engines in Dandenong (Vic), the project overseen by Taylor, who then fitted the engine and running gear, taking the car to the completed beastie you see here.
"When Rod came to me in regard to Carl's engine, he wanted a reliable 600 horsepower - an engine that could be driven on hot days or cold days, anywhere. He wanted a road car that could deal with the strip from time to time," says Marchese.
With the brief locked down, in went a Dart block with a 4.0-inch stroke and a 4.65-inch bore, which adds up to a nice even 440 cubic inches. Chrysler numbers, but that's the only Mopar connection.
The car has Diamond pistons, heads are 227cc AFR units, a custom competition-grind cam and Scat 4340 forged steel crankshaft and a 950cfm Holley Ultra supplies the benzine. Ignition is a locally-manufactured ICE unit. "We like to use local stuff where we can," says Marchese.
Taylor used Dave Hall from Hally's Headers who fabricated the wonderfully complex exhaust system, tailshaft loop and many other "bits and pieces that needed doing. His work is second to none," according to Taylor.
Performance Wheels in South Australia made up the rear wheels, complete with the correct offset in order to fit under the rear arches, without any cutting. The rear is shod with Mickey Thomspon ET Street 255/70/15 tyres, and this meant the diff had to be shortened and the inner guards massaged with a rubber mallet. It's all very neatly done, suggesting a great deal of patience was the order of the day.
"Coxy insisted that that style of wheels on the car be what were on it when he bought it," says Taylor. "That was non-negotiable."
The rear shocks are 50/50-valved in regard to compression and rebound damping, and the front is 90/10-valved (this transfers weight well to keep the rear loaded up) with six-cylinder springs. The stall convertor is at 5500rpm, and a Protrans-built, two-speed Powerglide transfers the horses to a 4.11:1-geared Ford nine-inch.
Power, as mentioned, is 462kW at 7200rpm and 772Nm at 5600rpm. Wasting little time, Cox gave the car a run at Heathcote Dragway in December. While he ran a mid-12-second pass, by his own admission he was "pretty rusty" and Marchese suggests the car should run a high-10-second pass.
That's all pretty impressive for a road-going car that can happily be driven to events and cruises, which is part of the Cox plan. In fact, he can regularly be seen at car shows and racetracks around Australia.
So, the big question: Is the world's top DJ happy with his good old Aussie product? Cox is clearly rapt in the result."The way it goes now, it certainly gets my blood rushing. It's very, very exciting to drive. Phenomenal. I love this car, it's as simple as that," he says, flashing that trademark killer Coxy smile.
We'd like to extend a special thanks to Judy Pay and the Old Aeroplane Company for allowing us to use their facilities at Tyabb Airfield for this photoshoot. The Old Aeroplane Company is located at 73 Mornington-Tyabb Road in Victoria and can be contacted on (03) 5977 4539.
SPECIFICATIONS
1971 Holden HG Premier
ENGINE 7210cc V8, OHV, 16v, 950cfm Holley carburettor
POWER 462kW @ 7200rpm
TORQUE 772Nm @ 5600rpm
GEARBOX 2-speed automatic
SUSPENSIONwishbones, coil springs, telescopic shock absorbers, anti-roll bar (f); live axle, leaf springs, telescopic shock absorbers (r)
BRAKES Four-piston C4 Corvette calipers, AU Falcon ventilated discs (f), HG drums (r)
Unique Cars magazine Value Guides
Sell your car for free right here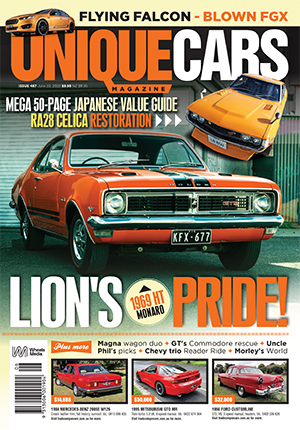 SUBSCRIBE TO UNIQUE CARS MAGAZINE
Get your monthly fix of news, reviews and stories on the greatest cars and minds in the automotive world.
Subscribe