1972 LJ Torana XU-1: Project Purple part 5
---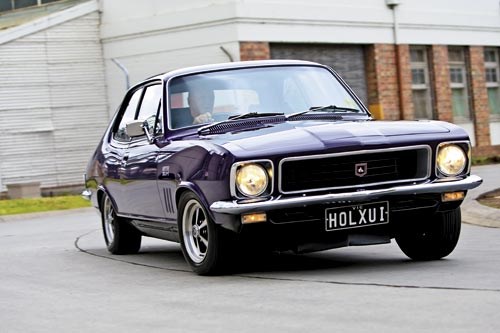 1972 LJ Torana XU-1: Project Purple part 5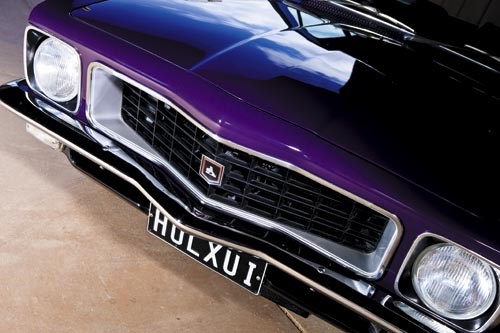 1972 LJ Torana XU-1: Project Purple part 5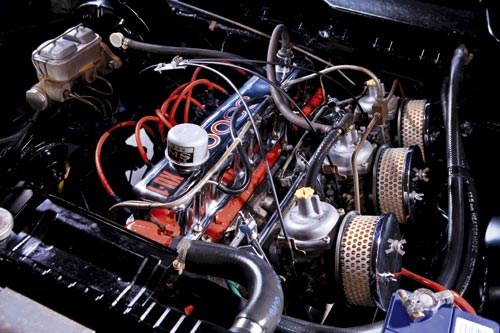 1972 LJ Torana XU-1: Project Purple part 5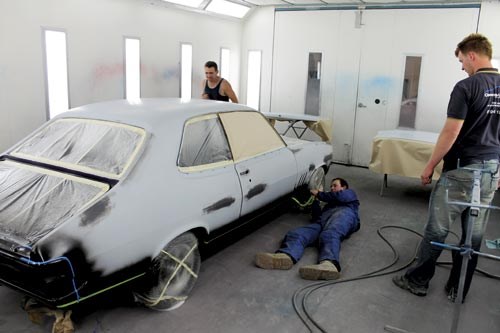 1972 LJ Torana XU-1: Project Purple part 5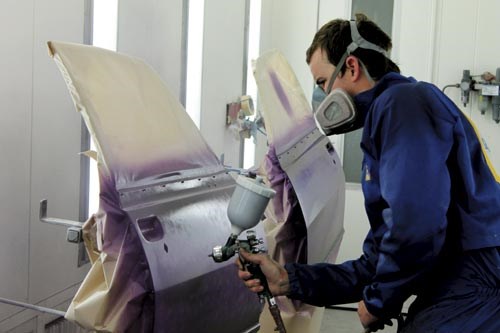 1972 LJ Torana XU-1: Project Purple part 5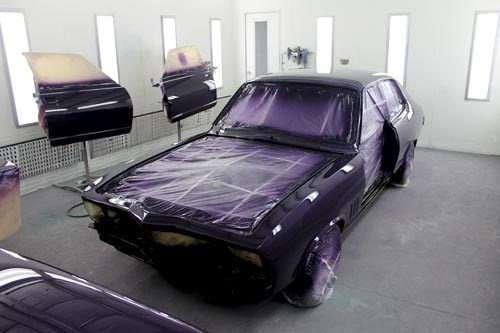 1972 LJ Torana XU-1: Project Purple part 5

Our XU-1 Torana project: It's painted!
1972 LJ Torana XU-1
You want it when?!" It's a good thing that Chris and Demi at Corporate Auto Body – the folk tackling Project Purple ­– are young, otherwise we just might have ended up visiting them in the nearest coronary unit. Uncle Phil had just announced that we had to shuffle the deadline for the XU-1 forward by 10 days, and the normally unruffled couple were looking, well, a bit ruffled.
Can't say you could blame them. Up to now, things were running more or less to schedule. But that meant the car had no paint, chrome, doors or anything that could be described as a fully-functioning component. It was stripped, awaiting a final rub down and its new clothes.
By this stage the crew had been over the body so many times, they'd probably started rubbing it down in their sleep – more than a little disturbing for their partners, we suspect. With fine-grain sandpaper starting to look like an endangered species, the car had been pushed, carved and coaxed into a shape that even Uncle Phil (the World's Fussiest Man) was satisfied with.
Colour Lines
The next little potential wrinkle was ensuring that we got the lines of the paint right. With no consideration for the poor buggers who'd be coming along 40 years later to restore this monster, Holden had bestowed a two-part colour scheme on the XU-1, with black accents around places such as the rear lights and the lower sills.
Uncle Phil and gun spray bloke Rick went over the car, working out what was required. With photos of other XU-1s in hand, they painstakingly traced out the colour lines – sometimes having a few goes before they were satisfied.
Then it's out with the spray gun and on with the black paint. After all this prep, it goes on in what seems like seconds. As a spectator, you can't help but feel a little ripped off. Is that all? Once the black has had a little time to settle and reach a touch-dry stage, the crew is at it again with the detailing tape, marking out final shot lines for the break between black and purple trim.
Now for the tip of the month: you need to do all this marking up with the doors in place. As Chris points out: "Measuring doesn't work. You can come back later, reassemble it, and discover the door pins on one side are a little out, ruining the whole job."
So why not just leave the doors on? He likes to have the fresh paint run around and into the frames, as it would have from the factory. It's a lot more work, but the results are better.
Satisfied they were on the path, the boys hauled the doors off again and hit the paint mix room. This time we're going for the purple, in this case a colour Glasurit basically had to re-invent for this project. With much bigger areas to cover, you can see Rick taking his time, gradually laying down the coats in gentle and even movements. Both colours are what's called a 55-line solvent base. In the world of Glasurit, that's covered with two coats of 255 high-solid clear, which is then given 60 minutes to bake. Then it needs another four days to harden, before anyone is allowed near it with a sander. And you can forget any thoughts of a screwdriver and a piece of trim!
Given the amount of sanding, rubbing and blocking back this lot does, it's a little surprising they don't have forearms like Popeye. With the paint hardened, they get stuck in, wet-blocking using air tools fitted with a malleable backing pad, while the paper is switched in from 1500 to 2000 and 3000 grain. Part of the mission is to remove any 'orange peel' in the finish, as the car has to look good under lights at the upcoming Summernats.
No Running Kicks
Now, finally, Lou – the in-house panel beater – gets his scone-grabbers on the car. First job is to get the door seals in. They're a new kit from Rare Spares and this is the second time they've been fitted. The first was before the car was fully stripped, so the doors could be adjusted and lined up.
"Forty-year-old seals are more compressed," explains Chris. "The last thing you want is to paint the car, put it together and find you can't shut the doors or have to take a running kick at them to do so.
"We set them up nice and early and, when the new ones go in, use a seal softener so they bed in to the shape of the frame."
With that job out of the way, it's a matter of back-tracking through his boxes of bagged parts (see sidebar) and putting it together. The bumpers are among the last parts to go on and even then the boys protect vulnerable paint areas with tape, just in case.
So, having been pulled apart, will it run again? The triple Webers don't like being left to sit, but after a little coaxing the monster roars into life.
By this stage it's been machine- and hand-polished, but it's still off to the detailers for a final going over. When it comes back, it's looking the proverbial million dollars. So, is everyone happy?
The tough thing is, we had started out with a good looking car and it wasn't until we started to go over it very carefully that some of the flaws described started to emerge.
After weeks of work and one or two sleepless nights, Chris, ever the perfectionist, grizzles about one of two tiny flaws that only he (and maybe Uncle Phil) can see. "You're never completely happy," he confesses. "But it looks 100 percent better than when Holden made it."
We'll leave the final word to Uncle Phil, who's been gadding about town in Project Purple, making some final adjustments. "It was good when we started, but now it's sensational," he gushes. "It's better than factory, without being over-done. Anyone would be proud to own it."
He's right. The car has a sharper profile and seems to want to burst out of its paint. It's going to end up making whoever wins it (could it be you?) very, very happy.
BAG IT OR LOSE IT
The crew at Corporate Auto Body reckon that it's all too easy to get carried away with a project car and, moments after you get it home, start stripping it in an over-enthusiastic frenzy.
Chris knows the syndrome all too well. "You buy a car you want to do up, you rip in and pull it apart and go crazy. No, no, no – don't do it!" he advises.
He instead recommends the 'Lou System' – named after CAB's in-house panel bloke. The trick is to grab a hole heap of re-sealable bags (Glad or similar), some masking tape and a marker pen and then take parts off methodically and clearly label what they are.
Chris says it might take an extra day to get it done this way, but will save you a week or more when it comes to re-assembly.
"Otherwise I guarantee you'll find yourself down at the local wreckers looking for that impossible-to-find final piece." –
RARE SPARES TOP TIPS
Organisation is everything with a restoration so forget the mad strip the moment you get it home. Get a system in place to mark and catalogue the parts as you go.
Keep a running tally of the bits you need and order – this will be useful when it comes to re-assembly (e.g. "Did I order that?).
Order your parts early. Old cars have a talent for throwing obstacles in your way and parts availability is one of the most common.
With paint and bodywork, preparation is everything. This is where you need to throw 90 percent of your energy and resources, as it will dictate the quality of the end result.
Having a deadline can be a smart way of keeping up the motivation, but don't be surprised if you run a little over time.
Unique Cars magazine Value Guides
Sell your car for free right here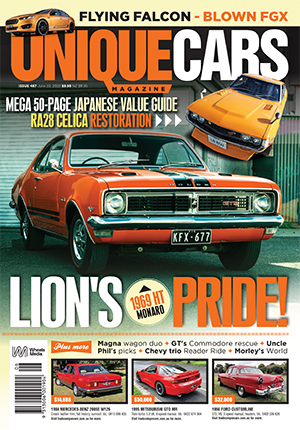 SUBSCRIBE TO UNIQUE CARS MAGAZINE
Get your monthly fix of news, reviews and stories on the greatest cars and minds in the automotive world.
Subscribe