Vic Drops 30-year Club Permit Proposal
---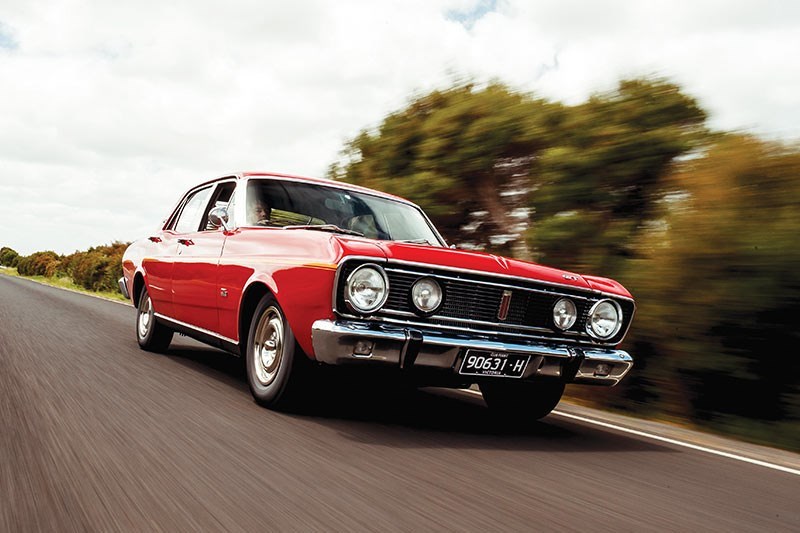 Cut-off dates for Club Permits in Vic will remain unchanged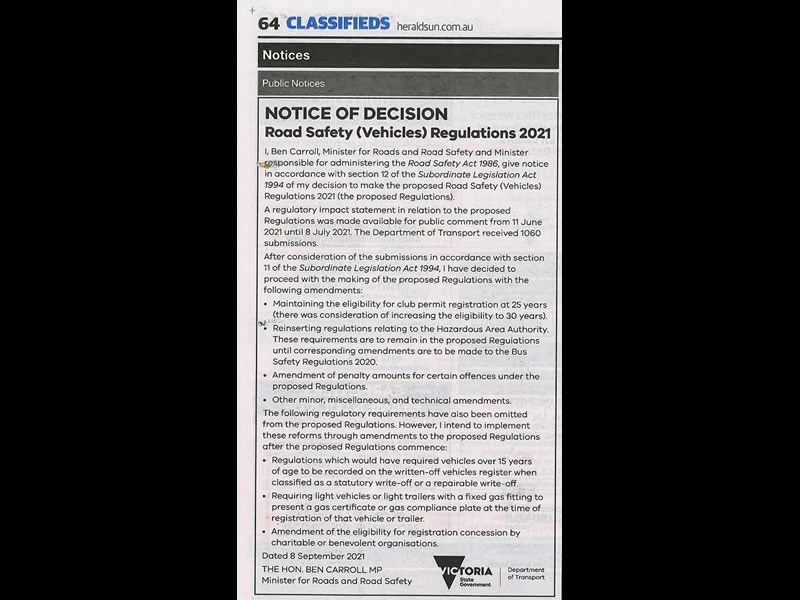 The public notice of the decision
Announcement surprises clubs
The controversial proposal to raise the cut-off date for club permits in Victoria from 25 years to 30 has been dropped.
Today's announcement came as a surprise to clubs involved in consultation with Vic Roads and the Department of Transport, and was made via a public notice.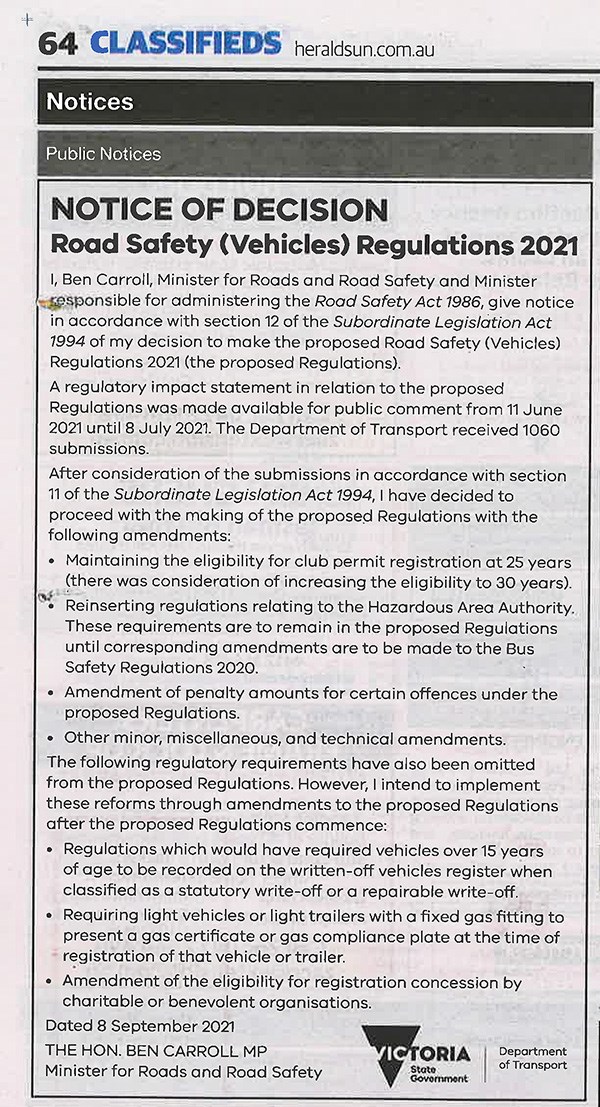 Here is a copy, from the Herald-Sun newspaper.
Proposals for new regulations were released earlier this year, and key among them was the idea of changing the 25-year cut-off for club permits to 30. Vic Roads argued this would bring Victoria in line with other states.
Cars already with the system, and under 30 years, would have kept their status. 
The idea met with a mixed response, with some clubs in favour and others vehemently against.
Ian Ross, President of the Association of Motor Clubs in Vic, expressed surprise when told of the announcement that 25 years would remain.
"That's news to me. We thought 30 years was deinitely coming in."
He pointed out the association had been in touch with Vic Roads regarding this as recently as two weeks ago.
"Most of our clubs were in favour of 30 years. They generally deal with older cars, and it was seen as a way of reducing the abuse of the system."
One of the concerns with the 25-year limit was it potentially tempts people to use younger cars as daily drivers – though to do so for more than the allotted days risks a heavy fine. Permits allow a maximum of 90 days of use in a year.
Lawrence Glynn, Secretary of the BMW Drivers Club of Melbourne, said, 
"Our position was we didn't feel they [VicRoads et al] didn't really make a supporting case for the change to 30 years.
"There is a temptation to cheat with logbooks with younger cars.
"If they were to bring it in, we wanted them to do it in a staggered fashion.
"There was far more concern over including vehicles 15 years and older in the written-off register.
"We support the notion of the register – to avoid ring-ins and bad repairs – but it was the conditions of implementation that need further consultation."
The club's concern is that a declared write-off may have to be repaired strictly according to criteria set by a manufacturer, which may not be realistic or viable. This will be an issue for older cars.
A draft of the new regulations, which covered several areas, can still be found here.
There were numerous other proposals in addition to the 30-year cut-off and changes to write-off rules. Among them were a switch to electronic log books, new penalties for rule-breaking, and registration changes for light trailers.
Update, September 14: more detail has been released – see it here.
See our June 2021 story on the proposals.
Sell your car for free right here
Unique Cars auction results listing
Unique Cars magazine Value Guides
Get our newsletter, packed with all the latest toys and tips
Subscribe to the print mag and save, here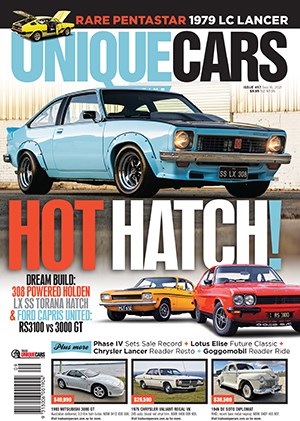 Subscribe to Unique Cars Magazine and save up to 42%
Australia's classic and muscle car bible. With stunning features, advice, market intelligence and hundreds of cars for sale.
Subscribe