1973 Holden Torana LJ XU-1 - Toybox
---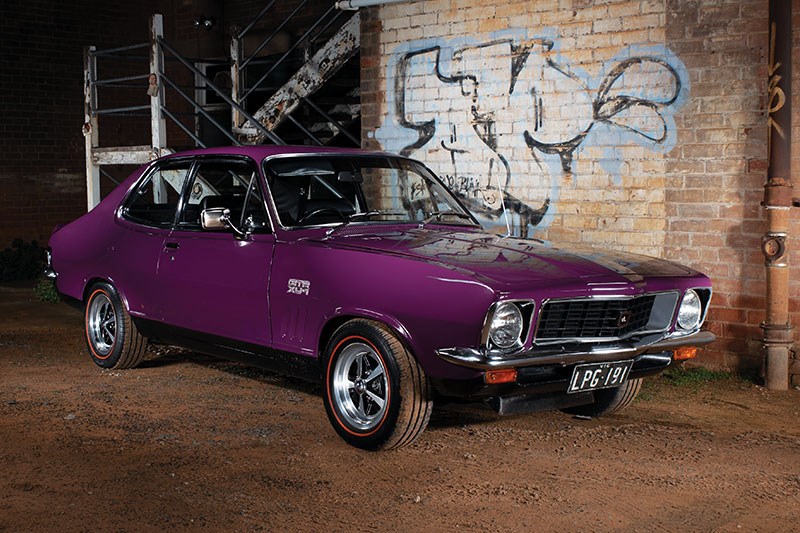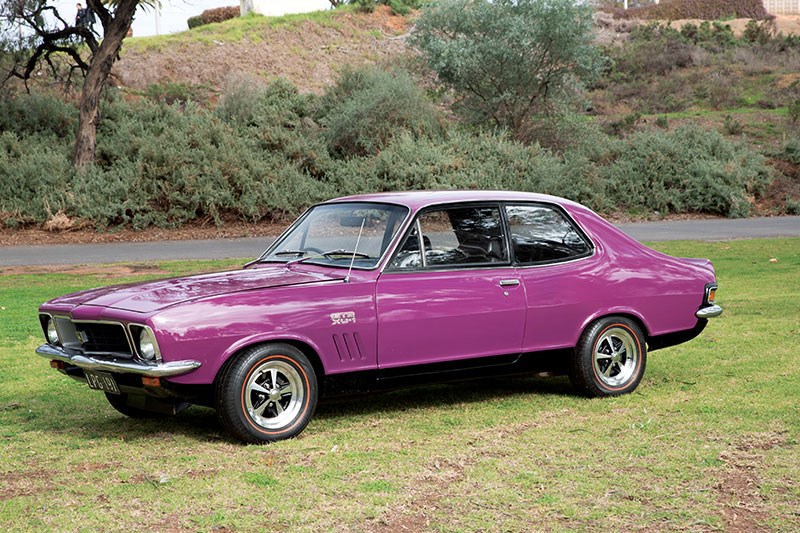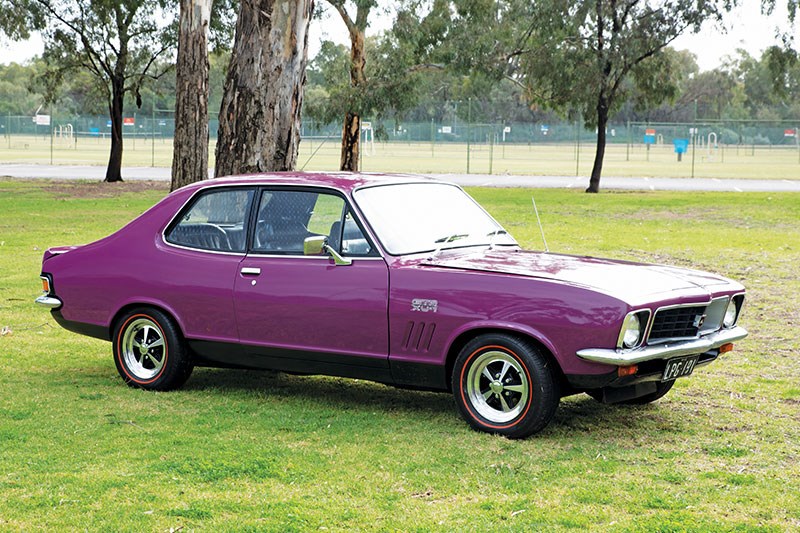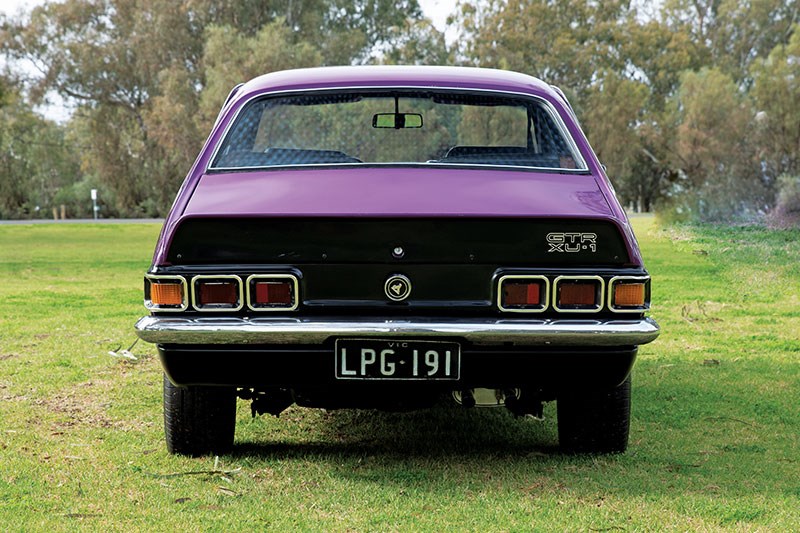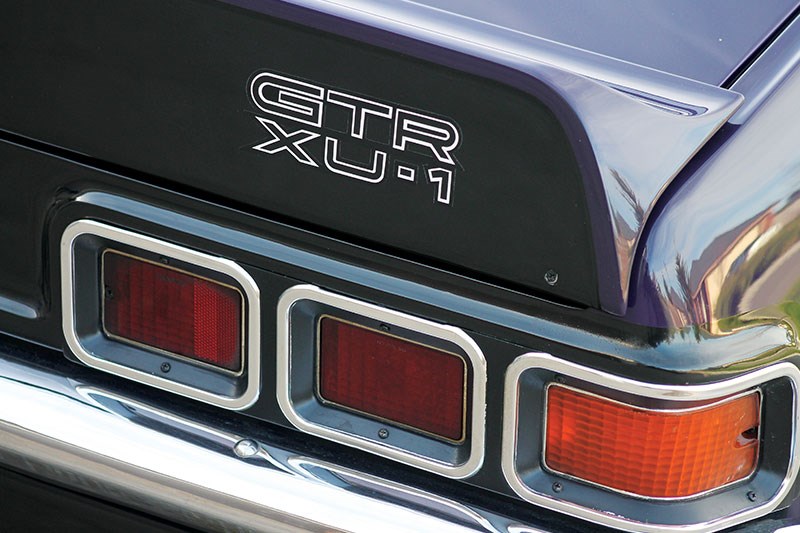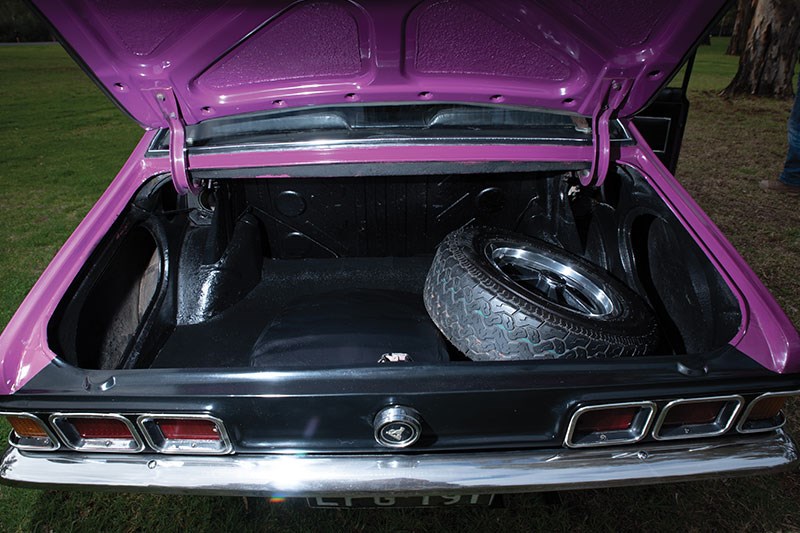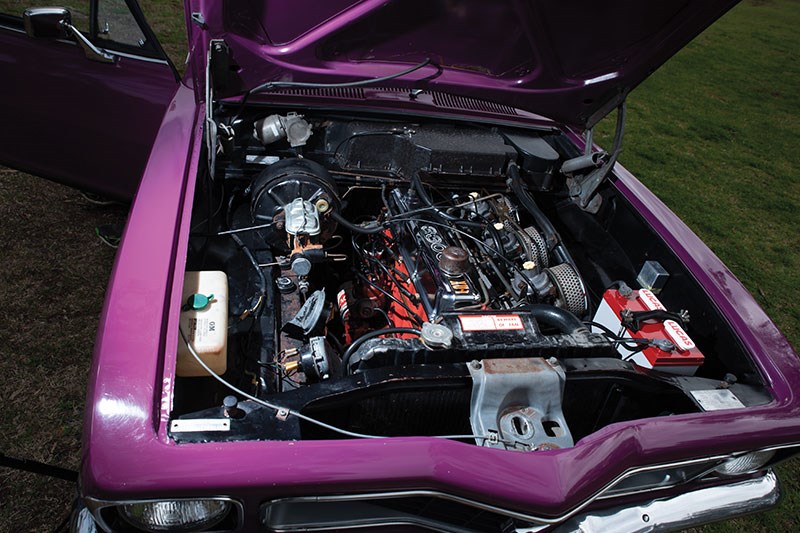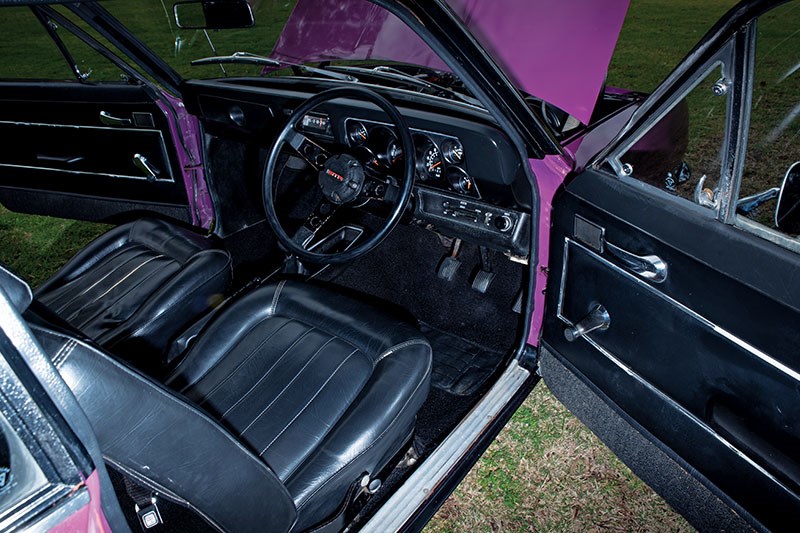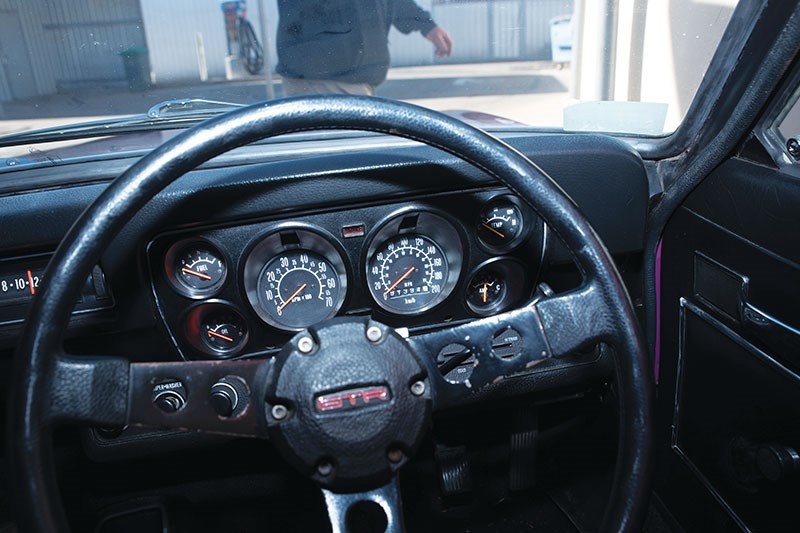 This 'Bathurst' Torana GTR XU-1 once had a factory auto that was tested by Holden engineers at Lang Lang
Warren Colley is a Holden man through and through and counts an EK model and WM Statesman in his shed. But as long as he can remember his real passion has been the Torana GTR XU-1.
And he has been the custodian of this award winning, unique Torana that has a very interesting history as he told me recently.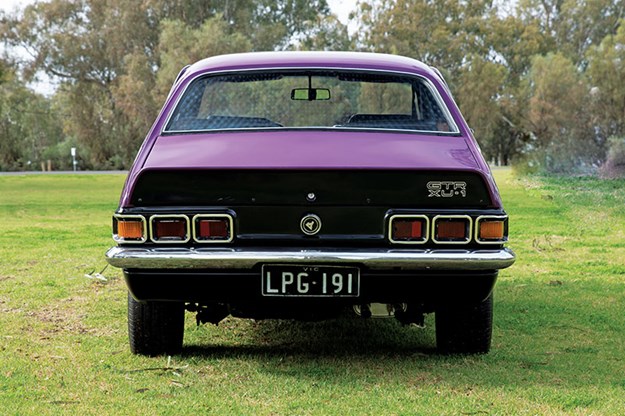 It looks as good as new
"As a young bloke I always wanted a Torana GTR XU-1 and when I started my cabinet making apprenticeship, I put away every cent I could and advertised in the Herald Sun, The Age and The Melbourne Trading Post, 'Wanting to Buy Torana GTR XU-1 Will Pay Top Dollar'. I was swamped but none of the cars were any good. At the same time I had mates saying why don't you buy a VH SL/E Commodore or a VN SS but all I wanted was an XU-1.
| Buyer's Guide: Holden Torana LC-LJ
"Then I read a story written by Joe Kenwright about his own 1973 Bathurst XU-1 and after reading that story I said to myself, 'That's me and that's the car I want.'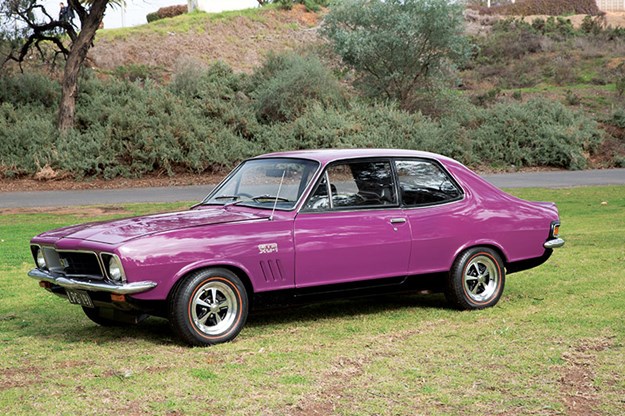 The colour is Purr Pull
"I reckon I looked at every single XU-1 that came onto the market for about eight or nine months, then one day I was at a mates house reading a very old issue of Unique Cars and saw an ad for a 1973 Bathurst XU-1. So I rang the number and spoke to Scott Houlihan who was the owner at the time and asked him who he sold it to. He told me to call back in a week, which I did and he gave me Rob Colson's number.
"So I rang Rob and told him I'd like to buy the car and he said it wasn't for sale. But as it turns out he was trying to buy an ex-Series Production Monaro race car so we ended up getting together and doing a deal.
| 2020 Market Review: Holden Torana LC-LJ/LH-LX/SS/L34/A9X
"It was a lot more money than what I had planned on spending and a lot more than what I had been pre-approved for a loan from the bank, so I had to go back and ask for even more money and luckily they came through.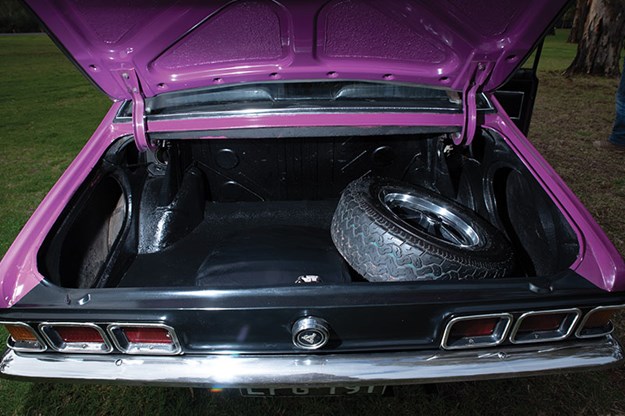 Big tank and spare rob boot space
"My Purr Pull 1973 LJ GTR XU-1 Torana is one of the 150 built with the high performance 235 horsepower JP engine and not the 190 horses found in the standard XU-1. GMH Engineering department ordered this car on May 15, 1973, and it was delivered with the Victorian rego plates LPG 191 on September 21 the same year."
Holden engineers dispatched the car to the Lang Lang Proving Ground southeast of Melbourne and at some stage it was fitted with an automatic transmission, in what has been described to Warren as an auto styling exercise. While his GTR XU-1 now has the M21 optional four-speed manual gearbox, Warren says that nobody really knows why Holden fitted an auto to an XU-1. Speculation is it was either the testbed for a hot six with an auto for the upcoming LH series or for a small batch run of auto XU-1s. Today the car still has the line in the bottom of the original radiator for the auto and the LJ auto console now with the manual boot surround and lever.
Large fuel tank or sub tank testing is also said to have been carried out, (one assumes at the behest of HDT) as the car sports a repair patch on the boot floor and the left quarter panel has been replaced, believing to be the temporary location of the filler neck.
Warren is the fourth actual owner but the third registered owner. After GMH had finished with it in 1974 Mike Rowntree's father – a Holden employee – bought it on his behalf with Mike keeping it for 18 years before selling it to Scott Houlihan who owned for four years. Rob Coulson acquired it in 1996 and Warren bought it from Rob the following year and has owned it since.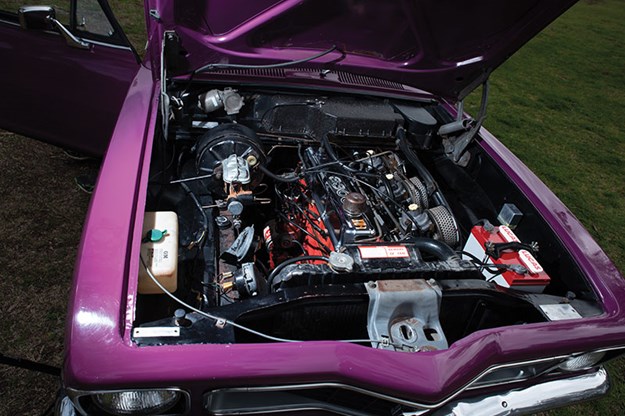 "In the 25 years I've driven 22,000 kilometres and have really done nothing at all to it, Warren said. "It has had three sets of tyres as all passed their use by date and three batteries plus a couple of tune ups but that's all.
"It has never been pulled apart so it's totally original although I did have to replace the rocker cover gasket on it in 2017 because the original one was leaking!
"It is a like a thoroughbred to drive and unbelievably enjoyable and all the driving I've done have been long distances.
"In 1998 I drove it to Melbourne for a tune up and in 2004 I drove it to Bathurst plus another trip to Melbourne. I did a track day at Winton in 2008 plus a couple more trips to Bathurst in 2012 and 2015.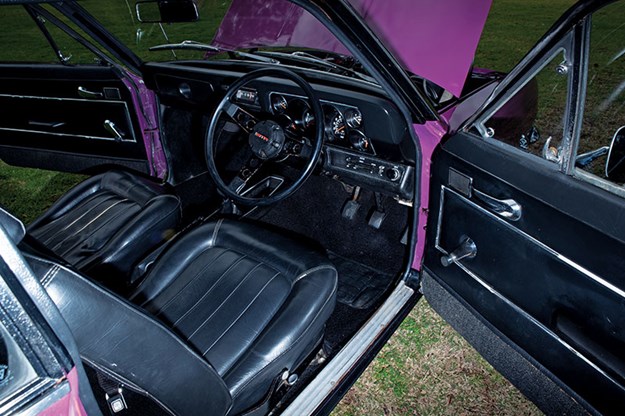 Racy GTR XU-1 interior
"It was in 2014 I went to the Torana Nationals in the Barossa with my girlfriend. We had never gone there before and even had to Google it to find out where it was, but we both fell in love with the place and decided to get married there six months later and we drove the XU-1 to and from our wedding.
"Then in 2017 my wife and I drove to the Atherton Tablelands in far north Queensland, a 7600km round trip, to take part in a rally and along the way we stopped at the Dish in Parkes for a memorable photo along the way. Our last big outing was to the 2018 Nationals, this time as a family.
"But one of my fondest memories was in 2002 when, after trailering the Torana to Bathurst we did a parade lap with 114 other XU-1s following the king of the mountain Peter Brock in the HDT 28c Torana GTR XU-1 that he drove to his first Bathurst win in 1972. It was an hour before the race and the fans were cheering us all as we went past in this amazing convoy.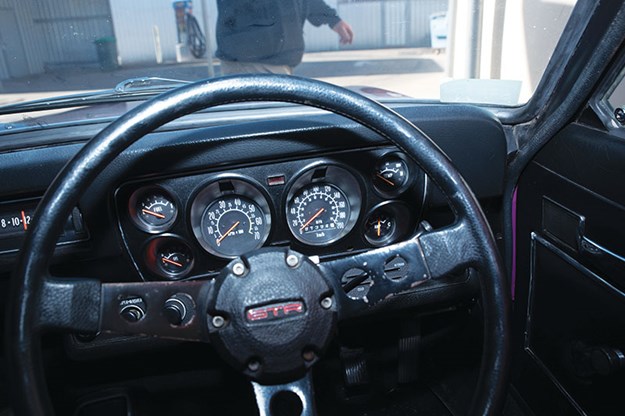 A full spread of gauges and XU-1 wheel
"It was an unforgettable experience and one that I don't think will ever be beaten."
After 25 memorable years Warren has decided the time has come to sell his beloved Purr Pull LJ Holden Torana GTR XU-1 that will no doubt be a star attraction of the upcoming Burns & Co auction in Melbourne and online Sunday August 8, 2021.
From Unique Cars #455, July 2021
Unique Cars magazine Value Guides
Sell your car for free right here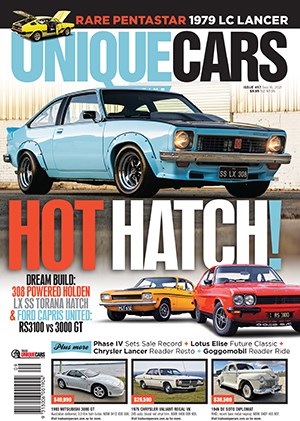 Subscribe to Unique Cars Magazine and save up to 42%
Australia's classic and muscle car bible. With stunning features, advice, market intelligence and hundreds of cars for sale.
Subscribe