Five collector cars to buy at Shannons' Spring online auction
---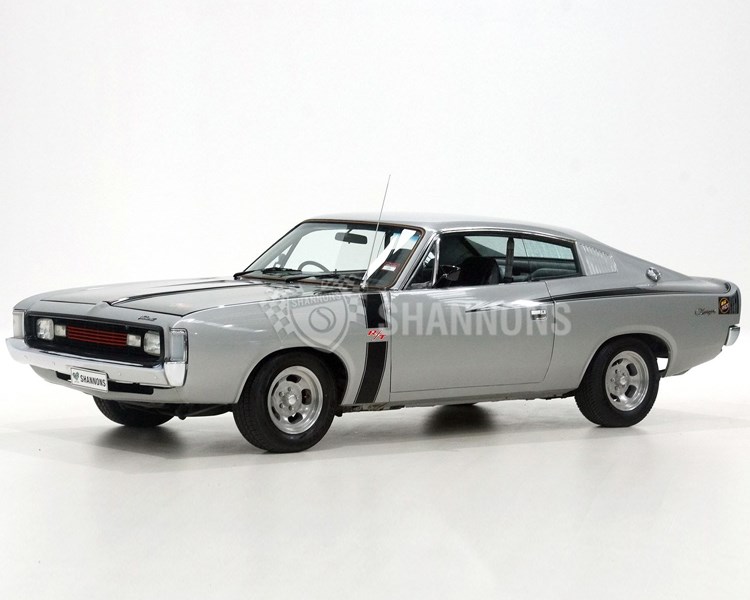 It's Shannons biggest online auction of the year so far: 176 lots in total, 68 cars, 23 for no reserve
Despite the switch to an online platform, and general 2020 uncertainty, the classic car industry is buzzing along with Shannons' online Melbourne-Sydney sales going from strength to strength.
Their next classic car auction takes place next month from November 11 to November 18, and is set to be their biggest one yet!
There are 176 lots in total up for grabs, comprising of vintage motorbikes, garage memorabilia and, of course, cars. There are 68 cars available this time around, with 23 of them up for No Reserve!
READ NEXT: FULL SHANNONS' WINTER AUCTION RESULTS
There's a tremendously strong showing in the entry and mid-level classics with some very reasonable pre-auction estimates listed throughout.
There's something for virtually everyone and every budget.
So take a look at all available lots at shannons.com.au, and read on for five cars that have already caught our eyes.
*=No Reserve Lot
*Lot 134 – 1993 HSV VP Commodore 'Plus Six' Sedan
Guiding Range: $8,000-$10,000
Location: Melbourne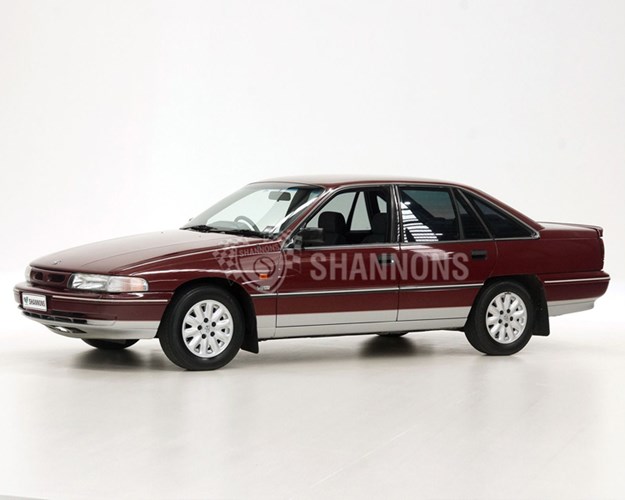 A limited-build HSV for under $10,000? Almost sounds ludicrous these days.
Okay, granted it's not an especially hot HSV. The VN Plus Six (or + 6) was built in limited numbers with 82 produced in 1992, and just 58 in 1993.
Based on the executive six-cylinder car, the +6 gained no real performance credentials with its 3.8lt V6 still rated at 125kW. It did however gain a variety of modifications including a Momo steering wheel and various dress-up parts and body kit components.
READ NEXT: SHANNONS END OF AN ERA VIDEO SERIES: WATCH ONLINE
This one has covered 142,390kms in its life, and presents very well with only minor blemishes to show of age.
This is certainly one of the cheapest ways into any HSV-badged vehicle and you could feasibly drive this every day.
Lot 125 – 1983 BMW E28 528i Motorsport Saloon
Guiding Range: $15,000-$20,000
Location: Melbourne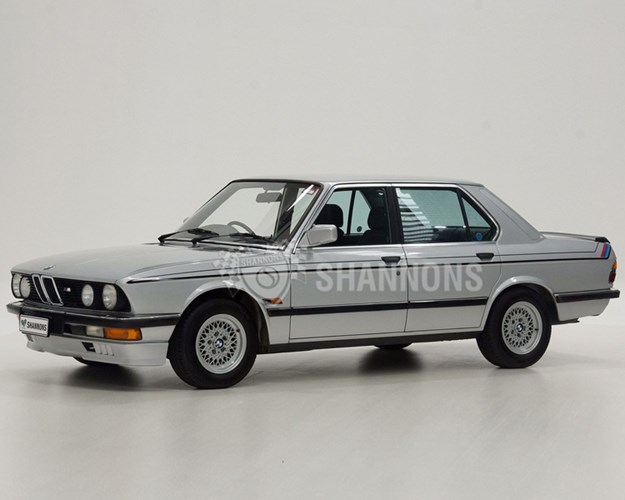 BMW's second-generation 5-series won just as many fans for its driving dynamics than it did with its 'sharknose'-styling, technology and performance.
Powered by a range of BMW's much-loved inline-sixes, this 528i would have been the top-spec model available in its day – until the 525i would be released the following year in 1984.
The range-topping M5 was never officially sold in Australia, however is already a bona-fide classic overseas where values are frequently nudging six-figures and up. We're already observing increased interest and values locally for no-nonsense manual examples of BMW's 'sharknose' cars like this one.
This one presents as a unique-for-Australia 528i Motorsport edition, with dealer-fitted leather seats. The motorsport package added side stripes, Recaro seats and a rear spoiler.
Paint is good, while stripes are beginning to show their age. The plastic rear spoiler shows a crack on the top surface, while the dash inside has also suffered some cracking.
Recent receipts show $3500 spent on suspension and general servicing, while various new rubbers and wiper blades are included in the boot.
Lot 159 – 1970 Alfa Romeo 1750 GTV Coupe
Guiding Range: $32,000-$38,000
Location: Sydney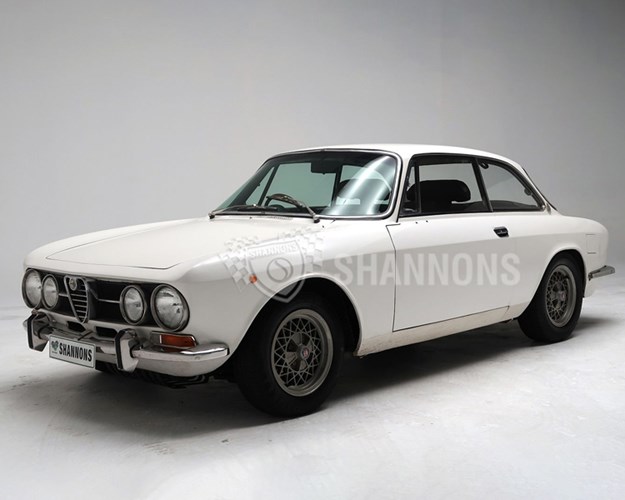 Alfa Romeo's famous twin-cam GTVs are a hugely popular Italian classic and, in many cases, are found on the market as costly completed restorations.
It was the very reasonably pre-auction estimate that caught our eye initially, significantly undercutting many other examples on the market.
For anyone after one of these extremely desirable models, this is a great entry-level example. Finished in white over black, the GTV comes from an expansive enthusiast collection and has been regularly maintained and looked after.
The Alfa is in running condition with period BWA Milano wheels and good overall cosmetic condition. The interior has been retrimmed at some stage, and the car comes with some docuementation.
Overall, it looks like an honest example of a hugely desirable model and offers a more affordable buy-in than many other examples for someone not afraid of some elbow grease.
*Lot 131 – 1977 Mazda RX-3 SP
Guiding Range: $55,000-$65,000
Location: Melbourne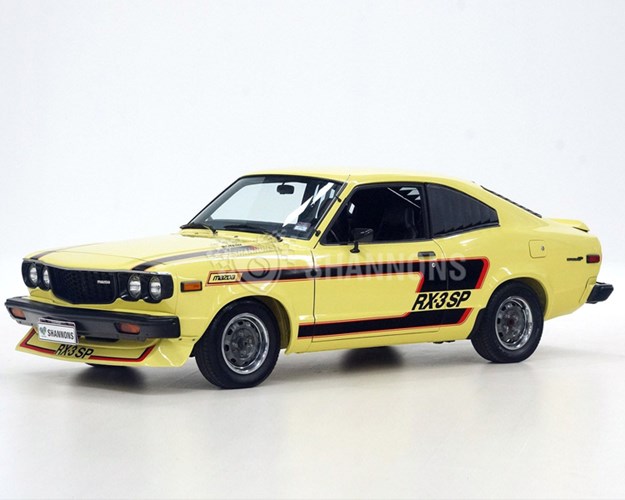 Rotary Mazdas were once nigh on unsellable as they were unproven technology at the time; and while the promise of smoother and more efficient power production was compelling, many buyers were sceptical of the new technology – which itself was inherently susceptible to reliability issues.
Of course the collectible sphere surrounding these cars in recent times has well and truly flipped on its head, with early rotaries now commanding prices that – to many – are simply boggling.
In the US, to qualm buyer concerns over the newfangled rotary engine, Mazda US introduced an unprecedented five-year/75,000-mile warranty and released an optional special appearance packaged called the 'RX3-SP' in 1977 to mark the occasion.
Mockups have been created locally, however this one in left-hook configurationis the real deal. The car presents well throughout having been treated to a respray in its original Saturn Yellow hue. The RX3-SP sits on factory wheels while the black vinyl interior is complete and in good condition. Standard gauges work, while a pair of aftermarket water temp and oil pressure gauges aid monitoring the vitals (no holes cut, completely reversible).
The RX3 has been modified (as virtually all of these cars did), with its original 12A motor having been replaced with a more powerful 13B.A set of adjustable coilover suspension and an upgraded RX-7 GSL-SE rear end with disc brakes also modernise the handling department.
Lot 175 – 1971 Chrysler VH Charger E38 R/T 'Big Tank'
Guiding Range: $160,000-$180,000
Location: Melbourne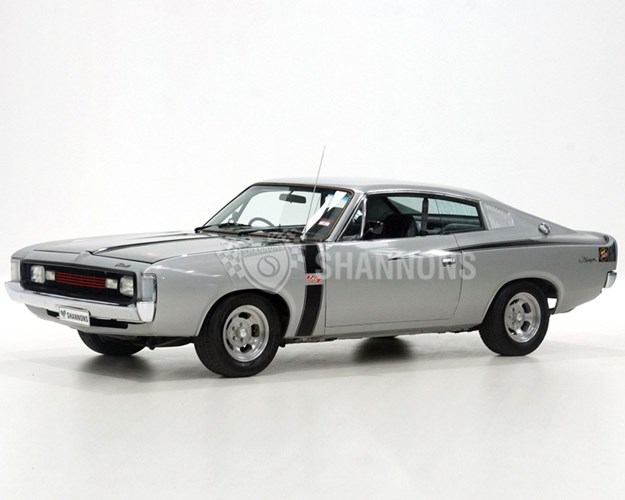 If you're lucky enough to be shopping at the top end of town, Shannons' Spring sale boasts a number of blue-chip classics for all occasions. There's the ubiquitous Porsche 930 Turbo, a couple of E-type Jags, as well as a number of homegrown hotties like a metallic blue LJ GTR XU-1 or an LX SL/R 5000 A9X.
It's this big tank E38 Charger that gets our pick though. Just 224 Big Tank E38s were produced in 1971, although the fewer survive today as many were thrashed in their younger years, and buyer apathy meant they were notoriously difficult to sell throughout the 90s.
This one shows 75,580 miles on the odometer and comes highly-optioned with A66 bonnet, fender dress-up package, A95 interior dress-up package (reclining bucket seats, carpets and three-spoke steering wheel), and the highly-desirable A84 track pack.
The 265ci Hemi-six has been rebuilt and the Mercury Silver paint refreshed during its most recent ownership of over 23 years. It is fitted with a later four-speed transmission and presents in good condition overall - although is starting to show its age with factory-original rubbers around the windscreen and rear window beginning to degrade. 
It looks like an honest example that has held on to its originality well.
Bidding for Shannons' Spring timed online auction commences on November 11, and closes on November 18. View all available lots at Shannons.com.au
Classic Australian Family Car Value Guide home page
Muscle Car Value Guide home page
Japanese Classic Car Value Guide home page
Sell your car for free right here
Unique Cars magazine Value Guides
Sell your car for free right here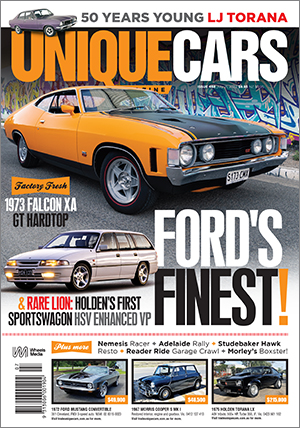 SUBSCRIBE TO UNIQUE CARS MAGAZINE
Get your monthly fix of news, reviews and stories on the greatest cars and minds in the automotive world.
Subscribe