Five collector cars to buy at Shannons' Melbourne Spring auction
---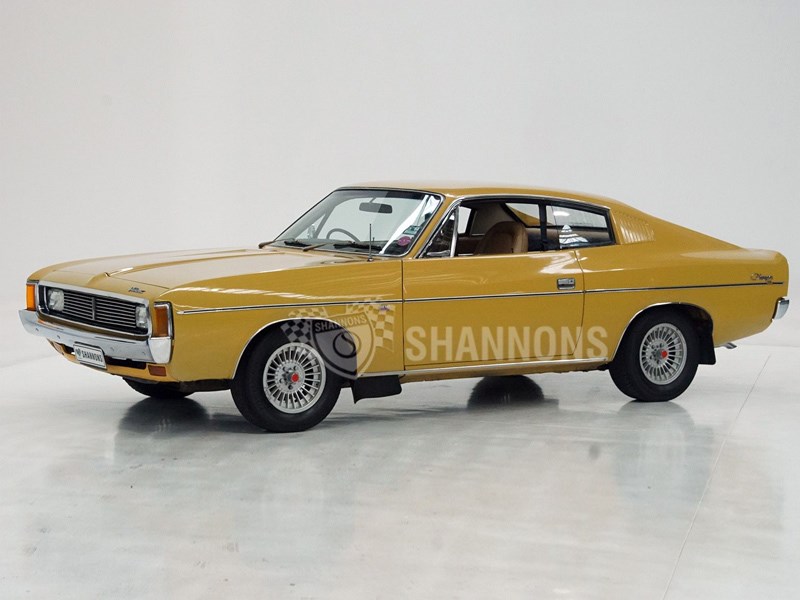 With 49 cars up for grabs (16 for No Reserve), there's something for everyone!
Shannons' next seasonal classic car auction returns to Melbourne on September 23 and boasts a wild and varied mix of 49 cars, 16 of them up for No Reserve.
There are a number of old Brits, some flash European metal, a spattering of Japanese oddities, and the usual mix of blue-chip US and Aussie muscle cars. There's truly something for everyone, and every budget.
READ NEXT: SHANNONS' SYDNEY WINTER CLASSIC AUCTION RESULTS
You can view all available cars at Shannons.com.au but read on for a spotlight on five cars that we reckon are deserving of attention once they cross the block.
*=No Reserve Lot
Lot 9 – 1989 Toyota Supra 'Sports Roof' 3.0 Turbo – *Guiding Range: $15,000-$20,000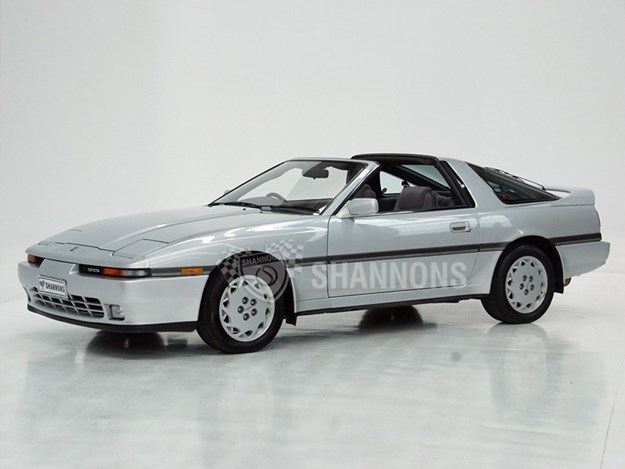 Japanese performance cars are surging in interest around the world, with the late-80s to mid-90s representing the golden era for the country's booming manufacturers.
Toyota's Supra had its roots in the smaller Celica, but by the third-generation, had become its own standalone RWD performance model.
All Australian-delivered models landed with Toyota's flagship 7M V6, with four valves-per-cylinder and dual-overhead cams. This one presents in top-spec turbo specification and is an absolute time-warp with just 60,356kms travelled since new.
In virtually as-new condition, we reckon someone's onto a bargain with no reserve on an already reasonable pre-auction estimate. The fact that it's an auto will likely take away some interest, but we reckon this would still be a fantastic sunny-day cruiser for the price.
Also, with newfound fanfare around the recently reborn MkV Supra - it's only a matter of time before prices of this third-generation begin to bolster as MkIVs continue to break ceilings.
Lot 10 – 1988 Toyota Century 4.0 Sedan (RHD) – *Guiding Range: $15,000-$20,000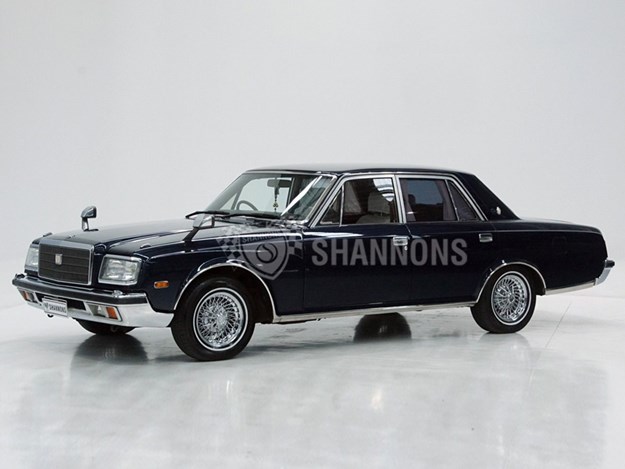 You've likely never seen one of these. And we don't blame you as these handbuilt limos were never sold outside of Japan, and we believe there's only a couple in the country to date.
The rest of the world is quick to coin Toyota's Century as Japan's answer to the Rolls-Royce. We don't reckon that quit covers it, but it certainly gives you an idea as to what it's all about.
The Century is one of Toyota Japan's most enduring nameplates, first arriving in 1967, and only gaining a real visual facelift in 1997. They were reserved for Government leaders and high-profile executives and were chocked to the gills with innovative technology and luxurious amenities.
Under the bonnet sat a 4.0lt VG40 V8 – known as Toyota's Hemi given its hemispherical combustion chamber. The car features electric everything – with the rear seats treated to their own climate-control, radio controls and lumbar adjustment. In the rear arm rest sits a clipboard, a Dictaphone and a telephone for the executive on the go. Almost anything you can think of in a new Mercedes-Benz is largely found in this luxury limo from 1988 – even steering wheel mounted telephone controls.
Did we mention the passenger seat centre folds down so your esteemed guest in the back can fit his legs through?
The car has lived most of its life in Australia within the now-defunct Gosford car museum. Since its current owner purchased the car in 2016, it's been resprayed, had its front suspension rebuilt, had a new windscreen fitted along with new wheels and tyres (originals in the boot) and a re-gassed air-con. It's also got full history since new in Japan.
It's, literally, a lot of car for the money.
Lot 52 – 1985 Holden Commodore HDT VK Group A SS (#006) – Guiding Range: $140,000-$155,000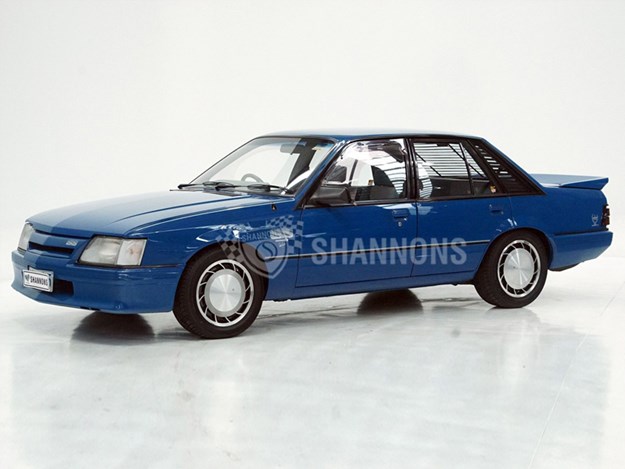 Here's a car that needs no introduction, the Blue Meanie Brock.
Incredibly, it's just build number 006, and presents with just 73,805kms on it and three owners since new. The current Tasmania-based owner has owned it since 1993, and has kept it completely original and in tremendous condition.
Paint and interior condition reflect the low-mileage, and the car has recently been given a full service along with tyres, engine refreshen, new radiator, radiator and heater hoses and a rebuilt master cylinder.
There's period wind deflectors on each side window and two electric fans have been installed to keep the Blue Meanie cool.
The sale includes original owner's manual and brochures. Values for VK Group As have throttled back a bit, perhaps stabilised, from the dizzying $175,000+ they were commanding under a year ago.
If you've had one on your wishlist, this low-mileage early build might be one to look at!
Lot 63 – 1959 Mercedes-Benz 190SL Convertible – Guiding Range: $180,000-$210,000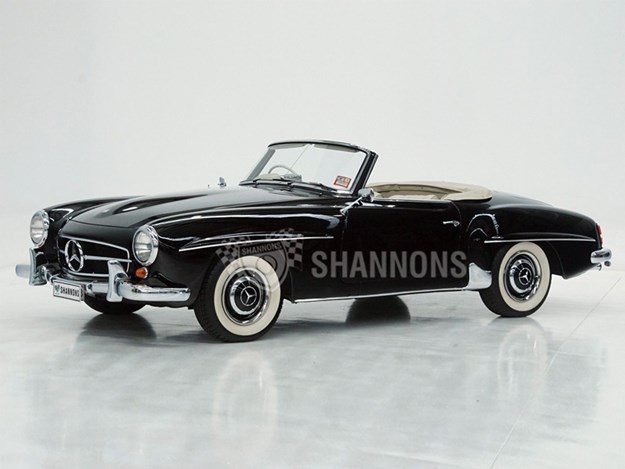 Mercedes-Benz's 190SL was introduced in prototype form at the 1954 New York Motor Show, intended to cash in and capitalise on the popularity around its famously expensive 300SL.
The 190SL was Benz's first unitary construction powered by the 180 'Ponton' sedan's 78kW 1.9lt inline-four. Performance figures were nothing inspiring, but that's not why anyone bought a 190SL.
It was always a style-lead model that was never put down as a 'poverty pack' offering that other four-cylinder offerings from the likes of Porsche and Jaguar were.
They've enjoyed strong growth over the years, buoyed by its larger 300SL sibling – with plenty of headroom in the future as its big brother continues its skyward trend.
This 1959 190SL roadster is an Australian-delivered car and presents in concours-winning condition, and is likely one of the best in the country.
It was given the full rotisserie resto treatment at the commissioning of its previous owner; with documentation from Stuttgart authenticating parts of its exacting original specification.
There's nothing left to spend on this one – so if you can cut the cheque, and are after a blue-chip Euro classic, this could be it!
Lot 69 – 1973 Chrysler VH Charger XL 245 Coupe – Guiding Range: $45,000-$55,000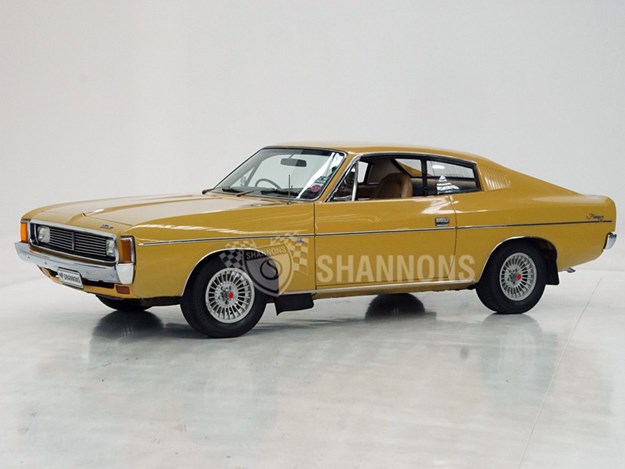 The 70s Valiant Charger remains a lasting icon of the period's muscle car boom. Buyer's couldn't get enough with the fastback Charger, which saw it quick to swallow up half of all Valiant production.
The base model XL proved hugely successful, with buyer's attracted by a great blend of features, performance and style, all at an affordable price.
While it's not the upmarket 770, nor does it bear the optional 265 motor – this '73 VH Charger XL looks to be a serious find, as a highly original one-owner car.
It's finished in its original shade of Hot Mustard over a beige vinyl interior – complimented by period accessories such as mudflaps, towbar, and fitted sheepskin seat covers front and back.
In its life, the 245ci six has been reconditioned and the paint has been resprayed. Aside from that however, the car is just as it left the factory.
The Charger XL comes with its original warranty card, some receipts and almost every registration renewal paper since new.
To find such an original example one-owner example is rare, and the pre-auction estimate looks reasonable to us. We'll be keeping an eye on this one closely come September 23.
Stay tuned on tradeuniquecars.com.au for a full rundown of results once the auction comes to a close.
Classic Australian Family Car Value Guide home page
Muscle Car Value Guide home page
Japanese Classic Car Value Guide home page
Sell your car for free right here
Unique Cars magazine Value Guides
Sell your car for free right here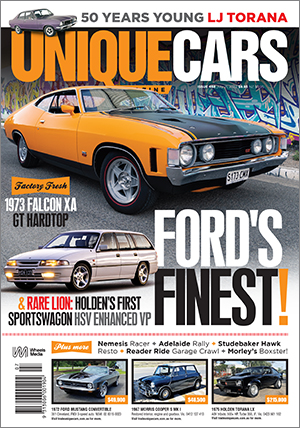 SUBSCRIBE TO UNIQUE CARS MAGAZINE
Get your monthly fix of news, reviews and stories on the greatest cars and minds in the automotive world.
Subscribe