Brock racer sells for $2.1 million
---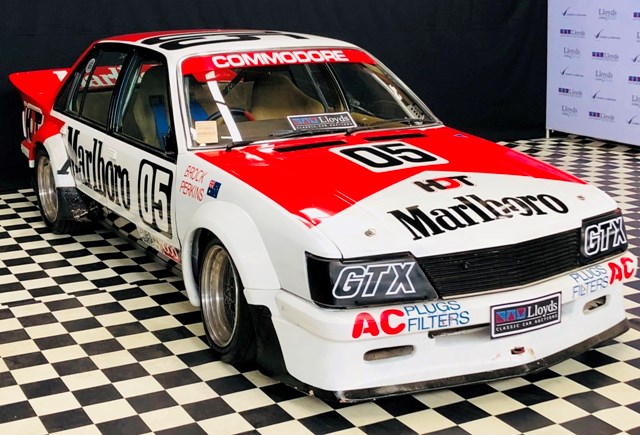 This dual Bathurst winner fetched $2.1 million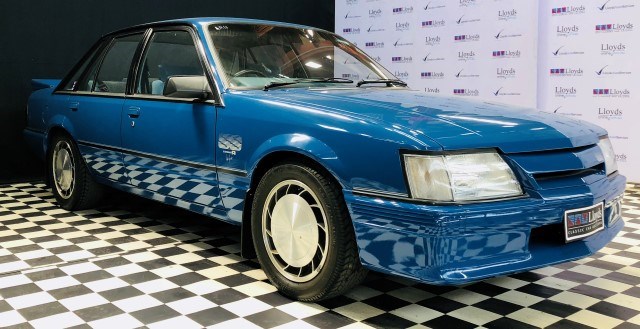 Blue Meanie prices hit a new high at $325k.

Collection pulls big money at Bathurst auction
Last night's Brock collection auction by Lloyds in Bathurst pulled strong interest with some record prices being paid.
The collection was the former Peter Champion Brock Experience, which was reported to have been sold complete several months ago. However this time it was broken up as individual lots.
High-profile race cars dominated the proceedings, with a 1984 VK Commodore - the last of the group C cars from Brock's outfit - selling for $850,000.
However it was the dual-winner 1982-83 VH which commanded the most money, at a staggering $2.1 million.
Road cars were very much on the radar and we saw a new high for a 1985 VK Blue Meanie at $325k.
Top bids on the night:
Lot 1001 1987 Holden VL race car $800k
Lot 1003 2001 Targa Tas Holden utility $77k
Lot 1009 1995 Holden VR Commodore rally car $98k
Lot 1007 1973 Torana XU-1 Targa car $74k
Lot 1009 1988 Ford Falcon EA Brock special $25k
Lot 1011 1981 Ford Sierra RS500 $595k
Lot 1013 1971 Ford Falcon GT-HO Phase III $800k
Lot 1021 Chevrolet Monza sport sedan $100k
Lot 1017 1984 HDT Opel Monza prototype $98k
Lot 1019 1991 Peugeot 405 produiction race car $28k
Lot 1021 1992 Holden VP SS race replica $57k
Lot 1023 1985 Holden VK race replica $35k
Lot 1025 1987 Holden VS race replica $34.5k
Lot 1027 1995 Holden VR race replica $41k
Lot 1029 1992 Holden VP race replica $31k
Lot 1031 2004 Holden Monaro CV8 Targa car $150k
Lot 1033 2002 Holden Monaro CV8 Targa car $41.5
Lot 1035 1970 Holden HT GTS 186 Monaro $250k
Lot 1037 1972 HDT Torana XU-1 $100k
Lot 1039 1972 Holden Torana XU-2 V8 race car $50k
Lot 1041 1973 Holden Torana sport sedan $170k
Lot 1043 1973 HoldenTorana HDT $65k
Lot 1045 1977 Holden Torana A9X race sedan $250k
Lot 1047 1974 Holden Torana L34 $375k
Lot 1049 1978-79 Holden Torana A9X coupe race tribute $310k
Lot 1051 Austin 7 paddock car $1051
Lot 1053 Austin A30 Holden-engined race replica $80k
Lot 1055 1953 48-215 $51k
Lot 1059 1986 Holden VL SS GpA $162k
Lot 1061 1994 HSV Mobile Peer Brock 002 $77k
Lot 1063 2002 Team Brock VX V8 supercar $320k
Lot 1065 1984 Holden VK HDT race car $850k
Lot 1067 1985 Holden VK Blue Meanie $325k
Lot 1069 1984 Holden VK SS $114k
Lot 1071 1982-83 Bathurst winner HDT VH $2.1 million
Muscle Car Value Guide home page
Sell your car for free right here.
Unique Cars magazine Value Guides
Sell your car for free right here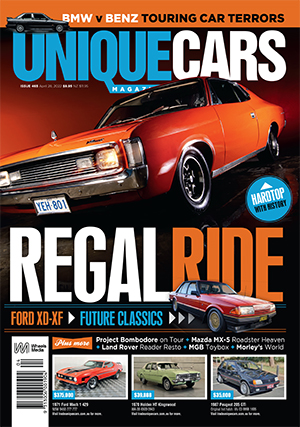 SUBSCRIBE TO UNIQUE CARS MAGAZINE
Get your monthly fix of news, reviews and stories on the greatest cars and minds in the automotive world.
Subscribe