Ford Capri + Convertibles + Tucker Torpedo - Mailbag 412
---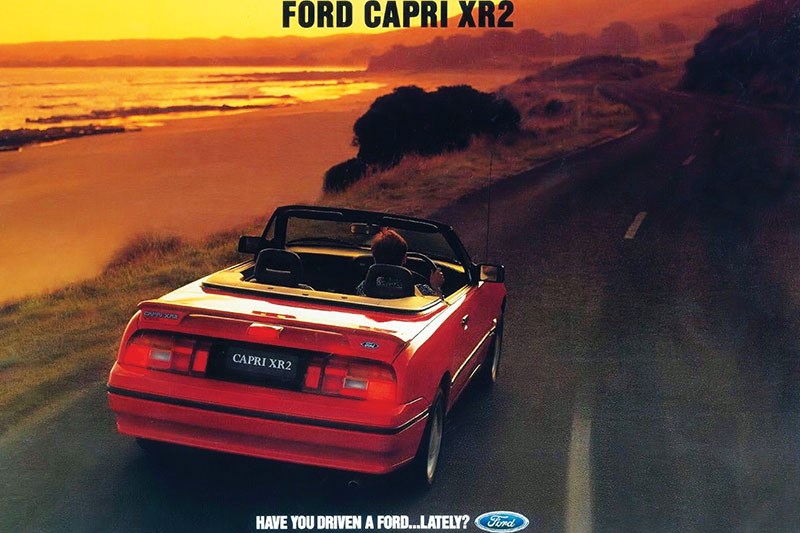 Inside this month's Unique Cars mailbag...
CARPETED OVER A CAPRI
Thank you for your enjoyable convertible feature (#410). However given that this was almost an Australia Day edition, I half expected to see the only (largely) Aussie designed, Aussie mass produced and successfully exported convertible – the Capri.
A review by a respected motoring journalist eight years ago said it was sure to stop depreciating 'soon' – but today you can probably get two neat, very driveable models, including one turbo, for $6000, the price of one good NA MX-5. A remarkable number of people have five or six Capris.
I bought one recently, much to my surprise. Surprised, mainly because I was looking for an NA MX5. I had forgotten that some Capris were significantly quicker than most NAs. Forgotten probably being the operative word for Capris.
I have the usual respect for MX-5s but the more I drove them the greater my awareness of their tight seating (for a larger person) and slow acceleration, even if they felt quicker than they were. How 'liveable' were they going to for me?
On a whim, I went to see a Capri XR2 turbo. It was modified in engine and suspension but any turbo Capri is quick for their period, and they also feel much quicker than they are.
So… One quick test drive and I was sold – $3500. I love cars but hate spending money on them and am never impulsive, but this one did it. It's far and away the best motoring fun I have ever had per dollar. Not perfect, but pretty fine, and $3500 means it can be tidied up for a budget figure. As an ageing car, I planned to drive it infrequently to keep down maintenance costs. So much for that idea. My wife, totally unimpressed with the whole idea, now insists we use it as whenever possible, she 'woo hoos' with every turbo 'whoosh'. We go for a lot more interesting drives together.

Like the harder edged Capri Turbosprint, I think mine may be too hard sprung, given its modifications, for daily commuting, but for weekend blasts it is exceptional. A more conventional XR2 turbo – quick, well sorted handling but softer riding – would be a better commuter. The non-turbos are more gentle fun, based on Laser/Mazda 323, which was a relatively sporty chassis for its time and can be very cheap.
I have now realised that what is really intoxicating is a fast, open car, not just an open car. Especially with a very audible turbo whoosh with the top down!
The early MX-5 and Turbo Capri make a fascinating comparison. While competing for the same market at the same time, each has different advantages and fundamentally different drivelines. Both are bargains in terms of fun. Contemporary testers respected both, but the MX5 has the collector 'cred' and deserves it. The Capri is comparatively forgotten. They would be a fascinating retrospective comparo, especially with the Capri so cheap while MX5 prices are escalating. It's a shame you didn't throw a Capri into the mix.
Trevor Hislop
Email
ED: Thanks for the insight, Trevor.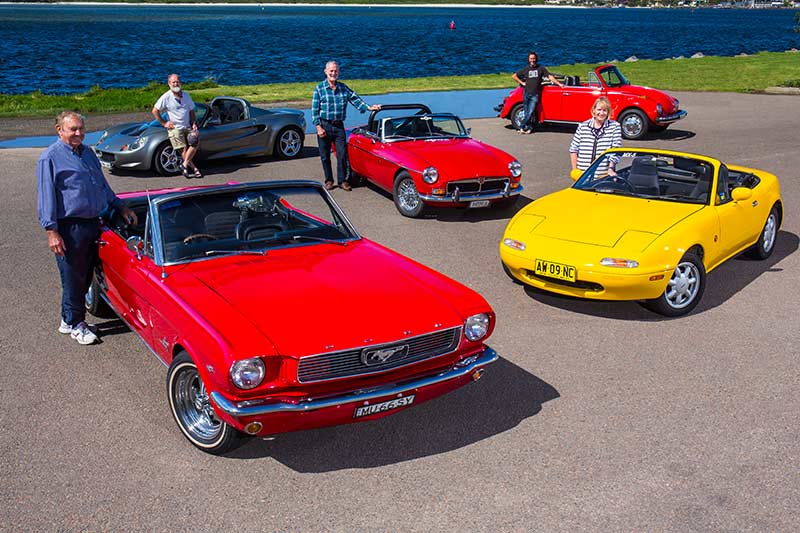 DELIGHTED
I'm writing to express my delight and gratitude.
My brother Scott is the proud owner of the beautiful Mustang that adorned the cover, and graced the pages in the feature article of your legendary magazine (#410).
More importantly to us though, was the fact that our much loved Dad, Ross (and our dear Mum, Marlene too) featured in several of the photos. We lost Dad on 27 October 2017, after a short, but tenacious fight against illness. His fight was gladiatorial, and worthy of him being on the cover as the pin up boy! Watching him deal with his illness, with such resolve, strength and calmness was truely inspirational.
Seeing him so prominently in the magazine, after several months had passed since the photo shoot and his subsequent passing, and knowing how much he enjoyed the day, has given our family a great lift. Dad would have been so thrilled to have seen the resulting article, but it wasn't to be.
My children, Hunter and Fletcher adored him, and they love our regular, but always special, Sunday drives in their uncle Scotty's 'Stang. So the look on their faces when they saw the photos in Unique Cars was priceless, and something I'll never forget.
I've no doubt that this piece of memorabilia will become a family heirloom, not just for our immediate family, but for our whole extended family and friends too, who have all purchased copies. Dad was the second youngest of 17 children, so you may need a second print run!
Thank you Glenn Torrens for your words, and Mark Bean for your incredible photos. As innocuous as the day would likely have been to you at the time, I want you to know that you have touched our family in a way that is difficult to describe and created memories that will live forever.
Thank you again and regards,
Brett Thomas
Email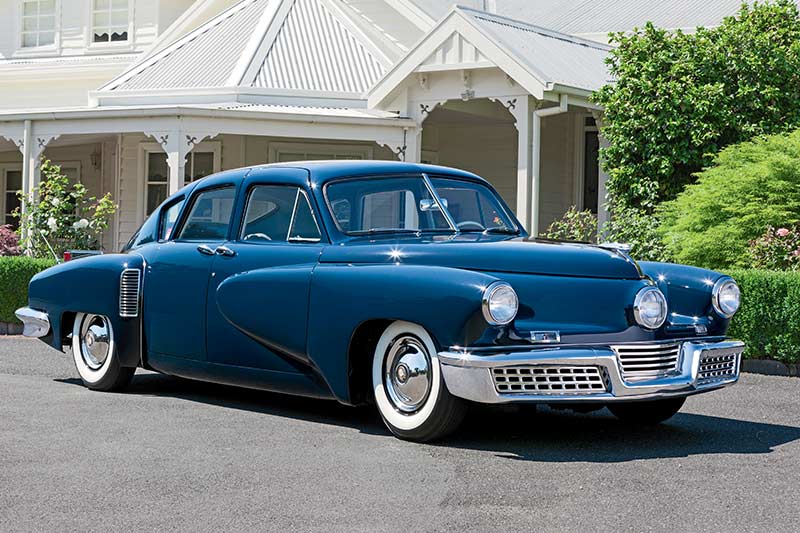 TUCKER
I really enjoyed reading your article on the Tucker Torpedo and I got to see one in action during a 2015 visit to the Academy of Art University, San Francisco, which has a top quality display of mainly late 1920s to 30s cars, all in splendid restored condition which included: 
Delage 1927, Minerva 1927, Lagonda 1927, Daimler 1928, Deusenberg Js1930s, Cord 1931 / 1937, Packard Coupe 1935, Auburn 1935, Pierce Arrow 1937, Squire 1937, and Lincoln Zephyr 1939.
At the Academy I was able to see and hear a 1948 Tucker Torpedo, being started up and driven out, for short term display, elsewhere.
It's flat-six helicopter engine was cold, but eventually spluttered into life, with the aid of the local equivalent of 'Start ya Bastard'. I mentioned this nomenclature to the technician involved – he thought it hilarious!
A movie is available about the remarkable Preston Tucker.
Brendan O'Donoghue
email
ED: Sounds like the Art Academy has a tasty selection of cars to peruse. Thanks for the travel tip Brendan.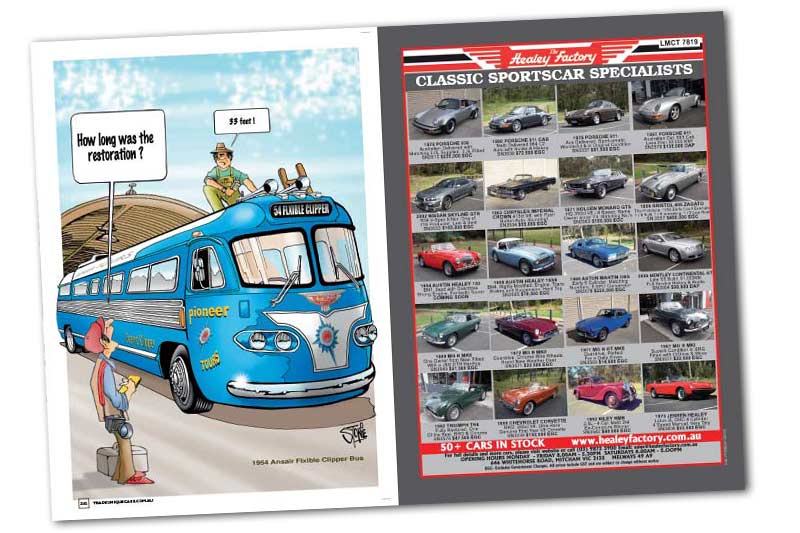 HEAR THIS
Great artist rendering of the Ansair/Ansett Clipper inside the back cover of #410.
I am old enough to remember these coaches in revenue service, continued until the mid – late 1960s.
The Ansair Clipper in Australia helped establish our emerging postwar tourist industry that we know now and also laid the foundations of our long distance coach routes, without which, many small regional centres could not survive.
Some remain in service as mobile homes and museum pieces.
Many have been retrofitted with 6V 53 2-stroke Detroit Diesel engines.
Should the opportunity ever eventuate to hear and see one of these old coaches at highway speed and full noise, it will be an experience that will never be forgotten.
Thanks for a great magazine, always entertaining and informative.
Mac Carter
Townsville
ED: UC's Rob Blackbourn is on the same page about the aural splendor of the Ansair coach at full noise, Mac.
Unique Cars magazine Value Guides
Sell your car for free right here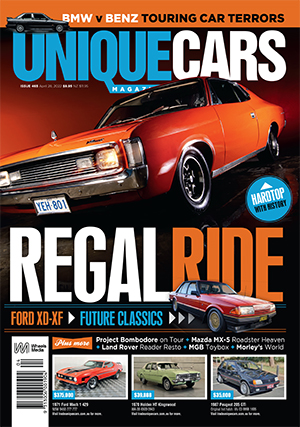 SUBSCRIBE TO UNIQUE CARS MAGAZINE
Get your monthly fix of news, reviews and stories on the greatest cars and minds in the automotive world.
Subscribe