Car events - what's coming up
---
Looking for something to do?
Pick any weekend and there's a host of car events happening around the country. Here's our selection of what's coming up...
Got an event you want to promote? Email us the details at uniquecars@bauertrader.com.au
MAY
VIC
26 - 27 May
42nd Historic Winton
Historic Winton – Australia's longest running, all-historic motor race meeting presents two big days of non-stop racing on Saturday 26 and Sunday 27 May. Once again, the event will feature over 400 historic racing cars and motorbikes from the 1920s to the 1980s plus a huge heritage display of veteran and vintage vehicles.
Contact: historicwinton.org
NSW
19-20 May
Oil, Steam & Kerosene
Campbelltown Steam Museum, Gilead. Steam machinery, vintage cars, military vehicles, rides. Entry adults $12, children $6 and a family of four only $28. Free BBQ facilities and more.Contact: csmm.com.au
20 May
National Motoring Heritage Day
Shoalhaven Historic Vehicle Club is hosting the 2018 National Motoring Heritage Day on Sunday, 20th May at Berry Showground, Berry.
The theme this year features pre-1940 vehicles, however everyone and all owners of Vintage, Historic and Classic vehicles of all years and marques, and vehicles of special interest are invited to come and enjoy the day with us.
Contact: shvc@bigpond.com
20 May
All American Muscle Car Show
The All American Muscle Car Show is on the 20th May at the Erin Fair Green Carpark, level 4 (rooftop) on the Central Coast. It is a display of American muscle cars past and present. Car show free to the public. Car entry $10 with lucky gate prize. All cars to be parked by 10am with the presentation at 1pm. All monies raised to The Glenvale Special School at North Entrance.
Contact: 0403 505 762
QLD
20 May
20th David Hack Classic
The Planes, bikes and cars is the general theme for this petrol-head fest, which happens at the Toowoomba aerodrome on Spitfire Street. Highly recommended and Unique Cars mag will be there.
Contact:
facebook.com/davidhackclassic/
20 May
Fine Iron Hot Rod Classic Car and Bike Show Swap Meet
The Fine Iron Rod & Custom Club of Ipswich is holding its 25th annual Hot Rod Classic Car & Bike Show Swap Meet on Sunday 20th May 2018 at the Ebbw Vale Soccer Grounds.
Contact:  0487 042 189
MAY 27
Mac's Bridge
Sports & Classic Car Festival
The 2018 Mac's Bridge Sports & Classic Car Festival will be held at the Qld Rifle Assoc Belmont Range 1485 Old Cleveland Road, Belmont, from 7.30 am to 1.00 pm. All types of Sports and Classic cars will be on display. Proudly supporting Orange Sky.
Contact
macleansbridge.com
or call Geoff Johnson 0413 734 977.
SA
19-20 May
Steel City Nats
Steel City Draway Whyalla. Cruise the track, burnout comp, go to whoa, race your mates, motorkhana and power skids, cash prizes and trophies on offer.
Contact:  steelcitydrags.com
TAS
20 May
Picnic at Ross
Picnic At Ross is being held on May 20th at the Ross Recreation Ground. A day's outing for classic cars and motor bikes from veteran to 1994 including a display in Ross. Organised by the Post Vintage Car Club of Tasmania Inc 
WA
20 May
Civic Park Historic Car & Bike
The Adelaide Cruisin' Classics in conjunction with Tea Tree Gully Library proudly presents the Civic Park Historic Car & Motorcycle Show in support of South Australia's History Month, and National Motoring Heritage Day. Featuring vehicles from veteran to classic, street rods and customs, there's something for everyone. Join us for this free family event on Sunday May 20, 10am-3pm.
Contact: 0439 501 911
20 May
Gingin British Car Day
Granville Park on Weld Street. Come along and check out the hundreds of British cars on display. Only 1hr from Perth it is a wonderful family day with activities and market stalls for the whole family. Live music throughout the day, kids entertainment, English beer and pork pies, local crafts and produce stalls. .
Contact: Facebook
JUNE
NSW
2-4 June
Wintersun
Wintersun 2.0 will see happy punters gather to see the best cars and bikes, eat finest gourmet street food, see hand selected genuine retro stalls, auto memorabilia, car items, fantastic music and dancing.
Murwillumbah Showground.
Contact: wintersun2.com.au
11 June
Henry Lawson Festival
16th Annual Car Show Sunday 10th June 2018 run in conjunction with the Grenfell Henry Lawson Festival. Single Entry $ 15.  Held lower end of Main Street.
Trophies and prize money.
Holiday Monday.
Contact:
0428 433 207
11 June
Walla Swap, Show & Shine
Walla Walla Sportsground. Queen's B'day Holiday Monday June 11.
Contact:
wallaswapmeet@gmail.com
17 June
Gosford Swap Meet
The Gosford Swap Meet is on Sunday June 17th 2018 at the Gosford Showgrounds. This event is hosted by the Central Coast Historic Car Club. Open and undercover sites - no booking necessary.
Contact: 0413 921 020
WA
2-3 June
Albany Classic
The Albany Classic Motor Event is run through the heart of Albany's CBD, overlooking the ANZAC Peace Park and Princess Royal Harbour. This spectacle of historic motor sport covers cars from vintage wire wheels, post-vintage and classics with open wheel racers and big cube muscle cars.
Contact:
albanyclassic.com
QLD
6-10 June
Muscle Car Masters Holden
The Muscle Car Masters Show n Shine is on Sunday at the Elizabeth Street Shopping Centre at Acacia Ridge. Cars from 1948 to 2017. Early model Holdens, HSVs, race and speciality cars. Gold coin donation.
Contact: hsvowners.com.au

6-10 June
Beachfest
Break out the Brylcreem and Bobby-Sox for five days of the planet's coolest Retro Car Festival, celebrating hot rod and classic car lifestyles in Caloundra.
Contact:
beachfestdownunder.com
6-10 June
Cooly Rocks On
Music, dancing, cars, nostalgia and good old-fashioned family fun are all coming back to Coolangatta.
Contact: Facebook
16 June
Atherton Car & Bike Show
Atherton car and bike show and swap meet, held at the Atherton High School. All makes and models welcome. $5 adult entry. Swap stalls, food, childrens rides, band, drag and race cars on show. Supports school chaplaincy.
Contact: 07 4095 4470
22-23 June
Chrome & Clutter Festival
Retro festival at Laidley. Friday night 7.30pm drive in movie - food and bar available. Saturday show n shine display from 10am to 4pm with trophies, live band and vintage vans. Saturday night street party from 6pm with live band.
Contact: info@chromeclutterretrofestival.com.au
VIC
8-10 June
HD HR Holden Nationals
Host venue – Bendigo's All Seasons Hotel. Bendigo CBD is a block away with access to toilets, cafés and shops.
Friday: Meet and greet from 6pm. Saturday: Show and Shine – 9am till 3pm. Presentation dinner and trophies for judged vehicles in the evening. Sunday run with lunch provided.
Contact: 0418 148 591
8-10 June
Mid-State Mopars
Central Vic Chrysler Club.
We average around 320 car each year from 1900s to modern. This is a two-day event with a cruise on the Saturday to a private collection of cars and if you wish on return to Bendigo join us for a meal and live music in the evening at the Bendigo Club.
Sunday is our Show and Shine in the streets of Bendigo. This will be a great day with lots of top class cars, some swap sites, food and drinks available, lots of merchandise.
Contact:
midstatemopars.com
JULY
QLD
1 July
Muscle On The
Mountain Show n Shine
Muscle On The Mountain Show and Shine Day Maleny is being held on Sunday 1st July 2018 from 9am to 1:30pm. Gates will be open from 7am for setup. Holden, HSV, Ford, FPV, muscle cars, street machines, hotrods, vintage, classic cars and motorcycles. All clubs welcome.
Contact: Facebook
8 July
Grand Display of French Cars
Annual display of French vehicles of all makes and models and condition hosted by the Peugeot, Citroen, Renault and Simca Car Clubs. Special 50th Anniversary of the Peugeot 504 - bring your 504 to join in the celebrations!
Murarrie Recreation Reserve, Wynnum Rd, Cannon Hill.  Food and drink vendors on site. Free public entry, $10 per vehicle for display entries. Event starts at 8.00am.
Contact:
peugeotclubqld.org.au
14 July
Rockin Jimmy's Car Show
Rockin Jimmy's Car Show and rock n roll event is being held at the Jimboomba Anglican Parish from 8am till 1pm.Bring your ride, bring the club, bring the family too. There will be food, fun and dancing for everyone.
Contact: Facebook
20-22 July
Ingham Autofest
Autofest Performance Car Festivals are pleased to announce the addition of an All New Autofest event that will taking place in Far North Queensland. Autofest events include, Go To Whoa, Spear A Spud, Dyno Shootout, Show N Shine, Autokhana and everyone's favorite, the Mighty Burnout Comp.
Contact:
autofest.com.au
28-30 July
Torana Time Warp
Torana Time Warp Weekend is a two day event hosted by the Torana Appreciation Social Club on the Sunshine Coast.
On Saturday 28 there will be a Rally through the beautiful Sunshine Coast hinterland to raise money for a local charity. Saturday night is a 70s themed Time Warp Party at the Sands Tavern. Music and food all inclusive for the one price of only $25 per head. Get out your flares and 70s gear it's going to be a great night.
On Sunday 29 we leave the Sands Tavern for a leisurely cruise up to Mapleton Tavern.
Contact: Facebook
29 July
Corvettes Down Under
Pelican Park, Hornibrook Esplanade, Clontarf. This annual event is one of the largest displays of Corvettes in Australia. With models ranging from classic Vettes from the 1950s to the current C7 there will be a Corvette to interest everyone.
Contact: corvettesdownunder.com.au
28-30 July
Sunshine Coast Antique
Car Club's 30th Annual Nambour Swap
Open sites $25.00 , undercover sites $35.00, entry per person $5.00. At Nambour Showgrounds, Coronation Ave, Nambour from Saturday 6.00am. Catering rights reserved.
Contact:
nambour.swap@gmail.com
NSW
13-15 July
Back to Brunswick
The tenth anniversary of the Back to Brunswick hot rod run is being held on the 13th to the 15th July 2018 in Brunswick Heads on the NSW north coast.On Friday meet in the park at 11.30am opposite Hotel Brunswick and cruise to lunch. Registration open at the Hotel Brunswick.
Contact: 0418 762 576
15 July
Coffs Harbour Swap Meet and Classic Vehicle Display
Hosted by the Coffs Harbour Veteran and Vintage Car Club and supporting Pacific City Lions Club and Waratah Respite Services. Car & Bike Parts (new and used), collectables, bric-a-brac, memorabilia, tools and books.
Contact: Facebook
15 July
East Hills Car Show
The East Hills Charity Car Show is a community based event which attracts car lovers from all over NSW. Prizes are offered in a wide range of categories. Entrants cars enter through the council car park on Marco Ave, off Childs Street. Spectators parking is available at Panania Diggers on Marco Ave. A great family day out with the goal of the event to support a different charity each year.
Contact: easthillscarshow.com.au
29 July
Nabiac Automotive Swap Meet
The swap meet is held in the grounds of The National Motorcycle Museum, 33 Clarkson St, Nabiac. Nabiac is located on the Pacific Highway approximately 1 ½ hours north of Newcastle. This swap will cater for motorcycles, hotrods and historic cars and trucks. Automotive parts, tools and memorabilia only.
Show & Shine out the front of the museum.
Contact: nationalmotorcycle
museum.com.au
29 July
All Ford Day
The Combined Ford Clubs of NSW invite you to join the celebration of Ford's finest to be held at the Sydney Dragway, Eastern Creek, NSW. Ford only vehicles welcome, buses to drag cars and everything in between.Lots of kids/family activities.
Contact: allforddaynsw.com
VIC
1 July
Boisdale Hillclimb
Hosted by the Maffra & Districts Car club at 239 Boisdale-Newry Road, Boisdale. No charge for spectators, kiosk on site, kids playground.
Contact: 0418 561 053
8 July
Hillbillies, Flappers & Molls
The good folk at the Gippsland Vehicle Collectiopn in Maffra is opening a new show. Bring your special car along.
Contact: gippslandvehiclecollection.org.au
20-22 July
A Day on the Course
Good Ole Boys Car and Bike Club presents A Day on the Course at Edenhope Racecourse on the west side of town. All cars and bikes of interest welcome and the spotlight is on British cars and bikes.
Contact: 0488 191 844
NT
21 July
Rockabilly Classic Car Show
Noonamah. Show N Shine, heaps of prizes, 1950s Pin Up Girl Competition, Peoples Choice award, live music featuring The Dizzies. Free camping northern side of the Pub. Free Metro Mini Buses from the venue to Palmerston and rural areas.
Contact: Facebook
AUG
QLD
18 Aug
Glenwood Car & Bike Swap
Incorporates a car and bike show. Glenwood Park , cnr Arborten & Pepper Roads, Glenwood, Qld. Sites $15. Entry $5, children under 12 free.
Contact:
glenwoodswap@westnet.com.au
25 Aug
Ruff N Tuff Show & Swap
Biggenden Showgrounds the last weekend in August. All money raised goes to charities in the Wide Bay area. Gates open at 6am and show finishes around 3pm.
Contact:
ruffntuff@hotmail.com or Facebook
NSW
18 Aug
EH 55th Anniversary
This year's 55th Annual Anniversary Day Show & Shine will be held at Hubertus Country Club, Adams Road, Luddenham. Open to all makes and models of vehicles.
5, children under 12 free.
Contact:
ehholdencarclubofnsw.org.au
WA
19 Aug
All Wheel Show n Shine
Dogs West, Southern River. Show off your pride and joy to our visitors. All steel bumpers welcome. Motorcycles, cars and more all welcome. First in, best dressed. Anything with wheels and a motor. A $5 donation is requested on arrival per ride and goes to charity. 
Contact: Facebook
NT
18 Aug
Gazzanats
Burnout competitions, super skids, show n shine, go to whoa, cruise the track, dash 4 cash, race your mates drop flag and drift demos.  
Contact: Facebook
SEP
SA
22-23 September
Flinders Odyssey
The event heads to Quorn, Hawker, Stokes Lookout, Dingley Dell, Blindman, Angorichina Village or Blindman overnight, Hawker pub then home.
Contact: 0439 801 135
29 September
Concours d'Lemons
Billed as the world's worst car show, or more correctly a show of the world's worst cars, and despite all efforts, it's slipped past our border security and immigration controls, and is heading to Adelaide, South Australia for a second time in 2018!
This much talked about event (not in a good way), is back bigger and better, and in a new city centre location.
Concours d'Lemons, certainly lives up to its slogan of "celebrating the oddball, mundane and truly awful of the automotive world", and even goes so far as to thumb its nose at conventional shows by openly encouraging the bribing of its celebrity judges.
Contact: Facebook
QLD
16 September
Surf Show n Shine
Mooloolaba State School. The 4th Surf Show and Shine hosted by Rotary Club of Alexandra Headland, exhibiting Kombis, surfboards and surf related items raising money for the outback.
Contact: surfshowandshine.com.au
OCT
QLD
21 October
Corroy Car Show
The Combined Coastal Car Club will host the annual Cooroy Car Show & Swap Meet. All makes and models and machinery are welcome – rods, classic, custom, muscle, machinery, new and old.
Contact: Facebook
Vic
28 October
FX-FJ State Titles
Massive collection of early Holdens expected for this one, which coincides with the 70th anniversary of the Holden 48-215.
Contact: bpboyfam@bigpond.net.au
NOV
NSW
4 November
Junee Swap Meet
The Junee Motor Club is holding its swap meet on Sunday in conjunction with the Charity Show and Shine at the Junee Showgrounds. Market sales and collectables welcome. Display area for show n shine.
Contact:  juneemotorclub.com
25 November
Northern Beaches
Muscle Car Show
Annual event that's bigger than the proverbial Ben Hur, Proceeds to a
good cause.
Contact:
juneemotorclub.com
Unique Cars magazine Value Guides
Sell your car for free right here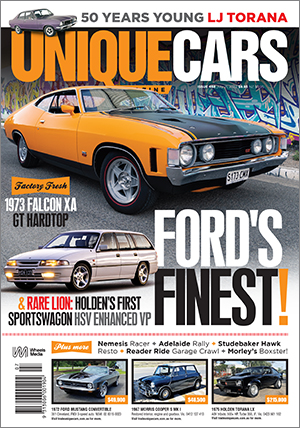 SUBSCRIBE TO UNIQUE CARS MAGAZINE
Get your monthly fix of news, reviews and stories on the greatest cars and minds in the automotive world.
Subscribe